This Lemon Caper Chicken recipe is bright and full of flavor! You'll want to eat the chicken with lemon caper sauce and spinach couscous every week.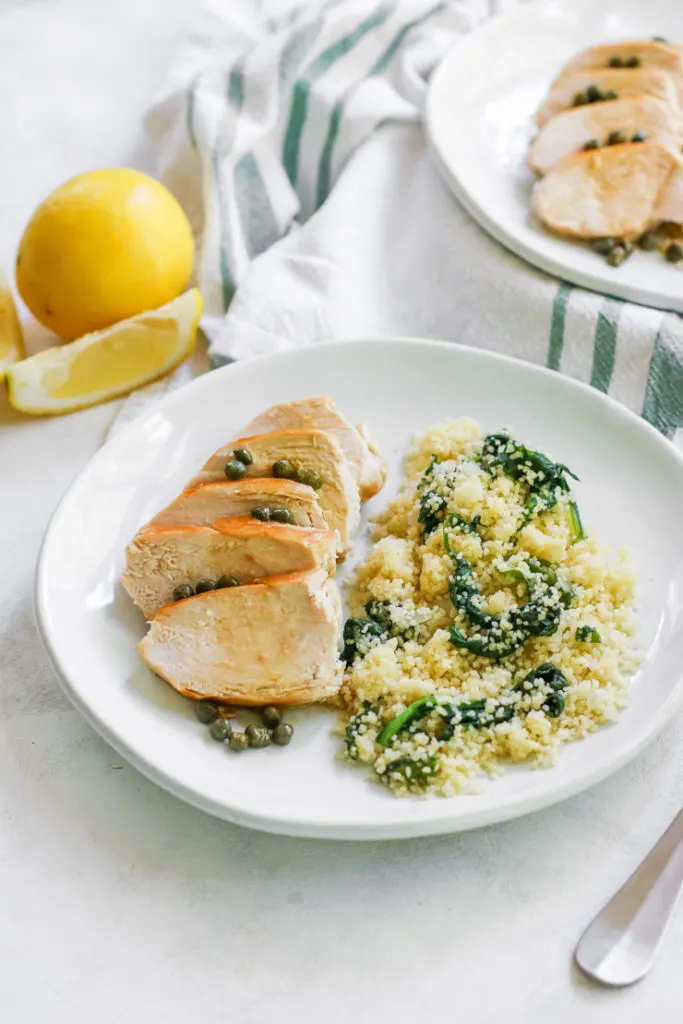 Lemon Caper Chicken
The most important part of this dish is the chicken with lemon caper sauce. It's moist (sorry that word is terrible, but the chicken really is great) and bright and briney all at the same time to make a bite that's addicting.
I serve it with spinach couscous to soak up all of the sauce, but you could just make the chicken and serve it with pasta or even on a salad. Either way, you'll find that it's easy to make with only a few dishes for easy clean up so the whole thing is made in about 30 minutes.
The Culinary Compass participates in several different affiliate programs. As an Amazon Associate, we earn from qualifying purchases.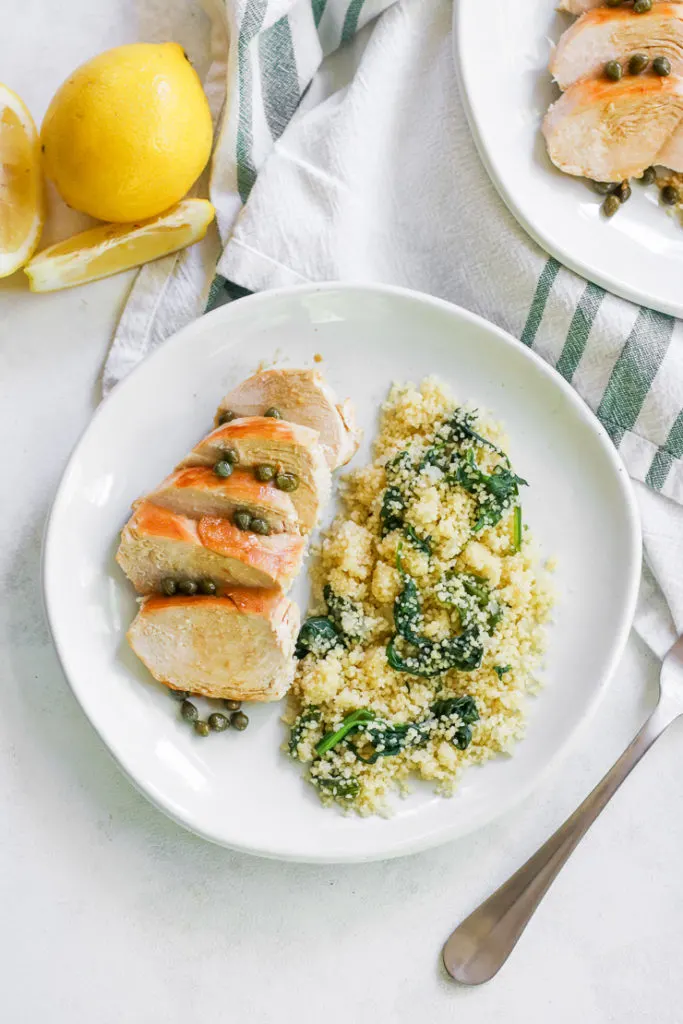 What are capers?
Capers are my new-found love. Granted, I've been using them for awhile, but they are just such a great pantry staple that add a salty and briny flavor to anything you add them to.
They are actually unripened flower buds from the caper bush that are pickled to create a savory and salty treat. Who knew, right?
Use them for anything you'd like to add a punch of flavor to! Looking at you pasta and bagels and lox.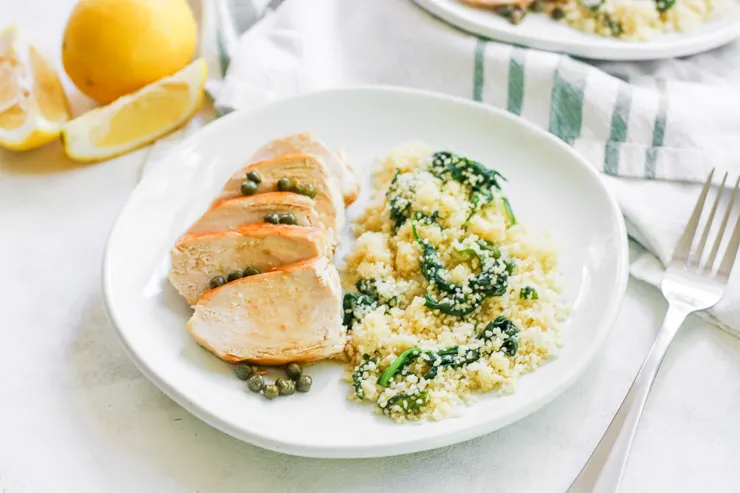 What is couscous?
Couscous is made from semolina wheat flour. It is rolled until it creates small pellets and then bound using water and dried. Since it's made with flour, it's actually a type of pasta rather than a grain.
What I love about couscous, especially for weeknights, is that because of how it's made, it really only needs to be rehydrated rather than fully cooked. This means it only takes about 5 minutes once the water is boiling to cook through and be ready to eat.
I add sautéed garlic, onions, and spinach to the couscous to give it an extra layer of flavor rather than cooking it on it's own. It's great to cook with chicken broth too if you're looking for more flavor.
How do you make Lemon Caper Chicken?
To make lemon caper chicken, you'll want to heat up a large skillet with olive oil and cook the chicken breasts on both sides after sprinkling some pepper on it. Once the outside of the chicken is cooked, you'll add in chicken broth, water, lemon juice, capers, and caper brine to the pan and cook through and golden brown.
You can substitute the water for white wine if you're looking for more flavor. If you like the sauce, you can actually double those amounts to give you more sauce at the end.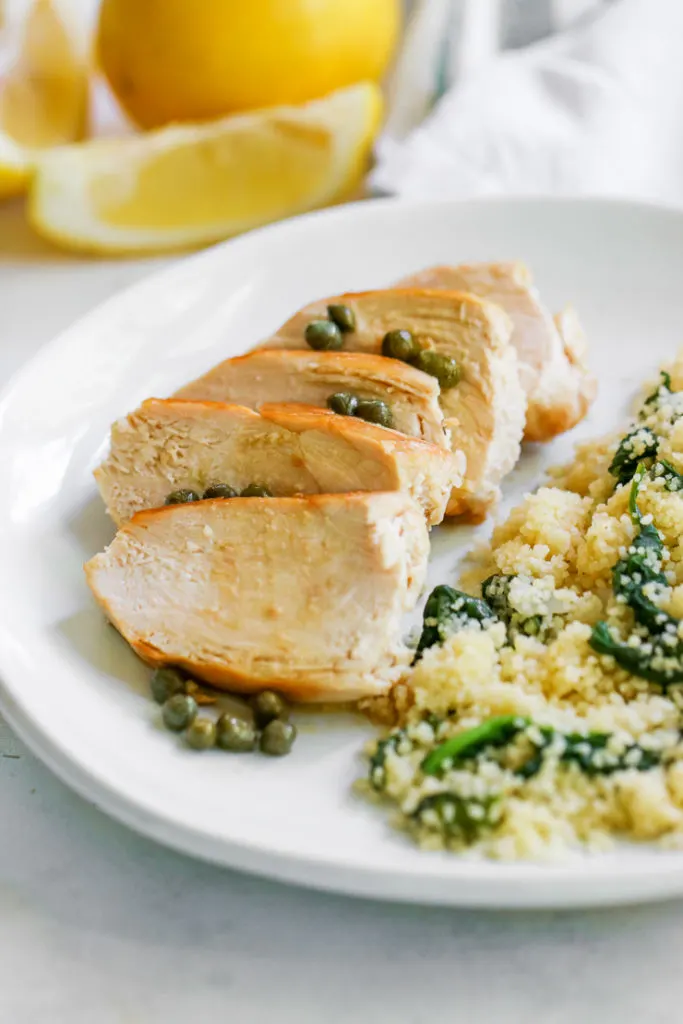 Looking for another light weeknight meal idea? Check out one of these great options: