These Sesame Shrimp Sushi Bowls is so light and flavorful which is perfect for hot weather. There's minimal cooking required which makes it a great weeknight dish!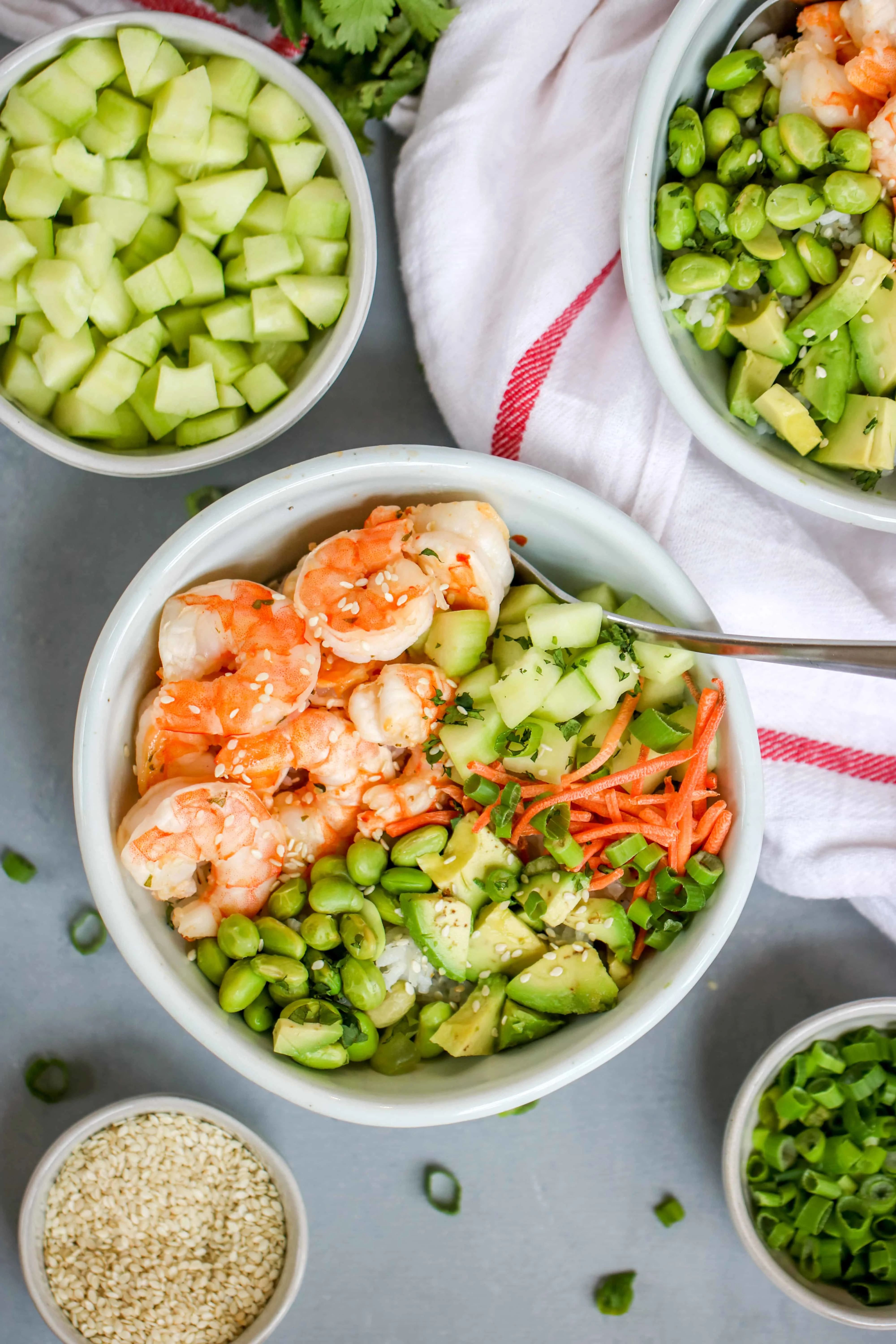 Sesame Shrimp Sushi Bowls
These bowls are so light and flavorful! They have quickly become one of my family's new favorite summer weeknight dishes to throw together especially on hot days.
The crunch and freshness of the cucumbers and carrots pair great with the savory sesame shrimp and avocado. Each topping adds it's own element which makes each bite delicious.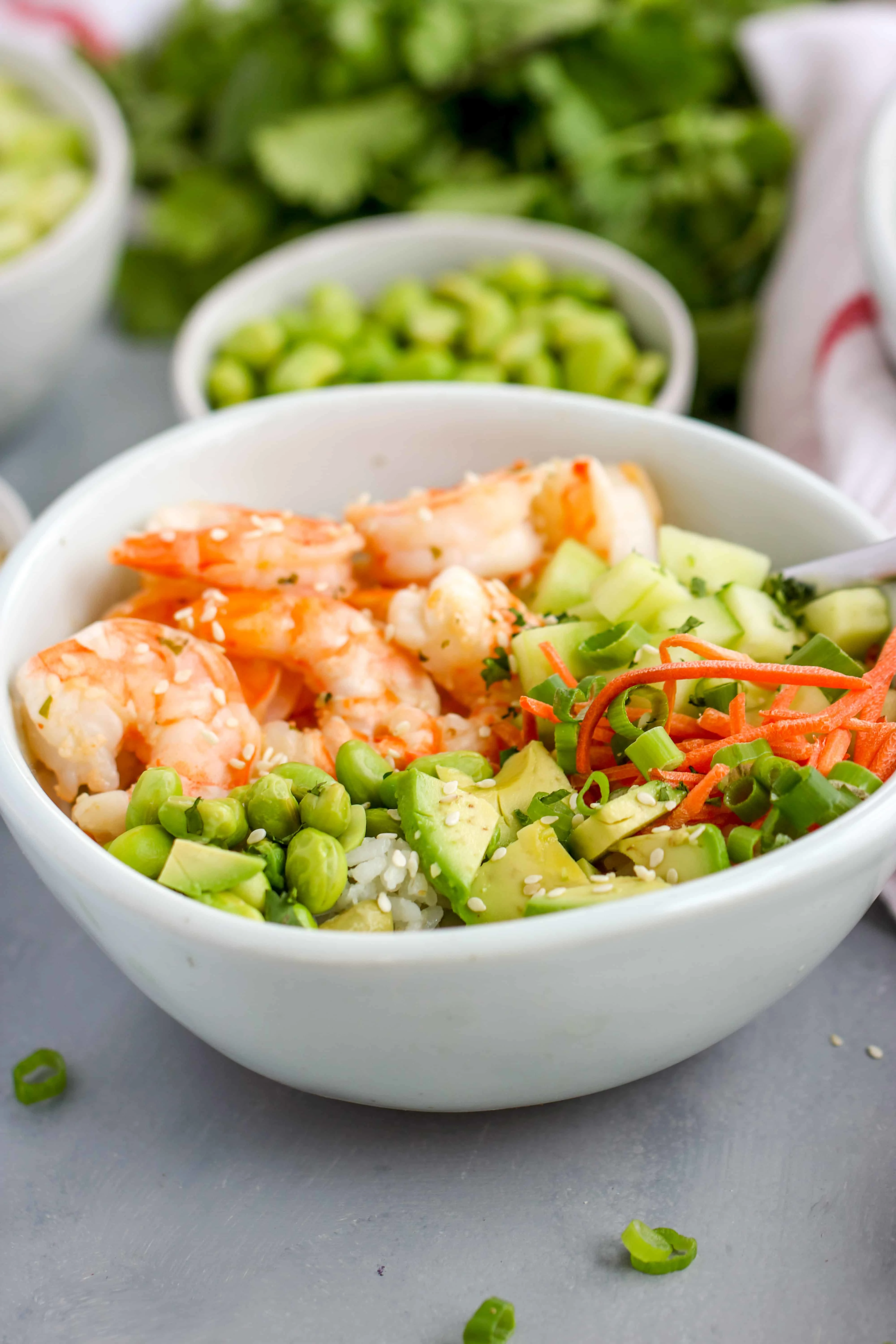 When making this dish, I chose a lot of options that you'll find in a typical sushi roll. The great part about it is that you can add or take out any ingredient you'd like to make it more your own.
Other topping options:
Mushrooms
Red onions
Spicy tuna
Tofu
Lime juice
Tobiko – Fish roe which is something common you'll see in sushi rolls
Pickled ginger
Wasabi

You'll really only need to cook the shrimp and rice to make this dish so it won't heat up your kitchen in the hot summer afternoons too much. Here are a few more tricks I've found to make this dish even faster.
Tips for making this bowl:
Head to your grocery store's salad bar to get the veggies for these sesame shrimp sushi bowls. I have found that it's easy to find most of the ingredients you need without getting too many extra.
Trying to save more time? Use microwaveable rice to cut down prep time for this recipe.
Use precooked shrimp and reheat them in the sesame dressing.

Another option for this dish is to turn it into a wrap by substituting the rice for Bibb lettuce! You'll want to cut some of the veggies into strips rather than dicing them, but it'd be another quick meal that's nice and light.
You can also turn this into a DIY bar for company by serving everything individually and allowing your guests to make their own creations!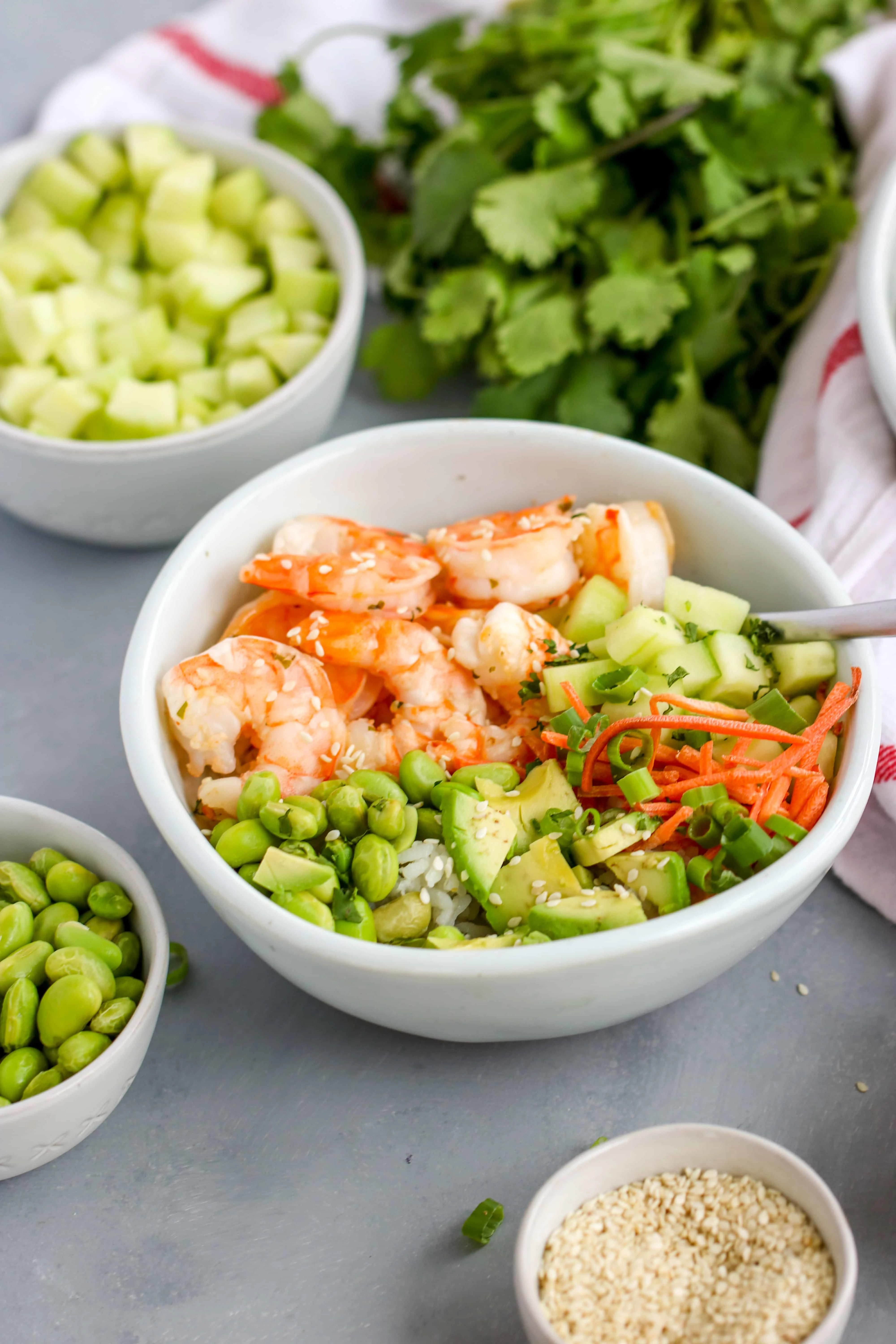 Looking for other easy weeknight dishes? Why not try this Rainbow Ground Turkey Skillet, Peanut Ground Turkey Lettuce Wraps, or these Pineapple Chicken Meal Prep Bowls.
They're all easy to throw together, but still full of flavor that your whole family will love!
Be sure to enjoy and tag me with #theculinarycompass on Instagram if you make this!