This Old Bay Steamed Shrimp recipe is quick and based on the Maryland style. Learn how to steam shrimp with Old Bay to get transported to the summer!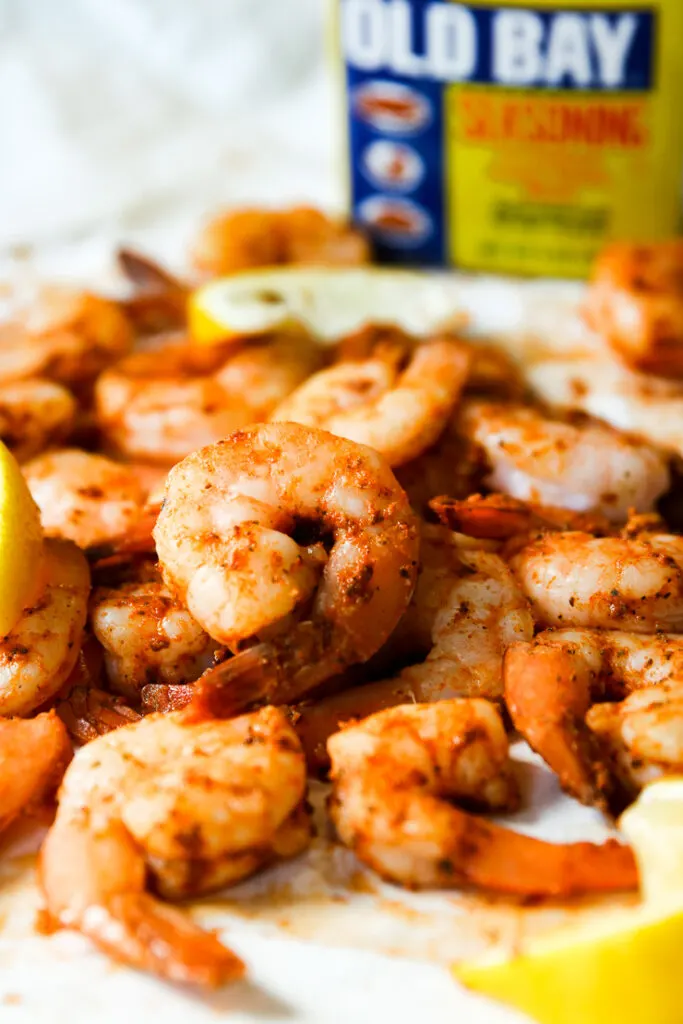 Old Bay Steamed Shrimp
Growing up in Maryland, Old Bay Steamed Shrimp was a staple to have especially in the summers. Serve it with some Cocktail Sauce with Horseradish and MAN do you have an afternoon ready to enjoy.
You can either make it yourself, grab it from a local restaurant, or even just have the seafood counter at the grocery store prepare some for you. I always opt for extra seasoning because Old Bay is the best.
The Culinary Compass participates in several different affiliate programs. As an Amazon Associate, we earn from qualifying purchases.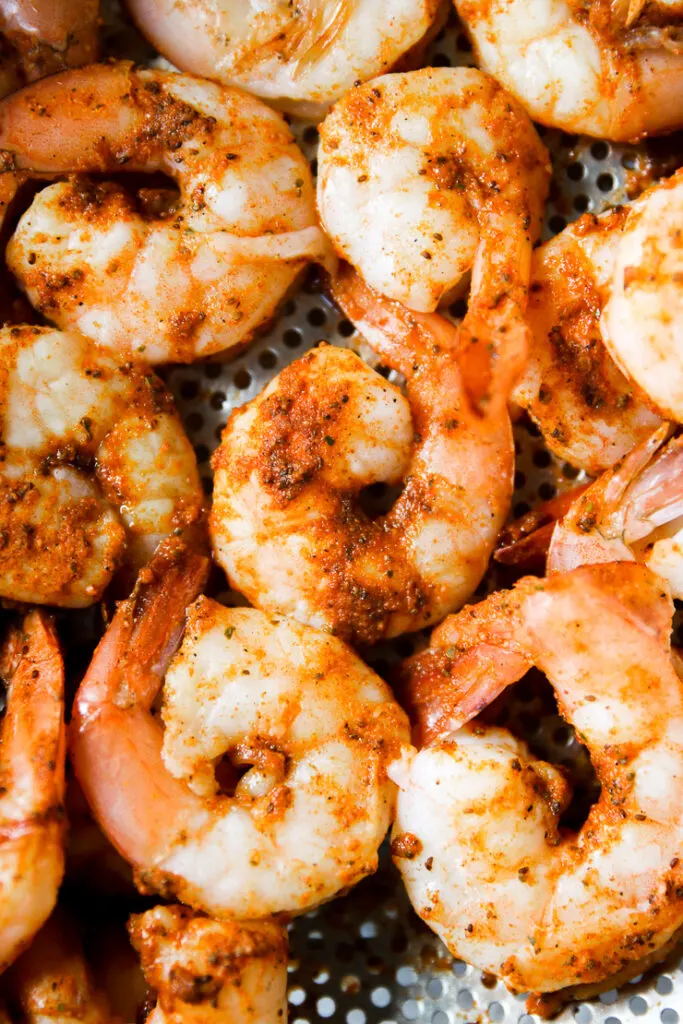 What seasonings should I use for steamed shrimp?
The only seasoning you really need for Maryland style steamed shrimp is Old Bay. Old Bay was created in Baltimore by McCormick which is why us Marylanders are so proud of it.
It's got a combination of celery salt, black pepper, crushed red pepper flakes, paprika, and many other secret seasonings. If you don't have Old Bay, cajun seasoning is a great alternative.
The steaming liquid will also have some apple cider vinegar and a light beer to add some tang and acid to the shrimp.
What kind of beer should I use?
A light beer works great for steamed shrimp. Something like a light pilsner or Mexican style lager are my favorites to use. They're light enough to not add too much outside taste, but enough that it'll still give some flavor.
I'd probably avoid using darker beers or IPAs as to not add too much flavor. The hoppiness or maltiness of those beers could work, but it might not be as authentic as you're looking for.
How long should shrimp be steamed?
Fresh shrimp don't take too long to steam through until they're pink all the way through and ready. It'll be about 5-6 minutes to fully cook shrimp with or without the shells on them.
Depending on the size, you may need to adjust the overall time to ensure that they aren't overcooked or are cooked through.
Should I serve this hot or cold?
Steamed shrimp right out of the pot are always decadent to enjoy. The seasonings are nice and bright with a little lemon juice squeezed on top!
You can serve steamed shrimp cold, too, which makes it a good option as an appetizer to make ahead of time.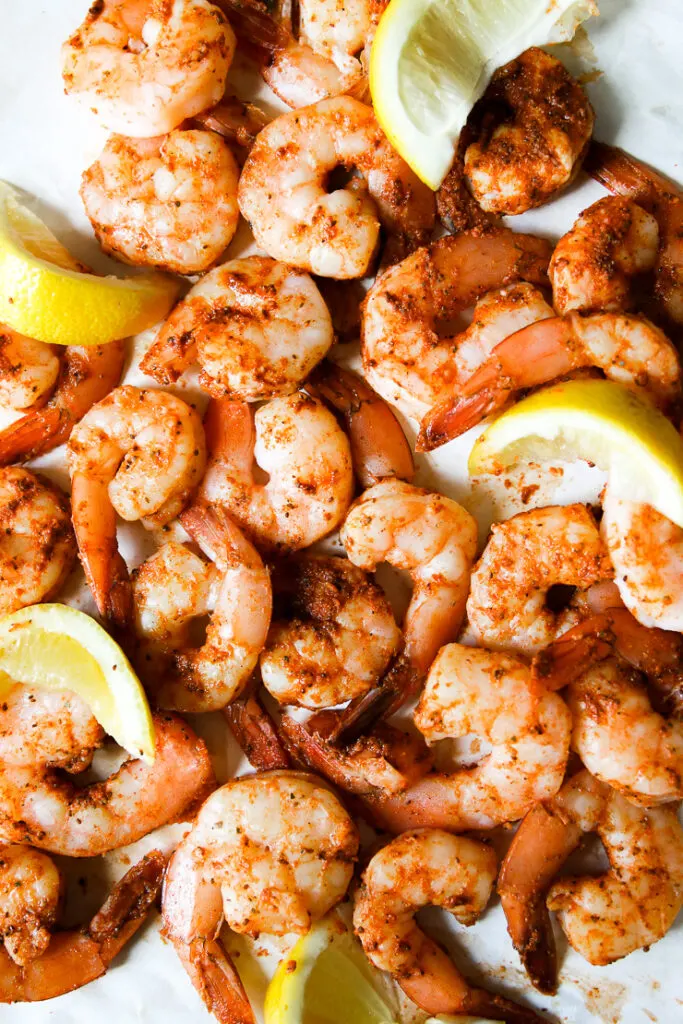 What kind of shrimp should I use?
There's a lot of factors to consider when you're picking shrimp to steam. Let's break down a few characteristics of what you'll typically find at the store and what to look out for!
Fresh vs. Frozen Shrimp
For steamed shrimp, the prime type of shrimp to get would be raw, not pre-cooked, and wild caught shrimp so they're full of flavor.
If frozen shrimp is all you can find, no worries! That is often what I use to make these in a pinch.
This guide has a ton of great information on how to properly thaw frozen shrimp, but the key takeaways are that you'll want to place the shrimp in a separate bag and place that into a bowl with some cold water.
That'll help thaw the shrimp slowly without cooking them under hot water. It should only take 10-20 minutes to do, but keep that in mind when you want to start preparing them.
Shrimp Size
If you're looking for frozen shrimp, try for a Jumbo or Extra Large size. It'll have around 16-20 shrimp per pound in the bag.
These will be big enough that they won't get over done quickly while steaming them, and will hold up to all the seasoning that you'll use!
Look for the biggest size that they have if you're getting fresh shrimp.
Peeled and Deveined Shrimp vs. Shell-On Shrimp
This is the debate that'll get you in trouble on how you like to make steamed shrimp.
Most places in Maryland use shell-on shrimp. The shell does help protect the shrimp from the steam, and all the extra seasoning sticks to it. When you go to peel it, the seasoning will get on your fingers so it's extra delicious.
I find that using peeled and deveined shrimp can be just as delicious whether frozen or fresh! It's often what's on sale and on hand at my house, so we've made it plenty of times that way.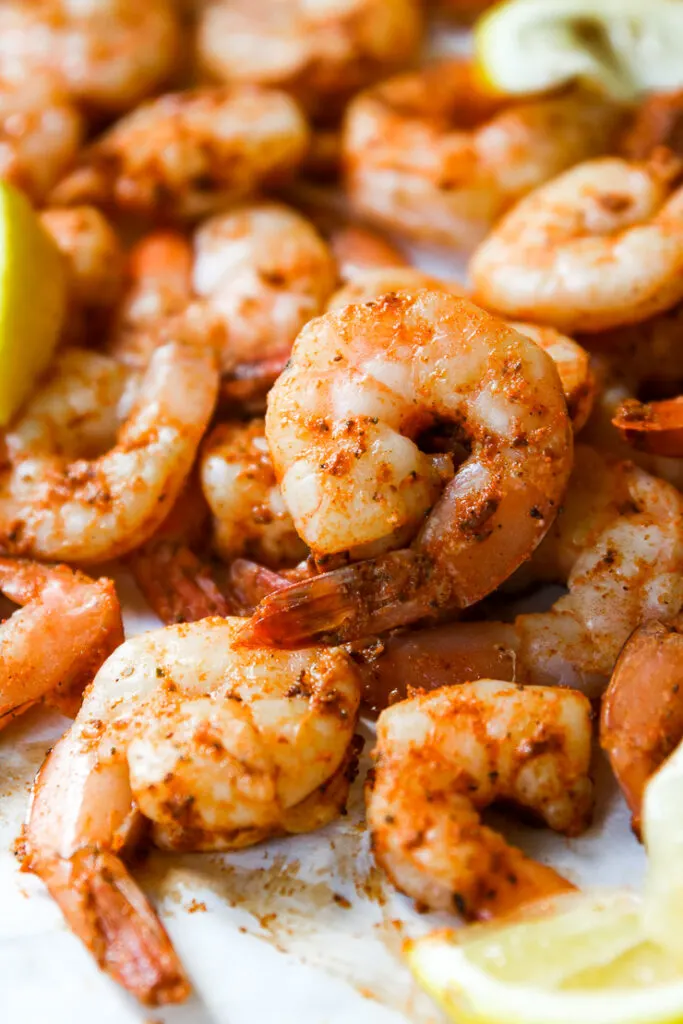 What should I serve with steamed shrimp?
I always like to serve shrimp with sides that you might typically find in a low-country boil. Corn on the cob, baby red potatoes, and sliced kielbasa make up a great meal!
It's also a great appetizer to serve when you're grilling you're dinner out on the porch.
How to Steam Shrimp in Old Bay
You'll need a large pot with a lid and a steamer basket that fits inside with the lid on top to make steamed shrimp.
Add your water, apple cider vinegar, and beer to the pot and bring it to a boil. Place your steam basket on top while you're waiting for the mixture to boil.
When it starts boiling, add in the shrimp in a single layer, if possible. Sprinkle on the Old Bay as evenly as possible then add the lid to the pot.
It'll only need to cook for 5-6 minutes for the shrimp to turn pink all the way through and be fully cooked.
Serve it with some cocktail sauce, more Old Bay, and a good beer!
Looking for other shrimp dishes to enjoy? Try one of these: