These Sheet Pan Shrimp Fajitas only take 30 minutes to make! It's a quick weeknight dinner that the whole family will love.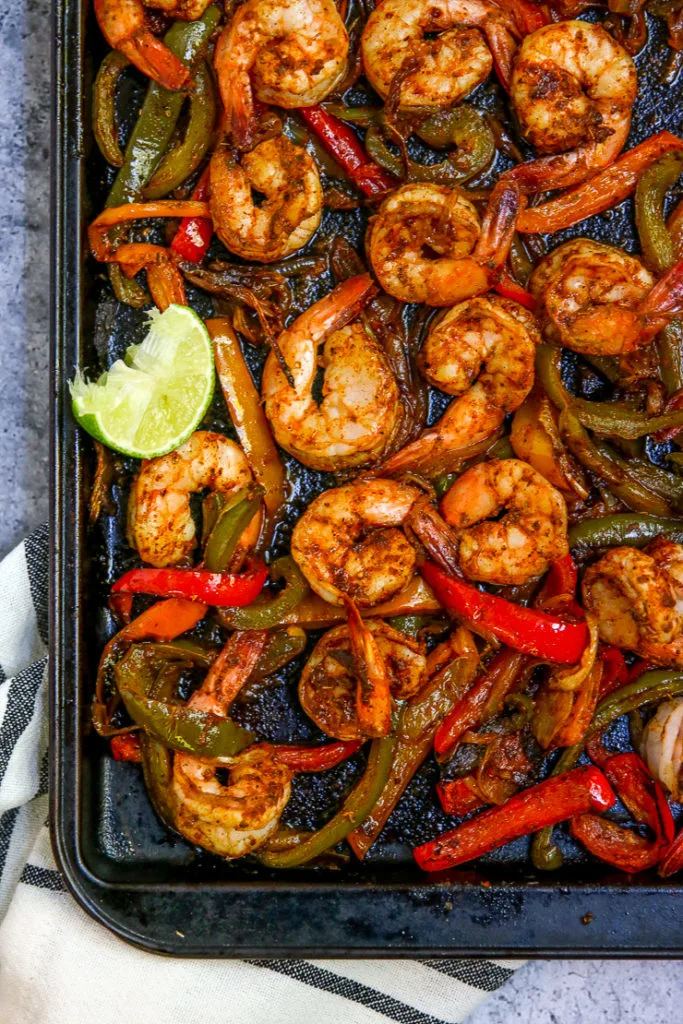 Sheet Pan Shrimp Fajitas
Sheet Pan Shrimp Fajitas come together in just a few minutes and is perfect for those busy afternoons. It's versatile enough that everyone can make it their own too!
It's an easy way to get a lot of vegetables and eating a nice and colorful meal.
The Culinary Compass participates in several different affiliate programs. As an Amazon Associate, we earn from qualifying purchases.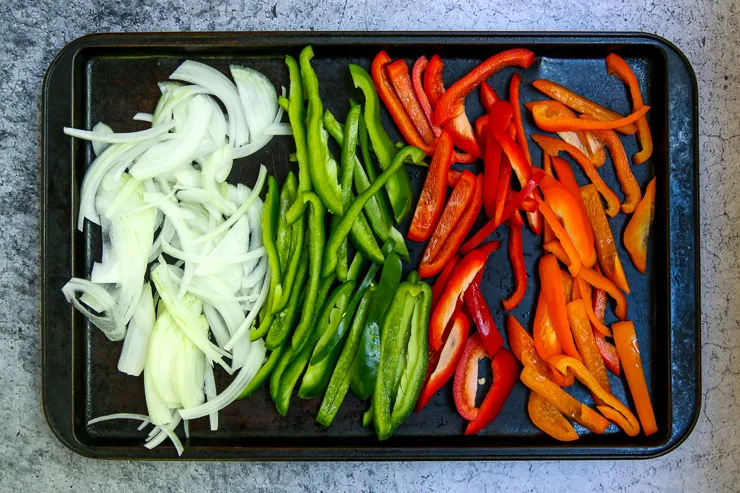 What vegetables should I use?
To ensure that the vegetables cook at the same rate, you'll want to pick vegetables that are similar thicknesses. Using various colors of peppers makes it nice and bright too!
My favorites to use for these sheet pan fajitas are:
Green bell peppers
Red bell peppers
Orange bell peppers
Sweet onions
You can switch out the sweet onion for red onions, if you'd rather. Poblano peppers are also a great option if you have access to those!
What seasoning blend should I use?
The seasoning blend for these sheet pan shrimp fajitas is Southwestern inspired. It has both warmth and spice to ensure that the
Chili powder
Cumin
Oregano
Paprika
Salt and pepper
If you're looking for a little extra spice, try adding some cayenne pepper or hot Mexican chile powder.
To give a little more depth, you could also try using chipotle chili powder or smoked paprika.
Here's another great recipe for Fajita Seasoning if you want to make it at home!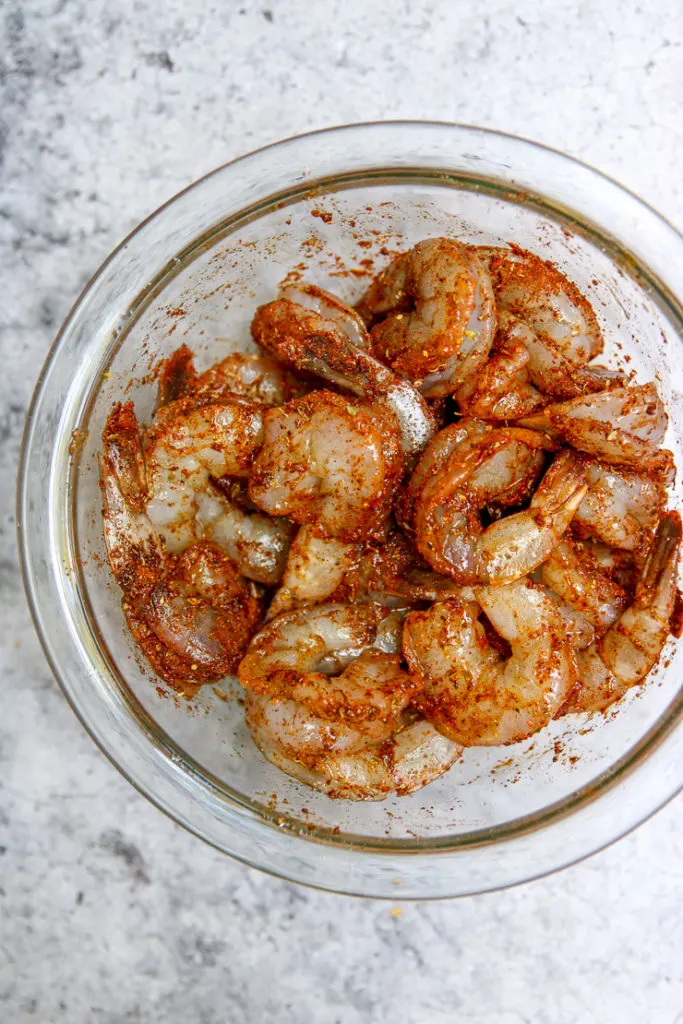 How should I thaw shrimp if I'm using frozen?
It only takes a few steps to thaw your frozen shrimp!
You'll want to fill a bowl with cold water to avoid cooking any part of the shrimp or changing the texture.
Once that's ready to go, just place your frozen shrimp into a sealable bag and remove as much air as possible. Place that bag in the bowl full of water for about 10-20 minutes.
After they're thawed, you'll want to pat them down with a paper towel to remove any extra moisture.
Southern Living has this great article on How to Properly Thaw Shrimp if you're looking for a more in-depth tutorial on how!
What size shrimp should I use?
Using any size shrimp, but the extra large types should work! Once you get to that size, they're a little bit harder to put into the fajita itself.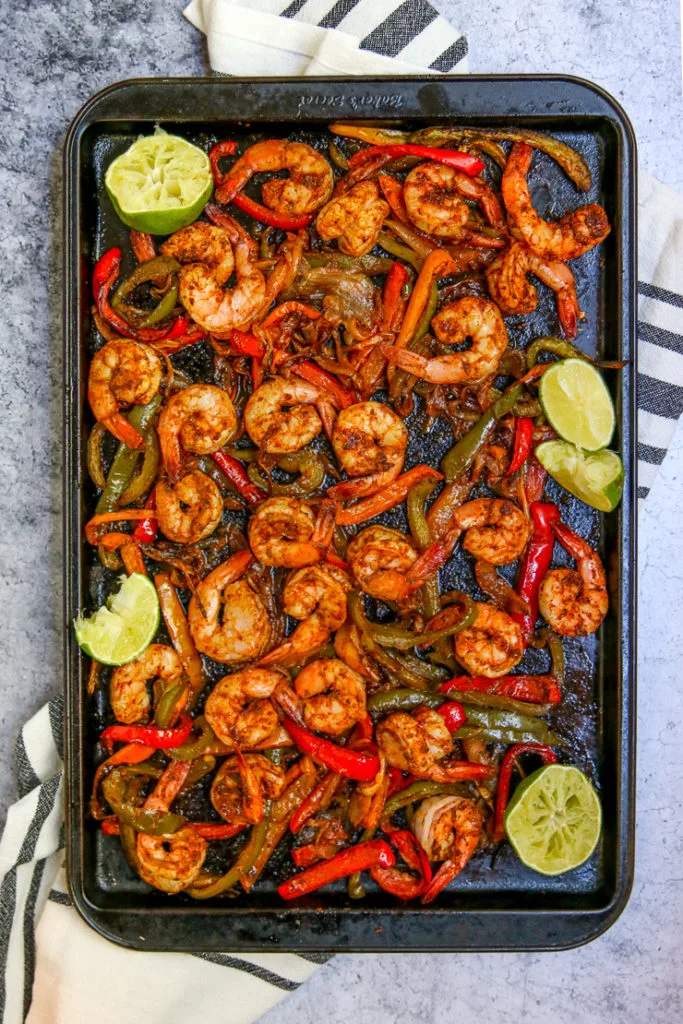 Can I use other proteins?
You can! You may need to change the way those are cooked depending on what you choose, but if shrimp isn't you're thing, you can definitely change it out.
Two of my favorites are this Chili Lime Tilapia or this Easy Baked Chicken Breast! The tilapia has a ton of similar flavors already using that recipe.
You'll want to reserve some of the seasoning blend for the chicken, if you go that route. It'll also take a bit longer that the shrimp does, so be sure to adjust the cooking time accordingly.
What should I serve these with?
To finish off these easy shrimp fajitas, you'll just want to top them with the following:
Lime juice
Tortillas – either corn or flour!
Avocado
Cilantro
They're also great on rice bowls or salads if you're looking for something a little different!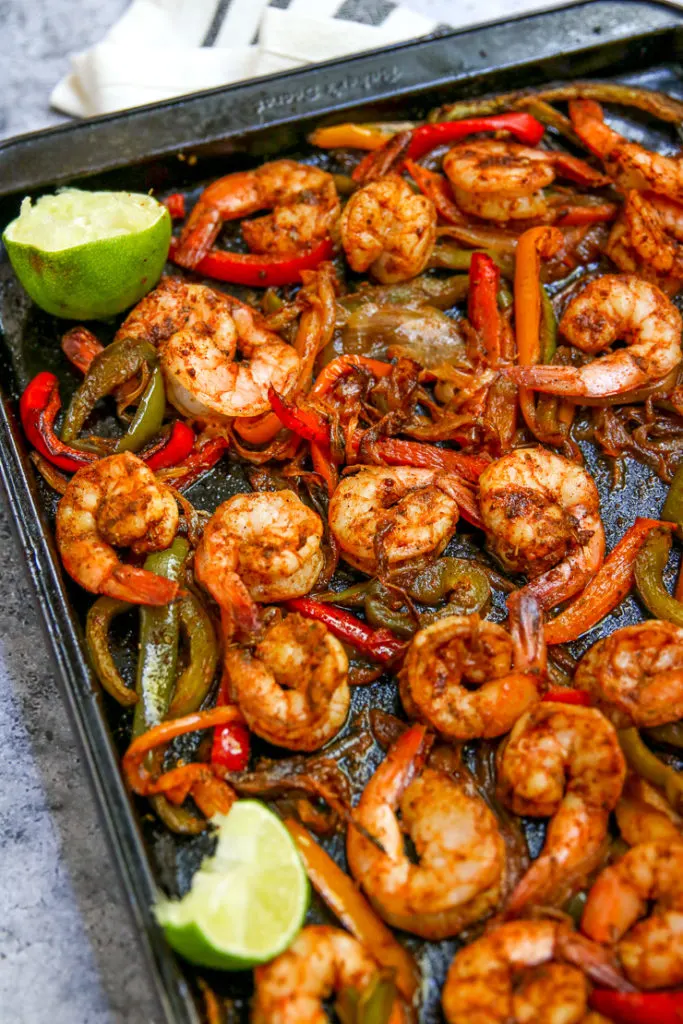 Have extra shrimp? Try making one of these dishes: