This Chili Lime Tilapia is a quick way to add tons of flavor to your dish! It's baked in the oven and only takes 15 minutes to make.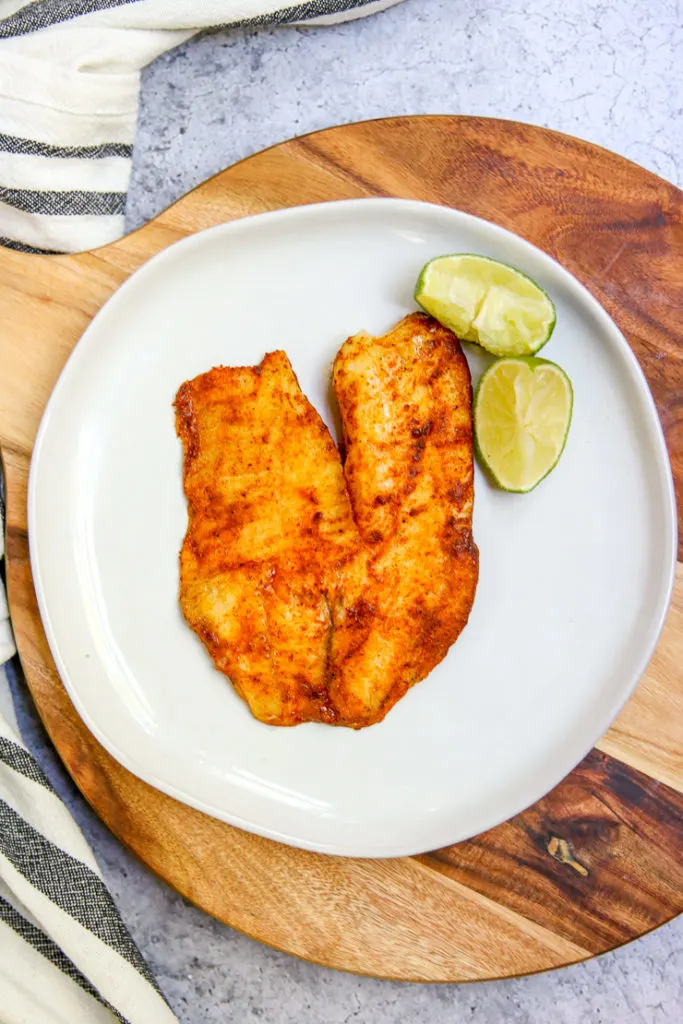 Chili Lime Tilapia
Chili Lime Tilapia is a great way to get your family on board with eating fish more often!
It comes together quickly and the seasoning blend masks any fishy tastes you might typically find with tilapia.
The Culinary Compass participates in several different affiliate programs. As an Amazon Associate, we earn from qualifying purchases.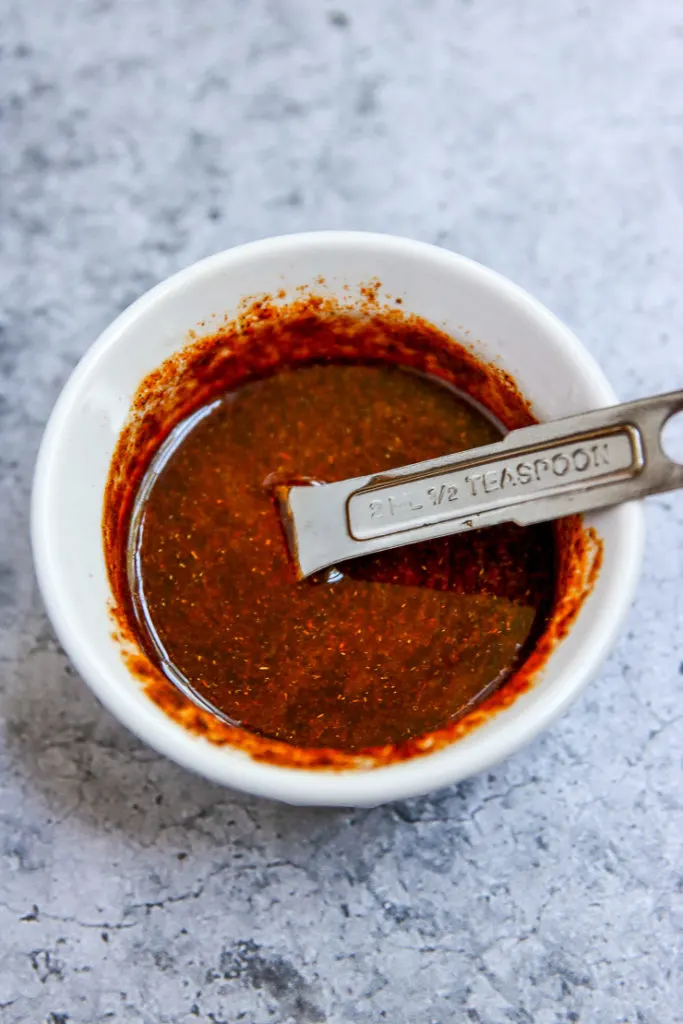 Can I use frozen tilapia?
Yes, you can definitely use a frozen tilapia fillet. You'll just want to be sure to thaw it before cooking it.
You'll often hear that frozen fish can be just as good as fresh fish as long as the quality is good to start with.
For those of us that are landlocked making fresh fish harder or more expensive to access, this is great news!
Can I cook it straight from frozen?
While you can cook it straight from frozen since it's lean, you may not want to because it can become soggy and dilute the flavors of the seasoning.
An easy way to do this if you haven't prepped ahead of time is to put the fillet that is still in it's individual bag into a bowl of hot water for about 5-10 minutes.
You can pat down with a paper towel afterwards and put right onto the cookie sheet to bake from there!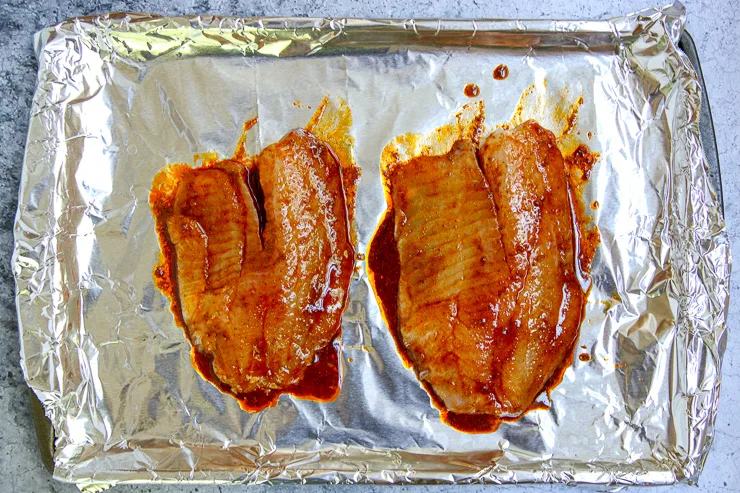 How should I season the tilapia?
You'll only need to use a few spices to get a lot of Southwestern inspired flavor with this dish!
Lime juice
Chili powder
Cumin
Paprika
Salt and pepper
Tilapia isn't too strong of a flavor on it's own either, so it takes on the spice mixture really well.
How long should I cook the tilapia?
Since most tilapia fillets are cut pretty thinly, it should cook all the way through in about 10-12 minutes in an oven that's set at 425°F.
Frozen fillets tend to be on the smaller side so keep an eye on those to avoid cooking them too much.
How will I know when the tilapia is done?
To check the doneness of tilapia, you can use a fork to see if it's flaky.
You can also use an digital thermometer to ensure that the thickest part of the fillet has reached 145°F.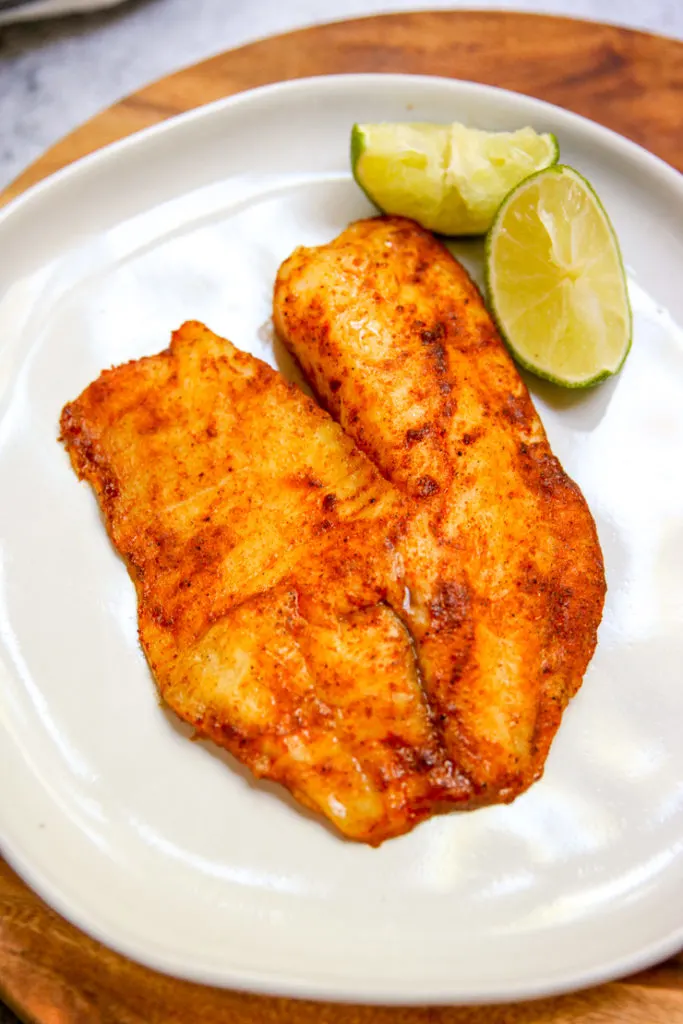 What can I serve this with?
This dish works perfectly with fish tacos so taking a spin on these Fish Tacos with Pineapple Mango Salsa is a great option. You can even top it with a little Salsa Verde for even more flavor!
You can also substitute the tilapia fillets for the shrimp in this Sheet Pan Shrimp Fajitas dish. You'll just want to be sure to add the tilapia to the sheet pan with about 10-12 minutes left.
Looking for other seafood dishes? Try one of these: