This Rotisserie Chicken Salad recipe only needs 5 ingredients and is so easy. Learn how to make chicken salad out of rotisserie chicken for a quick weeknight meal!
Rotisserie Chicken Salad Recipe
Sometimes you just need a quick meal for busy days, and this Rotisserie Chicken Salad sandwich recipe is one for the books. With just a few ingredients and no need for the oven, this is perfect for hot summer days!
Be sure to pick up a rotisserie chicken from the store the next time you go to enjoy this dish! It'll be a summer staple in no time.
The Culinary Compass participates in several different affiliate programs. As an Amazon Associate, we earn from qualifying purchases.
How do I shred and break down a rotisserie chicken?
Shredding and breaking down a store bought rotisserie chicken can be intimidating, but it really isn't too hard. If anything, it can just be a little messy! Definitely be prepared to get your hands dirty.
Breaking down your rotisserie chicken while it is still warm is when it's easiest. If it's cold, it makes it a little harder to shred.
Keeping the skin on is up to you, but I tend to remove it completely since it can get chewy in the mixture.
Next, you'll want to break down your individual chicken parts – think chicken breast pieces, wings and thighs. It's easier to take the meat from the bone then shred them.
Once those are removed, you can easily shred the chicken, either by hand, using forks, or a stand mixer.
This guide on how to shred a rotisserie chicken is more in-depth if you're looking for more details on how!
What kind of rotisserie chicken should I use?
Sticking with basic flavors like original oven roasted or honey are usually a good choice! They don't add too much extra seasoning that aren't typical in chicken salad.
Most grocery stores like Publix, Giant, Ingles, HEB, or Cotsco offer other flavor types which would make for great alternatives too!
Flavors and textures from lemon pepper or herbed chicken, for example, will give you entirely different meals without much extra work.
Some grocery stores are even offering pre-picked rotisserie chicken which makes this dish even easier. I would 10/10 always pick that if it's an option.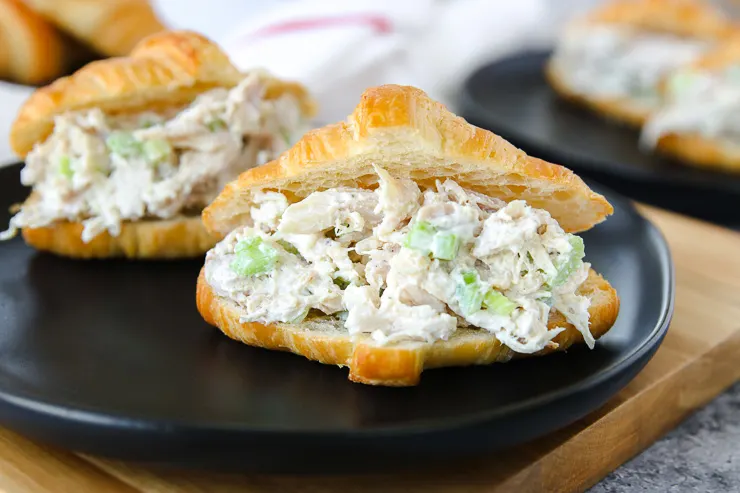 What else can I add to the chicken salad?
Chicken salad is great because of how versatile it can be. Sticking with the classics of mayonnaise, celery, salt and pepper are always a good choice.
To add more crunch, diced apples or grapes add a great texture and a little brightness. Diced dill pickles or fresh dill can be a great option if you're a dill fan!
Other seasonings like a spicy mustard, sriracha, ranch dressing or curry powder add a great flavor to make it standout from your typical chicken salad.
If mayonnaise isn't your favorite, or you're looking for a lower calorie option, using plain greek yogurt can be a good alternative.
What do I serve this chicken salad on?
Making a rotisserie chicken salad sandwich on mini croissants is one of my families favorite ways to enjoy this! If you can buy croissants from the store, it's a great option.
It is great on regular bread, as a side with crackers, or even on it's own.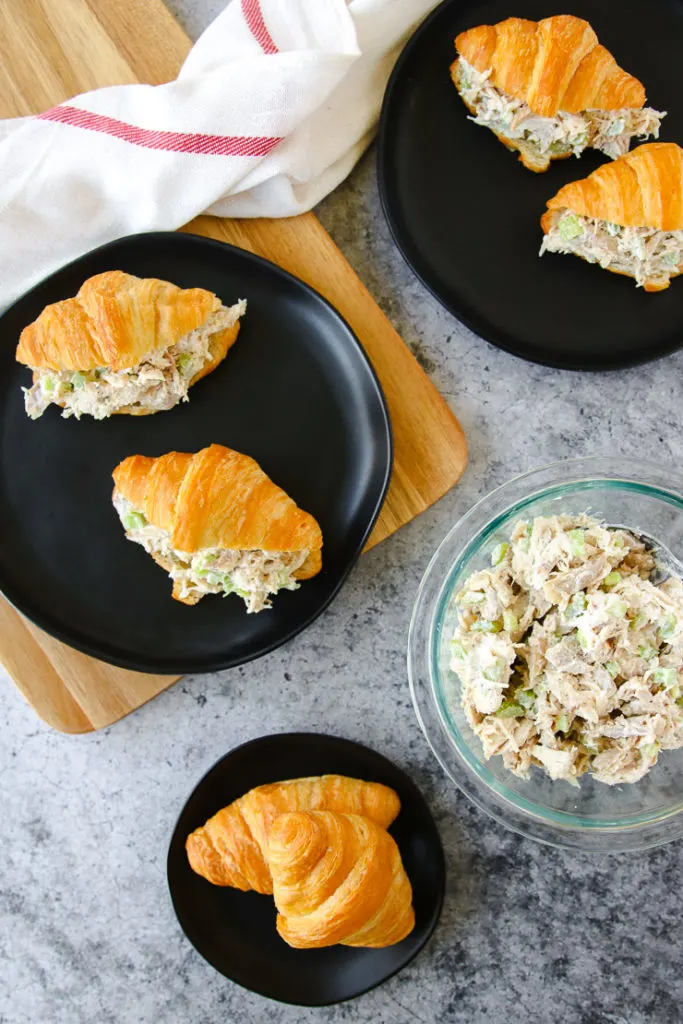 How long does rotisserie chicken salad last?
In an airtight container, chicken salad should last for three to five days in the refrigerator. It makes for a great meal prep option for those lunches when making food sounds like the last thing you want to do.
How to Make Rotisserie Chicken Salad
It only takes a few steps to learn how to make easy chicken salad out of rotisserie chicken:
Shred your rotisserie chicken
Combine shredded rotisserie chicken, diced celery, mayonnaise, salt and pepper into a large bowl.
Serve on croissants or with crackers and enjoy!
Refrigerate any leftovers in a sealable container.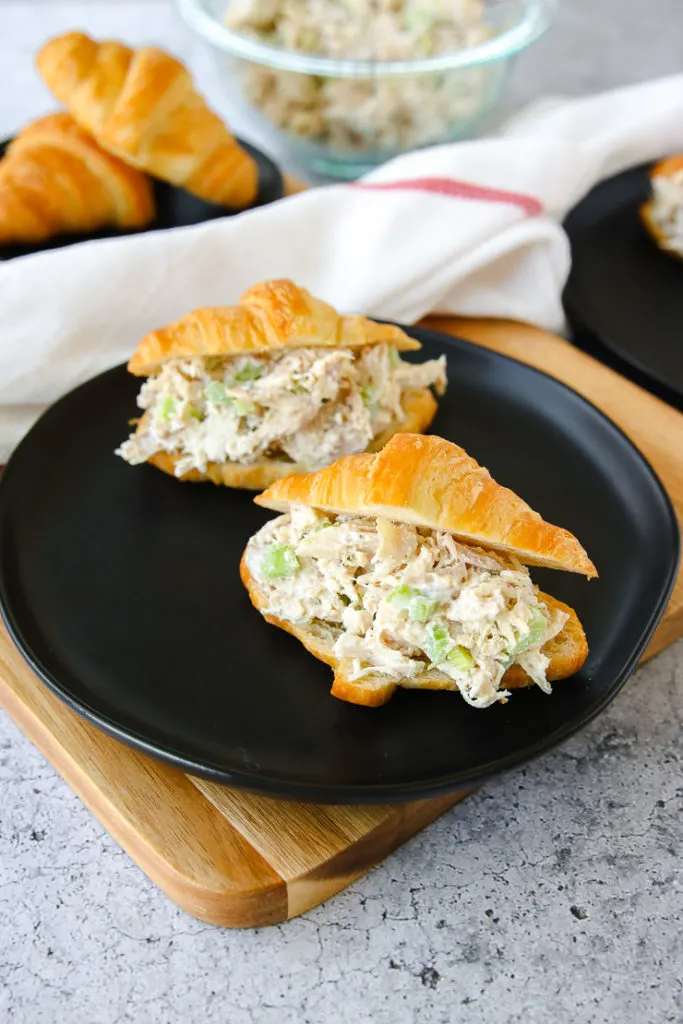 Looking for other easy lunch ideas? Try one of these: