This Balsamic Grilled Chicken Salad is full of flavor! You'll never want to make another salad once you've had this grilled chicken salad with balsamic vinaigrette.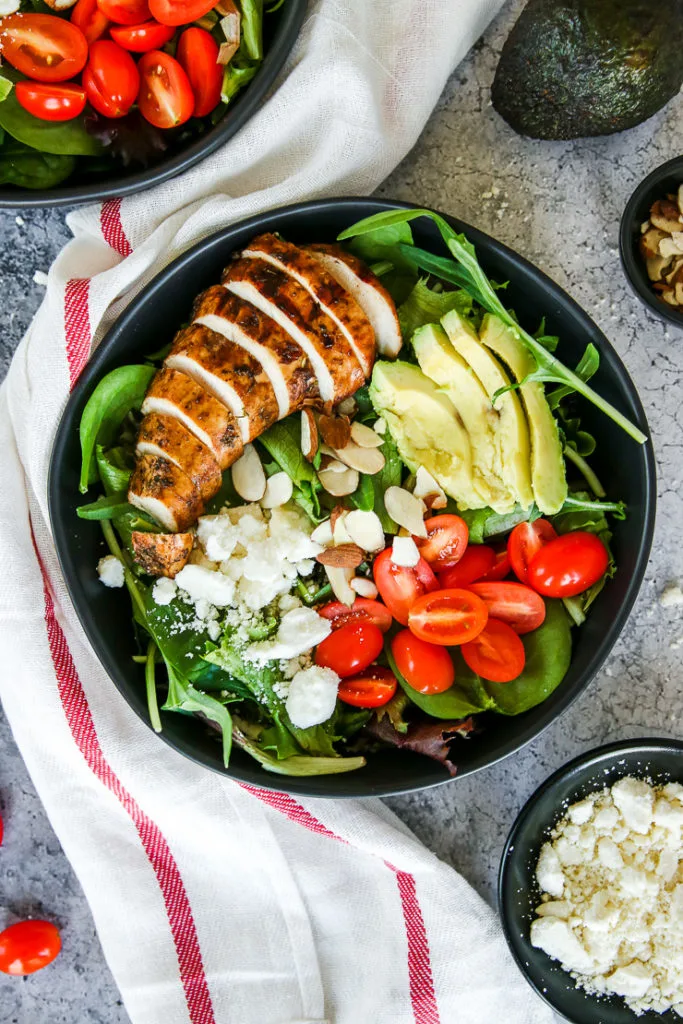 Grilled Balsamic Chicken Salad
Salads always get a bad reputation for being flavorless and a boring option. To those people I say you gotta get out more.
Salads can be great and this Grilled Balsamic Chicken Salad is one of my favorites. It's got a ton of flavor and textures that make it a dish you'll want to go back to again and again.
The Culinary Compass participates in several different affiliate programs. As an Amazon Associate, we earn from qualifying purchases.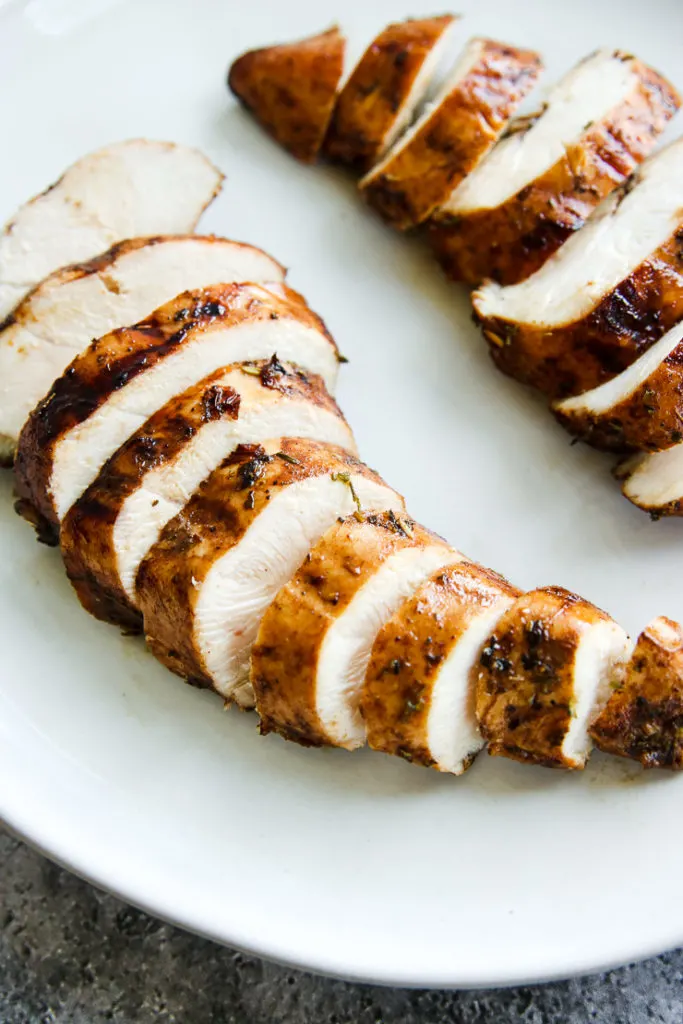 How do I make grilled balsamic chicken?
Grilled balsamic chicken is the main protein for this dish so it's an important component! Check out this recipe for Balsamic Grilled Chicken.
Marinading the chicken ahead of time is key for great flavor! Use a combination of balsamic vinegar, olive oil, Italian seasoning, salt, garlic powder, and pepper.
If you're grilling the chicken breasts, preheat the grill to 350°F. Let it cook on both sides for 7-8 minutes then use a digital thermometer to make sure internal temperature reaches 165°F.
Remove chicken from grill and let rest for 3-4 minutes to make sure the chicken stays moist. Slice and serve warm, or refrigerate to eat later!
What toppings can I include on this balsamic chicken salad?
This salad is super versatile so you can use just about whatever you'd like. Here's some of my favorite toppings:
Cherry tomatoes
Sliced avocado
Crumbled feta, or goat cheese if you're into it!
Sliced almonds, or nuts that you like
Balsamic vinaigrette
I like to use spring mix for some flavor and crunch, but any lettuce mixture works great.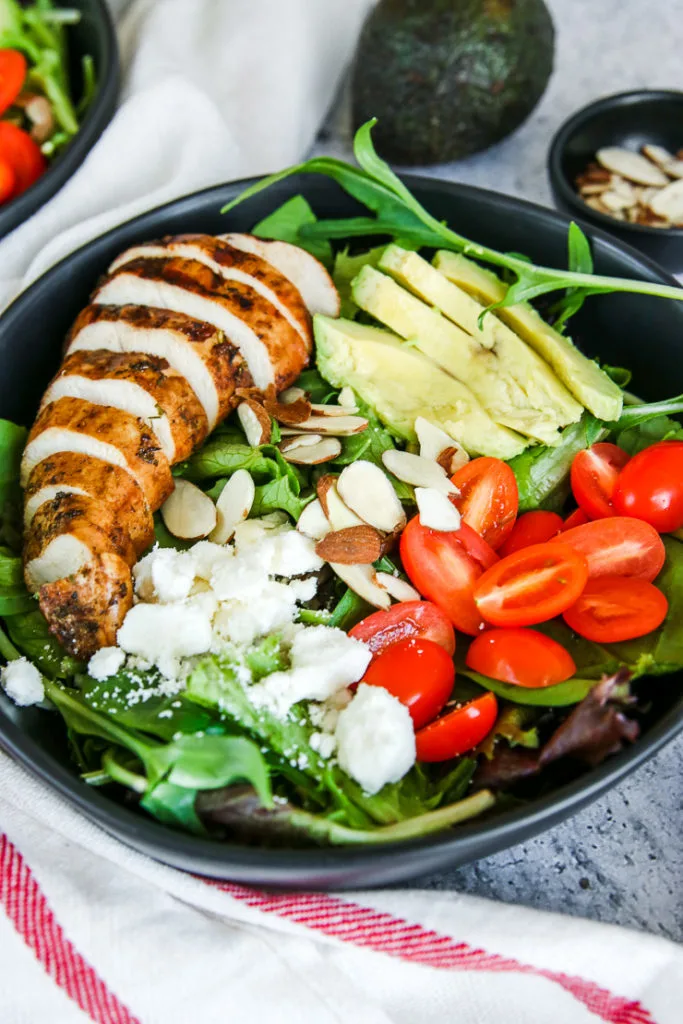 Can I make my own balsamic vinaigrette?
You bet! If you feel like being a little fancy, here's a recipe for a great balsamic vinaigrette. It's pretty easy to make and it doesn't take too many ingredients.
Most recipes call for some olive oil, balsamic vinegar, honey or sugar, garlic, salt and pepper so keep that in mind if you want to make your own.
Using store bought balsamic vinaigrette is also always a great option to keep things nice and simple.
Can I make this recipe ahead of time?
This is one of my favorite recipes to eat throughout the week! Making the chicken ahead of time and just combing ingredients for lunch or dinner makes for a great summer dish.
I would avoid adding in the cheese, avocado, and vinaigrette until right before you want to eat it to make sure the lettuce remains as crisp as possible.
If you want another fresh and delicious summer salad recipe, try out this Strawberry Feta Salad!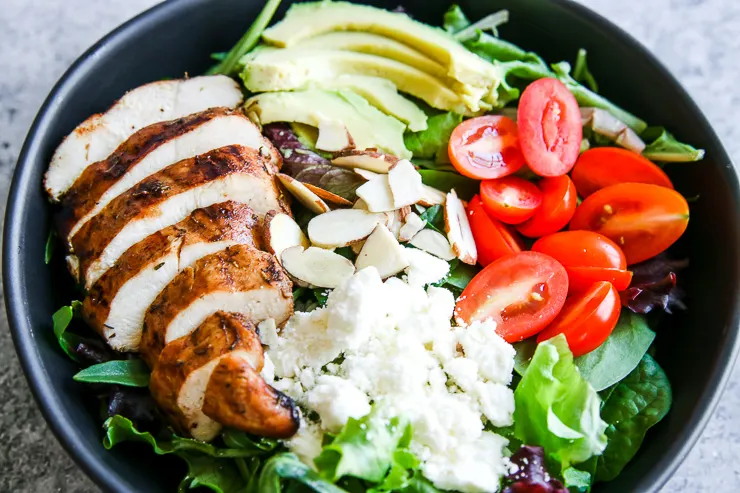 How to Make a Balsamic Grilled Chicken Salad
Spread out your spring mix in a bowl and add your chicken, diced cherry tomatoes, crumbled feta, and sliced almonds. Drizzle some balsamic vinaigrette over top, toss, and enjoy.
Are you a big balsamic fan? Be sure to try one of these: