This Corn Edamame Salad with Balsamic Vinaigrette is a great side dish for warm days since there is no cooking involved! Use fresh basil, tomatoes and sweet corn to make a great summer salad.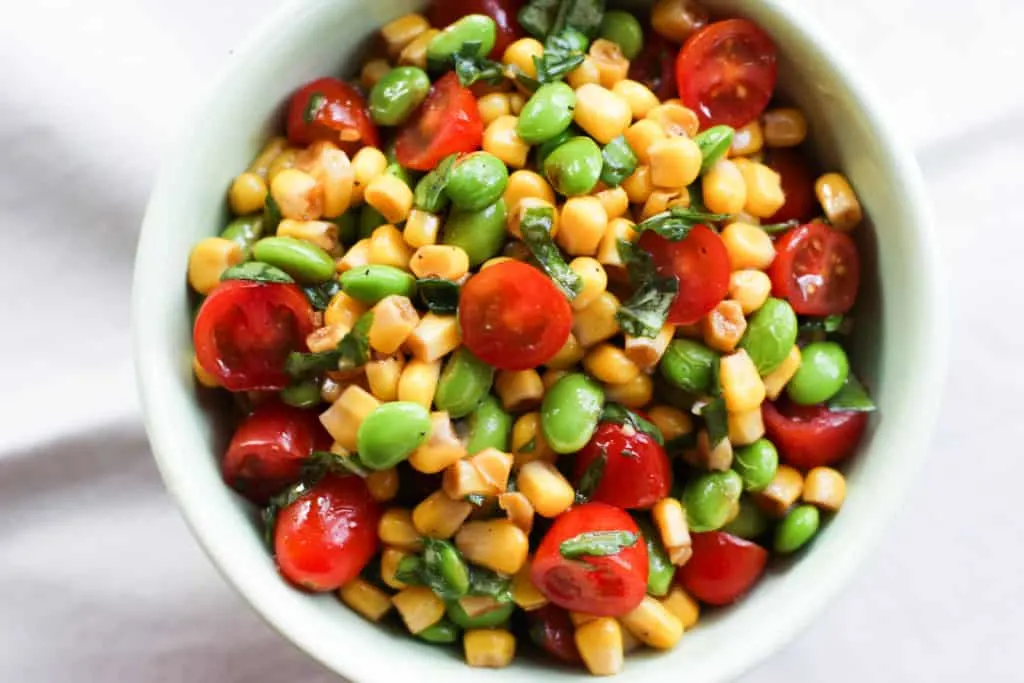 Corn Edamame Salad
This Corn Edamame Salad is so easy to throw together in a bowl and mix up for a snack or dish for dinner.
Another option is to throw it on a salad with some grilled chicken like I did with these leftovers for a great dinner!
This corn edamame salad is super easy way to please even the pickiest of eaters. I cannot wait to make this once all of the produce is fresh this summer.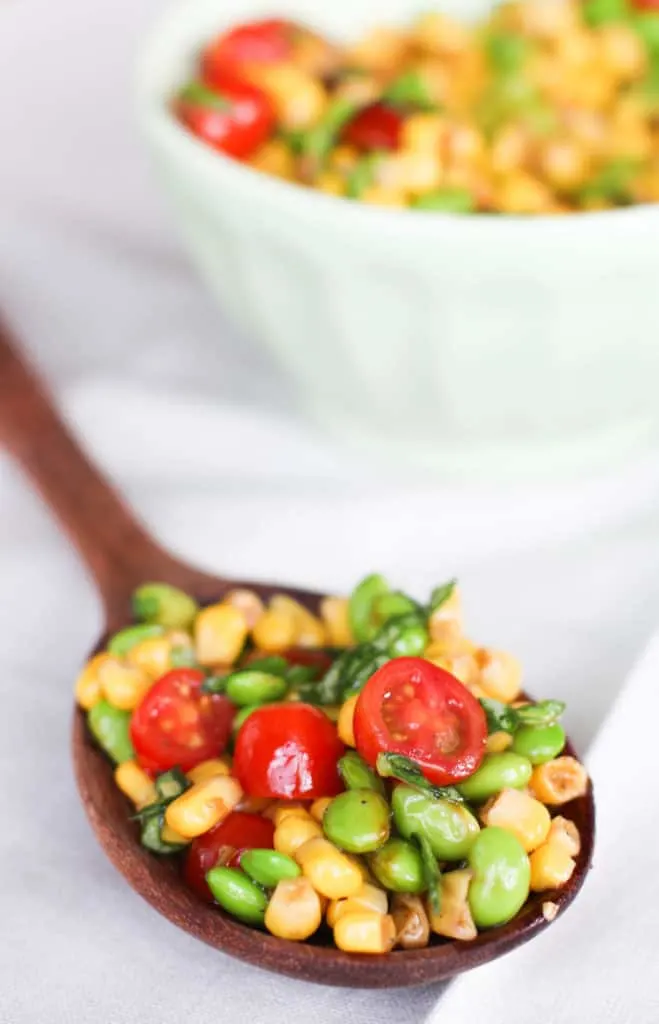 What else can I add to this salad?
Just about anything you want! Any summer produce would be delicious in this edamame salad. Think fresh peppers or green beans!

I'm imagining adding even more fresh herbs or veggies straight from the garden. Maybe replace the basil with cilantro and add some jalapeños, avocado, and red onion you've got a fun southwestern take on this salad.
How do I make balsamic vinaigrette?
You'll just add a few ingredients in a bowl and mix them together!
1/4 cup olive oil
2 tbsp. balsamic vinegar
1/2 tsp. salt
1/4 tsp. pepper
1 tsp. lime juice
I also add lime juice to help cut the vinegar flavors keeping it very light. You could also cut the balsamic vinegar all together and replace it with lime juice with some extra lime zest.

Feel free to use pre-made balsamic vinaigrette too! Any way you can save time in my book is a win.

Some people add dijon mustard like this balsamic vinaigrette recipe from Epicurious.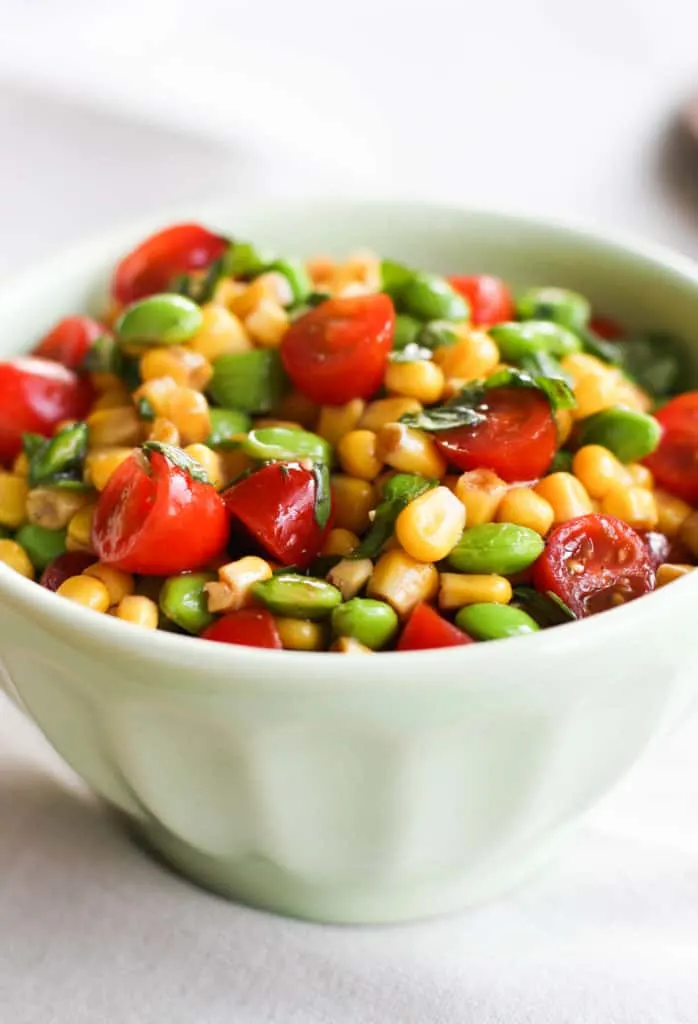 Do I need to cook this corn edamame salad recipe?
Nope! This is a recipe you'll just throw together in a bowl and mix. It comes together in just a few minutes especially if you're using canned corn.

If you have access to sweet corn in the summer, I'd definitely recommend trying that out for a fresh flavor!
It sits really well in the refrigerator too so it can be made ahead. Just be sure to give it a stir before serving to make sure the dressing coats the whole salad again.
What kind of edamame do I use?
I use a bag of frozen edamame! I just cook it according to the directions and set aside to let cool down.

To save some time, you could always cook this ahead of time and store in the refrigerator until you're ready to add the edamame to the salad.

Another option would be heading to your local salad bar and grabbing some fresh edamame there!

That'd be a good way to add in fun different veggies too without worrying about wasting any extras.
There is something about the brightness of the vegetables alone that makes this so fun to eat and reminds me so much of summertime.

Until summer actually arrives, I'll happily take this little bowl of sunshine.
Be sure to enjoy and tag me with #theculinarycompass on Instagram if you make this!