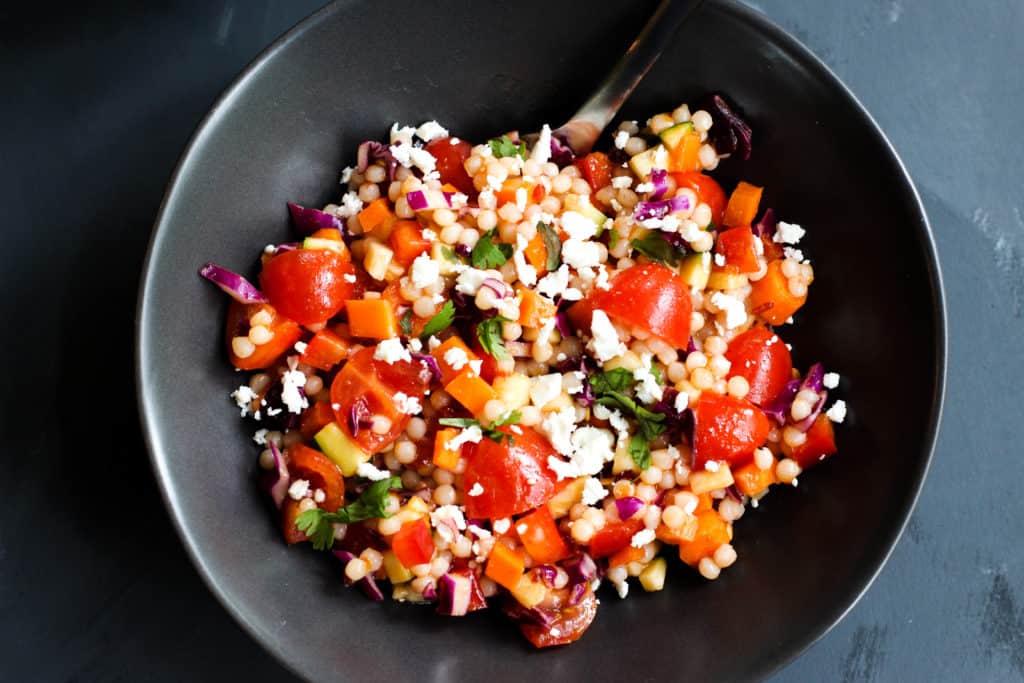 This Spicy Israeli Couscous Salad is definitely going to be one of my go-tos this summer!
I've eaten it as a side dish for dinner or just by itself for lunch.
It's so easy to prepare and make a big batch to keep eating from the whole week.
I love the flavor combinations from the crunchy veggies, sambal dressing (I know.. I knoww.. Enough with the sambal already), the Israeli couscous, and creamy feta to tie it all together.
Something I didn't realize before making this was that Israeli (or pearl) couscous is basically a giant version of couscous.
It's called Ptitim is Israel and it's actually made from toasted wheat flour or semolina depending on the brand. Think of it like a pearl shaped pasta.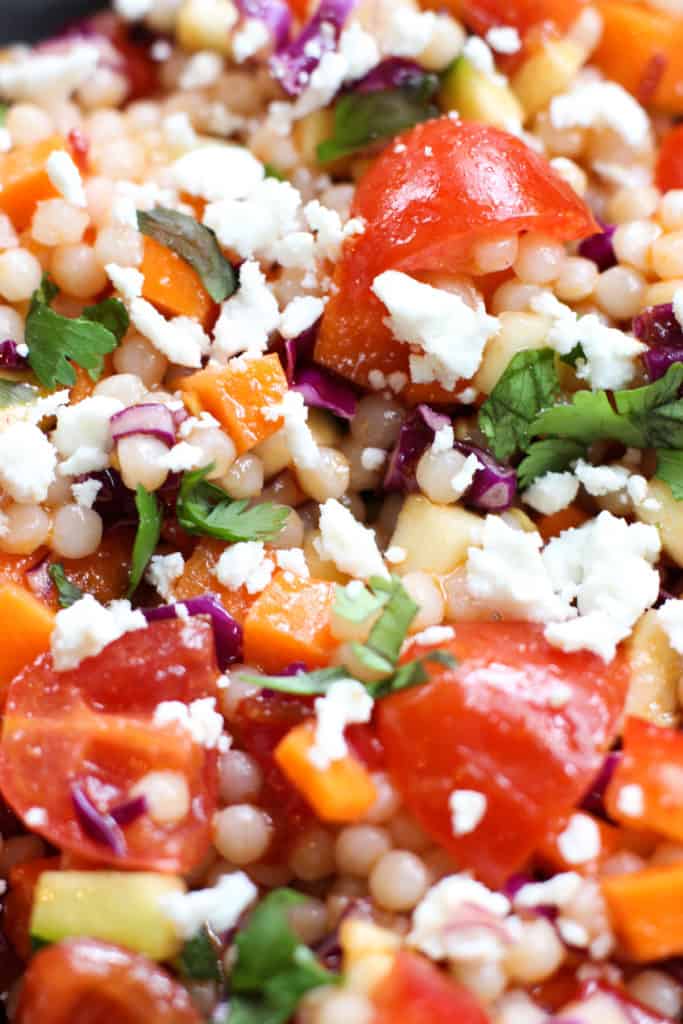 I think I'll definitely be using a lot more of it just because of it's nutty flavor and unique, chewy consistency.
Next time you want to make pasta salad, consider using Israeli couscous instead!
After making the Israeli couscous, I let it cool completely before mixing the other ingredients in it.
By itself, it was very sticky and clumped together. Once I added in the other ingredients and especially the dressing, it incorporated more into the salad.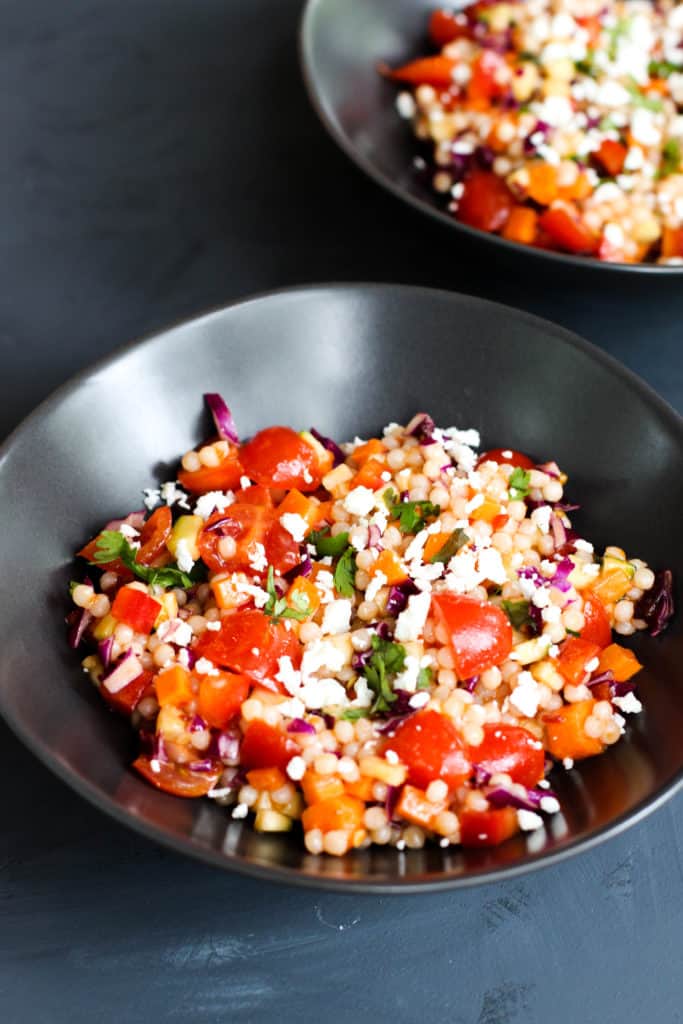 For the dressing you can use sambal oelek or you can try harissa.
Living in a small town doesn't bode well for trying to find harissa, but it is typically in most grocery stores. Harissa is a North African chili paste much like sambal or sriracha, but with different herbs and spices.
There are also all sorts of recipes online to try and make it if you have time!
Of all places I got inspiration for this from Wawa.. yes the gas station.
They've got some great premade salads and a variation of this was one of them!
I stuck with premade just to cut down on time to throw this together.
You can also change up the vegetables or even add more it give it more flavors and textures.
Maybe try red onions and cucumbers with extra dill and lemon juice for more of a Mediterranean vibe!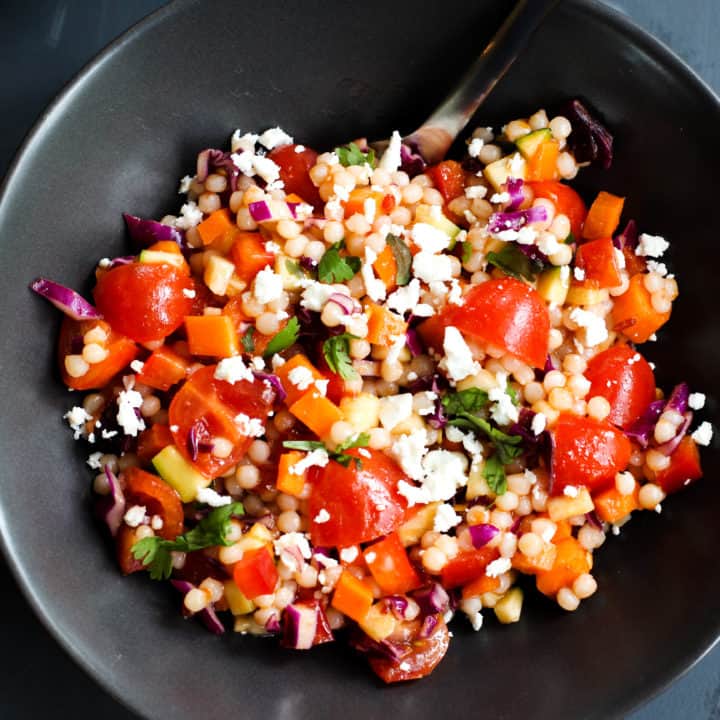 Spicy Israeli Couscous Salad
This Spicy Israeli Couscous Salad is easy to make and so vibrant in both the colors and flavors!
Ingredients
For couscous:
1 cup Israeli couscous
1 1/4 water
For dressing:
1/4 cup olive oil
2 tbsp sambal oelek
1 tbsp honey
1 tbsp lime juice
For salad:
1/2 zucchini, finely diced
1/2 red pepper, finely diced
1 cup red cabbage, diced
1 cup carrots, about 2 large carrots finely diced
1 cup grape tomatoes, about 15, quartered
3/4 cup crumbled feta + more to top
ciilantro, to top
Instructions
Step 1

To cook Israeli Couscous: Bring 1 1/4 cup water to boil and add in couscous. Cook 8-10 minutes, covered and on a simmer. Fluff and cool completely when done.

Step 2

Combine olive oil, sambal oelek, honey, and lime juice in a small bowl.

Step 3

Combine cooled couscous, zucchini, red pepper, red cabbage, carrots, grape tomatoes, feta, dressing in a large bowl until well coated. Top with cilantro and more feta and enjoy!