These Garlic Butter Mussels are hard to share and full of flavor! Follow along to learn how to cook garlic butter mussels.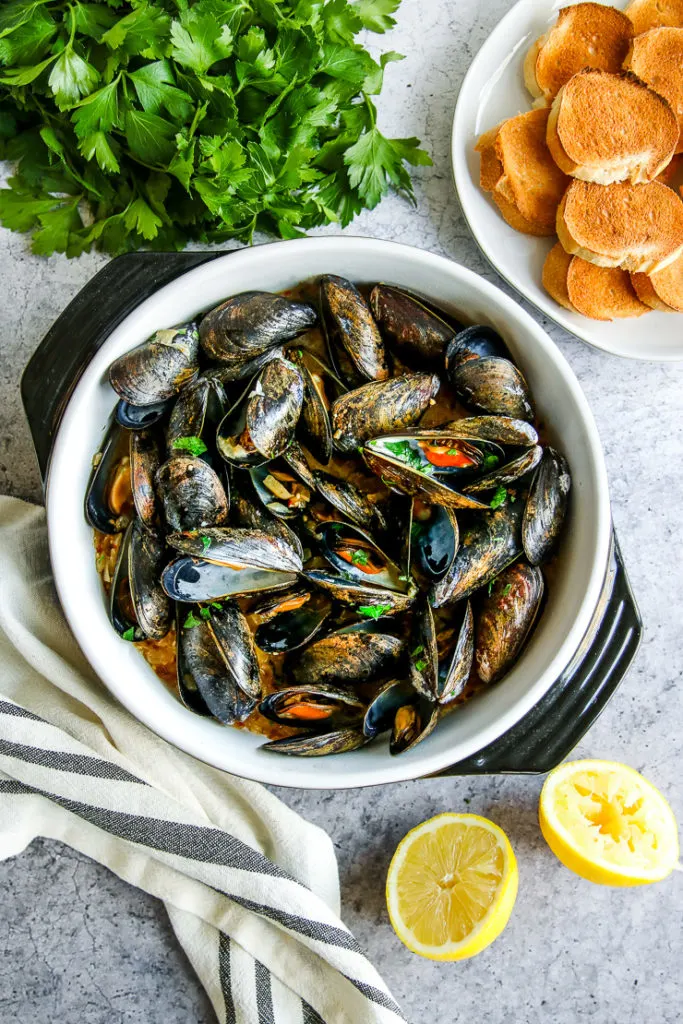 Garlic Butter Mussels
This Garlic Butter Mussels recipe seems like it'd be much harder, but it really takes less than 20 minutes to throw together!
The result will make you feel like you're at a seafood restaurant enjoying the mussels without having to go anywhere. It's a perfect dish to make as a treat for yourself or even as a date night with the family.
The Culinary Compass participates in several different affiliate programs. As an Amazon Associate, we earn from qualifying purchases.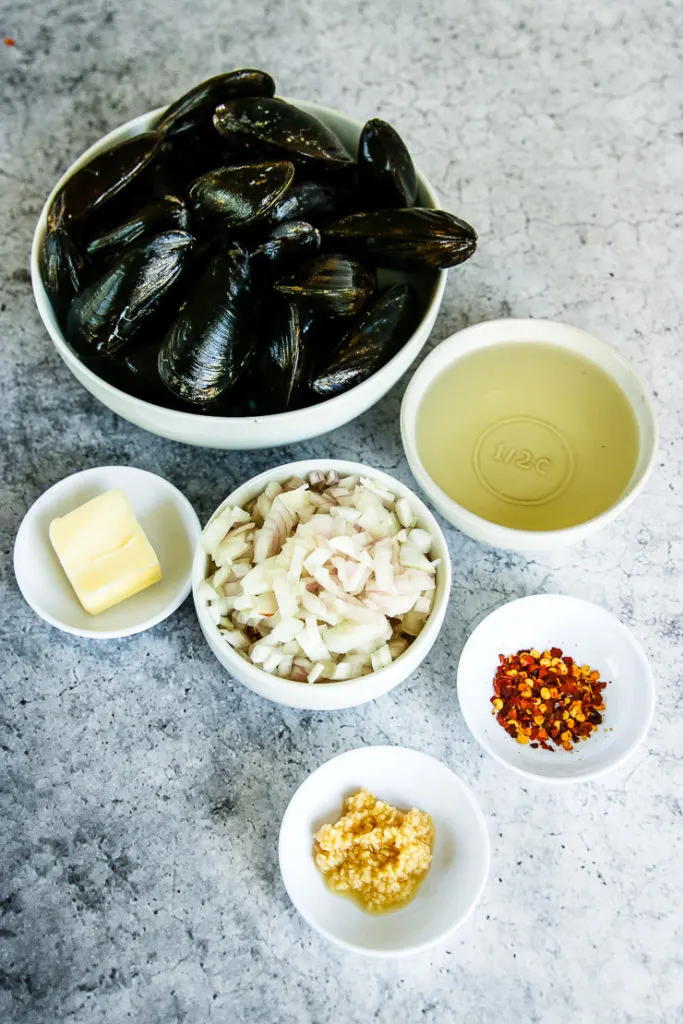 What ingredients do I need to make garlic mussels?
It only takes a few ingredients to make garlic butter mussels!
Fresh mussels
Butter
Shallot
Garlic
Red pepper flakes
White wine
Lemon juice
Parsley
Of course, you'll need crusty bread to soak up the delicious broth, too!
How should I clean the mussels?
To clean the mussels, you don't need to soak them in fresh water at all like you might for other shellfish. All you'll have to do is run them under cold water right before serving and use either your fingers or a brush to knock off any dirt or sand.
Something you may have heard before is that mussels have beards! Part of the cleaning process is debearding the mussels. Some types of mussels may come debearded already.
To debeard the mussels, you'll find a clump of brown hair-like fibers on the outside of the shell and pull that towards the hinge of the shell with your fingers. When you do that, it should pop off pretty easily.
Once the mussels are cleaned and debearded, be sure to cook right after!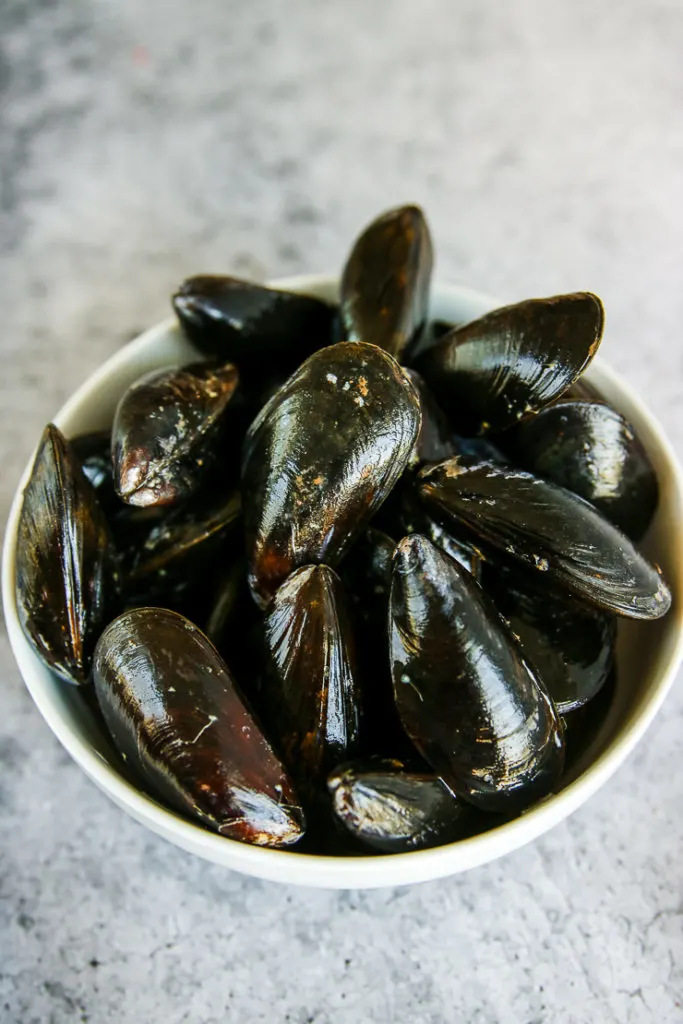 What kind of white wine should I use?
Using white wines that are less sweet like a Pinot Grigio or Sauvignon Blanc are perfect for steaming mussels in.
The result is a crisp and bright sauce that will make you want to soak up every last bit!
Do I need to use wine to steam mussels?
Not necessarily! You can use vegetable broth as a substitute if you don't have any wine on hand or don't drink alcohol.
The wine does add a bit of flavor though, so if you're able to use it, I'd definitely suggest it!
If you opt to use broth, use a bit of extra lemon or white wine vinegar to help brighten up the dish and add more acid like the wine would.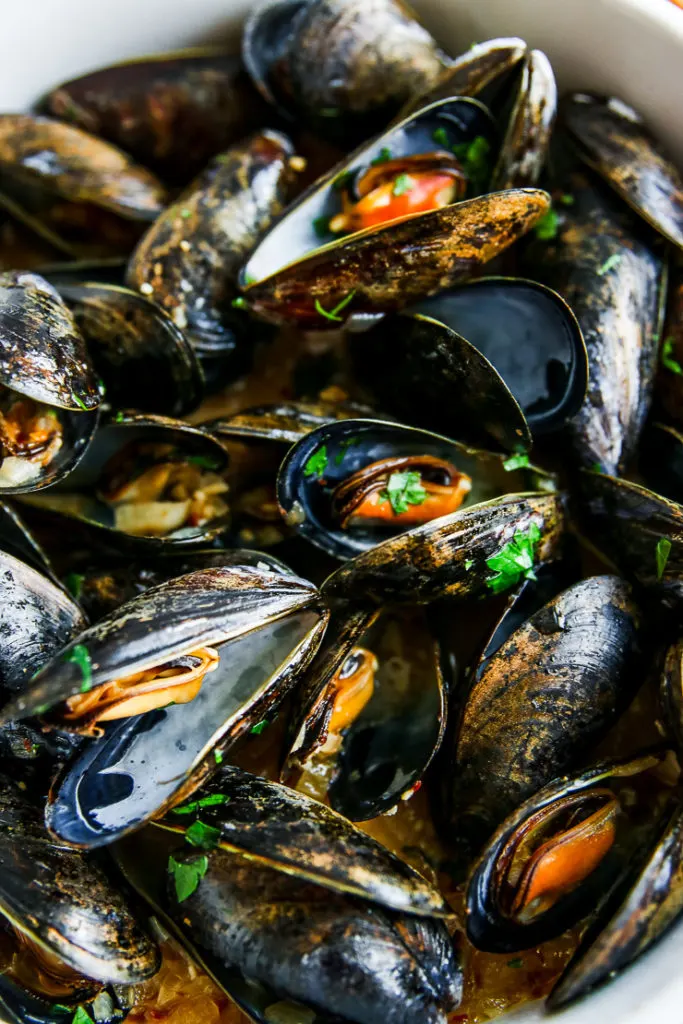 Should I discard mussels that are still closed after I'm done cooking?
You should! Those may not be good for consumption so I'd suggest throwing those away.
Something you should also do prior to cooking is check for any mussels that are open. Tap them with your finger and wait for them to close. If they don't close, you'll want to discard them as well. Shout out to PEI Mussels for this helpful tip!
Can I do this with other seafood or shellfish?
Definitely! Simmering shrimp or clams would be a good option to create another take on this flavorful dish.
You could do this in addition to the mussels or do it instead of the mussels depending on what your local market might have.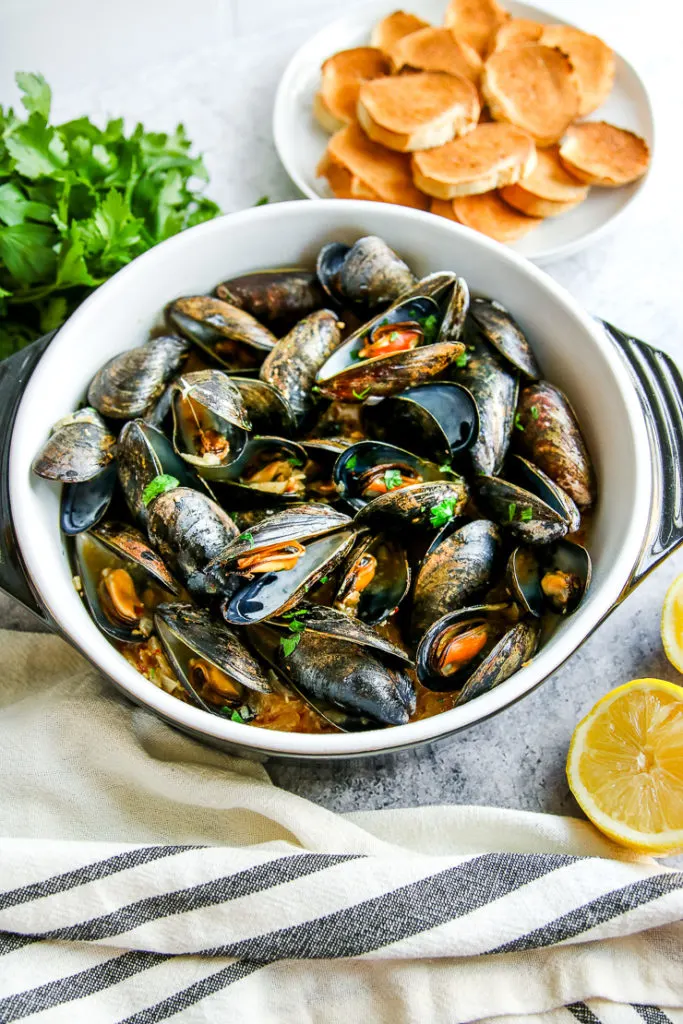 What should I serve with mussels in garlic butter sauce?
Garlic Crostini is my personal favorite to serve with steamed garlic mussels to help soak up any of the broth that remains at the end.
Honestly, it might be my favorite part. It tastes like french onion soup and is SO full of flavor.
Another option is to cook some pasta, remove all the mussels from the shells, then combine in the cooking dish to create a light seafood pasta!
How do I make garlic butter mussels?
It only takes a few steps to make garlic butter mussels. Be sure to first clean your mussels. Next, you'll heat your butter over medium to medium high heat to melt. Add your shallots and let become aromatic.
Add to your shallots, garlic and red pepper flakes then stir a bit. Next, add your wine and bring it to a simmer. Pour in the mussels and cover to let steam for 5-7 minutes. Be sure to remove any mussels that haven't opened. Squeeze some lemon juice on top and add some parsley.
Looking for other delicious seafood dinners? Try one of these: