This Cast Iron Filet Mignon is perfect for date night or any special occasion! Cooking filet mignon in a cast iron skillet only takes a few steps!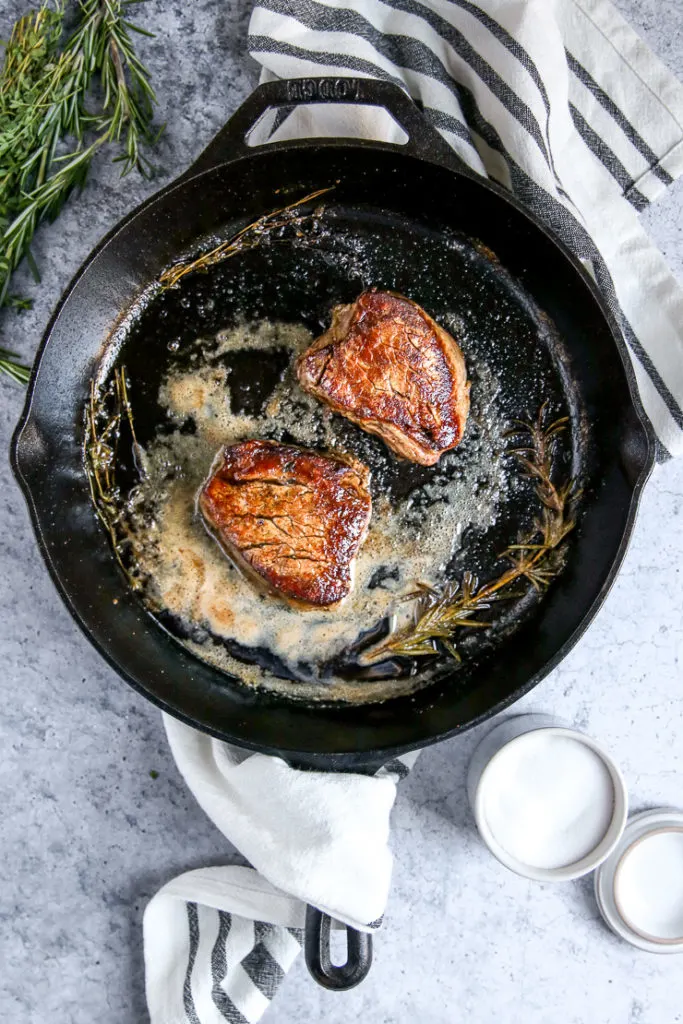 Cast Iron Filet Mignon
Making your filet mignon in a cast iron skillet is a game changer. It gives you a perfect sear every time and is perfectly tender so it melts in your mouth.
Really who wouldn't want a steak basted in butter with herbs? What's more surprising is how simple it can be! It seems intimidating, but with a little preparation, you'll be mastering steak in no time.
The Culinary Compass participates in several different affiliate programs. As an Amazon Associate, we earn from qualifying purchases.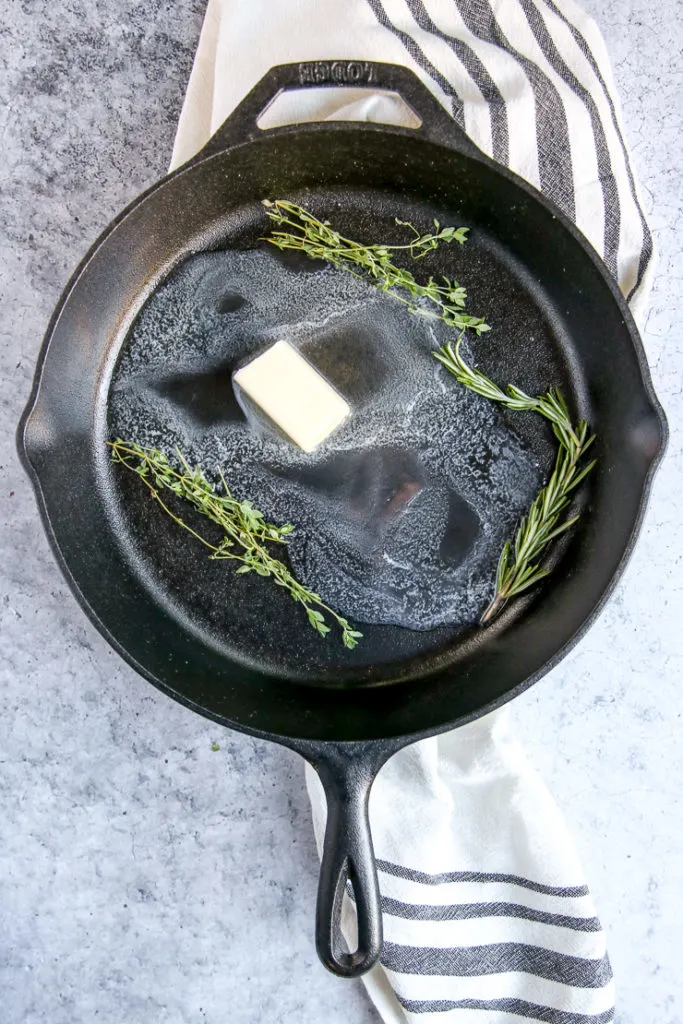 What types of seasonings can I use?
Butter is the main ingredient which gives the steak a ton of flavor on it's own as does the kosher salt and pepper. Adding thyme and rosemary to the butter infuses it with some herby flavors that are subtle, but make a huge difference.
Other options would be peppercorns or garlic cloves to help infuse the butter with some extra flavors that pair perfectly with this filet mignon recipe. Herb butter is also a perfect way to finish it off!
Should I use butter or oil?
Great question! A lot of people like to use a combination of oil and butter to both flavor the steak and raise the smoke point to avoid burning the outside. If you're careful with just butter, though, you are usually able to avoid the burnt edges.
If you were to add oil, use a neutral oil like canola with a higher smoke point. Extra virgin olive oil actually has a lower smoke point than butter making it smoke even faster and potentially burning the outside.
You could cut back the amount of butter to two tablespoons and substitute in the oil for the remaining two tablespoons to try out using the butter for flavor and oil to help sear.
Does an enameled cast iron pan work?
I have used both a regular cast iron pan and enameled cast iron pan for this! Both gave great sears to the outside of the steak, but the regular cast iron may have edge out the enameled by just a touch.
If you only have an enameled pan, it definitely wouldn't be worth buying a regular cast iron pan, though! Both should be oven safe which is also great for other recipes!
With either, you'll notice that the steak might feel like it gets stuck to the pan when you first add it in. Just let the steak cook a bit longer and it should release from the pan when it's developed more of a sear.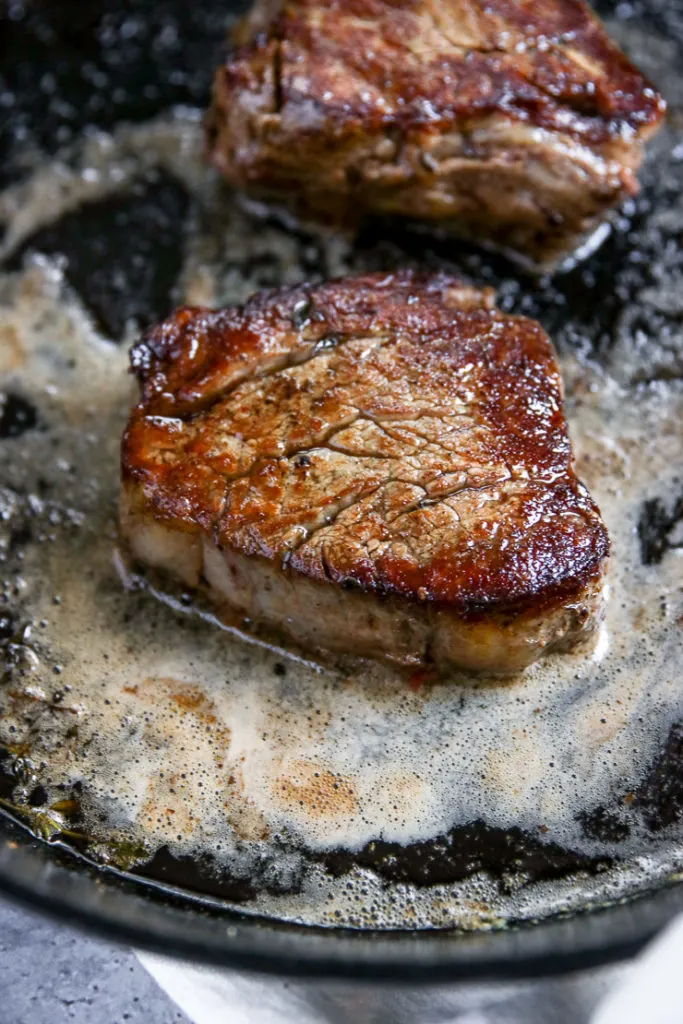 Can I cook filet mignon without an oven?
You can! You'll just want to try and cook the steak as evenly as you can with the same amount of time on both sides to mimic the indirect heat of an oven.
The cooking steaks in the oven offers some benefits like avoiding cooking the outside too much, but it isn't strictly necessary.
How to Cook Filet Mignon in a Cast Iron Skillet
It takes a few steps to cook a filet mignon in a cast iron skillet:
Dry off your steak and season with salt and pepper.
Prepare your cast iron skillet with butter and herbs.
Add your steak to the skillet and sear then cook on both sides – flipping the steak halfway through.
Let rest, then enjoy!
Why do you butter baste a steak?
Butter basting steaks help with the Maillard reaction meaning that you'll get the perfectly browned edges in all of the crevices of the steak. It also helps develop more flavor on the outside which is always great.
Serious Eats has this great article on how to butter baste if you want to learn more!
How long should I cook filet mignon?
How long you want to cook the filet mignon depends mostly on how you want your steaks done.
As a good gauge, a 1.5 inch thick filet mignon cooked to a medium doneness in about 4-5 minutes per side. Using a timer is a great way to make sure it's even!
This will of course range depending on your stovetop and skillet so it's good to have a digital thermometer on hand to help keep an eye on the temperature.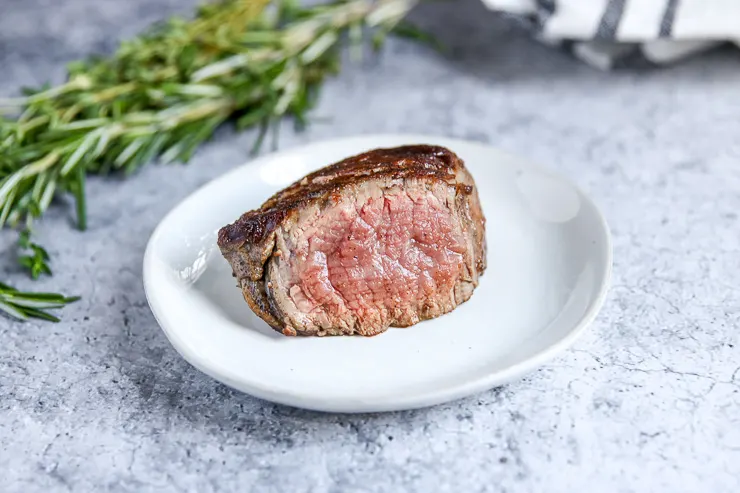 What temperature should I cook my steak to?
It depends on how done you'd like your steak! Using a digital thermometer is the best way to gauge what temperature your steak is.
When taking the temperature, be sure to stick it as close to the center as you're able to. Sticking it too close to an edge will likely give you a much different temperature depending on the thickness of the steak.
Be sure to remove the steaks when their internal temperature is about 5°F lower than your desired temperature. They'll continue to rise in temperature as it rests.
Here's your target temperatures:
Rare – 125°F
Medium Rare – 135°F
Medium – 145°F
Medium Well – 150°F
Well Done – 160°F+
Why do you let steak rest?
There are two main reasons to let a steak rest. The first being that the residual heat from the pan will continue to cook the inside of your steak. If you're worried about the steak cooling to room temperature, you can also tent the steak with some aluminum foil.
The second is to help redistribute and reabsorb the juices inside of the steak. It helps avoid having most of the juices leave the steak as soon as it's cut leaving your steak nice and juicy.
A good rule of thumb is about 5 minutes per inch of thickness of the steak. You'll hear that 5-7 is a good amount of time, but aim for longer if you have a 2 inch thick steak.
What should I serve this with?
This steak really is good enough that you could eat it on it's own, but you should add some great sides.
My personal favorites are these Red Wine Mushrooms for the ultimate decadent pairing. These Creamy Garlic Mashed Potatoes and this Green Bean Bacon Casserole round it out for a perfect meal for date night! I've even had it for Thanksgiving dinner because it's one of our favorites.
Looking for other decadent entree options? Try one of these: