This Sous Vide Filet Mignon is easy to make and tastes like you'd get at a restaurant! It just takes a few steps to come out perfect every time.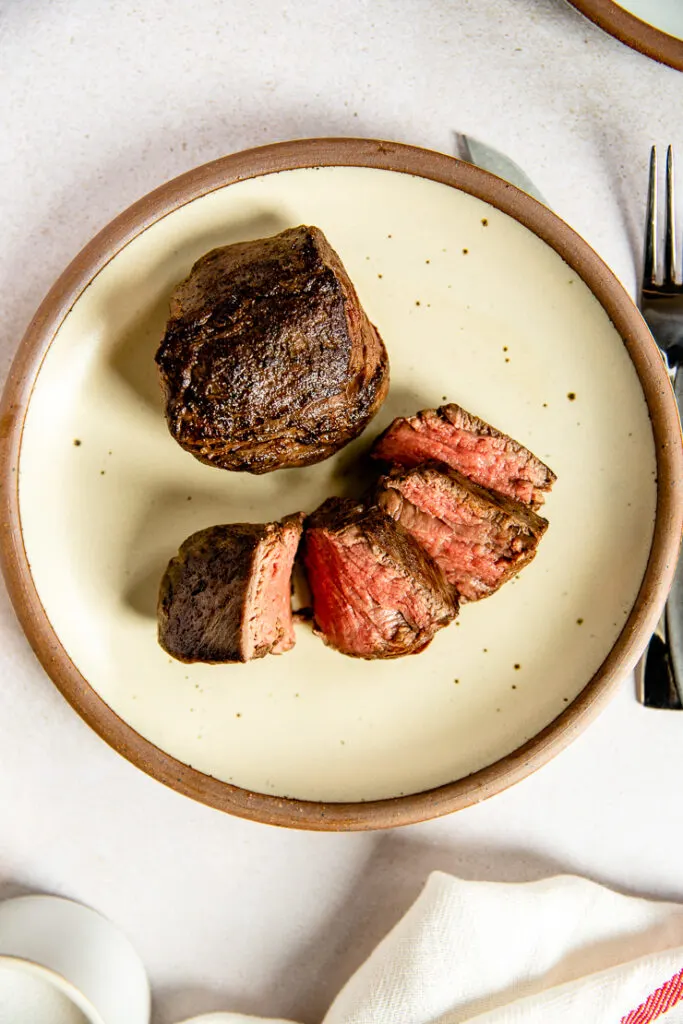 Sous Vide Filet Mignon Recipe
Science class was probably my favorite class in school and buying a sous vide immersion circulator has been the closest thing to a science experiment as I've gotten. The entire process of sous vide cooking is so fun to set up and prepare which results in some of the best tasting food you'll ever make at home.
It's also one of my favorite ways to cook for friends and family when it seems really fancy, but doesn't take much work on my end.
Trying a sous vide filet mignon was a game-changer. It's hard to beat a Cast Iron Filet Mignon, but timing the cook right for the perfect temperature is tricky.
The sous vide method guarantees a perfect temperature inside so the only thing you have to do after is sear it in some butter and oil with delicious herbs. You won't go back after trying it!
The Culinary Compass participates in several different affiliate programs. As an Amazon Associate, we earn from qualifying purchases.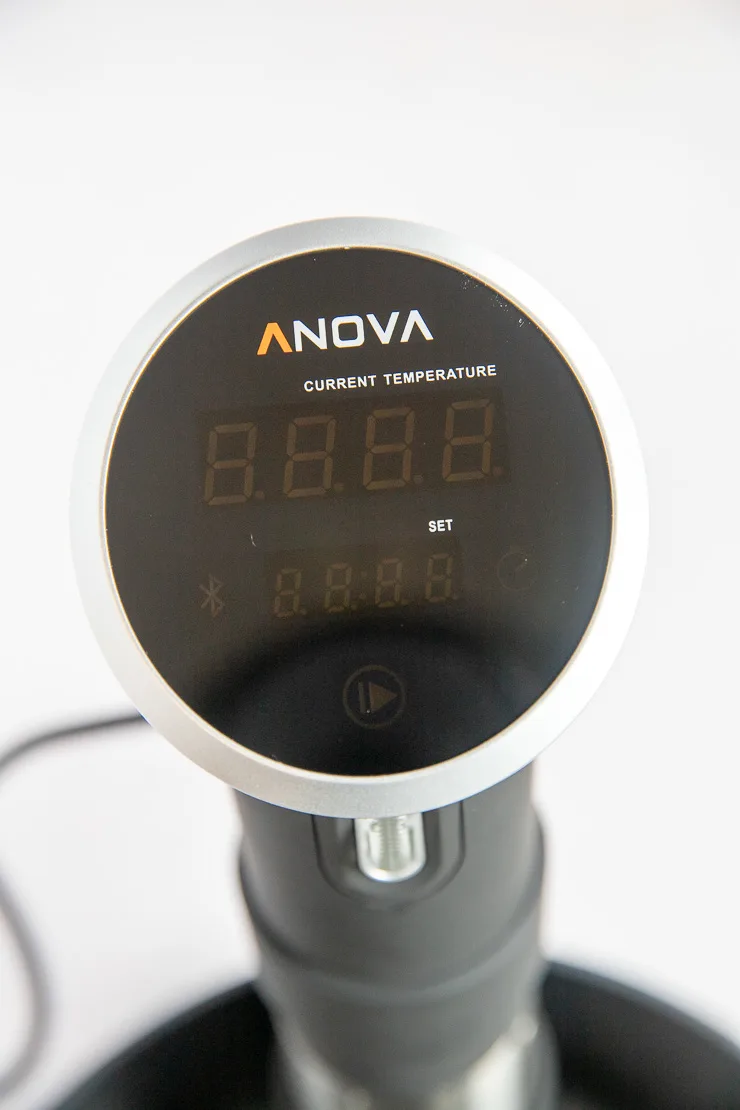 Sous Vide Filet Mignon Ingredients
You'll only need a few ingredients to make the best sous vide filet mignon:
One inch thick filet mignons
Salt and pepper
Vegetable oil, or a neutral oil of your choice
Butter
Garlic
Fresh thyme sprigs
Ingredient Substitution
If you don't have any vegetable oil, try avoiding olive oil and use another neutral oil since olive oil has a lower smoke point and might break down at those higher temperatures.
Change out the garlic and thyme with some other herbs and spices that more fit the meal you're looking for! Rosemary is always a good option if you don't have thyme. You can also add sliced shallots to the pan while cooking for even more flavor.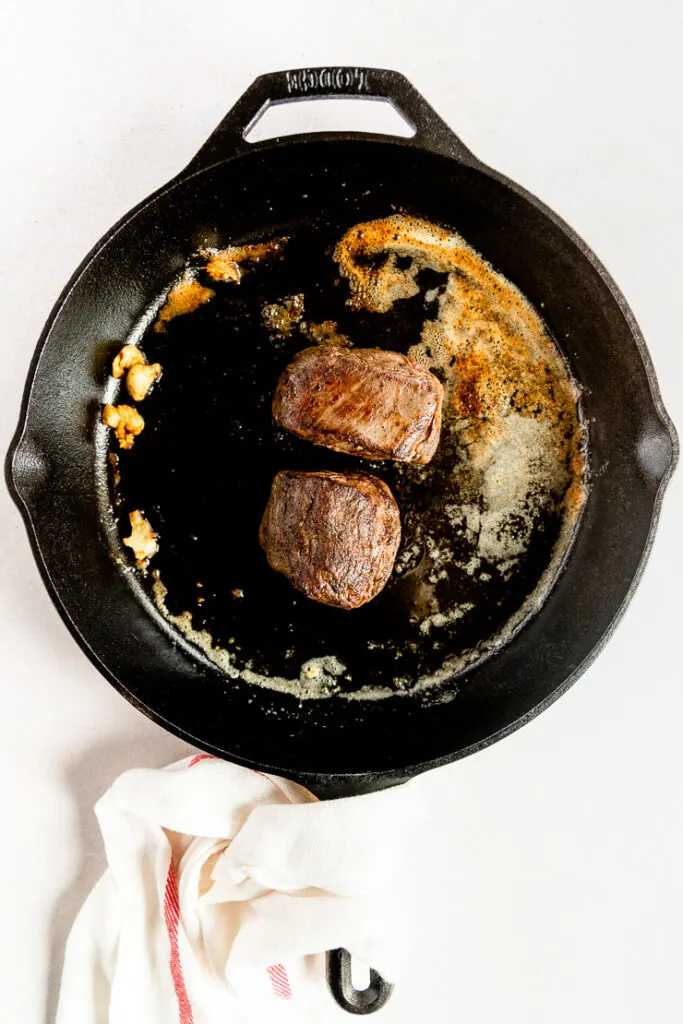 Sous Vide Filet Mignon Temperature
Use a digital thermometer to help measure the internal temperature:
Rare – 125°F – 129°F
Medium Rare – 130°F – 139°F
Medium – 140°F – 149°F
Medium Well – 150°F – 159°F
Well Done – 160°F+
Make it a Meal
Try out a few of these sides for the perfect meal:
Horseradish Mashed Potatoes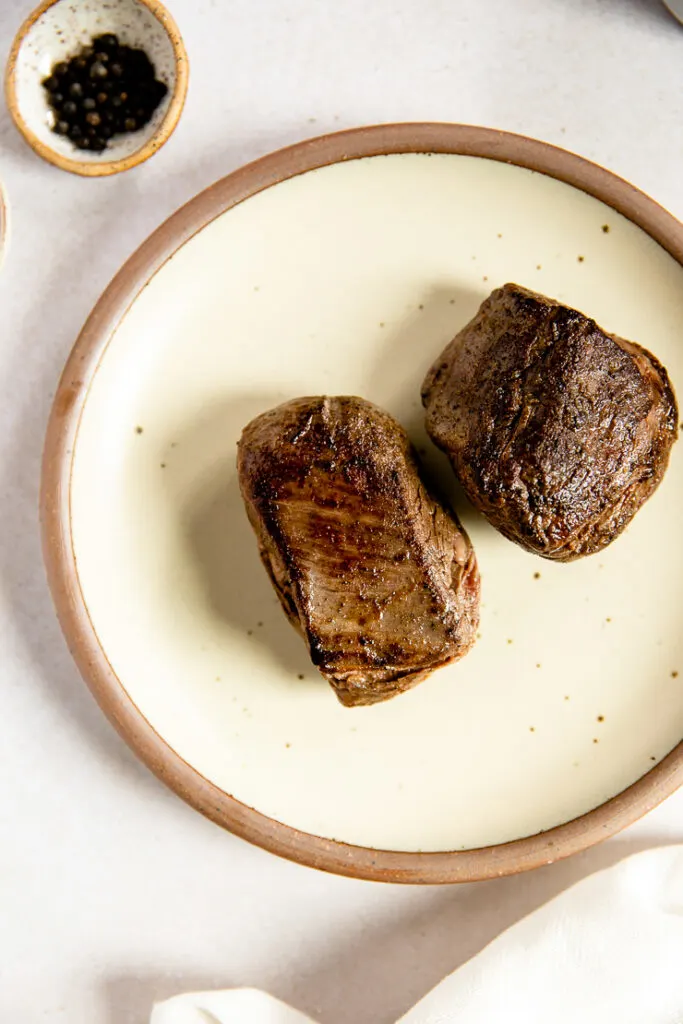 Sous Vide Filet Mignon FAQ
How long do you sous vide filet mignon?
This recipe calls for about an hour of sous vide time for a steak that is around 1 inch thick, but if your filets are thicker, you'll need to adjust how long you need to cook your steak for.
For thicker cuts like 2 and half inches, you'll want to shoot for closer to 4 hours.
Can I reheat a sous vide filet mignon?
You bet – one of the neat things about using a sous vide is that it's very hard to overcook something beyond the temperature of what you're looking for.
You'll want to heat the filet for about the same time as you originally cooked it and at the same temperature so in this case about an hour at 131°F.
Do I need a vacuum sealer?
Nope! I actually don't even use a vacuum sealer. While it does give you a more even fit around the food, I honestly just don't have room for another appliance in my pantry.
You can use a water displacement method to vacuum seal your filet mignons using just a bag and the water that you're cooking in. You can use a gallon bag, sous vide bag, or even a reusable silicone bag.
Check out the link for a more in-depth description, but in short, you'll want to lower the bag into the water while pushing any air out that you can. Once the filets are under water and you've squeezed out as much air as possible, you'll seal the bag.
How do you keep the steak fully submerged?
Depending on the size of the pot you're cooking in or food you're cooking, you might find that part of the steak is floating at the top. We'll want to make sure the entire thing stays under the water for the most even cook!
I've found that a binder clip or a small chip clip works nicely to fold the top of the bag over the edge of the pot.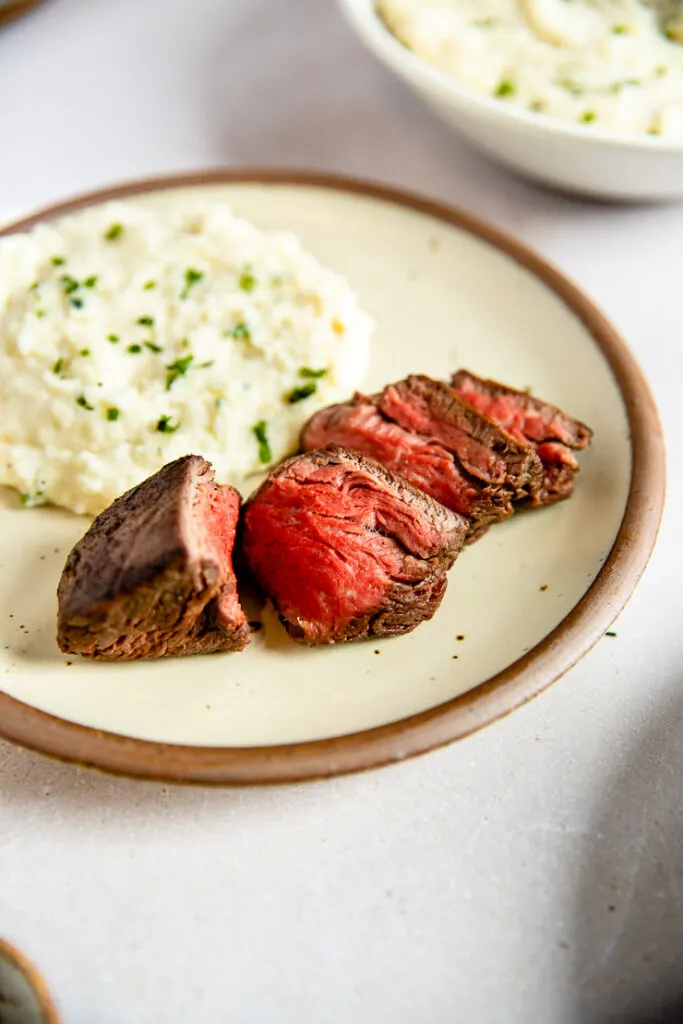 How to make Sous Vide Filet Mignon
Get your immersion circulator set up in your water bath and set the temperature to 131°F for medium-rare. Reference the list above if you're looking for a different temperature!
Grab your filet mignons and season them with salt and pepper on all sides. People have differing opinions on when to actually season steak using this method, so feel free to wait to season until right before searing if you'd rather!
Vacuum seal your filets in whatever method you'd like and fully submerge the steaks in the water. Use a clip if needed to make sure they are underneath the water. Cook for one hour for a one inch thick steak.
Once the time is up, remove the steaks and dry with paper towels Heat up a cast iron skillet over medium-high heat and add in your vegetable oil, butter, crushed garlic clove, and thyme sprigs.
Watch for the butter to turn slightly brown and add in your steaks to the hot cast iron. You'll only need to cook them for a minute or two on each side to sear them. While they are cooking, tilt the pan so you can scoop the butter onto the top of the steaks and baste them in the delicious butter mixture.
Serve them up right when they're hot and enjoy!