These Red Skin Mashed Potatoes come together in under 30 minutes and only need 6 ingredients. No peeling required to make your new favorite creamy mashed potatoes!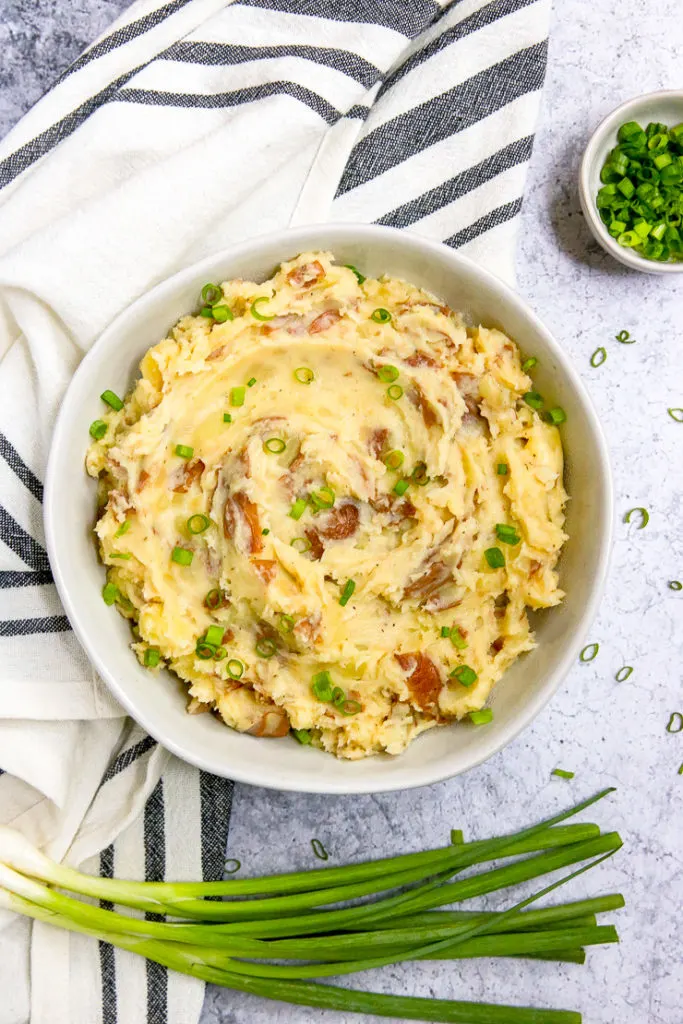 Red Skin Mashed Potatoes
Red Skin Mashed Potatoes are one of my favorite side dishes simply for the reason that they come together quickly and without much effort.
You can make them with limited seasonings or even add cheese, sour cream and bacon for some loaded mashed potatoes. Either way – they'll be a hit!
The Culinary Compass participates in several different affiliate programs. As an Amazon Associate, we earn from qualifying purchases.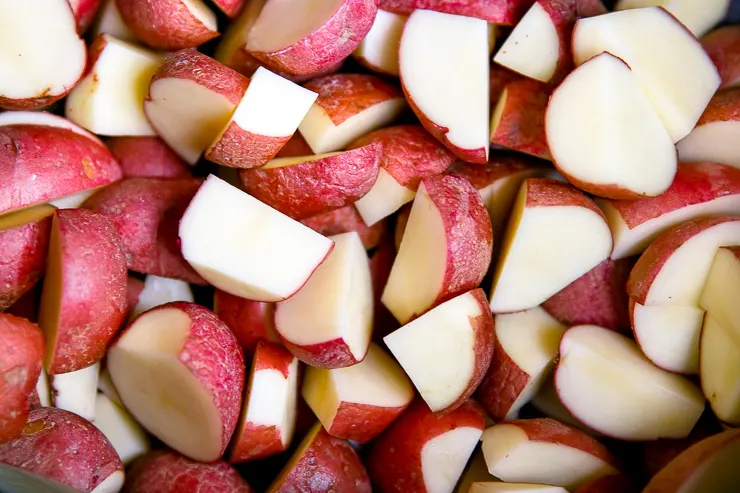 Why should I use red skin potatoes?
Red skin potatoes are one of my favorite kinds of potatoes for both their flavor and their texture. Their peel only adds to the flavor meaning less work to the end product!
They also have a more waxy texture that holds up well when boiled meaning they won't end up gritty when they're done.
Do I need to peel the potatoes?
If you're using red skin potatoes, I recommend not peeling them! The peel adds a nice texture and bite to the mashed potatoes.
If you're using a different kind of potato or like having very smooth and not chunky mashed potatoes, you may want to peel the potatoes.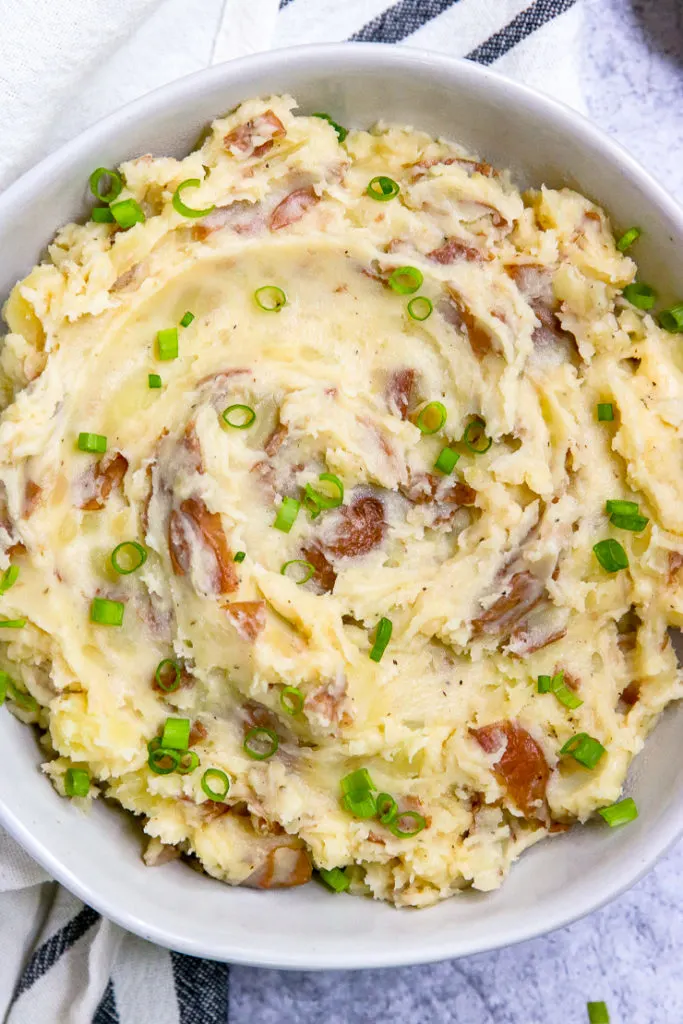 Should I boil the potatoes whole?
To reduce the cooking time, try quartering the potatoes. It lowers the overall thickness of the potato meaning that the heat can cook through the potato much faster.
If you're cooking them whole, you'll want to add a few more minutes to ensure the middle is cooked through all the way.
How long should I boil the potatoes?
To ensure that the potatoes are fork tender and cooked through, be sure to cook the quartered potatoes for at least 10-15 minutes.
Whole potatoes may need a few extra minutes depending on their size. Using a fork or sharp knife while they're still cooking is a good way to measuring their doneness.
What should I use to mash the potatoes?
A potato masher is a great way to do it by hand to leave a few pieces in tact adding to the overall texture of the mashed potatoes.
If you're looking for creamy potatoes, I like to use a hand mixer or Kitchen-aid mixer with a paddle attachment.
If neither of those things are an option, you'd be surprised how creamy you can get your potatoes with just a wooden spoon!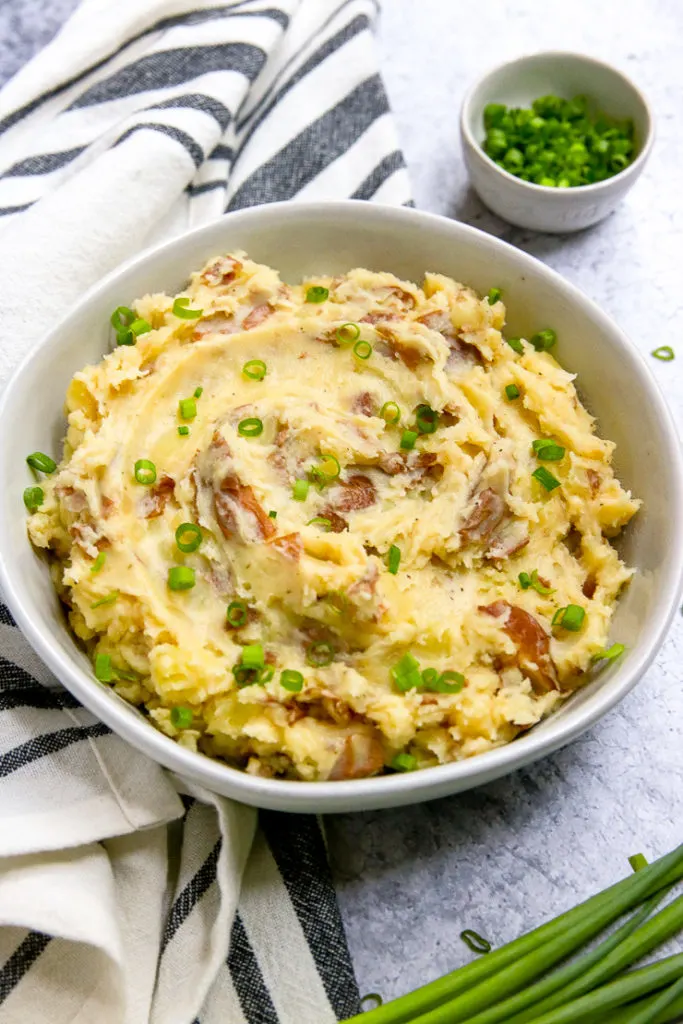 How should I season the potatoes?
To keep it pretty simple and to highlight the flavor of the potatoes themselves, using salt and pepper alone is always a good option.
The flavor of the butter and heavy cream will make it rich to begin with so not much else is needed.
Green onions or chives add a nice, crisp bite to them as well which is always one of my favorite additions to mashed potatoes.
Looking for other potato dishes to try? How about one of these: