These Red Wine Mushrooms are the perfect savory side dish. It only takes a few steps to make a red wine mushroom sauce for steak!
Red Wine Mushrooms
Red Wine Mushrooms have been a family favorite for as long as I can remember. I think we were made familiar with the pairing of sautéed mushrooms and steak from Outback, actually!
The red wine helps deepen those flavors and makes it a perfect steak pairing.
The Culinary Compass participates in several different affiliate programs. As an Amazon Associate, we earn from qualifying purchases.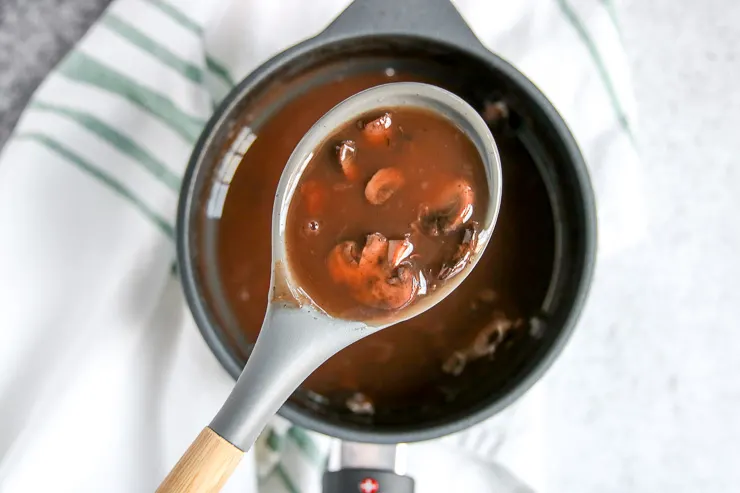 What type of wine should I use?
The wine is up to you! I use Cabernet Sauvignon since that's what I usually have around the house, but Pinot Nior, Syrah, or Zinfandel are all great options as well.
Try to avoid red wines that are sweeter and lean towards one that has a deeper, more earthy flavor. However, it's hard to pick a red wine that won't pair well with mushrooms. Most red wines pair well with mushrooms just due to their meaty texture and earthy flavors.
What type of mushrooms should I use?
Fresh baby bella mushrooms are my favorite mushrooms to use for this sauce because they are so readily available. They tend to have a more earthy flavor than white button mushrooms, though, they are a good alternative.
Sliced mushrooms will also cook much faster than leaving them whole so using those makes it faster. Frozen or canned mushrooms tend to be fully of liquid already and wouldn't be a great option for these.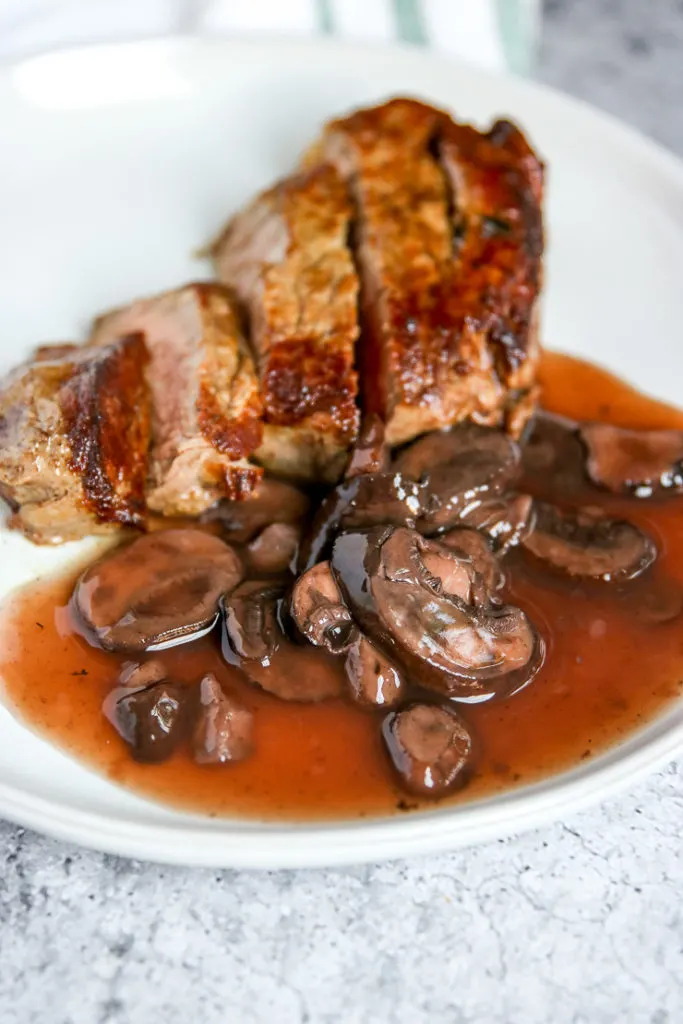 Can I make these red wine mushrooms vegetarian?
You can! You can use some vegetable broth instead of the beef broth, but it might not have that same deep flavor. I'd suggest using vegetarian beef bouillon cubes to help deepen the flavors of the sauce and the mushrooms.
How do you thicken a red wine sauce?
To thicken a red wine sauce, you have a few options! One way to thicken it would be to let it simmer for at least 30 minutes to 1 hour. That'll condense the sauce that is left and make the flavors even more concentrated.
Another option is to add a cornstarch and water slurry! This is almost instant on how quickly it thickens the sauce. You'll take equal parts cornstarch and water in a small bowl and combine it so the cornstarch is dissolved.
Pour this slowly over the mushroom red wine sauce and stir. You should see it start to thicken and bubble with larger bubbles. You'll know it's thicken when you see that! Let it simmer a bit and you'll be all set.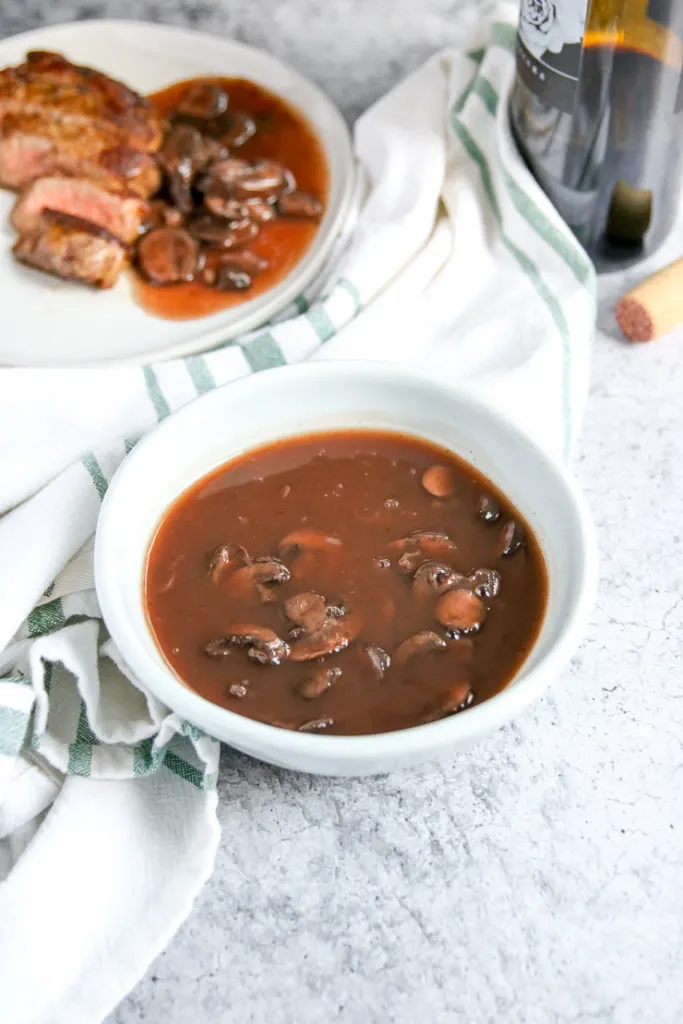 How do you make a red wine mushroom sauce for steak?
It only takes a few steps! You'll want to bring the mushrooms, beef broth, and wine to a low boil in a medium saucepan until the mushrooms are softened and fork tender.
Once you're ready to thicken the sauce, prepare a cornstarch slurry and add it to the sauce. Stir and let simmer a bit more then you're ready to serve!
What should I serve this with?
Red wine mushrooms are the perfect side dish for filet mignon! Cast Iron Filet Mignon is my favorite way to cook them.
It's also a great gravy alternative for these Creamy Garlic Mashed Potatoes.
Looking for other decadent side dishes? Try one of these: