These Roasted Brussels Sprouts and Sweet Potatoes are full of deep flavor and will be a crowd favorite.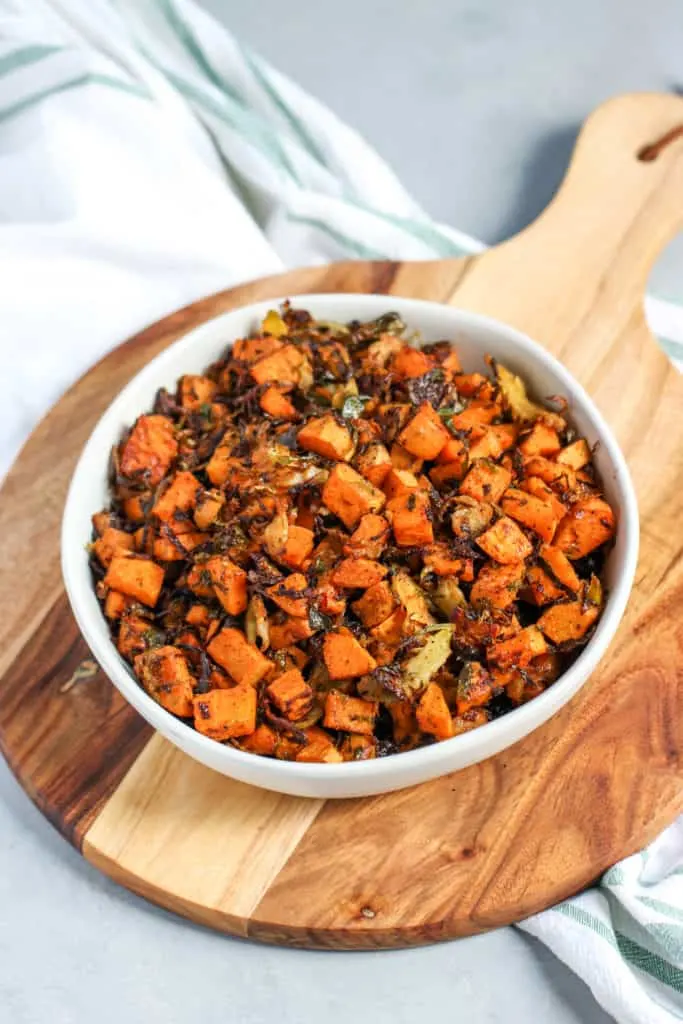 Roasted Brussels Sprouts and Sweet Potatoes
Oven roasted vegetables are a favorite around here for their deep flavors and crunchy texture! The combination we can't stop is Roasted Brussels Sprouts and Sweet Potatoes. Something about the sweetness and bitterness together makes a dish that always feels satisfying.
Really any roasted veggies will do, but this combo is always on repeat. The best part is that it's gluten free, dairy free, grain free, vegan, paleo and even Whole 30 compliant! Do I even need to say more?
The Culinary Compass participates in several different affiliate programs. As an Amazon Associate, we earn from qualifying purchases.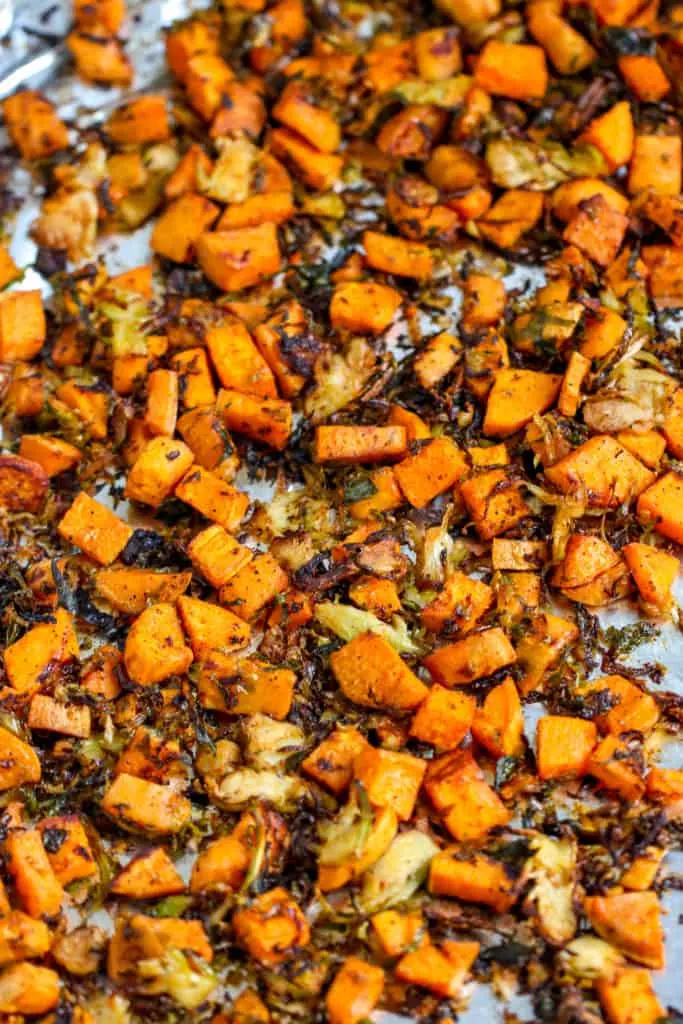 Can you roast sweet potatoes and brussels sprouts together?
Yes! You can roast them together. Sometimes I'll add florets of broccoli as well to add more texture and to change it up.
The Kitchn has a great guide on how to roast any vegetable. Since both of the vegetables are pretty dense, they cook well together at the same time and temperature.
The best part is the brussels sprouts will cook a little faster than the sweet potatoes giving them a crispy char on the edges that make you forget you once never liked brussels sprouts!
How long do you roast brussels sprouts and sweet potatoes?
It only takes 30 minutes at 400°F to roast them together. This should make them fork tender and crispy on the edges.
I definitely recommend flipping them halfway through so that the edges on the bottom of the pan don't get too hot and burn.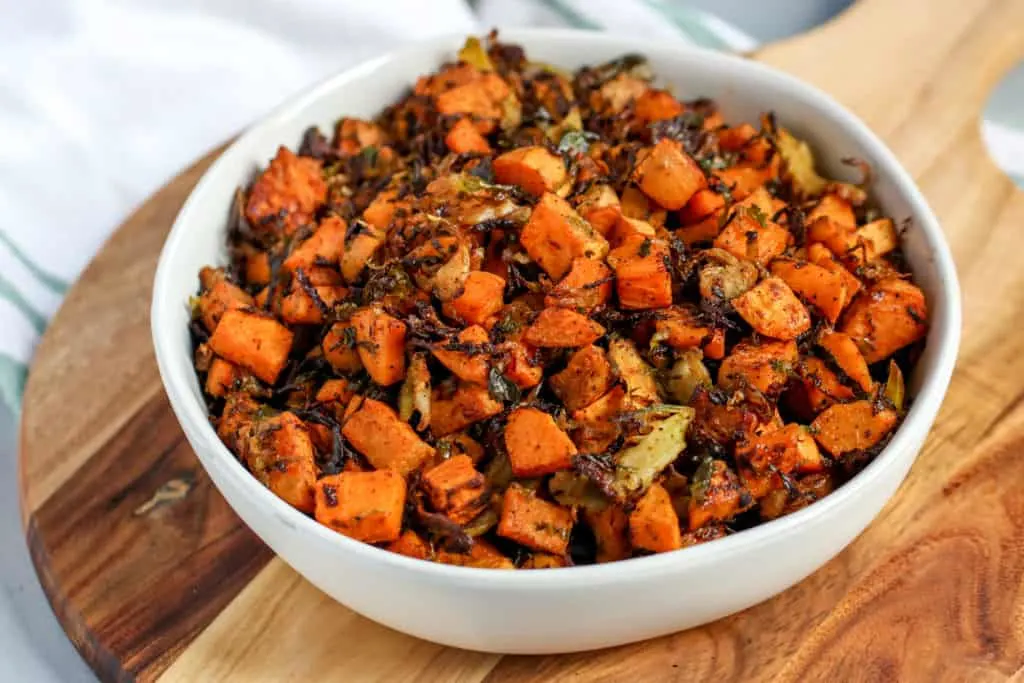 Do you need to use shaved brussels sprouts?
Nope! I do like the texture of shaved brussels sprouts, but if you can only find whole brussels sprouts, that should work as well. If you have a mandoline, you can shave them very carefully that way.
You can also cut them either into quarters or thin slices to get a really similar texture. I've done each and they all are delicious! The smaller pieces you can get, the more they will crisp up.
How to Roast Brussels Sprouts and Sweet Potatoes
It only takes a few steps to make roasted brussel sprouts and sweet potatoes. To get started you'll just cover a baking sheet with aluminum foil then place your shaved brussels sprouts and sweet potatoes in a single layer on the sheet. If you only have parchment paper, that would work great as well!
Next, you'll season everything with salt and pepper, onion powder, garlic powder and paprika with some olive oil. You could also do this in a large bowl and toss together to make sure everything is evenly coated without the risk of dropping some of the vegetables.
After that, it's mostly hands off. It'll bake for 15 minutes, you'll toss everything, then bake for another 15 minutes until it's nicely browned and crispy!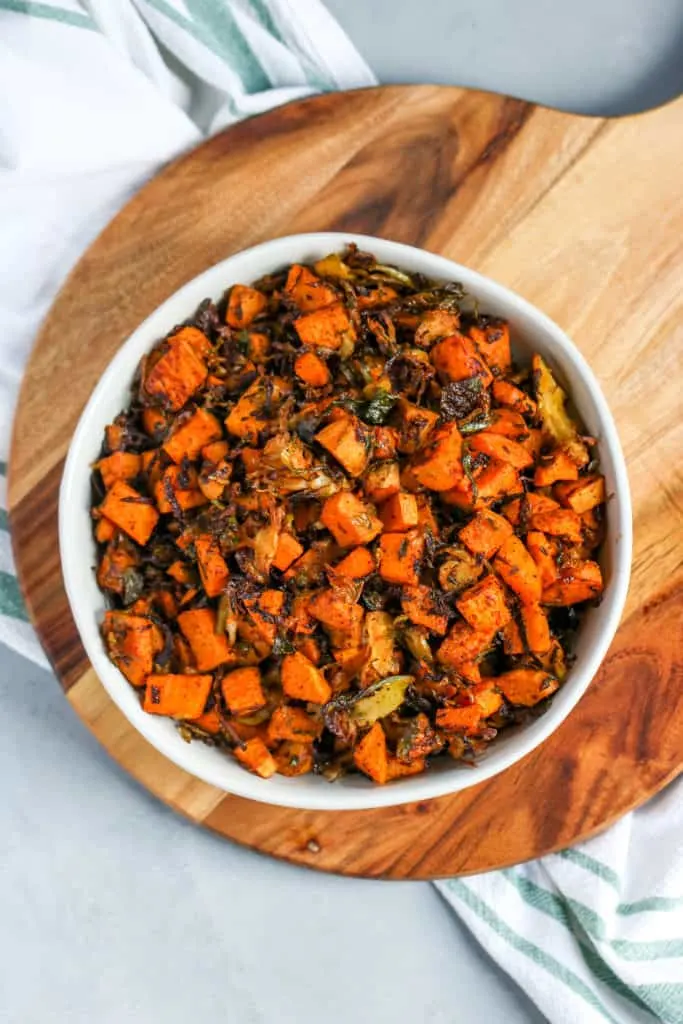 Looking for other side dishes to enjoy? Try one of these!