These Roasted Brussels Sprouts and Carrots are a perfect weeknight side dish. These oven roasted veggies will be your new favorite!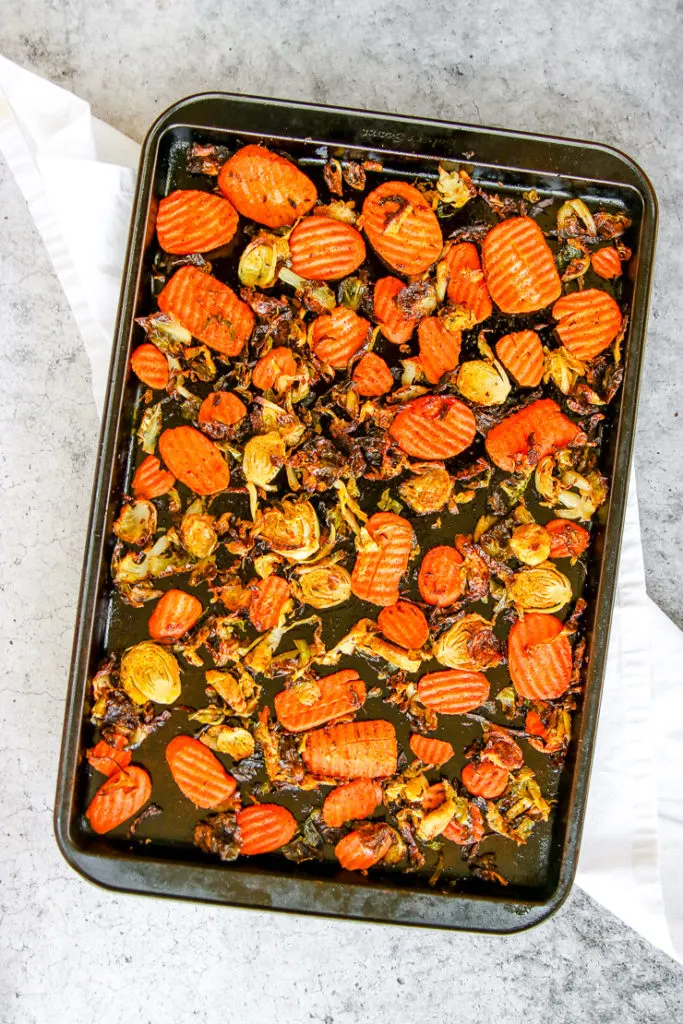 Roasted Brussels Sprouts and Carrots
I'm always looking for new roasted vegetable combinations to add to our dinner rotations or meal prep and this one doesn't disappoint!
Roasted Brussels Sprouts and Carrots are a perfectly savory combination that go with tons of dishes from chicken to pork to ground turkey.
It's even gluten free, dairy free, grain free, vegan, paleo and compliant with Whole 30 making it great for households with lots of restrictions or allergies.
The Culinary Compass participates in several different affiliate programs. As an Amazon Associate, we earn from qualifying purchases.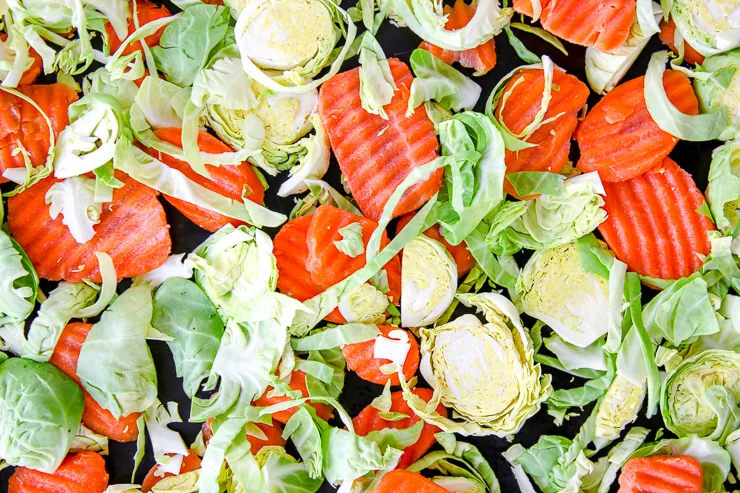 Can I shave my own brussels sprouts?
You bet! There's a few ways that you can shave your own brussels sprouts. The easiest way I've found is to cut them into thin discs and separate out the leaves. Here's a great guide on how to shave brussels sprouts if you're interested in learning more.
Some food processors even have attachments that allow you to shave the brussels sprouts without too much effort.
I usually stick with cutting them myself to avoid any extra dishes. I know, so lazy.
Do you need to use shaved brussels sprouts?
Not necessarily! You can use whole brussels sprouts, and halve or quarter them for more substantial pieces in your side dish.
Whichever way you decide to prepare your brussels sprouts, one thing remains the same. You'll want to clean them before cutting them.
This guide gives a little more information on how to clean brussels sprouts, but the key takeaways are that you'll want to rinse them to remove any dirt and remove any loose outer leaves.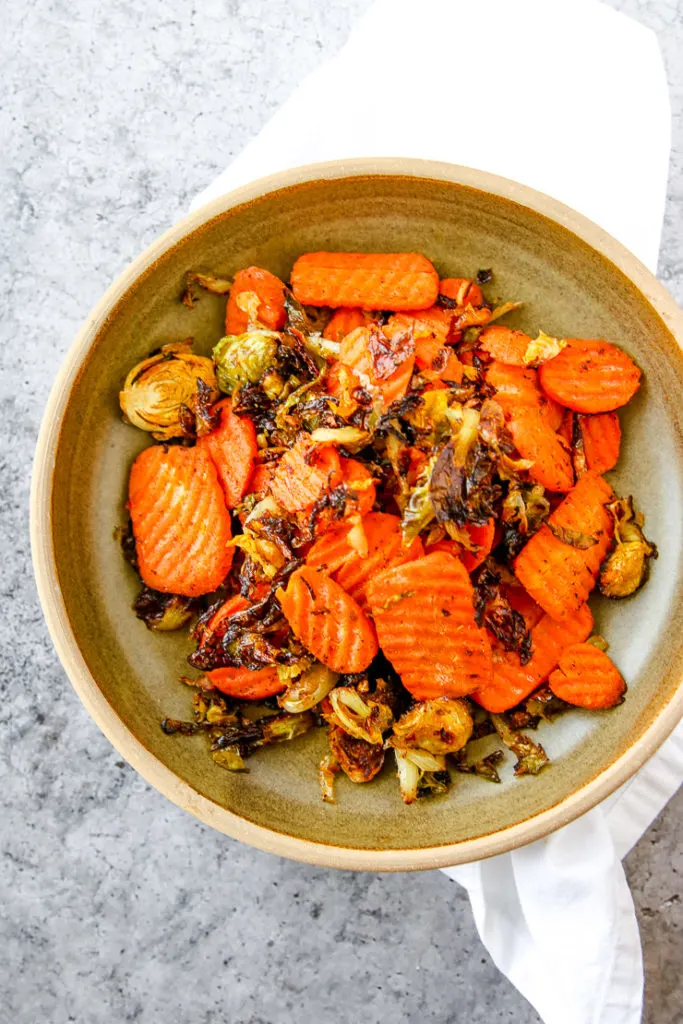 What kind of carrots should I use?
I like to use carrot chips to keep them thin so they roast in the same amount of time that the shaved brussels sprouts do. If you can't find carrot chips or dip carrots at your grocery store, most will have crinkle cut carrots which should do just as well.
If you're looking to use baby carrots or cut your own full sized carrots, you'll want to consider the thickness of the pieces you have.
To make sure both veggies roast evenly, be sure to cut them into similar sizes. Consider using halved or quartered brussels sprouts with full baby carrots or pieces of carrots to avoid any burnt pieces!
Can you roast carrots and brussels sprouts together?
Definitely! They're a great combination especially in the fall for all of those savory dishes that are usually on repeat.
You can even add other types of veggies like broccoli or sweet potatoes to bulk up your veggie intake without too much extra work.
How long do you roast brussels sprouts and carrots?
You'll want to roast brussels sprouts and carrots together at 400°F for 30 minutes to ensure that they are fork tender.
About half way through, you should toss them to help avoid burning any veggie and so that each piece gets coated in oil and seasoning.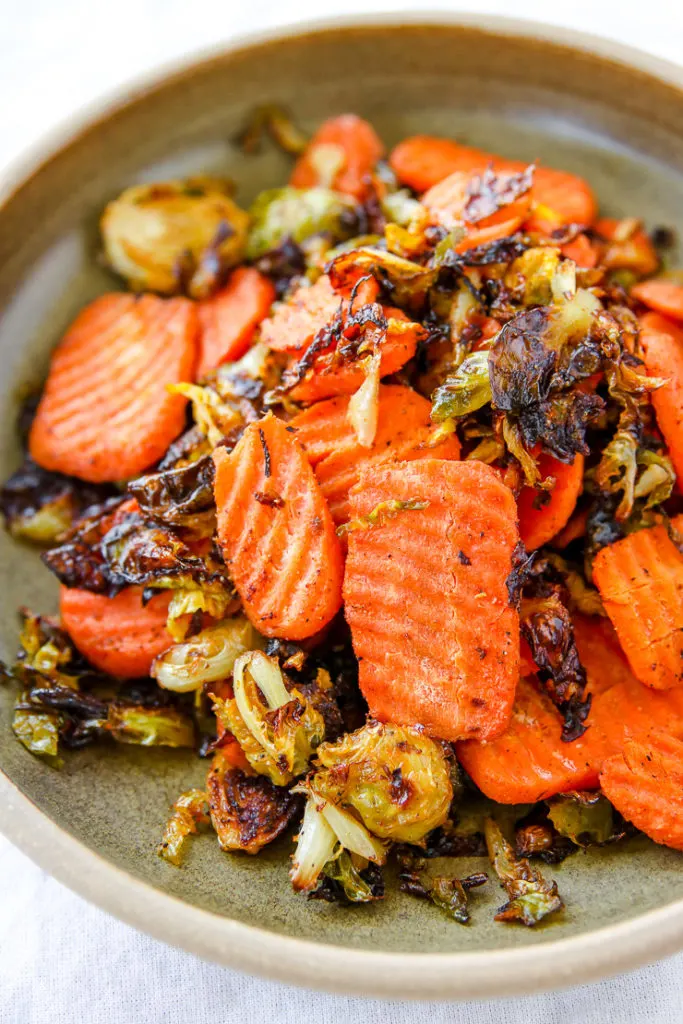 What should I season my roasted vegetables with?
I love to use a combination of olive oil, paprika, onion powder, garlic powder, salt and pepper to give the veggies some great flavor!
You can adapt the seasonings to whatever dish you're making, but this is always a great base.
How to Roast Brussels Sprouts and Carrots
To make roasted brussels sprouts and carrots, you'll want to preheat oven to 400°F and prepare a sheet pan with aluminum foil. Get your veggies ready, place them on the pan in a single layer and drizzle some olive oil over them. In a small bowl combine salt, paprika, pepper, onion powder, and garlic powder.
Sprinkle this over the vegetables then toss them until coated.
Bake for 15 minutes, then remove the pan and toss the vegetables again. Bake for an additional 15 minutes or until your desired level of crispness and the vegetables are tender.
Enjoy warm, or set aside until cooled and refrigerate for your meal prep!
Looking for other side dishes? Try one of these: