This Cilantro Lime Cauliflower Rice recipe is full of flavor and so satisfying. It's herbaceous, zesty, and a perfect pairing for just about any dish.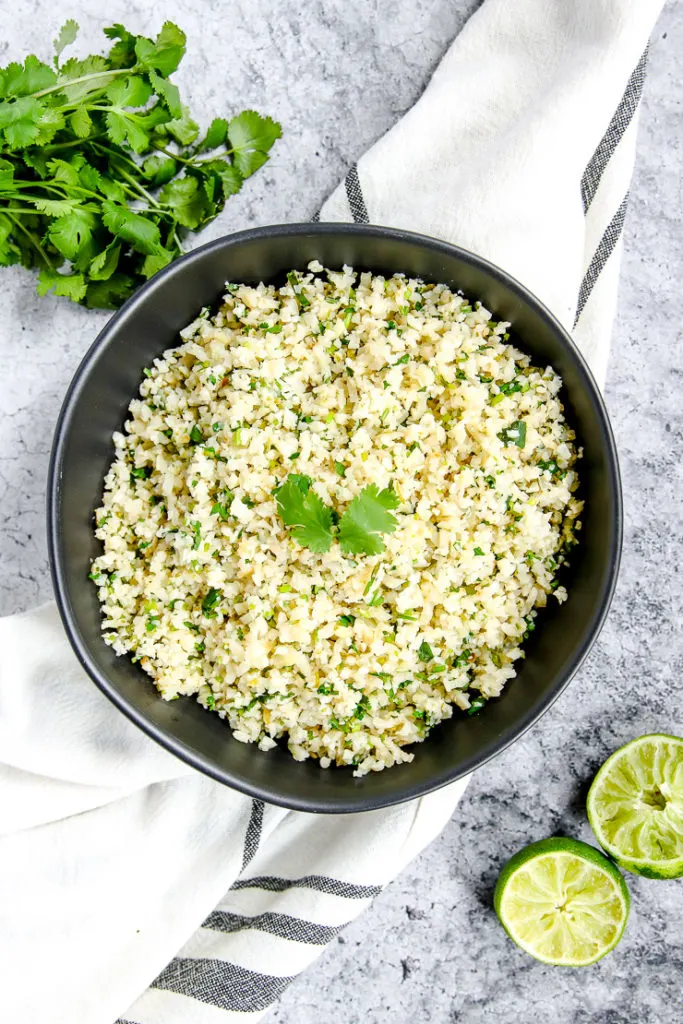 Cilantro Lime Cauliflower Rice
If you're looking to add more vegetables to your life, or are just like a huge fan of cauliflower, this Cilantro Lime Cauliflower Rice recipe will be a huge hit.
It's as easy as it gets, but has a TON of flavor that will please even the pickiest of eaters. Unless you don't like cilantro, then I can't really help you there.
The rice is a perfect base for burrito bowls, tacos, or as a side dish. It's become a quick hit in my house because of how simple and delicious it is!
The Culinary Compass participates in several different affiliate programs. As an Amazon Associate, we earn from qualifying purchases.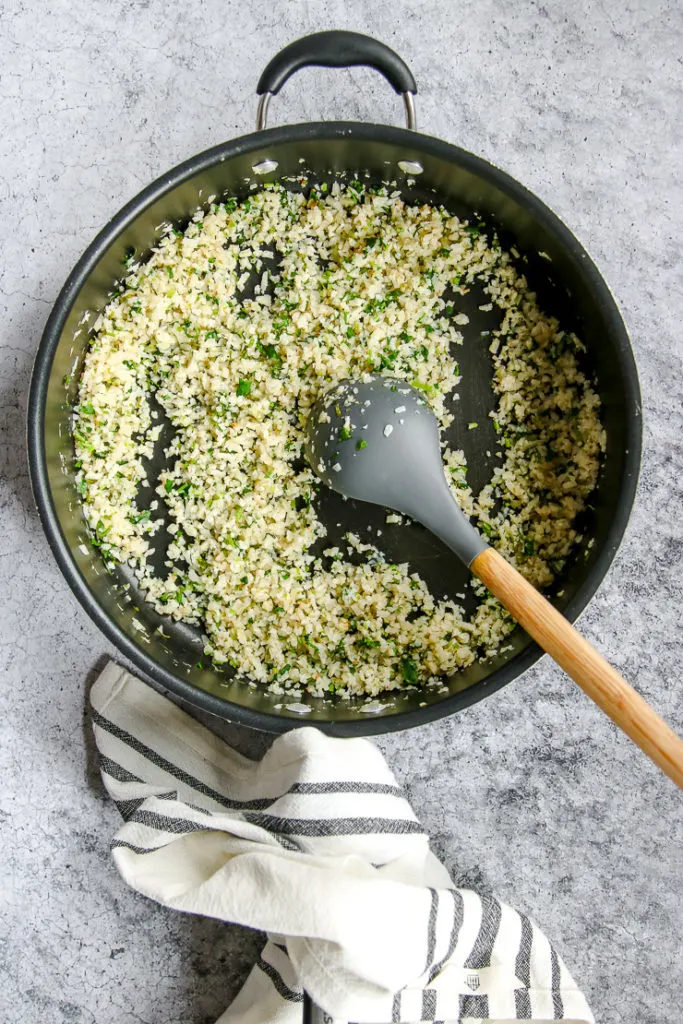 Can I use fresh cauliflower rice?
You definitely can. It won't take as much time to steam through as frozen may, but fresh cauliflower rice would work great.
You'll just want to cook it enough to be fork tender which should be around 5-8 minutes.
Can I make my own cauliflower rice?
Absolutely! I find that frozen rice is always easy to have on hand, but if you're looking to use some extra cauliflower, you can definitely use that.
All you'll need to do is use a box grater, blender or food processor to make the head of cauliflower into smaller rice sized bites. You may want to cut it into florets before putting the cauliflower into a food processor.
Here's a great guide on how to make cauliflower rice if you're looking for more in-depth instructions.
Should I use fresh lime?
Fresh lime is my favorite for this! Mostly because you also get the zest of the lime to punch up the flavor even more.
If you're in a bind, or don't have fresh lime on hand, pre-packaged lime juice will work great. One lime usually has about 2 Tablespoons or 1 fluid ounce of juice in it.
Can I make this ahead of time?
Making this ahead of time works great! It is a great staple in our meal prepping and is both paleo friendly and grain free. You'll want to make sure that it's cooled down before refrigerating it.
Depending on how many people you're cooking for, you may want to increase the recipe to make sure you have enough.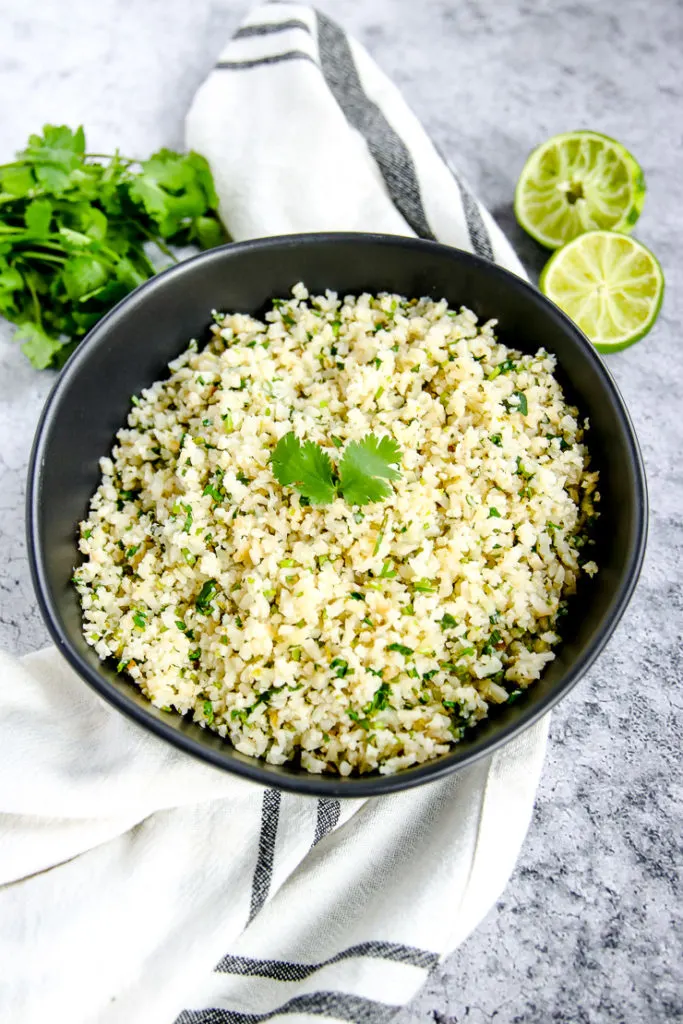 Could I add other ingredients to this rice?
Always! This is just the base to make the rice whatever you'd like. Sauteeing some onions and garlic would be delicious and add some aromatics to the dish. Salt and pepper are always a great idea to help with seasoning!
Dicing some raw red onion, green onions, red pepper flakes, or diced jalapenos would all be great additions to really add a ton of flavor and heat, if that's what you're looking for!
What can I serve this with?
I love serving this with some Easy Baked Chicken Breast, Chipotle Lime Sauce, and Mango Black Bean Salsa.
It really is a great base for any kind of veggie filled dish that you're looking for.
How do I make sure my cauliflower rice isn't soggy?
I know lots of people avoid cauliflower rice because of its tendency to get soggy. What you'll want to do is cook it through until there is no moisture left when you stir it.
For frozen cauliflower rice, this takes a little more time for it to thaw then cook through, but being sure to remove that moisture all the way will make it more enjoyable.
This should take between 5-10 minutes depending on if you're using fresh or frozen cauliflower rice. Keep an eye on it once you think it's close so it doesn't burn.
Be sure to keep stirring throughout the process so it can cook evenly as well.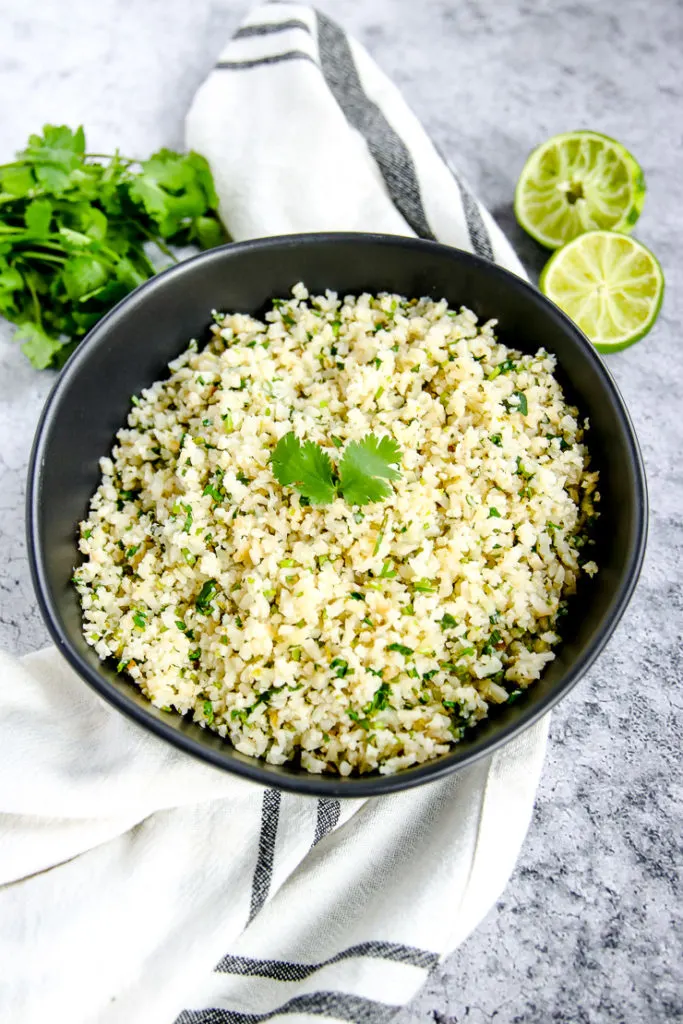 How do I make cilantro lime cauliflower rice?
To make cauliflower rice from frozen, you'll want to heat up a large skillet over medium high heat and add in the cauliflower rice.
Be sure to get it into as much as an even layer as you can to help remove as much moisture as you can. It should only take 5- 10 minutes while stirring frequently so that it also doesn't burn.
Keep heating it through until it starts to turn brown and there's no sign of moisture when you stir the rice around the skillet.
If you're using fresh riced cauliflower, you may want to coat the pan in a bit of olive oil to ensure it doesn't burn.
Now you'll want to remove the skillet from the heat and stir in the lime juice, lime zest, and finely chopped cilantro until it's incorporated.
From here, you can serve it warm, or let cool and refrigerate in an air-tight container until you're ready to eat!
Looking for other vegetable side dishes? Try one of these: