You'll want this Buffalo Cauliflower Dip for every occasion! It's spicy, full of flavor and is the best vegetarian dip you can find.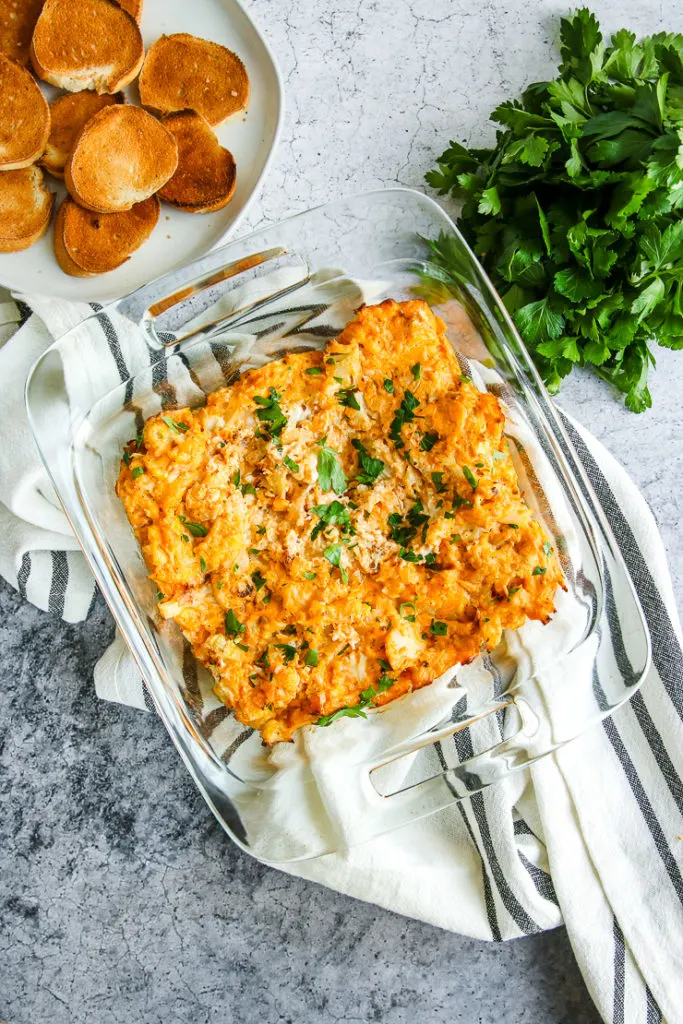 Buffalo Cauliflower Dip
Buffalo Cauliflower Dip is a great alternative dip to the infamous Buffalo Chicken Dip.
That's something we made more times than I can count in college for game day! If we had known there was a slightly healthier (emphasis on slightly) option, we would've been all over this since we couldn't stop eating it.
It's also a great first step and great recipe for into making more plant based options available for your get togethers!
The Culinary Compass participates in several different affiliate programs. As an Amazon Associate, we earn from qualifying purchases.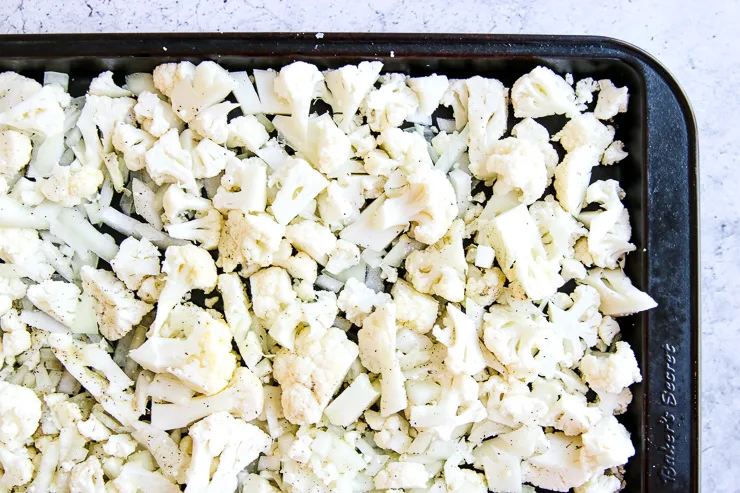 Should I cut the cauliflower before roasting?
Yes! I'd suggest cutting the cauliflower into small, bite size florets before roasting. Keep in mind that you'll be using something to dip into this so you don't want big florets in the dip.
These smaller pieces also allows the pieces to cook through much faster with more surface area. This roasted cauliflower adds some extra flavor with the olive oil, salt and pepper that other cooking methods may not.
Could I use cauliflower rice in this buffalo cauliflower dip?
I haven't tried it, but I think it could work! It would give it a different texture, but could be a good alternative.
I'd suggest roasting the riced cauliflower with the onion as the recipe calls to give it that same deeper flavor and remove some of the water content. That should work well for both fresh and frozen cauliflower rice.
If you're looking to make your own cauliflower rice, or really just don't feel like cutting the cauliflower, using a food processor is a good option to help with that!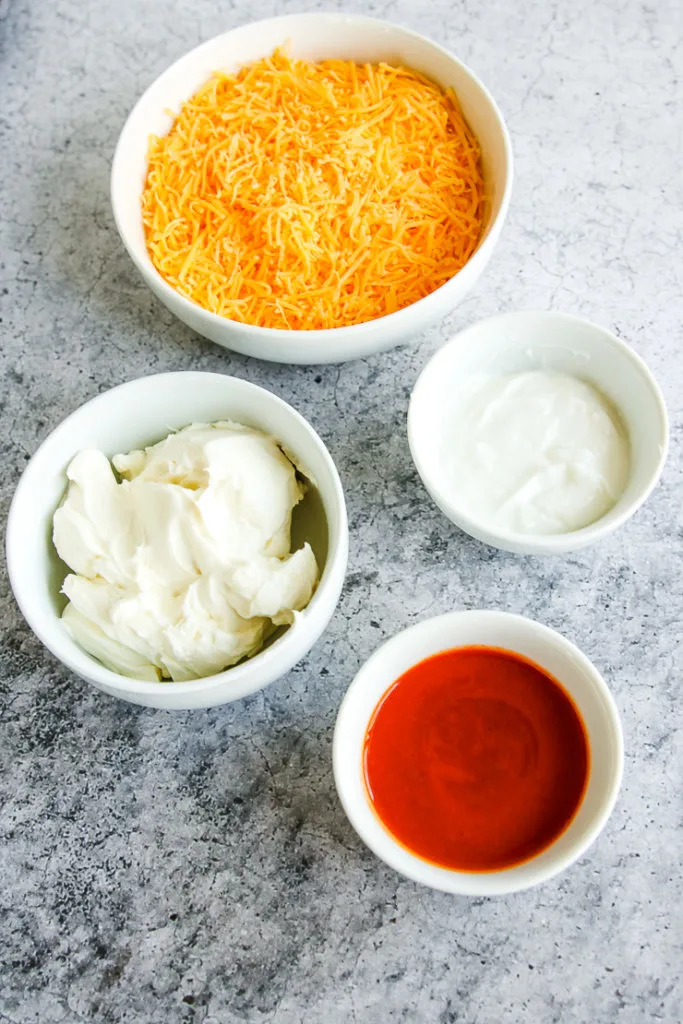 What hot sauce should I use?
I'm always a sucker for Frank's RedHot Buffalo Wings Sauce to get that classic buffalo wing flavor.
If you'd like to make your own buffalo sauce, try making this homemade buffalo sauce. It's perfectly balanced, but you can make it even spicier if you'd like!
Can I make this buffalo cauliflower dip vegan?
You can! You'll just want to substitute out the greek yogurt, neufchatel cheese, and shredded cheddar jack for vegan versions.
Vegan cream cheese is a good alternative for neufchatel cheese in this case.
Luckily, Frank's RedHot Buffalo Wings Sauce is vegan so you won't need to find an alternative there!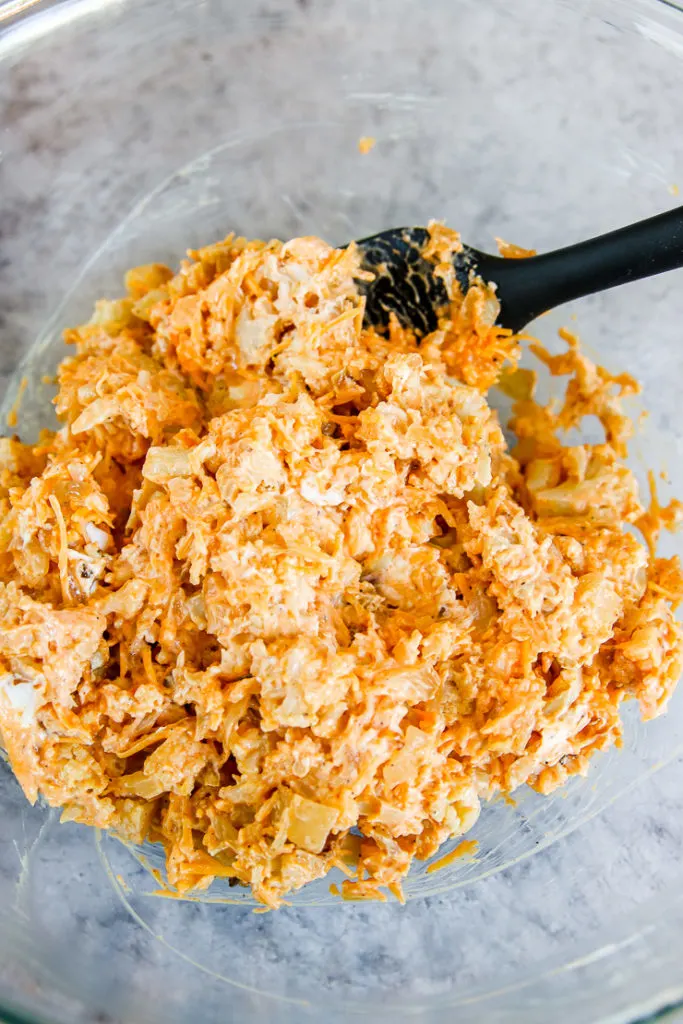 Can I prepare this ahead of time?
Definitely! It's an easy dish to prepare ahead of time and refrigerate. You can essentially make the entire thing and put it in the oven-safe baking dish to store. Just make sure that it's cooled before putting it away.
You just need to heat it through right before serving and you're all set! It's a great option for when you need to have your hands on other dishes you're serving.
What can I top this with?
Sliced green onions are a perfect topping for this to add a little freshness and crunch!
The next option is a little controversial so there's two options: blue cheese OR ranch drizzles. I'm personally a ranch fan with my chicken wings so that'd be my suggestion.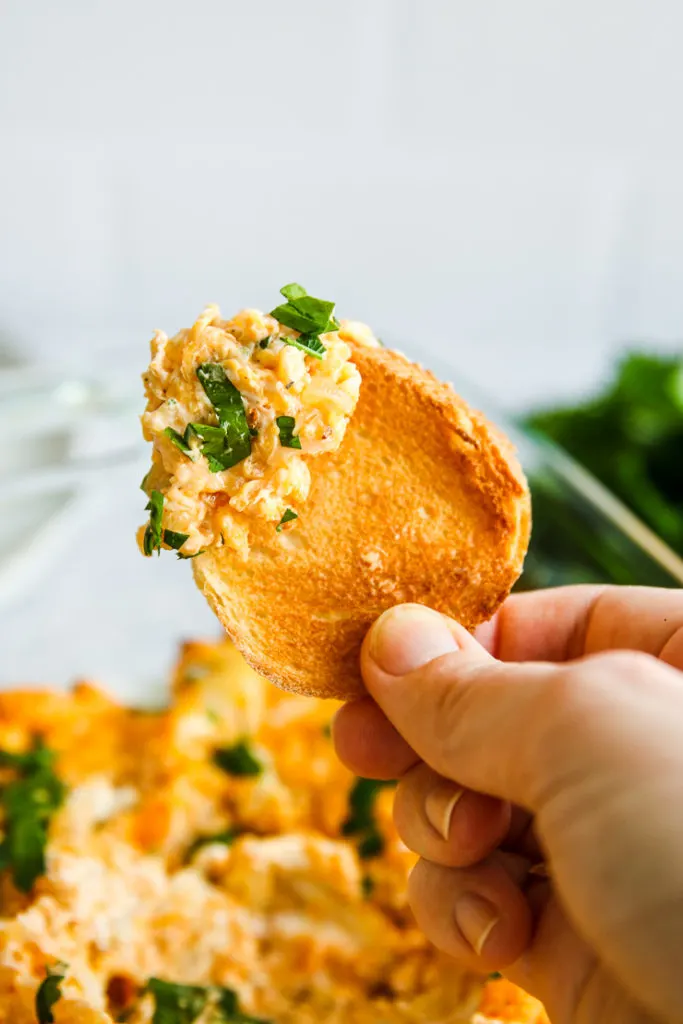 What can I serve this with?
A classic wing setup of carrots and celery is a great option!
You could also serve this with cracker, pita chips, fresh sliced bread or even Garlic Crostini so there are options for everyone.
Looking for other types of dips to enjoy? Try one of these: