This Garlic Crostini recipe is an easy and quick appetizer that comes together quickly and can be served with almost anything!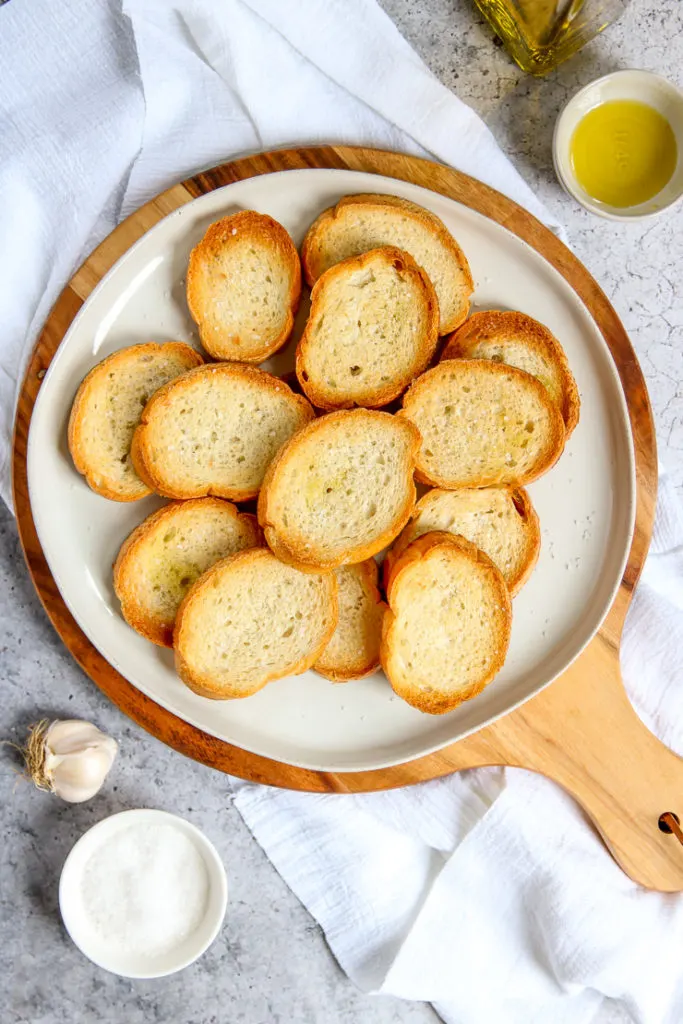 Garlic Crostini
This garlic crostini is such an easy appetizer staple that you can put just about anything on top of! The added olive oil, garlic and sea salt bring another layer of flavor to your appetizer to the next level.
The garlic clove melts onto the bread while it's still warm ensuring that the flavor is infused with the crostini. The best part is that it comes together in under ten minutes!
The Culinary Compass participates in several different affiliate programs. As an Amazon Associate, we earn from qualifying purchases.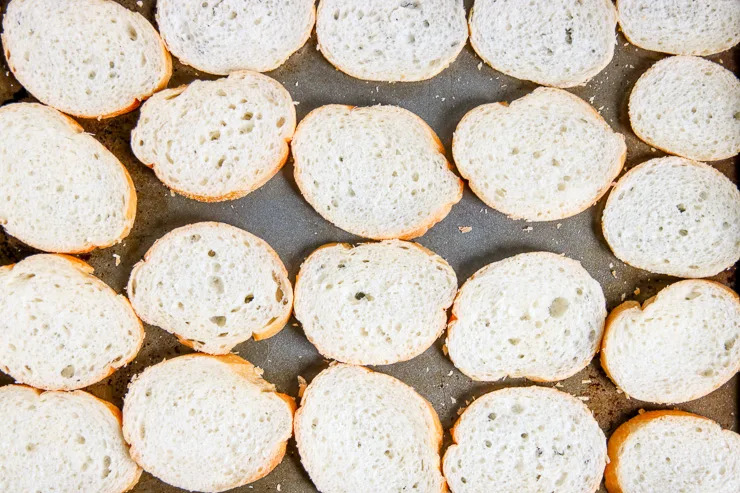 What is crostini?
Crostini is an Italian appetizer that mainly consists of a toasted or grilled bread with different toppings.
The toppings can be just about anything even if it's just served with olive oil, garlic and salt.
What kind of bread should I use?
You'll want to use a loaf of bread that has a smaller circumference and a thicker crust like a baguette.
Something like Italian bread could work, but the slices might be much bigger meaning you may not get as many servings out of one loaf of bread.
How thick should I cut the slices?
Be sure to evenly cut your loaf into about 1/4" slices. If it's any thicker, it may not get crispy all the way through.
Cutting it evenly is also key to ensure that each piece cooks at the same rate. Smaller pieces will likely burn so be sure to keep an eye out for those.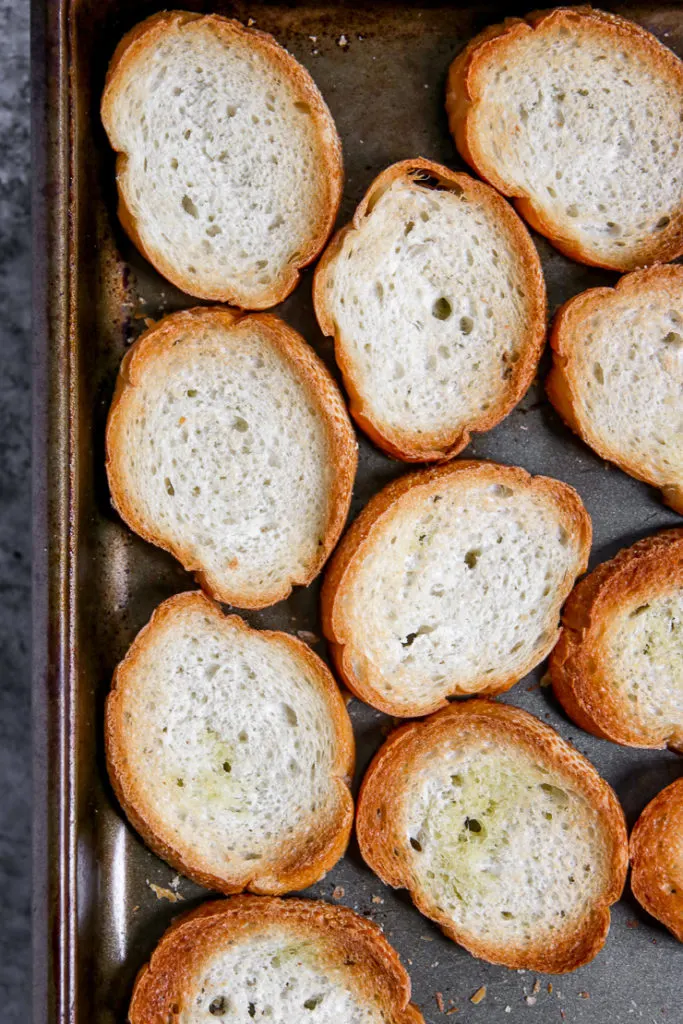 Should I bake the bread or broil it?
Oven time is usually precious when you're making lots of food, so broiling the crostini makes the process go a lot faster!
Even if you use the low setting of your broiler, it should only take about 2 minutes on each side for the bread to get nice and toasty.
You can definitely bake the bread pieces, but it will take a bit longer.
Be sure to keep an eye on your bread with either method because it can go from crisp to burnt really quickly with how thin the pieces are cut.
Do I need to use garlic?
You don't have to use garlic! I know it can be something people are very sensitive too so it is easy to just not rub the garlic clove on a few pieces and only sprinkle with sea salt.
If you're able to though, the garlic paired with the sea salt adds a great kick!
I use a clove of garlic rather than spreading it with pre-minced garlic so it's nice and fresh. This also helps ensure that it's only got the textures from the topping.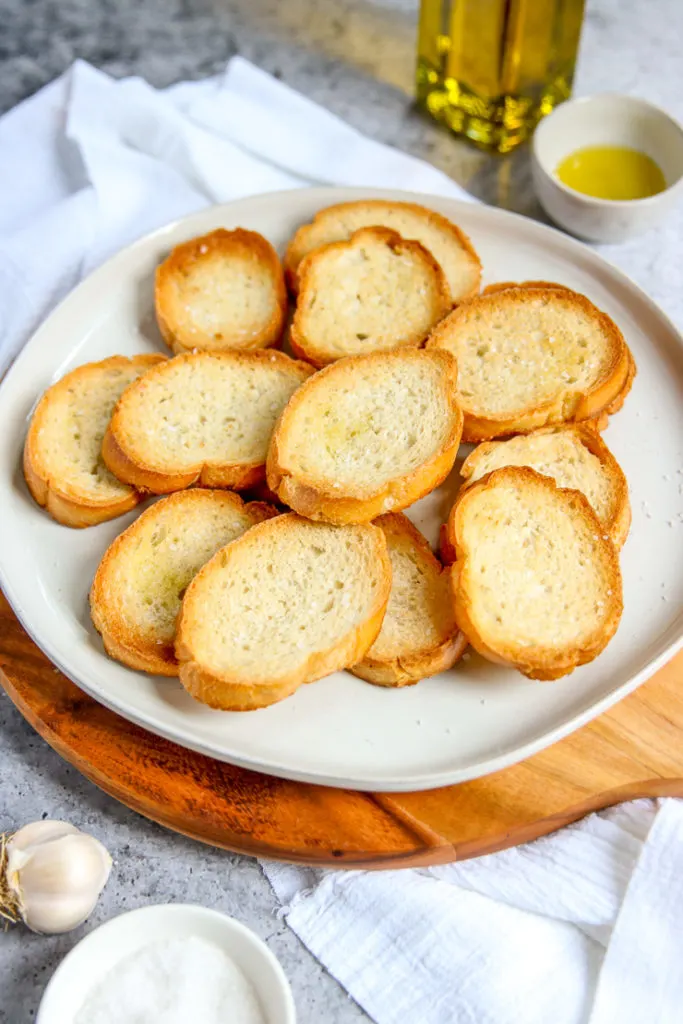 What can I top this garlic crostini with?
Garlic crostini can be topped with all sorts of things like a simple tomato salad with balsamic or even an assortment of meats and cheeses. This Bacon Caramelized Onion Crostini is also a great option!
It can also be used as an option to eat dip like this Beer Cheese Dip, Whipped Feta Dip or this Roasted Garlic Spread.
Looking for other easy appetizers? Try these: