This Jalapeno Pimento Cheese recipe will be a staple! It's a spicy and easy Southern spread that you can't take just one bite of.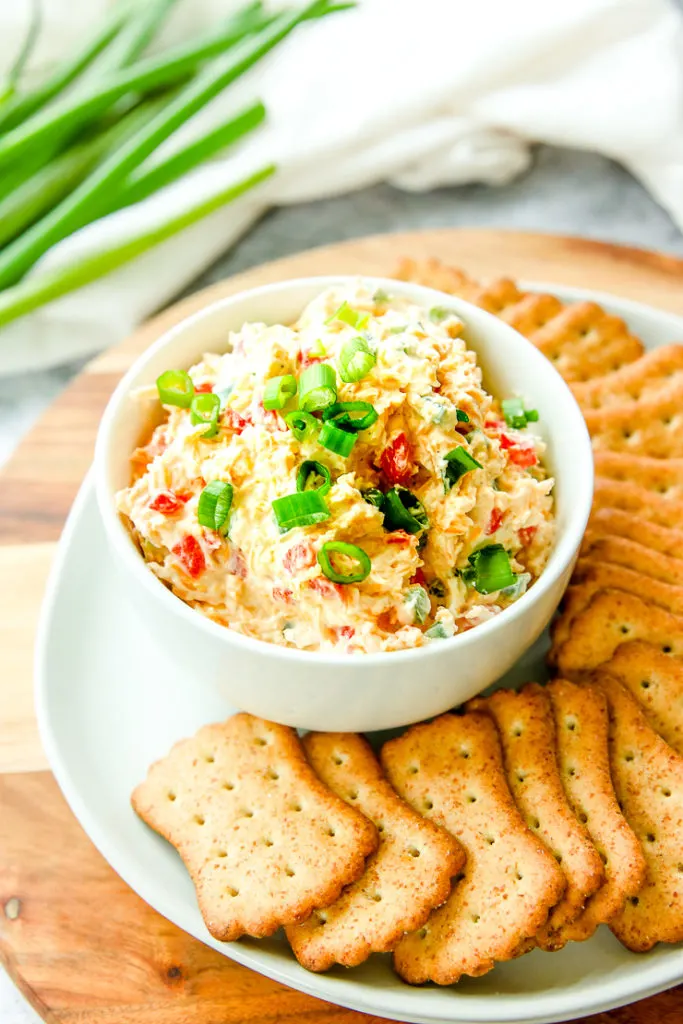 Jalapeno Pimento Cheese
Jalapeño Pimento Cheese is a slightly spicy and crunchy version of the original! The jalapeño can add some kick and crunch adding another layer to a classic dip.
While it might not be a gorgeous dip, it's certainly delicious! Don't judge a book by it's cover, that is for sure.
It's delicious on it's own as a dip, and included into other things like grits, mac and cheese, and grilled cheese!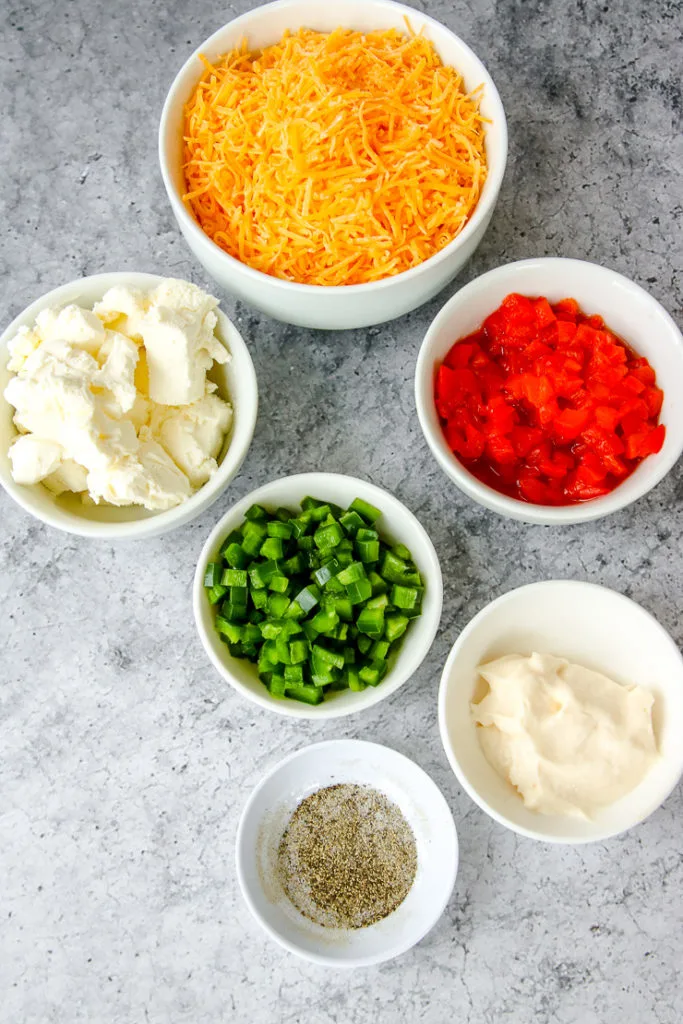 The Culinary Compass participates in several different affiliate programs. As an Amazon Associate, we earn from qualifying purchases.
What is Pimento Cheese?
Well, bless your heart for asking. It's the "caviar of the South" which might be a little dramatic, but really you can find it on just about any Southern restaurants' menu and in all the grocery stores.
At it's most basic, it's a combination of shredded cheddar cheese, mayonnaise, and pimento cheese. More can be added, but those must be included!
You'll see some recipes with hot sauces, pickles, Worcestershire sauce, or various spices. It can really be dressed up to be whatever you like.
Most traditional recipes leave the shredded cheese in tact and just mix the ingredients together, but you may see some that blend the ingredients.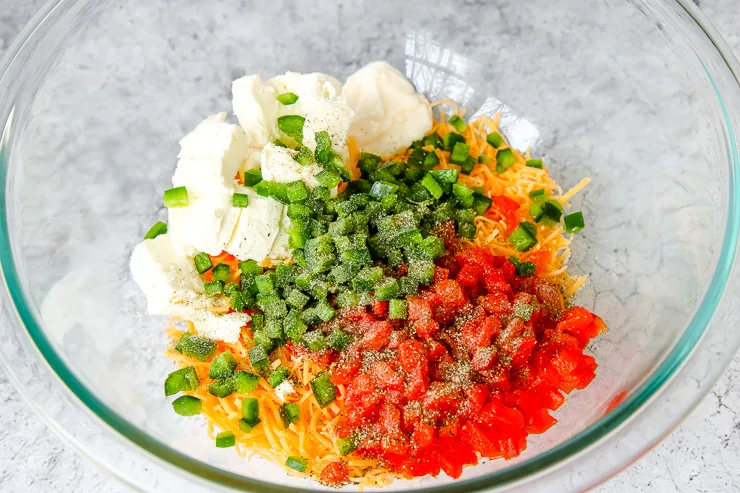 What kind of cheese should I use?
Shredded cheddar cheese is the most common. Mild or sharp are good options, but sharp or extra sharp cheddar cheese will definitely give it a little more bite that balances out the cream cheese a bit.
Changing out the cheese is a good way to give the dip a different flavor. Monterey jack might give it a little kick. Colby jack is also a great option.
Some recipes even call for mixing in mozzarella for another option!
What are pimento peppers?
Pimento, or pimiento peppers, are red, heart shaped peppers. They're sweet and flavorful like bell peppers and are very low on the Scoville scale in terms of heat.
You'll most often find them diced and marinated which is what this recipe calls for. They are also found stuffed into olives.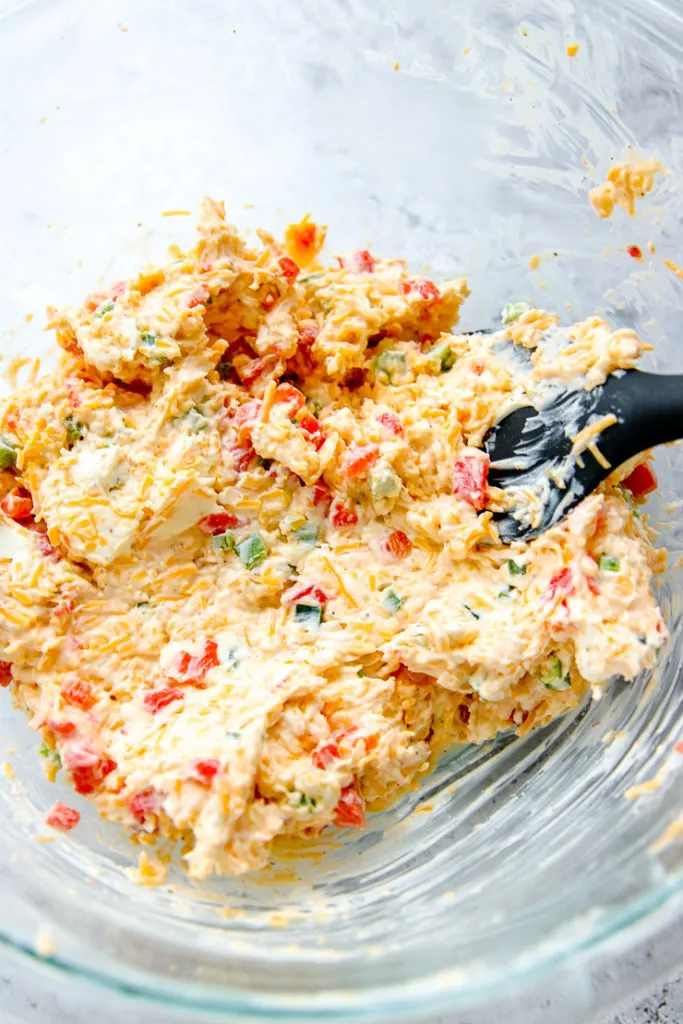 Is this Jalapeno Pimento Cheese dip spicy?
It depends! It can be if you leave in the jalapeno pepper seeds or the membrane, but the pepper itself shouldn't add too much spice.
If you're looking to kick up the heat, try changing out the jalapeno for something hotter! Adding in cayenne or hot sauce is also a good way to gauge how hot you'd like the heat to be.
How should I serve jalapeno pimento cheese?
My favorite way to serve it is just in a bowl with some crackers to keep it simple! You can form it into a cheese ball to make it a little fancier for a get together.
It's also great on bread to make a pimento cheese sandwich! You'll find those sometimes with the crust cut off and cut into triangles for some finger food.
Pimento cheese spread is super versatile so you can find endless ways to serve it!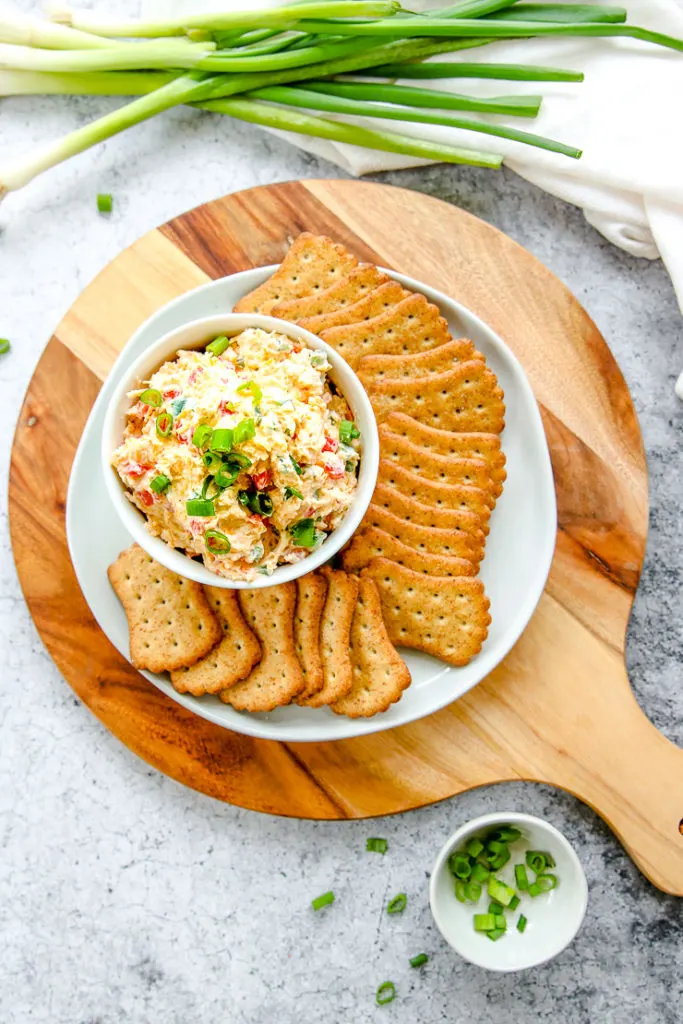 What can I serve this with?
It's a great spread for crackers or Garlic Crostini! It's also a good dip with tortilla chips or vegetables. Really anything that you can get your hands on to dip will work. No judgement if you just take a spoon to it, honestly.
Traditionally, it's served as a finger sandwich too! Just serve it on some crustless bread cut into triangles and serve.
Looking for more dips for your get together? Try one of these: