This Roasted Red Pepper Artichoke Dip is full of flavor and just a few ingredients. It'll be a hit at your next cocktail party or get together!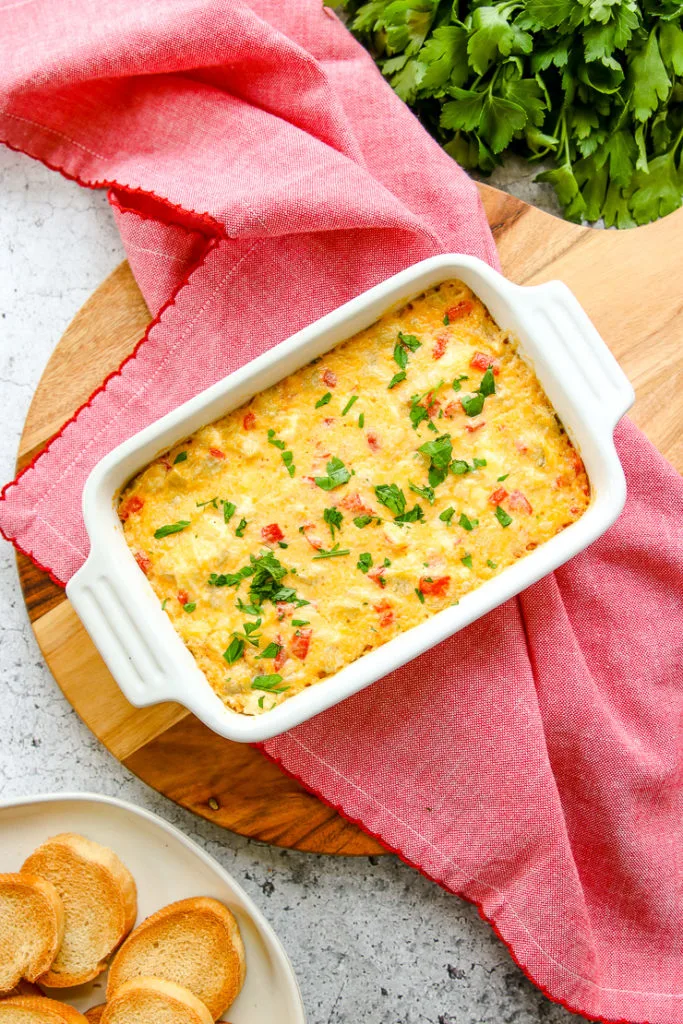 Roasted Red Pepper Artichoke Dip
Roasted Red Pepper Artichoke Dip is a veggie filled dip perfect for any occasion! It's got jarred, marinated artichoke hearts and roasted red peppers for a briny and tart addition.
Just mix all the ingredients together and bake! I'll take a hands-off appetizer any day.
The Culinary Compass participates in several different affiliate programs. As an Amazon Associate, we earn from qualifying purchases.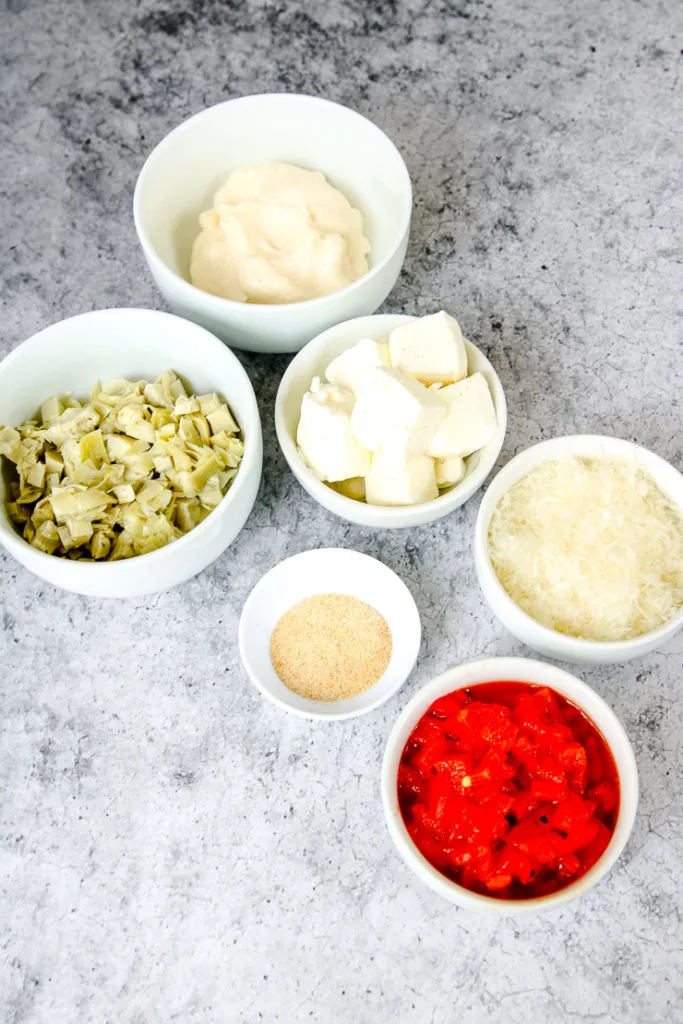 Can I roast my own red peppers?
You can! It'll take a bit of time, but it's a great way to use any extra peppers that you may have lying around.
Check out this blog post to learn more about making your own marinated roasted red peppers!
Should I use marinated artichoke hearts?
I like using marinated artichoke hearts to add a little more flavor to the dip without extra ingredients.
The jarred artichoke hearts also usually avoid having that tinny vegetable flavor in the dip. You can still use those canned artichoke hearts, but be sure to taste and see if any additional ingredients need to be added.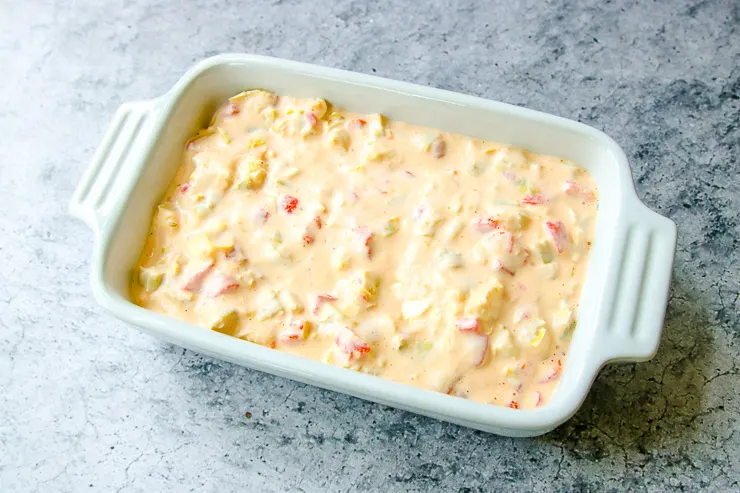 What is in this dip?
This dip is just a few ingredients, but it's full of flavor! It's also a great one to keep some artichoke hearts and roasted red peppers on hand for a quick appetizer if it's ever needed.
You'll need the following:
Jarred artichoke hearts – Marinated if you're able to find them
Jarred roasted red peppers – Diced into small bites
Cream cheese – Softened so it's easier to mix
Mayonnaise
Parmesan cheese – I recommended freshly shredded or grated rather than from a bag or can
Garlic powder
Onion powder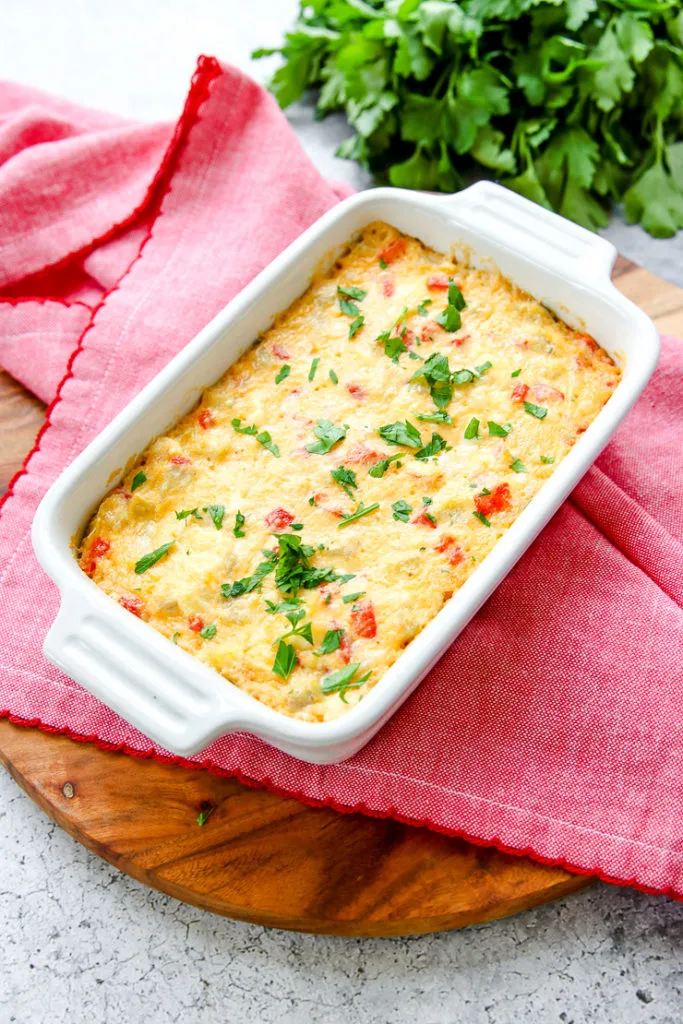 Can I make this ahead of time?
Definitely! This is a great dish to prepare ahead of time. You'll follow all the instructions and place the oven-safe baking dish with plastic wrap or aluminum foil over it in the refrigerator.
Just bake before serving and you'll be ready to go!
What should I serve this with?
This is a great dip to serve with some fresh vegetables or crackers! I'm also always a sucker for a warm cheesy dip with freshly sliced French or Italian bread.
Garlic Crostini is also always another great option to add even more flavor to your appetizer! You can offer them already prepared with some dip on top, or as a side to the dip.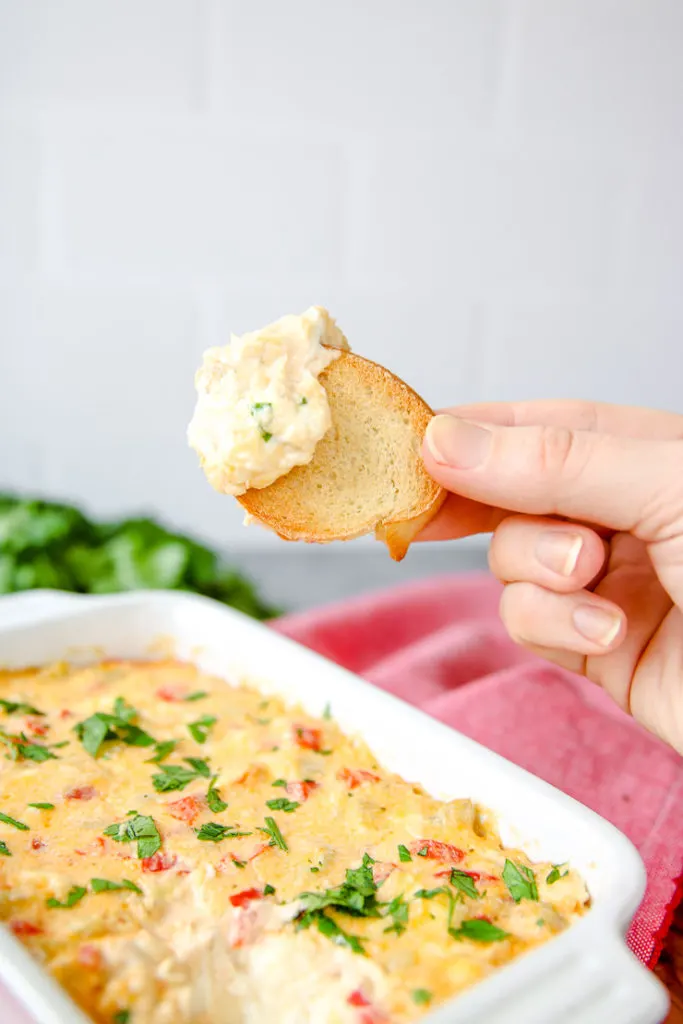 Looking for other appetizers to serve at your next get together? Try these: