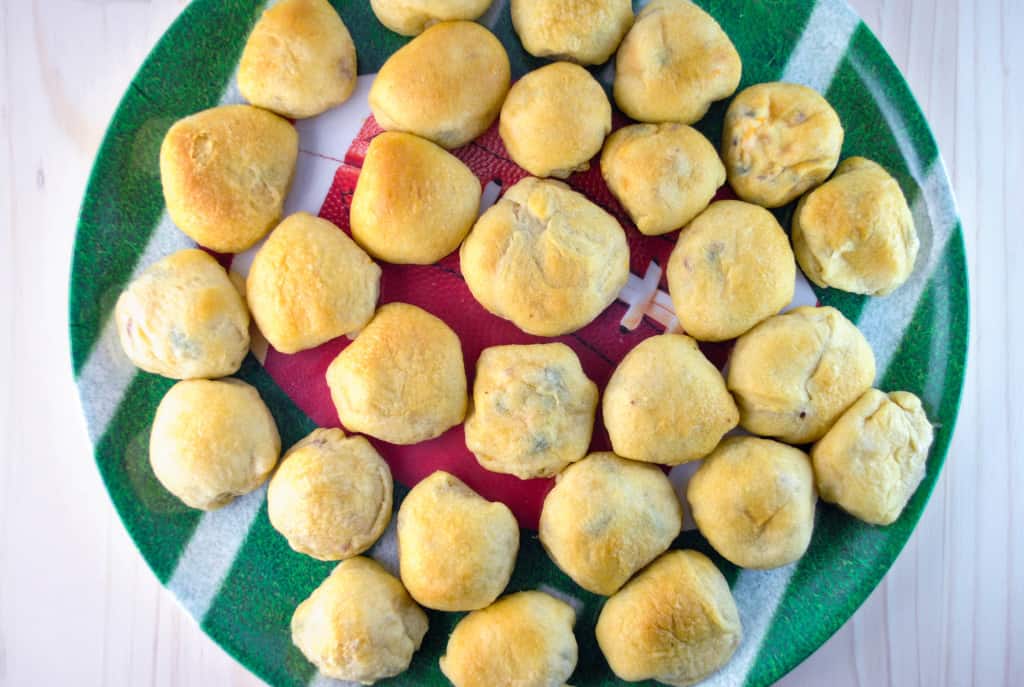 I think my favorite appetizer for tailgates might be Jalapeño Poppers. They're more time consuming than I'd like so when I'm strapped for time or the kitchen is full of other appetizers, these bites are my go-to. My friend introduced me to these bites last year and I've been hooked ever since.
They are so easy to make and a huge crowd-pleaser. Roasting the jalapeños gives it the sweet, smoky flavor from that you'd get if you made the real deal. If you don't have much time, consider skipping roasting the jalapeños and just dicing them up. You still get all of the flavors that the bacon, cream cheese, and jalapeños combine to give you.
Check out this link for the rest of the appetizers I made for the Super Bowl.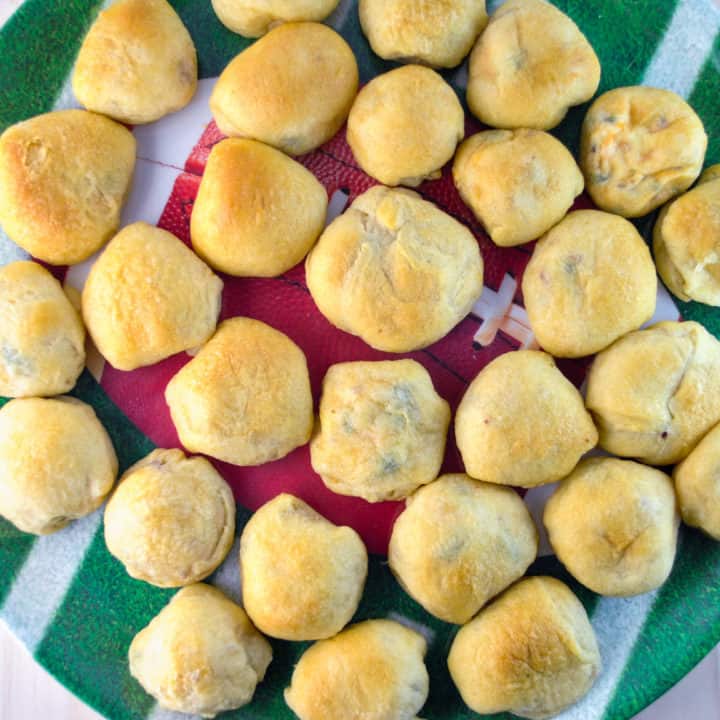 Roasted Jalapeño Popper Bites
Yield: 32 poppers

Prep Time: 30 minutes

Cook Time: 30 minutes

Total Time: 1 hour

Easy roasted jalapeño popper bites that are sure to please.
Ingredients
1 block cream cheese, room temperature
1 cup shredded cheddar cheese
1/2 pack of bacon, about 8 strips cut into small pieces
4 jalapeños, ends cut off and seeded, cut in half lengthwise
1/2 tsp onion powder
1/4 tsp garlic powder
1 can crescent roll
Instructions
On a cookie sheet with aluminum foil, place the jalapeños skin side up and broil on high heat for 10-15 minutes until skins are blistered. Flip jalapeños over and broil another 5-10 minutes until char develops. Immediately put jalapeños into a zippered plastic baggy and let them steam themselves until the skin starts to peel off, about five minutes. Peel the rest of the skin off and dice roasted jalapeños.
Preheat oven 375F.
In large saute pan, cook cut small pieces of bacon until crispy. Remove and place on paper plate with paper towel.
In a large bowl, mix cream cheese, cheddar cheese, bacon, jalapeños, onion powder, and garlic powder.
Roll out crescent rolls. Cut eat triangle in half to create two smaller triangles. Put about a teaspoon of the filling in the middle of each triangle. Carefully bend the corners around the filling and pinch shut creating a ball.
Place popper bites on cookie sheet and bake until done about 11-13 minutes. If still gooey, add a few minutes and continue to check.
Serve warm and enjoy!