Roasted Radishes are an underrated side dish full of spice and flavor. Learn how to roast radishes in just a few steps!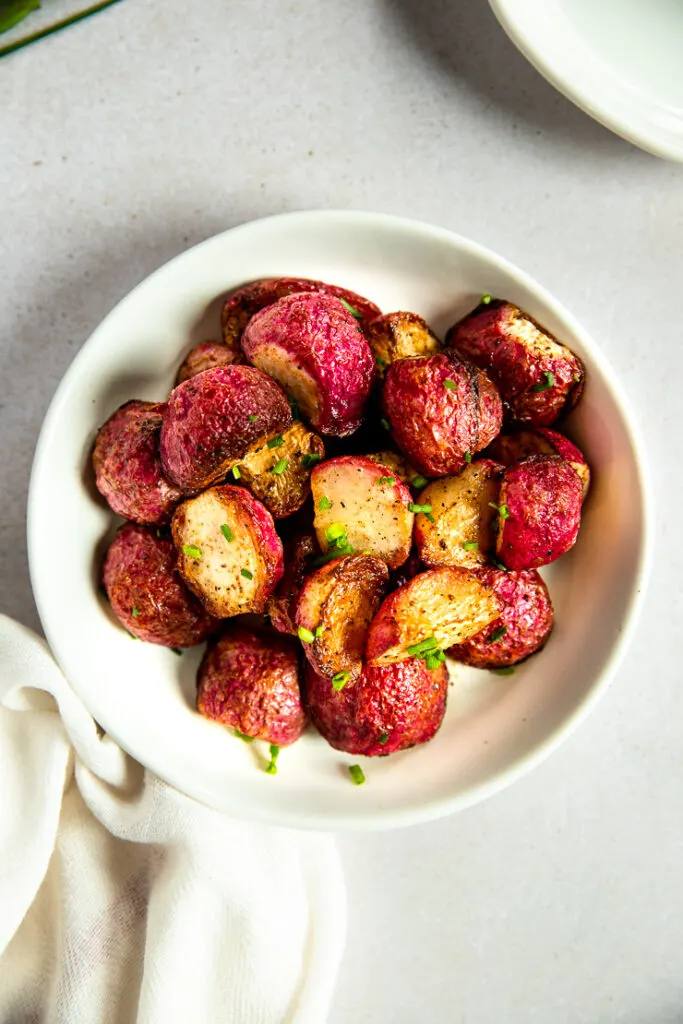 Roasted Radishes
If you're tired of the same old roasted vegetables, it's time to try something new! Radishes aren't a vegetable I typically think of outside of their place in crudités, or shaved on tacos, but they deserve more of a chance!
Raw radishes have that spicy flavor that they are known for, but roasting radishes brings out their natural sweetness to their peppery taste and adds a depth of flavor that will surprise you! The texture after roasting them are perfectly tender with a slight crisp around the edges that will make you want to go back for more.
Delicious roasted radishes are a perfect side dish on their own to complement a main meal, or even as a topping on a salad! If you're not a typical radish fan, I think this may surprise you!
The Culinary Compass participates in several different affiliate programs. As an Amazon Associate, we earn from qualifying purchases.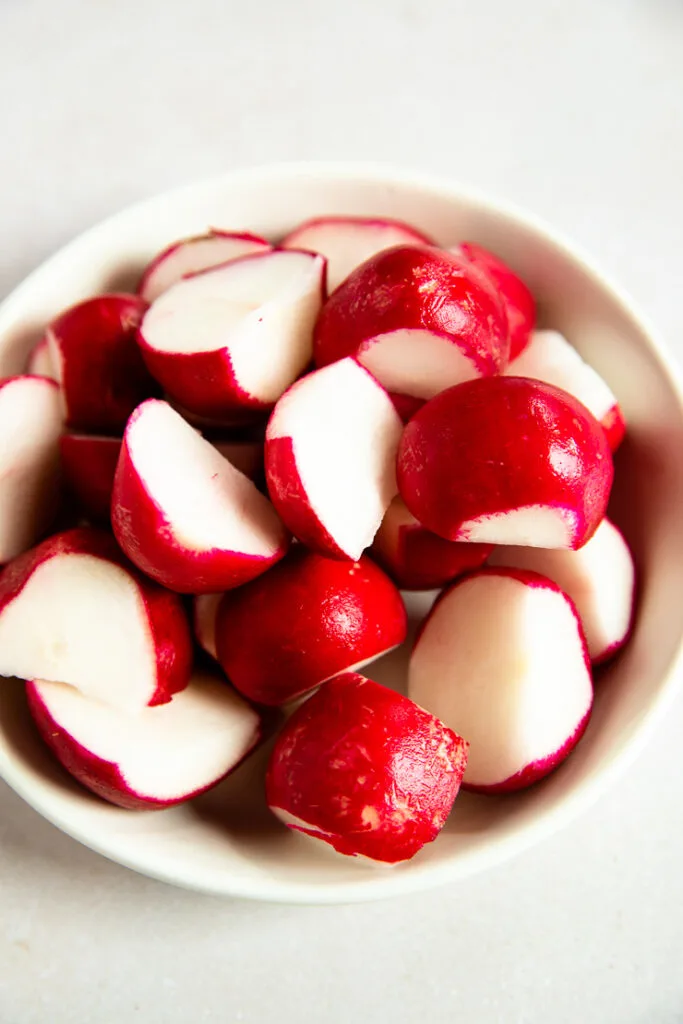 Roasted Radish Recipe Ingredients
You'll just need a few ingredient to roast radishes
Radishes
Olive oil
Salt
Garlic powder
Smoked paprika
Black pepper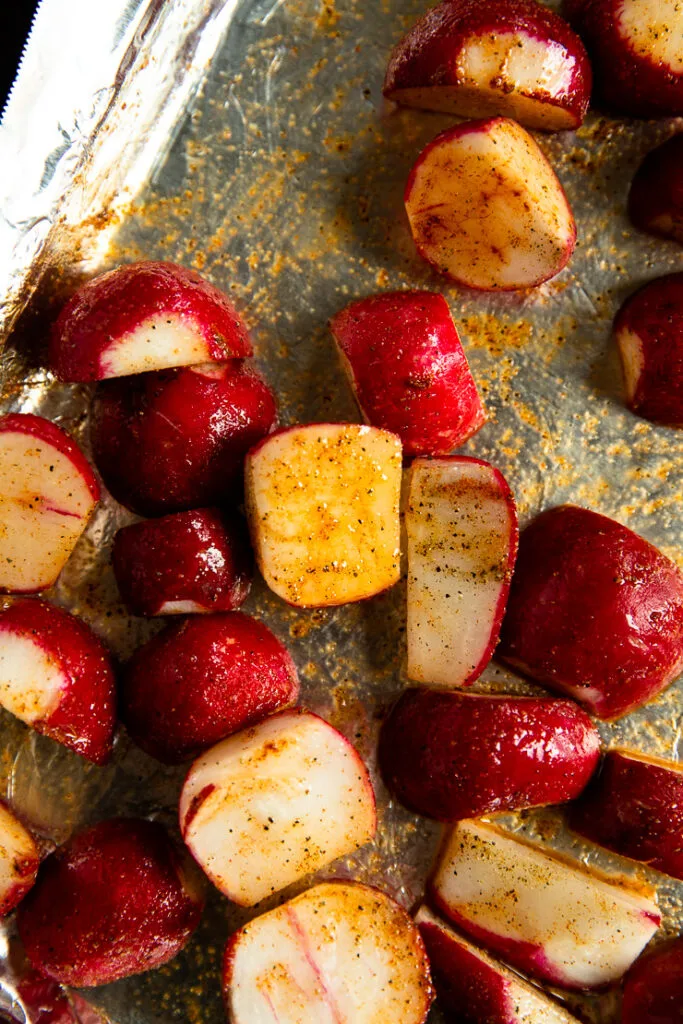 Oven Roasted Radishes Ingredient Substitution
If you can't find radishes, you can use turnips or even small red potatoes for a different twist. You can also use different types of radishes if you can't find a typical globe radish.
You can even use the radish greens in a recipe to go with your meal! Try out this Radish Green Pesto that'd go great on top!
Regular paprika can be used if you don't have smoked paprika, but you may miss out on the subtle smoky flavor. The great part about the seasoning mix is that you can make it whatever you need to go with your meal! Add in some Italian Seasoning for more herbaceous flavor, or onion powder to punch up the flavor.
Add a squeeze of lemon juice after they're done cooking to brighten up the flavor!
Can I use different types of radishes for this recipe?
Absolutely! You can use any variety of radishes you find at your farmers market or grocery store. Whether it's the classic red radishes or the more colorful watermelon radishes, they will all taste delicious when roasted.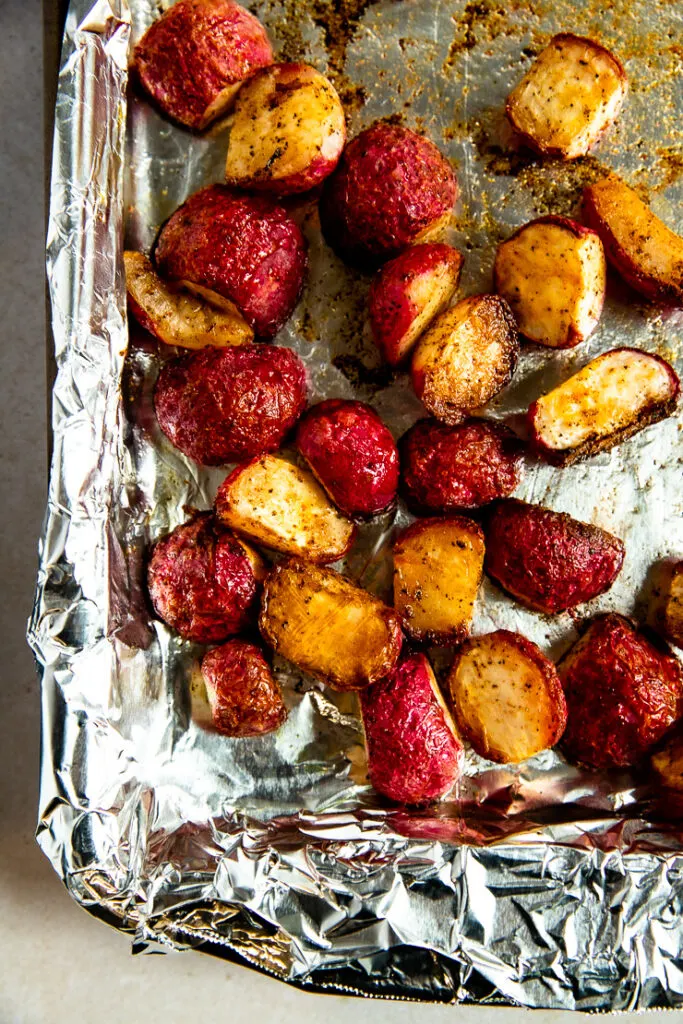 Can I prepare the radishes in advance?
While roasted radishes are best enjoyed fresh and hot out of the oven, you can prepare the seasoning mixture and cut the radishes in advance to save time when you're ready to roast them.
How should I serve roasted radishes?
Serve them as a delicious side dish to accompany some Grilled Boneless Skinless Chicken Thighs or pork tenderloin! Add some extra vegetable side dishes to your meal with Air Fryer Broccoli or Roasted Brussels Sprouts and Carrots.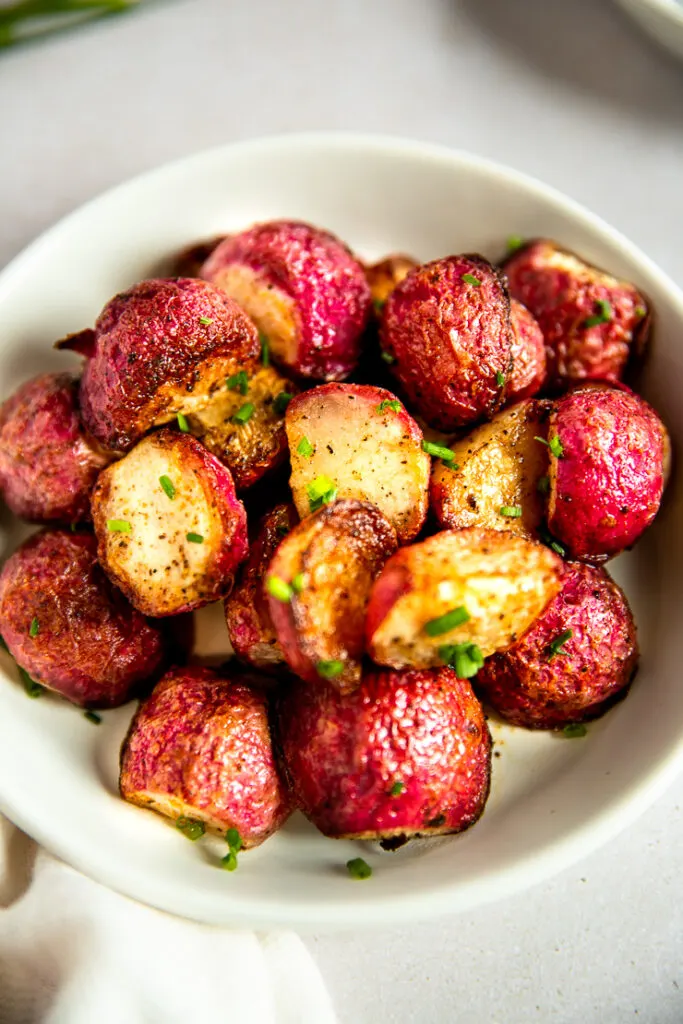 How to Roast Radishes
Roasting radishes is a breeze. Preheat the oven to 400°F, wash and trim the radishes, then cut radishes into halves or quarters.
In a small bowl, combine olive oil, salt, garlic powder, smoked paprika, and black pepper to create a flavorful seasoning mixture. Coat the radishes with the seasoning, spread them out on a baking sheet in a single layer, and roast for 20-30 minutes until they become tender and slightly caramelized. Use parchment paper or aluminum foil for easy cleanup.
Once done, garnish with fresh herbs if you'd like and serve these delectable roasted radishes as a fantastic side dish to accompany any meal.