This Air Fryer Broccoli is an easy side dish for any night! It's perfectly crisp and crunchy without too much effort to make.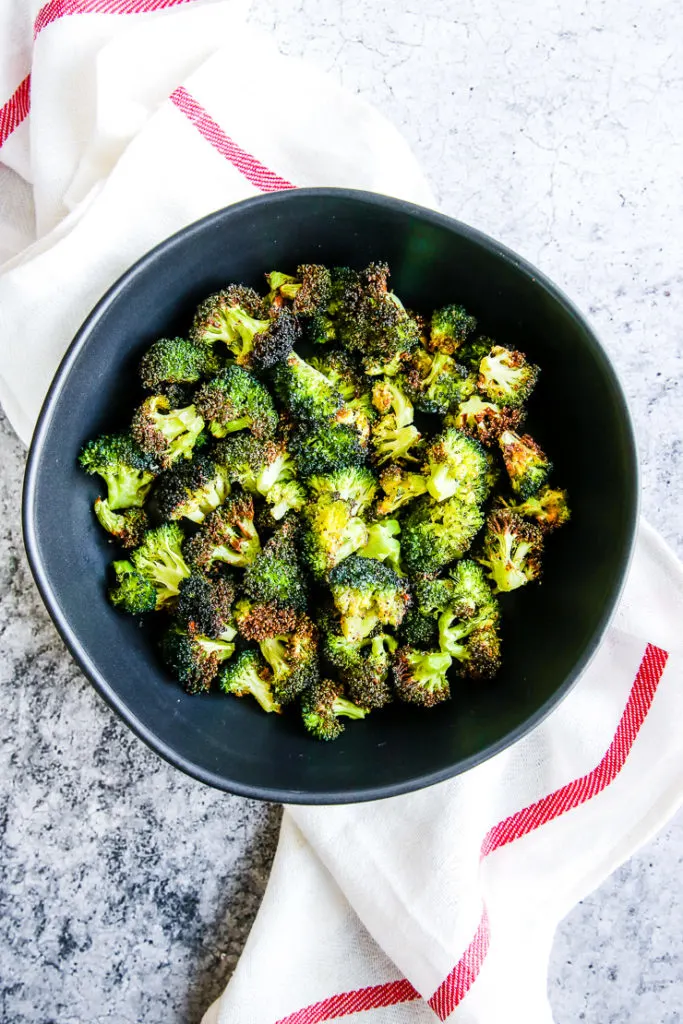 Air Fryer Broccoli
Broccoli in the air fryer is one of my favorite things to come from the air fryer! Air fried broccoli is perfectly crisp and tender while not taking as long as roasting in the oven normally does.
Air fryer recipes like this one are a great way to save time during the weeknights without sacrificing any flavor that you'd normally get from oven roasted broccoli. They are perfectly roasted every time!
The Culinary Compass participates in several different affiliate programs. As an Amazon Associate, we earn from qualifying purchases.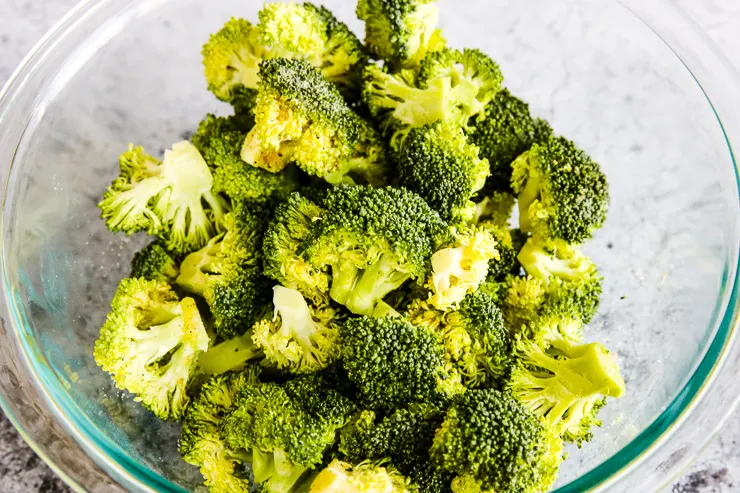 What size should I cut the florets for this air fryer broccoli recipe?
The florets should be bite sized, but not too small so that they just burn when in the air fryer.
If you have a prepackaged bag of cut broccoli florets, I recommend cutting those at least in half. Some of the bigger ones might need to be even smaller!
Can I use anything else to season the broccoli?
The broccoli seasonings are infinite! It's only limited to your imagination. Cheesy, right?
I like sticking with olive oil, garlic powder, onion powder, salt and pepper.
Speaking of cheese, grated parmesan is a perfect addition. I also like adding a little red pepper flakes for some heat! If you're looking for a little zest, lemon zest and juice is also a great option.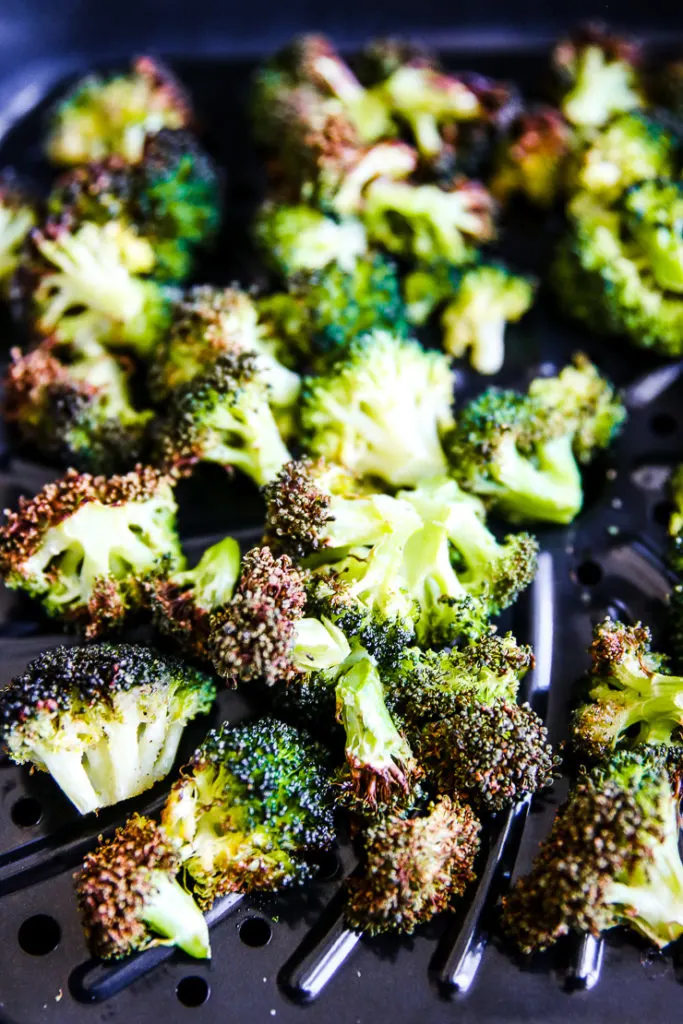 Can I air fry frozen broccoli?
Definitely! You'll just want to change the cooking time of the broccoli a little. You'll most likely want to add a minute or two to make sure that the interior of the broccoli is cooked through.
If you're looking for the same roasted edges, you'll most likely want to add more time than that. The rest of the cooking method should work just fine for you though to give you nice and crispy broccoli.
What should I do if my air fryer starts to smoke while cooking?
You can add 2 tablespoons to 1/4 cup of water in the air fryer below the basket to ensure that any bits don't burn and smoke.
There could be other reasons for the air fryer to smoke so, if that doesn't help, check out this troubleshooting guide on why your air fryer is smoking.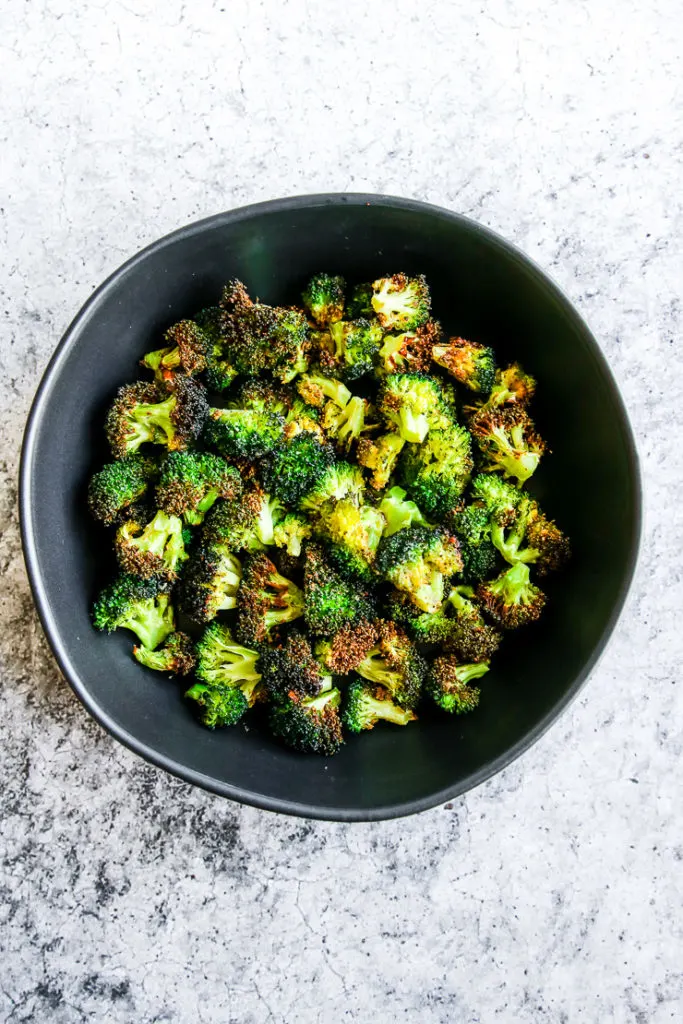 Do I need to add any coating to the basket?
You shouldn't need to coat the basket with any cooking spray or olive oil since the broccoli is coated in olive oil.
If you find that at the half way point when you're flipping the broccoli that they are starting to stick, spray a bit of cooking spray or use an oil sprayer to help them not stick then add the broccoli back to the basket.
Looking for other ways to prepare vegetable side dishes? Try one of these: