These Air Fryer Turkey Meatballs are an easy protein that's perfect for meal prep! Making ground turkey meatballs in the air fryer only takes a few steps.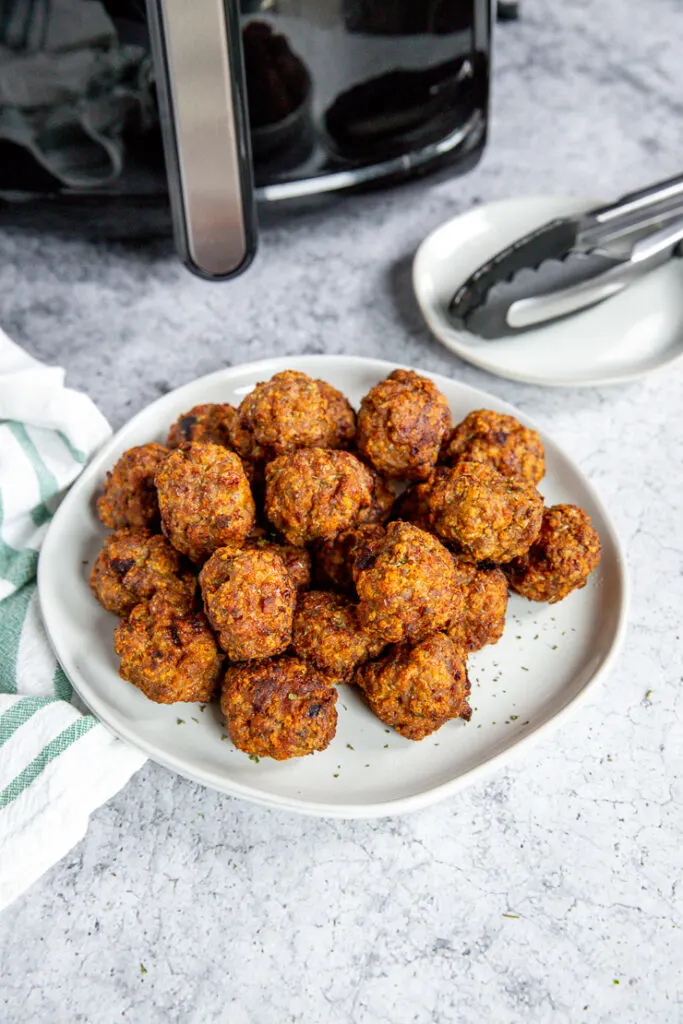 Air Fryer Turkey Meatballs
These easy Air Fryer Turkey Meatballs are a delicious quick meal on their own or a great option for an appetizer! They're perfectly crisp on the outside and tender inside.
Serve them with some pasta and marinara, or barbecue sauce as an appetizer. The best part is that they come together really quickly.
The air fryer makes the cooked meatballs extra crispy on the outside that you can't achieve with just baking them too!
The Culinary Compass participates in several different affiliate programs. As an Amazon Associate, we earn from qualifying purchases.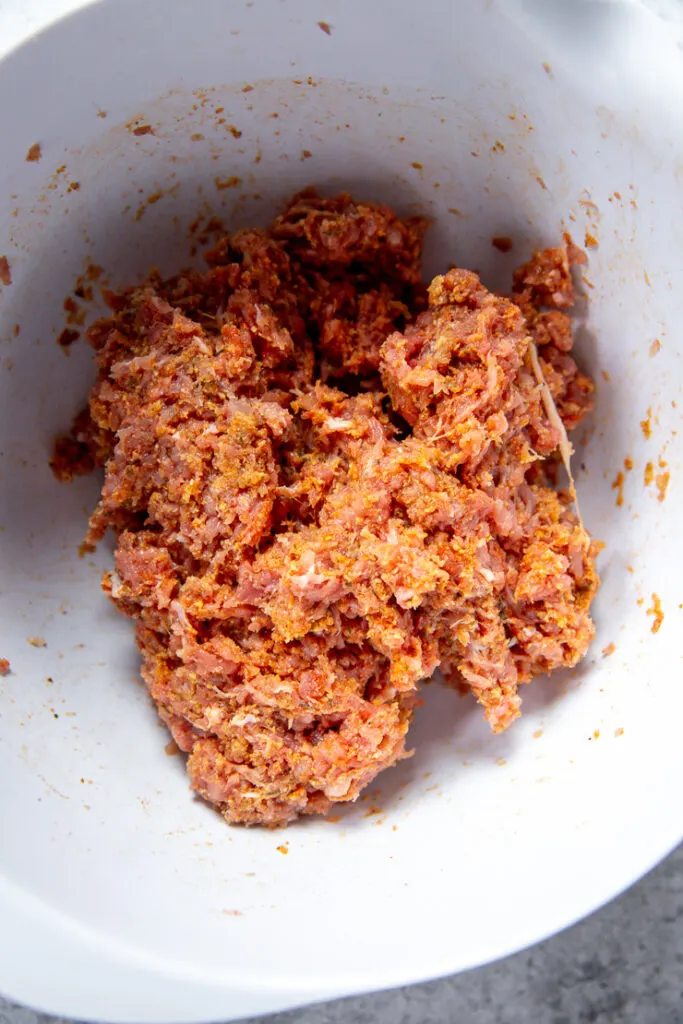 Air Fryer Turkey Meatball Recipe Ingredients
You only need a handful of ingredients to make air fryer turkey meatballs:
Ground turkey
Italian breadcrumbs
Large egg
Oregano
Paprika
Thyme
Garlic powder
Salt
Ground black pepper
Ingredient Substitutions for Air Fryer Meatballs
While this recipe does call for lean ground turkey, you can use whatever type of meat that you like! It'd work great with ground chicken, ground beef, ground pork, or a combination of those meats.
You can swap out the Italian breadcrumbs for Panko breadcrumbs if you already have those on hand. You may just want to add in a bit more Italian seasoning blend to it to amp up the flavor, or even add some parmesan cheese.
If you're looking for more neutral flavored meatballs to use with a variety of dishes instead of the Italian flavors, you can use the Panko bread crumbs and only use the paprika, garlic powder, salt, and pepper.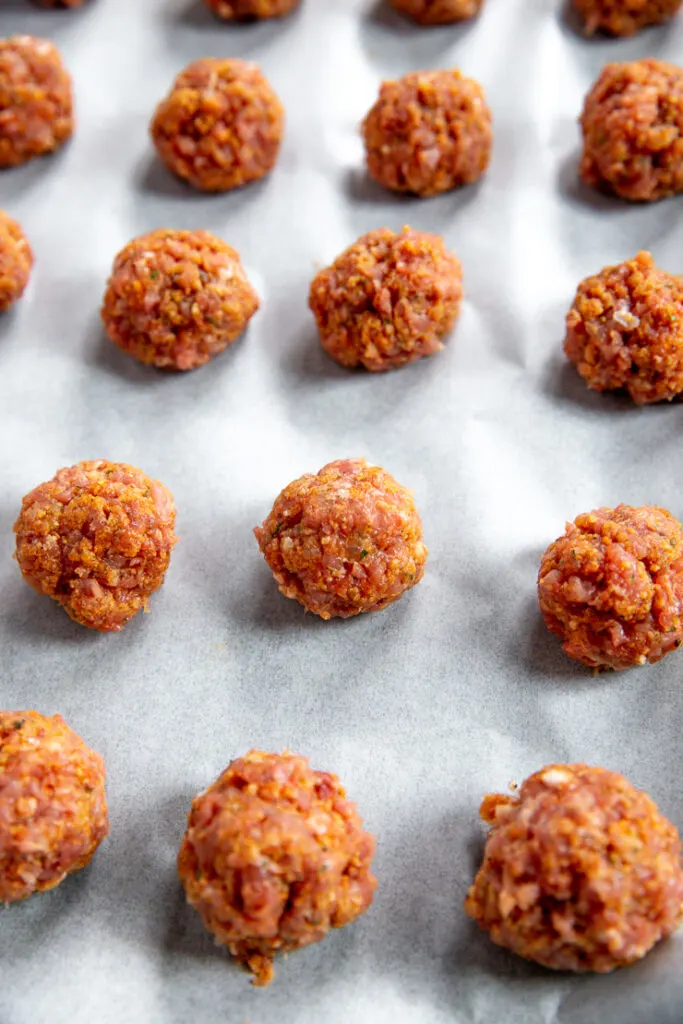 Freezing Instructions For Air Fryer Turkey Meatballs
You'll want to cook your turkey meatballs as stated in the recipe, but if you're looking to freeze them, cool them completely.
If you have the time and fridge space, place them onto the parchment-lined baking sheet and freeze for a few hours. This helps make sure that they don't stick together once they're in their container.
No worries if you want to skip that step! You can place the meatballs in an airtight container or freezer bag in a single layer so they don't stick together.
They'll be good for a few months and you can place them directly into the air fryer at 375°F for 8-12 minutes to cook them when you're ready for an easy dinner!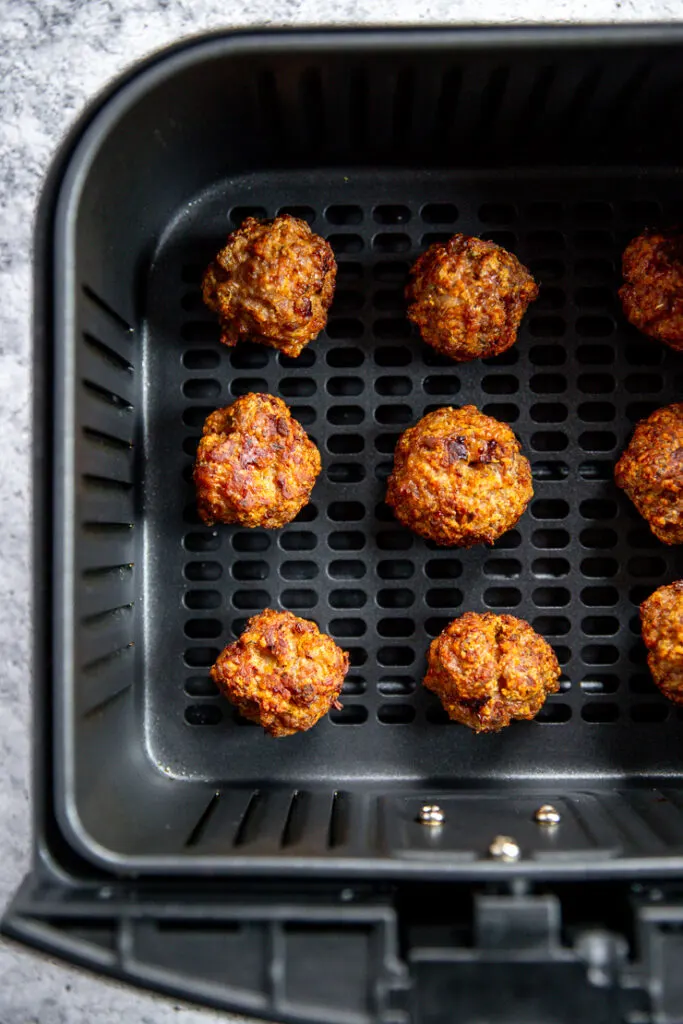 Can I make these in the oven?
Definitely! They won't have the same texture on the outside, so you could put them under the broiler for a few minutes to help crisp them up.
These Quick Baked Turkey Meatballs would use the same base recipe and is perfect if you'd rather bake them or don't have an air fryer. Try these 20 Minute Meatballs for a baked beef option!
Preheat your oven to 350°F and prepare a baking sheet lined with parchment. Place the meatballs on the parchment in a single layer and bake for a little over 18-20 minutes.
How do you know when a turkey meatball is done?
The turkey meatball shouldn't be pink on the inside anymore, but the easiest way to tell is using a digital thermometer to make sure that the internal temperature is 165°F.
How many meatballs does this recipe make?
This recipe should make about 20 1 and ½ inch meatballs.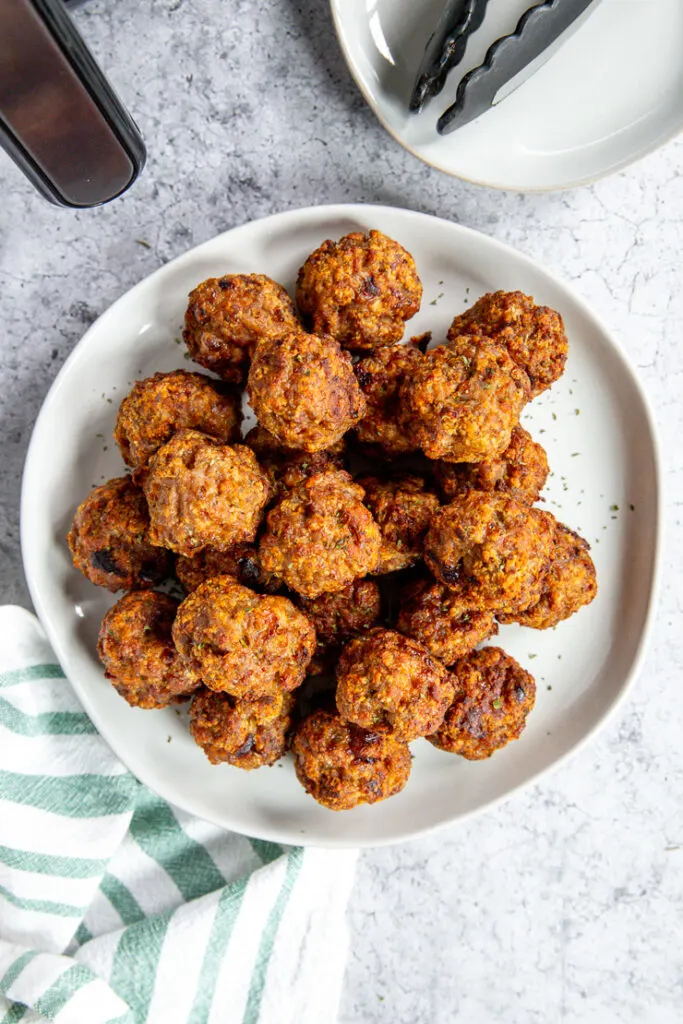 How to Serve Air Fryer Turkey Meatballs
The great thing about these turkey meatballs is how versatile they are. They're great when meal prepping with some roasted veggies like sweet potatoes or bell peppers and cauliflower rice.
I love serving them with homemade Egg Noodles and this Slow Simmered Marinara Sauce or this Vodka Sauce. If you're aiming for low carb or keto meals, you could replace spaghetti with zucchini noodles.
They're also perfect for making meatball subs with your favorite pasta sauce, some mozzarella on top and some shaving of parmesan cheese.
If you opt to make them without the Italian breadcrumbs and seasoning, you can serve them as an appetizer with this Chipotle Peach sauce, this Honey BBQ Sauce, teriyaki sauce, or your favorite bbq sauce.
How to Make Air Fryer Turkey Meatballs
In a large bowl, mix together all of the ingredients until combined. Prepare a piece of parchment paper either on the counter or sheet pan.
Roll the turkey mixture into 1 and ½ inch balls using some pressure to ensure they stay together and place on the parchment paper until ready to use. Continue making turkey meatballs until all mixture is used.
Place meatballs with some space between each in the air fryer basket in a single layer. You'll need to do this in at least two batches so be sure to not overcrowd the basket.
Bake for 10 minutes at 400°F, flipping halfway through. Remove from basket and set aside until all the mixture is used.