This Vodka Sauce recipe only takes a few minutes to make with just a few ingredients! It's perfect when making a recipe for Penne alla Vodka.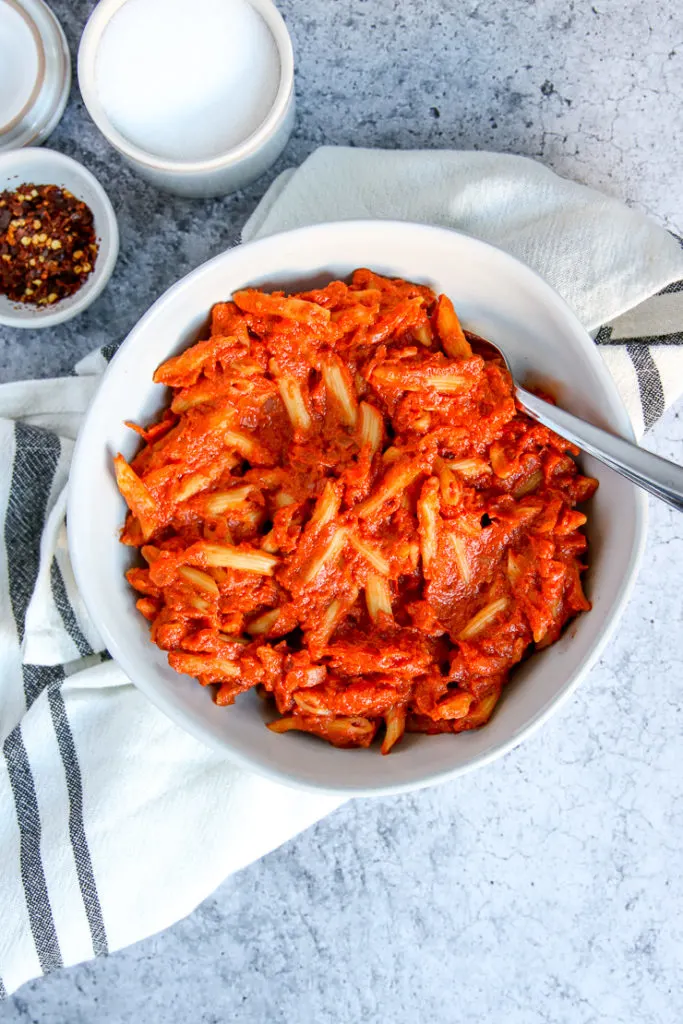 Vodka Sauce
If you are a pasta lover and haven't tried vodka sauce yet, I'm going to need you to try this recipe. It's got a little bit that you love from every type of sauce.
Its got great tomato flavor without being too acidic or tart and is nice and creamy making it a perfect marriage between marinara and Alfredo sauce.
The Culinary Compass participates in several different affiliate programs. As an Amazon Associate, we earn from qualifying purchases.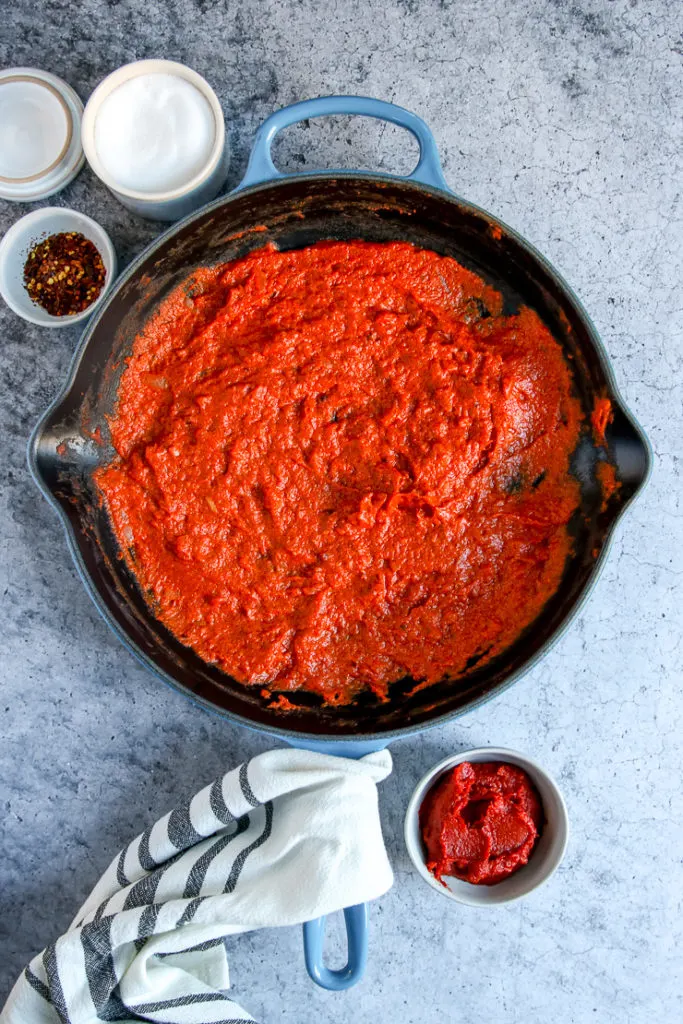 What is vodka sauce?
Vodka sauce is a combination of aromatics like onion and garlic, some red pepper flakes, tomato, cream, and, of course, vodka!
When cooked together it is both sweet and spicy while bright and not as heavy as a traditionally creamy sauce.
Do I need to use vodka in vodka sauce?
Not necessarily! Whether you don't have it on hand or don't drink alcohol, there's definitely a way to bring that crispness to the sauce without the vodka.
You can just substitute the same amount of vodka with water and a squeeze of lemon juice. Using something like white grape juice could also work to brighten up the sauce. Cooking wine can also bring that same sharp flavor.
Can I use milk instead of half and half?
You can, but it won't be as thick or creamy. If you have the option, opt for heavy cream rather than milk to thicken the sauce a bit more and make it a bit more silky.
If you use milk, try adding in some grated Parmesan to bring in that creaminess to the sauce.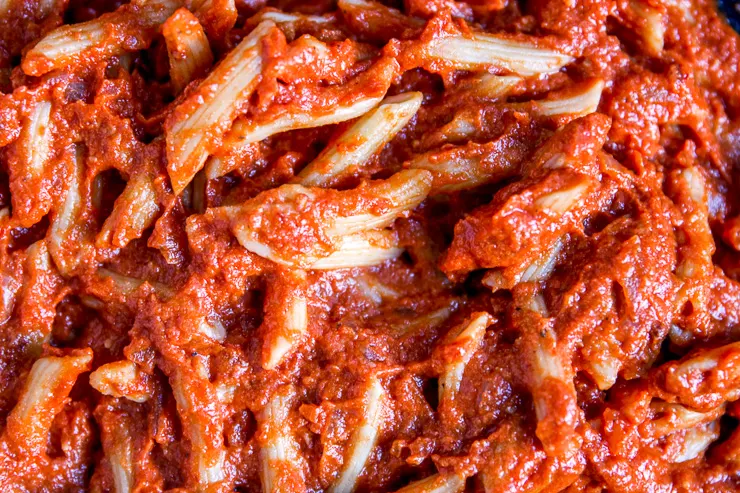 Should I use tomato paste for the vodka sauce?
Yes! Typically, tomato paste is much more concentrated in flavor giving it more of a tomato flavor without too much extra liquid.
If you're able to, you can try using the double-concentrated tomato paste that really punches a ton of flavor into the sauce!
Using the tomato paste from a can is what I typically do since I have it on hand most of the time, though. I don't find that there's a tinny flavor that you might typically get since there's a ton of other flavors in the sauce.
How do I make homemade vodka sauce?
I fell in love with Rao's Vodka Sauce and wanted to try my hand at making my own. Luckily it's not too hard!
First, you'll want to start with making pasta! Salted water is key here to get good flavor throughout.
While your pasta is cooking, heat some olive oil in a large sauce pan over medium heat. Add onions and garlic and let them get nice and fragrant. You'll add in the red pepper flakes and let them simmer for a few to help get the heat into the sauce.
From here, add tomato paste and incorporate it into the rest of the ingredients. Add vodka once that's done to help deglaze the pan and let simmer out and stir to incorporate. After you'll add in your half and half and season and you're all set!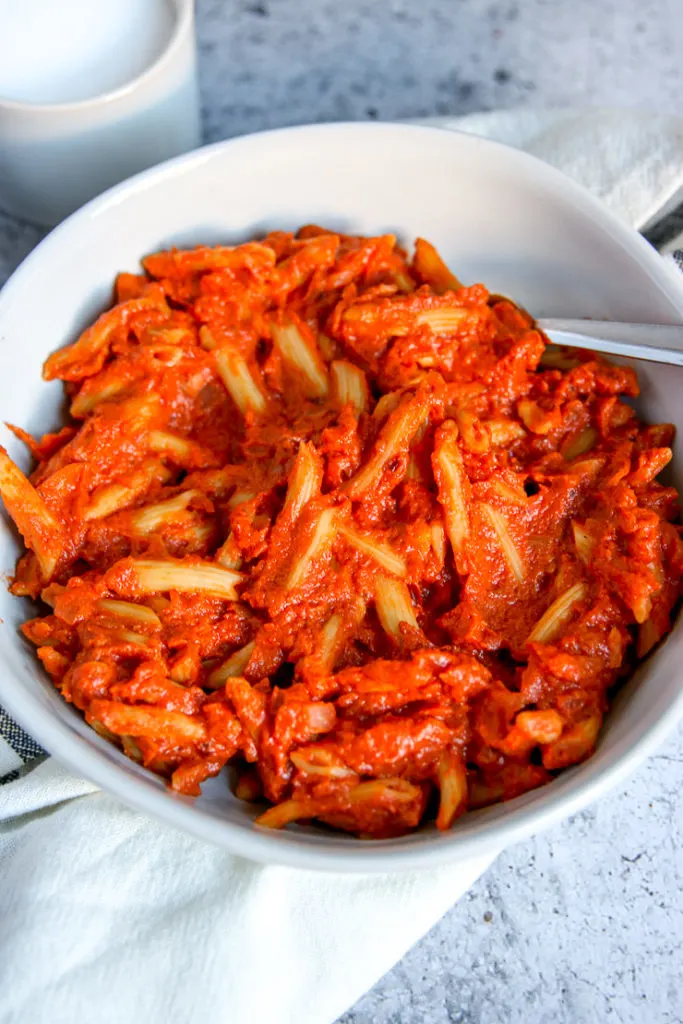 What is my sauce is too thick?
Reserved pasta water is a great thing to have on hand to help thin out the sauce. When you're ready to drain your pasta, reserve about 1/2 cup of the pasta water and set aside.
That will make sure the water is nice and starchy to help it stick to the pasta.
Is it a spicy vodka sauce recipe?
It is, but the great thing about it is that you can adjust how spicy you'd like the sauce to be! The current amount gives it a kick, but isn't terribly spicy.
Kick up the heat by adding more red pepper flakes and letting them simmer in the olive oil a bit longer. If you're serving the dish to kids or those who are sensitive to heat, you can opt to leave it out completely. It'll still be a great dish either way!
What can I use vodka sauce for?
You can use vodka sauce any way that you traditionally use marinara! It's great in dishes like Penne alla Vodka or really whatever kind of pasta you'd like to use like rigatoni or bucatini. You'll just make the pasta of your choosing and toss it in the sauce when it's done.
It's also a really great option for pizza! Vodka sauce on pizza is one of my new favorites. Try this Tie Dye Pizza if that's something you're interested in. Just warning you now that you may never want to go back after you try it!
Looking for other great pasta sauces? Try these: