This Roasted Vegetable Pasta is a perfect weeknight meal! Use the vegetables you have on hand and combine with pasta to make a dish your whole family will love.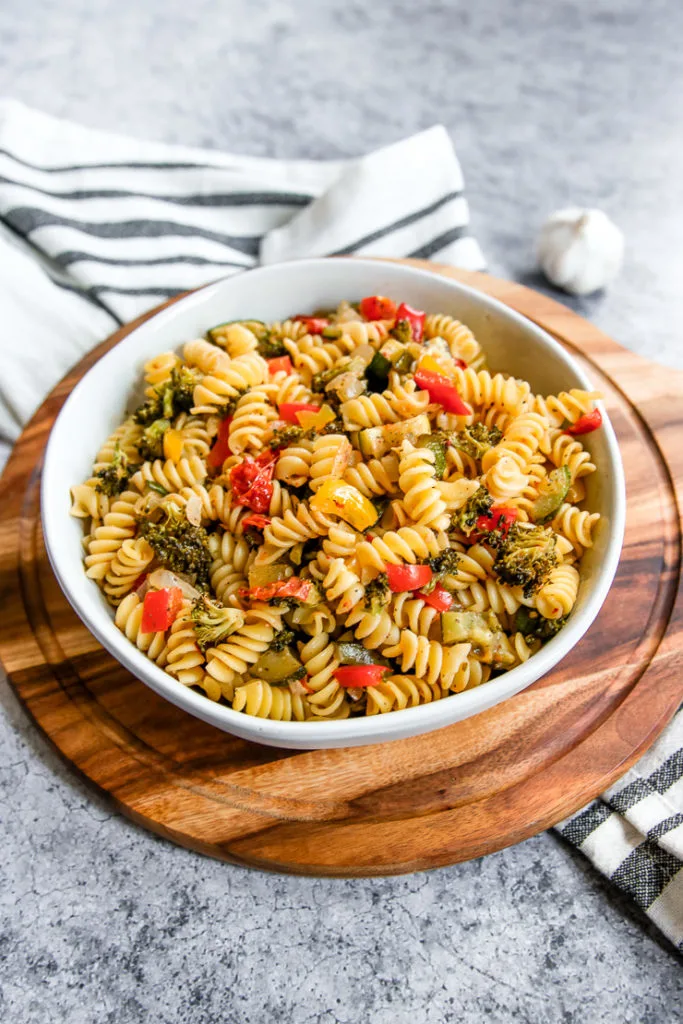 Roasted Vegetable Pasta
This roasted vegetable pasta recipe is a new addition to my rotation weeknight dinners because of how easy it is to throw together!
Once you have your pasta boiling and vegetables roasting, it's very hands off which is something I love about this recipe.
You can cut the vegetables ahead of time and keep prepared to be roasted when you're ready. It only takes about 30 minutes to make which is always a sign of a great recipe in my book.
The Culinary Compass participates in several different affiliate programs. As an Amazon Associate, we earn from qualifying purchases.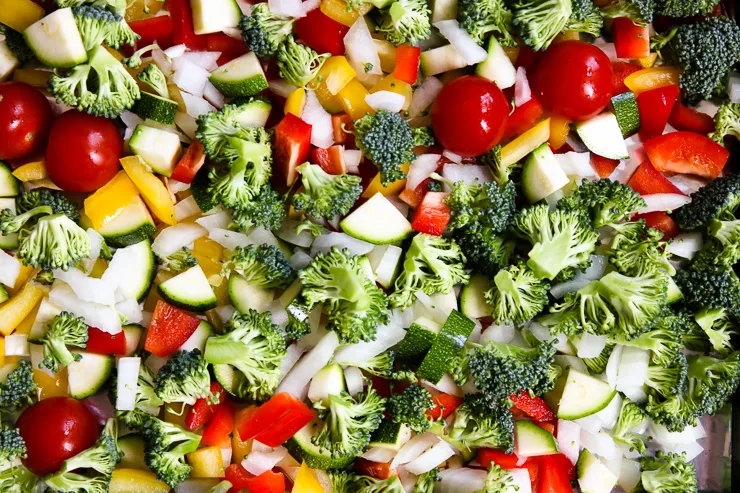 What vegetables can I add to pasta?
Any kind of vegetables that you'd like! It's a great dish to be able to use vegetables that might be nearing the end of their shelf life. Just roast those together and add to pasta then voila – you're all set!
I personally love using the following to make a dish that I know my family will enjoy:
Zucchini
Grape tomatoes
Red and orange bell peppers
Onion (I use sweet, but a red onion would work great)
Broccoli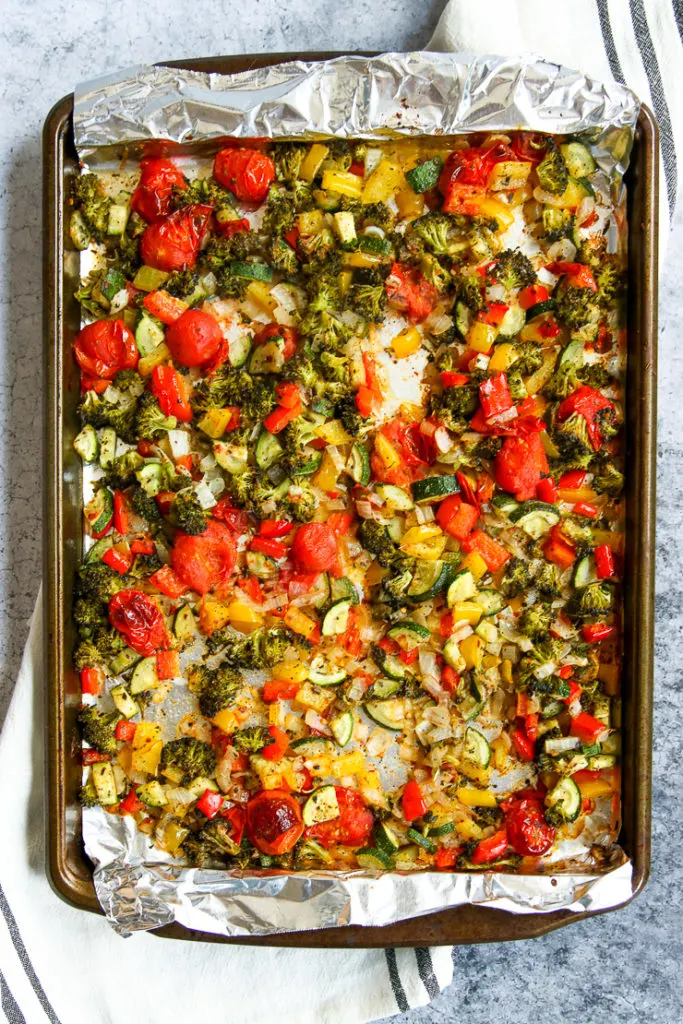 How long does it take to roast vegetables?
It only takes about 30 minutes to roast the vegetables that I've included. I use a sheet pan with either aluminum foil or parchment paper and drizzle olive oil over everything with some seasoning. I flip the vegetables about halfway through to help make sure that the edges don't burn.
This guide on how to roast vegetables is really helpful if you're looking to change the vegetables to something a little heartier like sweet potatoes or butternut squash.
What kind of pasta should I use?
I like using rotini since it has a few extra edges to hold onto the sauces and vegetables.
It would work great with just about anything though I'd recommend using something smaller like penne or ziti over something like angel hair or spaghetti.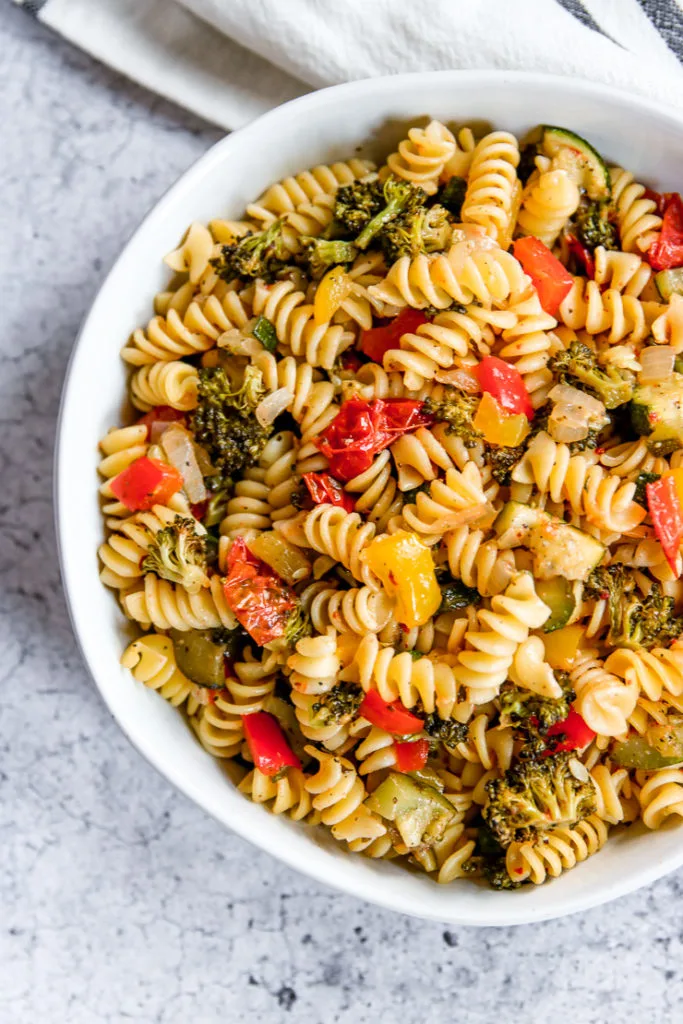 What kind of sauce can I use?
I don't use any sauce for this recipe! The vegetables and pasta together are great. You can definitely top with parmesan cheese and a little bit of extra olive oil if you're looking for a little something extra.
If you'd like a sauce, adding some of this Slow Simmered Marinara Sauce will make it more saucy and tomatoey.
Can I add any protein to this dish?
You bet! I like using kielbasa that I cut into slices and placed on the same baking sheet as the vegetables to make it a pretty hearty dish with not much extra effort.
Something like this Easy Baked Chicken Breast would also be a great option! Just bake alongside the vegetables and dice to add to the pasta.
Looking for other great pasta dishes? Try one of these: