This Easy Baked Chicken Breast recipe will be a staple for your weeknight dinners! It only takes a few steps and can be customized with using chicken breasts baked in the oven.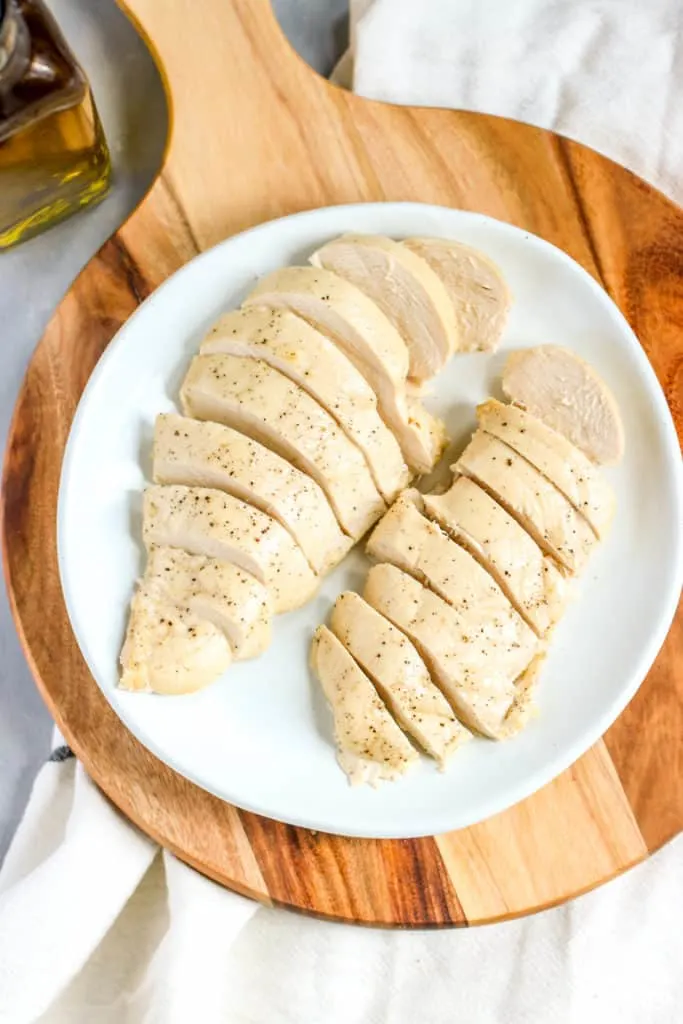 Easy Baked Chicken Breast
This oven baked chicken breast is perfect for meal prep or to have on hand for any dish. It's perfect to put in the oven and work on the rest of your dish while it's cooking.
All you'll need is a little salt and pepper and olive oil to prepare it! After you've preheated the oven and prepared your chicken, there's little hands on effort until you have to serve it.
The Culinary Compass participates in several different affiliate programs. As an Amazon Associate, we earn from qualifying purchases.
How long do you cook chicken breasts in the oven at 350?
At 350°F, boneless skinless chicken breasts usually cook in about 30 minutes. I've found this is a good target time for most packs of chicken breasts. They usually come between a little under a pound to 1.5 pounds and each has worked well at this time.
If you have thinner chicken breasts, you might want to cut back on the time and check the internal temperature a little earlier as that will definitely cook faster. I'd suggest investing in an digital thermometer as it's the perfect way to check the doneness of the chicken without having to cut it open and guess that it's done.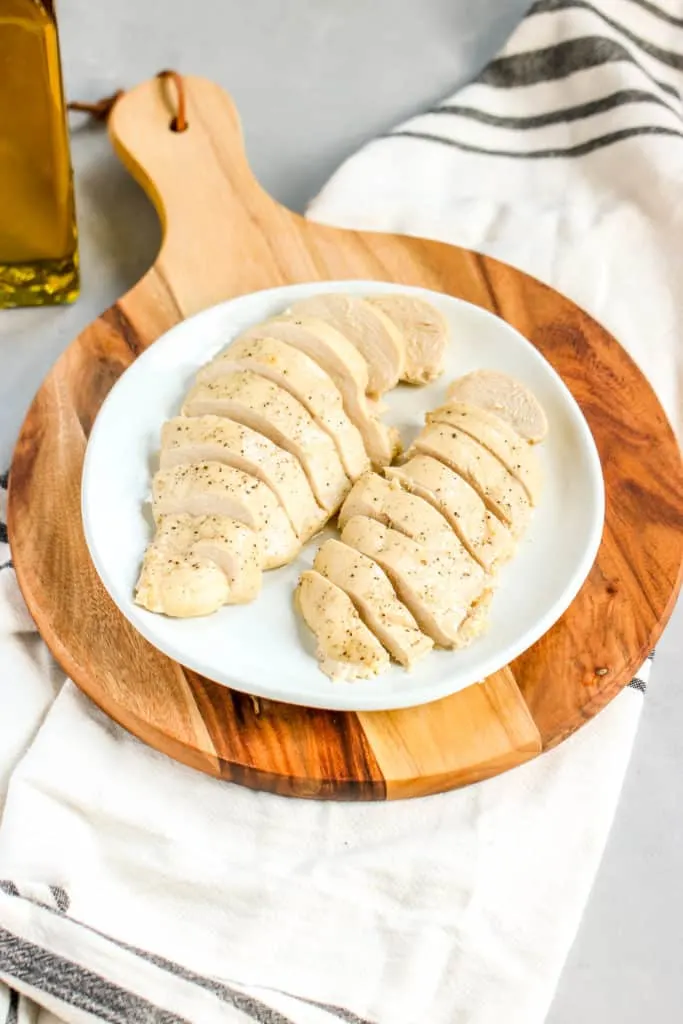 How do you keep chicken moist when baking?
Cooking at a lower temperature like 350°F will help slowly bring the chicken to temperature so it doesn't dry out the middle quickly like higher temperatures would. Using a little olive oil on both sides also helps keep the chicken moist will add a little flavor.
If you have time, you should also bring the chicken breasts as close to room temperature as you can. This helps the chicken cook more evenly and keep that flavor and moisture. If you prepare the chicken while the oven preheats, even that will help!
I've found that letting the chicken rest will keep some of the moisture inside before cutting. If you even have 5 minutes to let the chicken sit before cutting after it's out of the oven, it's worth taking that time so you'll have tender and juicy chicken come meal time.
Do you need to flip chicken when baking?
You don't need to flip the chicken while baking. The time that it's in the oven will make sure that it's cooked all the way through without needing to adjust the positioning.
Should I cover my chicken when I bake it?
Some baked chicken breasts recipes call for covering the dish while baking, but I prefer to just place the chicken on a baking sheet with aluminum foil. I've found that the thicker chicken breasts are fine to cook without baking as long as you've covered both sides of the chicken with olive oil as well.
Chicken breast tenderloins or even pounded chicken breasts are much thinner and cook faster so they're more susceptible to be dry and no one likes dry chicken. You might consider cutting back the cooking time to 20 minutes and checking if they're cooked through using a meat thermometer.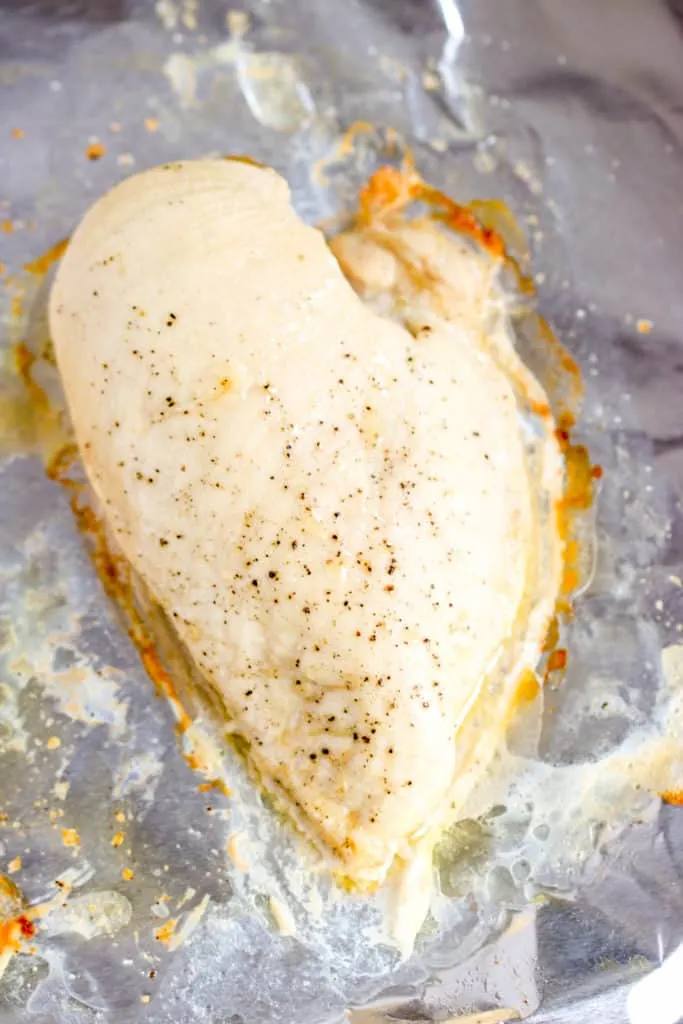 What is the best pan to bake chicken in?
I find that using a baking sheet with aluminum foil works great for baking chicken. The best part is that it's easy to clean up. If you only have a high sided baking dish, that should also work.
The biggest thing I'd recommend is to make sure that the chicken breasts have some space between each other and the sides so there's even temperatures throughout the cooking process.
How do you know when baked chicken is ready?
The most sure fire way to make sure that your chicken is ready is to use an instant read thermometer to check that the internal temperature is 165 degrees Fahrenheit which is what the FDA recommends as a safe minimum cooking temperature.
This lowers the risk of any foodborne illness. It'll also make sure that you don't overcook the chicken as that usually results in dry chicken breasts.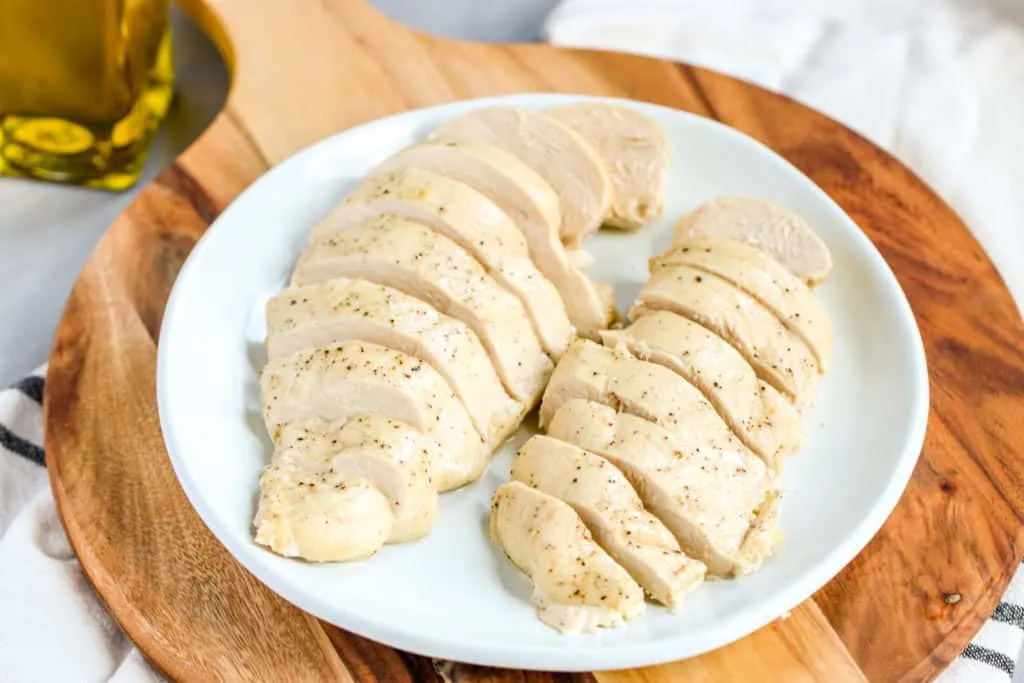 What can you season chicken with?
This is the basic recipe for the chicken breasts, but I definitely encourage you to add more seasoning to make it fit with your dish more. Here's a few ideas you might want to try:
Italian seasoning blend for pasta dishes
Cumin and chili powder for a taco dish
Paprika, garlic powder, and onion powder as a simple blend for just about anything
You'll just want to add the seasoning as you add the salt, pepper, and olive oil. The olive oil will help the seasonings stick to the chicken. Be sure to coat both sides of the chicken breast evenly too!
Looking for some side dishes to enjoy with this? Try one of these: