This easy Broccoli Salad with Bacon will become a classic for all of your potlucks and tailgates with just a few ingredients needed to bring it together.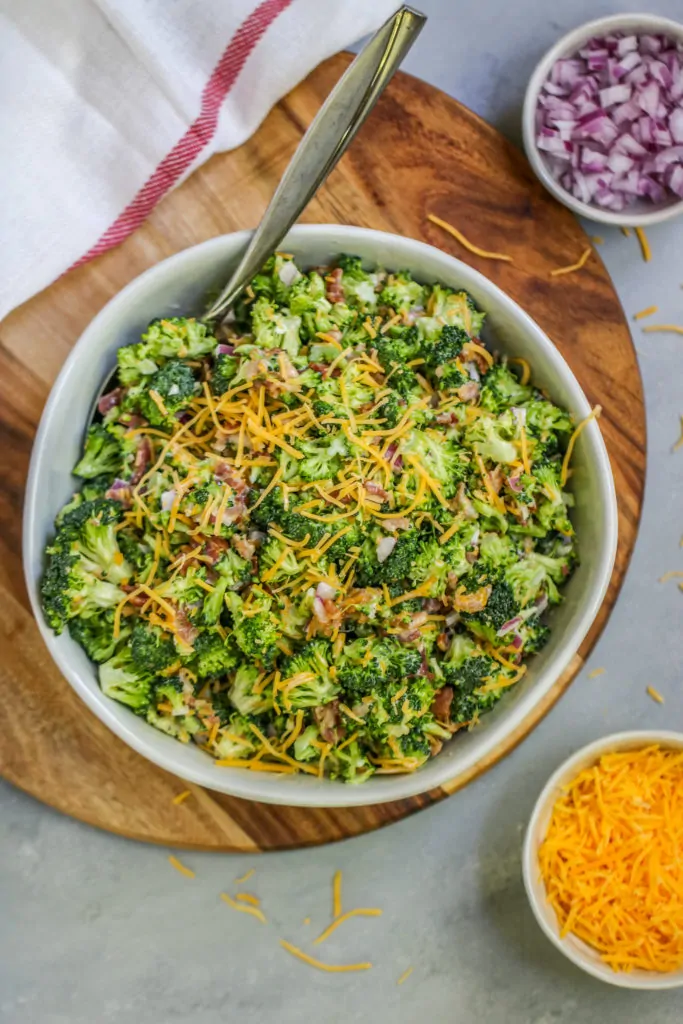 Broccoli Salad with Bacon
I think my mom has been making this broccoli salad with bacon recipe forever. I don't remember a potluck in the last 20 years that she hasn't brought this too. It's quickly become a neighborhood favorite so hopefully it will for you as well!

It's just a few ingredients for both the salad and the sauce and it takes just a few minutes to throw together. It's really easy to adapt too to make your own or make a few batches for different taste buds.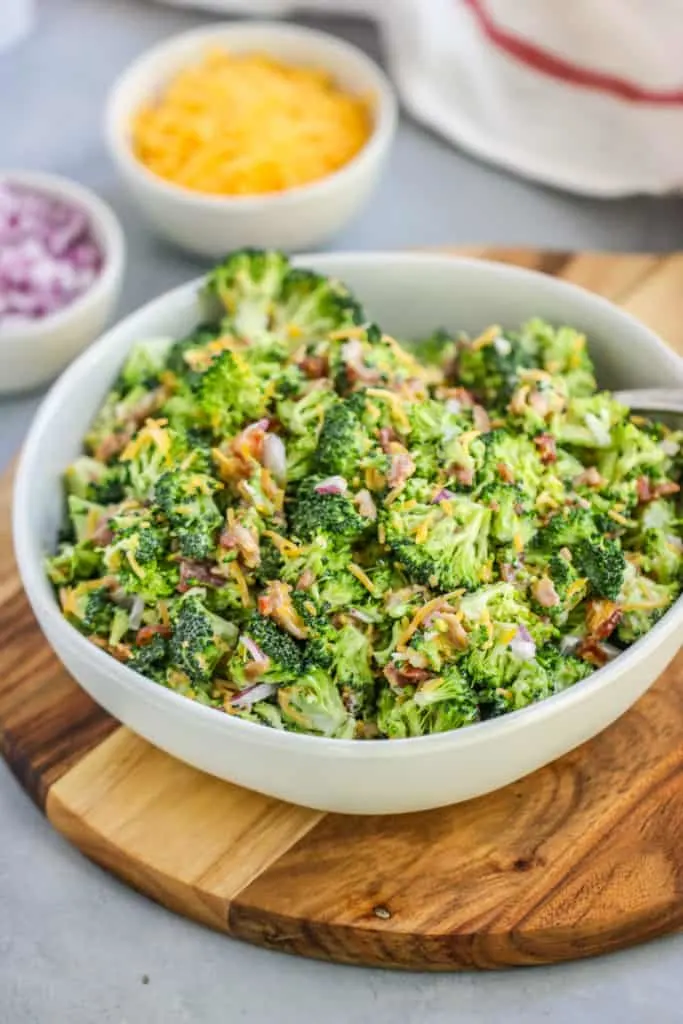 What is in the broccoli salad with bacon dressing?
Just a few ingredients! You'll want:
Broccoli florets
Shredded cheddar cheese
Diced red onion
and lots and lots of crispy bacon bites! The real thing though, not the salad shaker dressing kind.
Do need to use the dressing?
I recommend using it! I think it's what makes people come back and wanting more. Without it, I find the mixture to be a little dry. You could always try serving it on the side though and mixing on your own!

The dressing is just a mix of mayonnaise, sugar, and white vinegar. I like to let it sit together to make sure the sugar dissolves.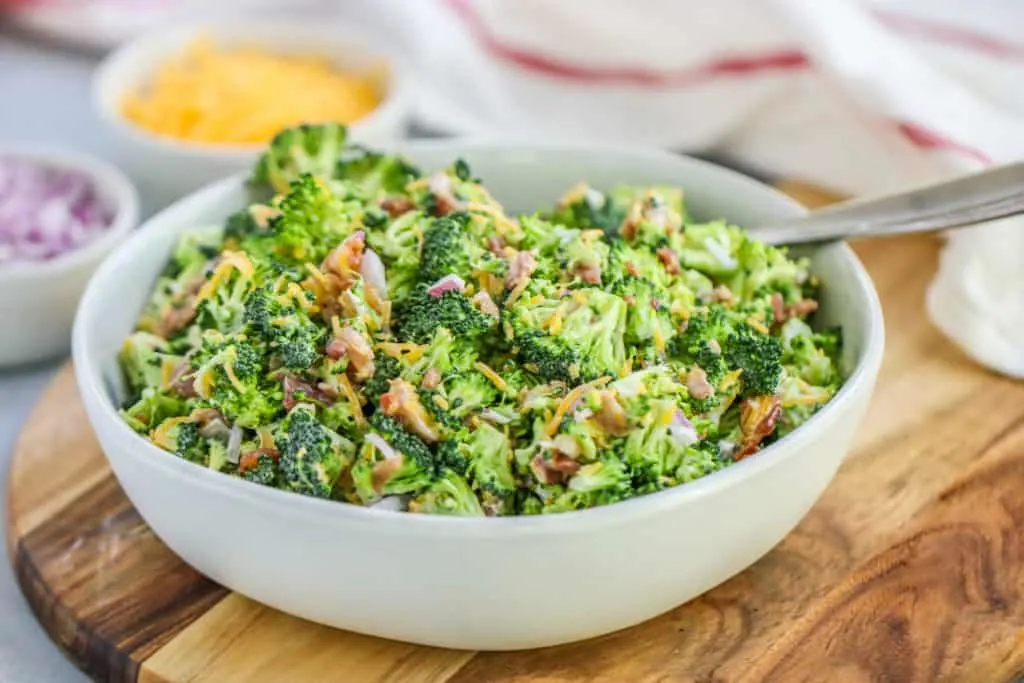 Can this broccoli salad recipe be made ahead of time?
Yes! That is what I love about this easy broccoli salad. If you need it a few days from now, I'll prep all the ingredients and leave them in different containers to be sure that nothing gets too soggy sitting together.

If it is a few days in advance, I would recommend holding off on making the bacon though. It tends to lose the crispness of the bite after sitting for a few days.

If you're making it the night before, you can mix all the salad ingredients in one bowl and leave the dressing in another container to mix together right before serving.
What else can I add to this salad?
Just about anything! A lot of people like using dried cranberries or raisins or things like sunflower seeds or pepitas to add a bit more crunch. You can also add more vegetables like peppers or cut up snap peas.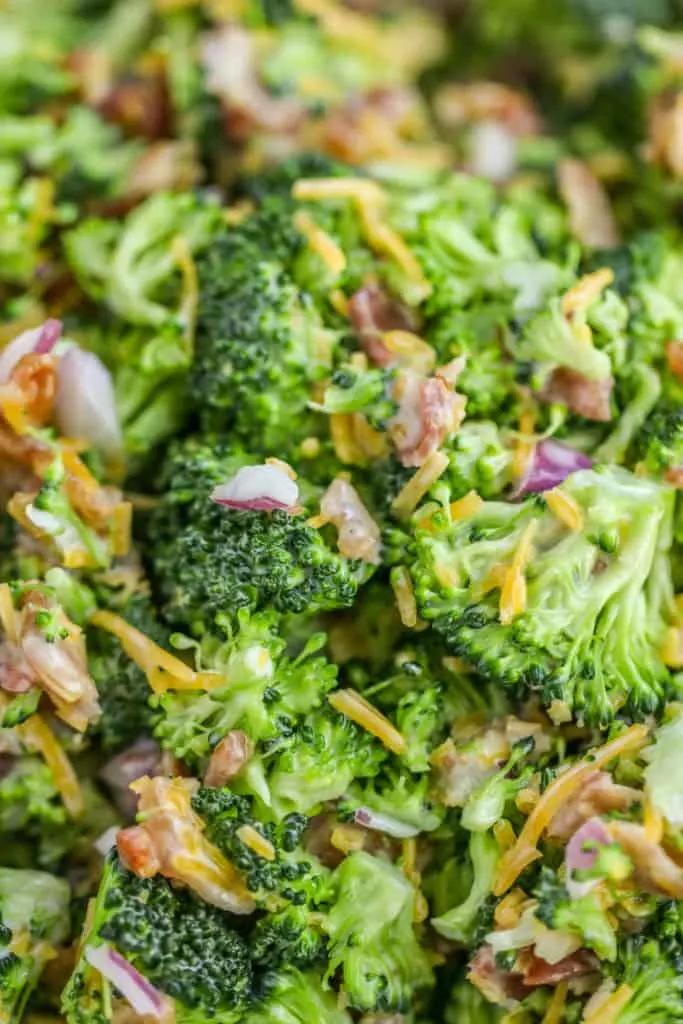 Do I need to use sugar?
I have not tried using any other substitute personally, but something like Splenda or honey could be good alternatives for those who may not be able to use white sugar.

If you do try it with an alternative, let us know! I'd love to hear how it turns out for you.
Do I need to use mayonnaise?
This is another one I haven't tried substituting, but Greek Yogurt is a great alternative for mayonnaise. You could completely switch over the mayonnaise for Greek Yogurt or even just use half and half to cut some of the calories down.

The greek yogurt might add a bit more tang to the dressing to be sure to keep that in mind while making it! Adding some more honey rather than sugar to the mixture could help with cutting that down.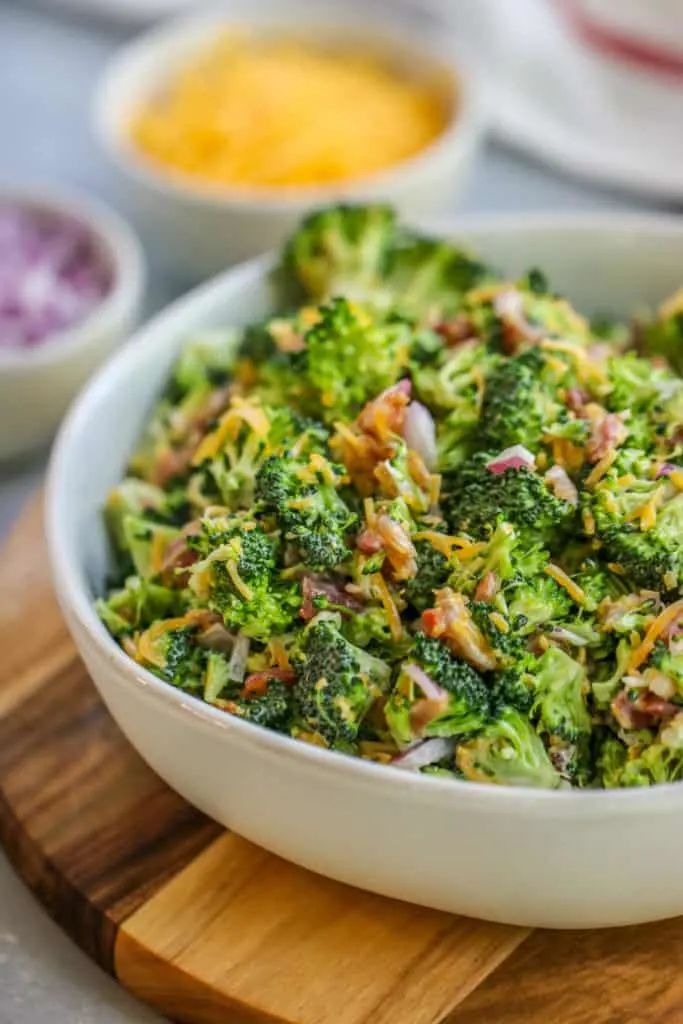 Looking for other side dishes to make for your next potluck or tailgate? Try out these:
Be sure to enjoy and tag me with #theculinarycompass on Instagram if you make this!