This Instant Pot Ground Turkey Chili is a perfect meal for those busy weeknights! Cooking ground turkey chili in one pot has never been easier.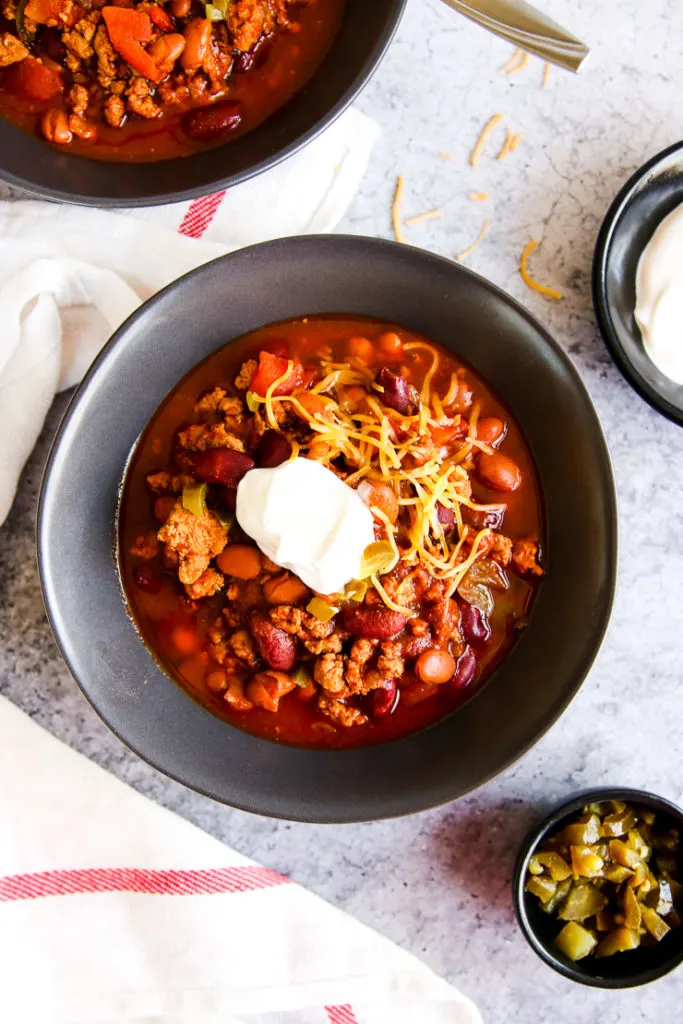 Instant Pot Ground Turkey Chili
Looking for an instant pot recipe for chili using ground turkey? You've found the best one! It's a healthy turkey chili with none of the guilt.
It's packed full of flavor and will be on repeat as your favorite chili soon as you try it. It's comforting and filling without being too decadent.
The Culinary Compass participates in several different affiliate programs. As an Amazon Associate, we earn from qualifying purchases.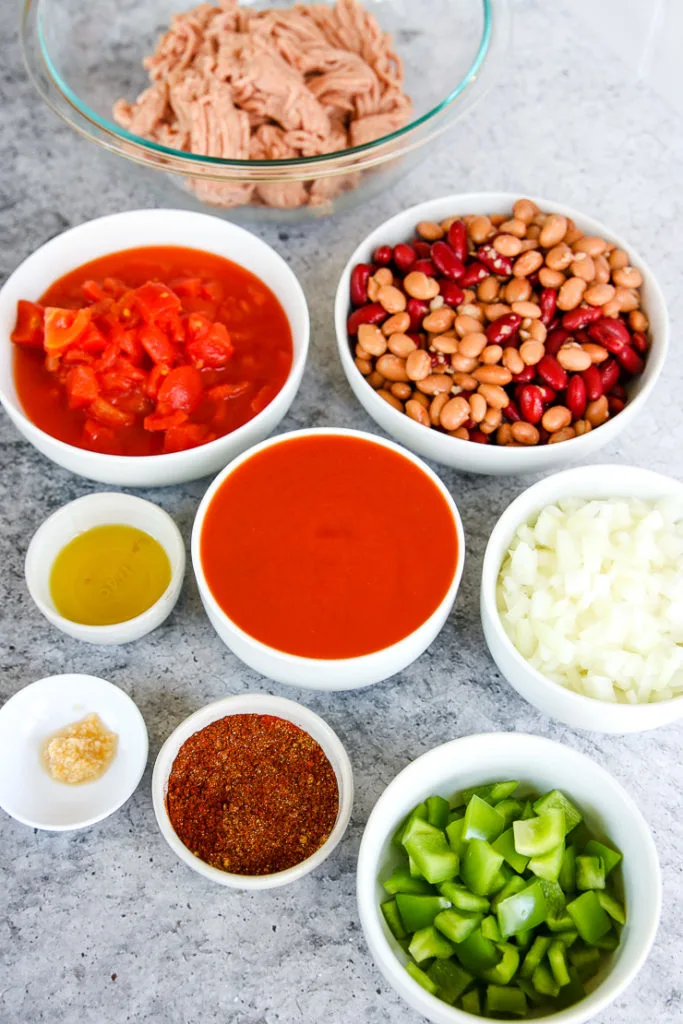 What do I need to make Instant Pot Turkey Chili?
You'll just need a few things to make Instant Pot Turkey Chili! Here's the ingredient list that you need:
Olive oil
Ground turkey
Onion
Garlic
Green bell pepper
Kidney beans
Pinto beans
Canned diced tomatoes
Tomato sauce
Chili powder
Cumin
Paprika
Salt and pepper
What kind of beans should I use?
Using canned beans is an easy way to cut down on overall time. A combination of pinto and red kidney beans are great for this dish! Black beans or white beans could also be a great addition or alternative if you have those on hand.
If you're looking to use dried beans, check out this great post on how to make Instant Pot Pinto Beans.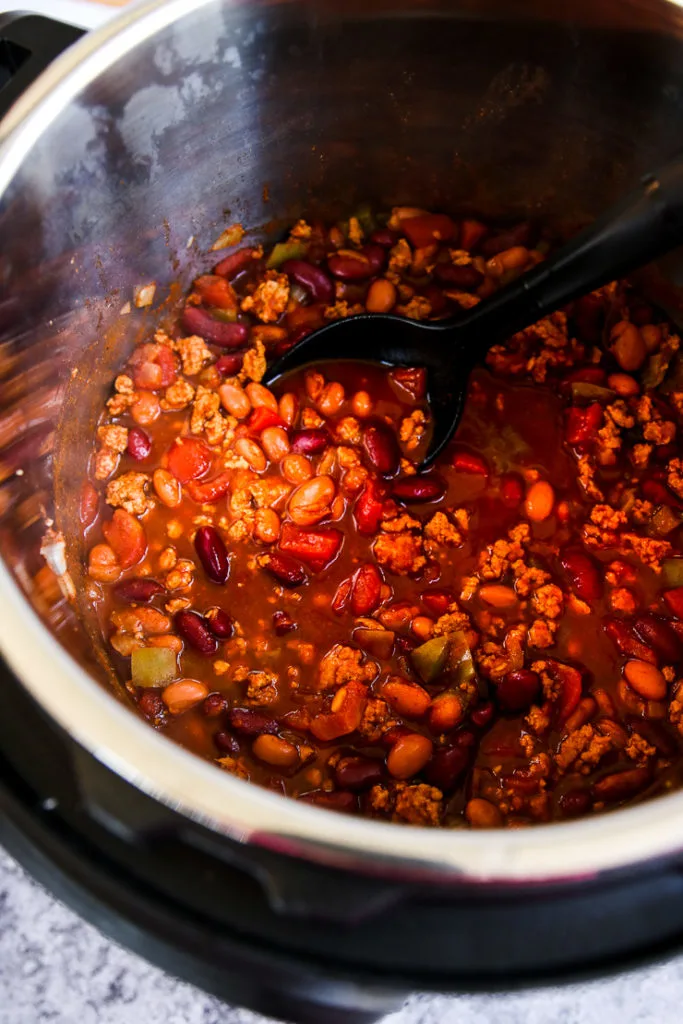 What seasonings should I use?
This version of turkey chili doesn't require too many spices! I like to use chili powder, cumin, paprika, salt and pepper for some warming spices and to make it full of flavor.
To change it up a bit, you could use chipotle chili powder for some extra kick or some smoked paprika to make it a little smokey. Either adding them or using them in place of the amounts in the recipe is all you need to do!
Do I need to use ground turkey?
You don't have to use ground turkey! It would be great without it to make a vegetarian option. If you were looking to do that, you can add more beans to your dish.
You could also make this with ground beef or even stew meat if you're looking to use red meat. Depending on how lean the meat is, you may want to strain it first before adding the other ingredients.
How long does this ground turkey chili instant pot recipe take?
Between the preparation of the vegetables and seasonings, browning the meat, simmering the aromatics, and pressure cooking the chili, it takes about an hour for the whole thing.
You can cut down on some time by using the quick release to relieve the pressure more quickly.
The actual time it takes for the Instant Pot to get to the pressure is about 15 minutes, so a lot of the time is hands off.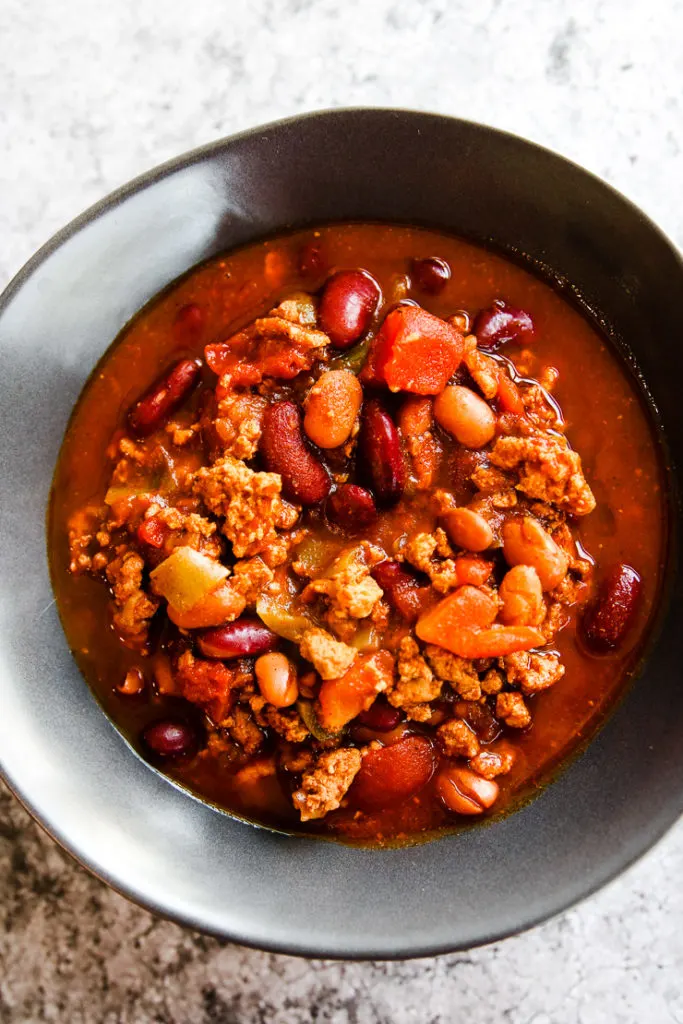 Can I make this on the stovetop?
Definitely! This works great on the stovetop if you don't have an Instant Pot. It'll take about the same amount of time. It won't be as tender, but all of those great flavors are still there.
It's also something you could add to a slow cooker if you just want to set it and forget it for a good amount of the day!
What can I top this with?
You can top ground turkey chili with just about anything! It makes for a fun interactive dish. Having staples like sour cream and shredded cheese are always a must.
Diced jalapenos, tortilla strips, and cilantro are all also great alternatives to have on hand and make your chili even more unique.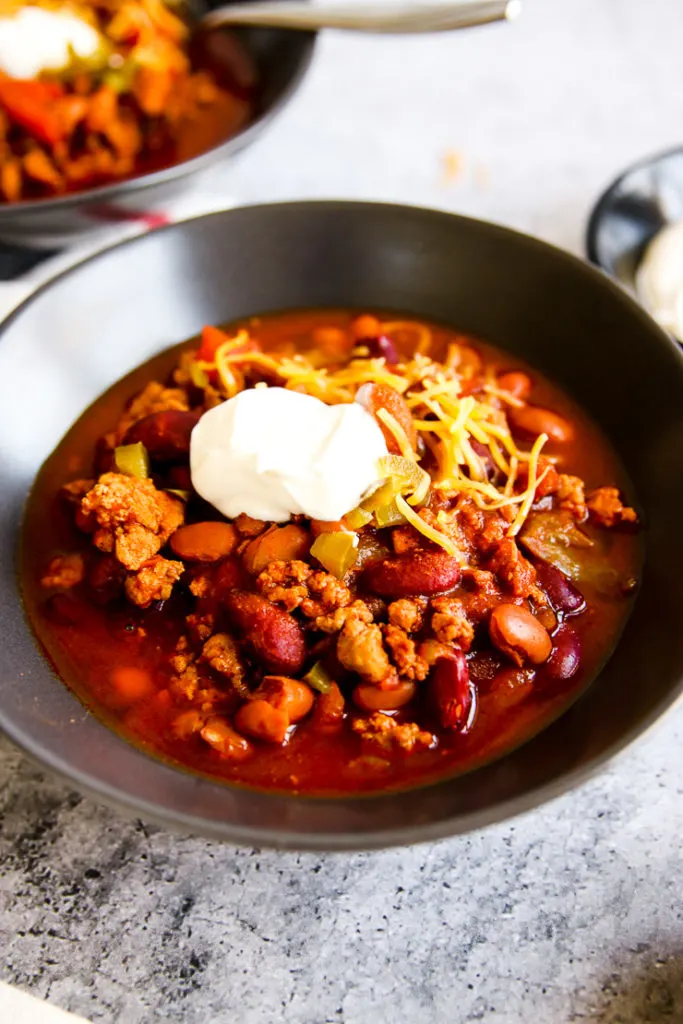 How to Make Ground Turkey Chili in an Instant Pot
It only takes a few steps to make ground turkey chili in an instant pot! First, you'll want to saute the ground turkey so it browns and cooks through. Keep it on saute and add in the onion, minced garlic, and peppers to soften and help make them aromatic. Be sure to stir the bottom of the pot so nothing burns.
Next, you'll just add in the remaining ingredients and stir. All that is left is putting the lid on then changing the setting to Bean/Chili and cooking for 20 minutes. It'll take a bit of time to rise to pressure and release the pressure, but that is mostly hands off and not in the cooking time.
Once the pressure is released, serve warm and top with your favorite ingredients!
If you're looking for another ground turkey dinner option, try one of these: