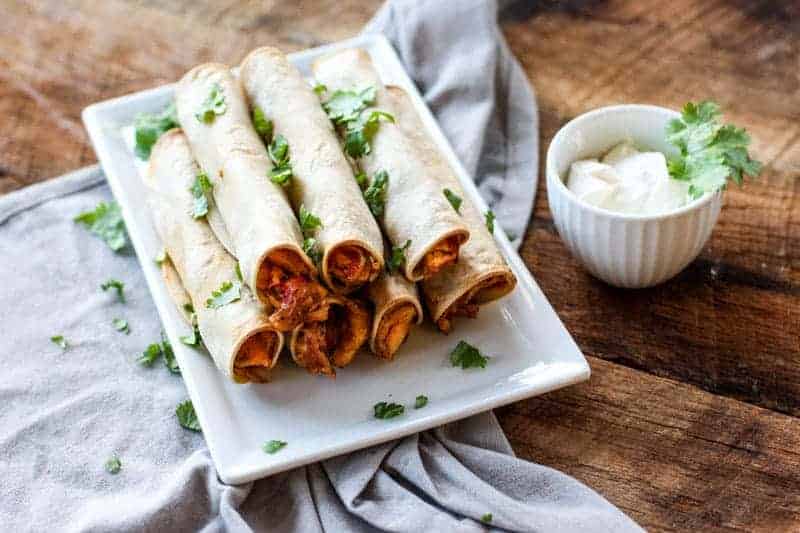 These Baked Chicken Taquitos are perfect for any occasion! I love making them just as appetizers for a night with friends or as a big side dish for a fun night with family.
I also love that they're baked so they're slightly healthier than the ones you get at the local gas station. ? Oh how the days of eating have changed since college!
They're also jammed packed with some veggies and herbs to make the insides really flavorful. You couldn't have a taquitos without a good amount of cheese so that's added into the mixture to really give you a cheesy bite.
I personally love serving it with sour cream that's mixed with lime juice to add a little acid to balance out those deep herbs and cheesy bites. You can also serve them with your favorite salsa!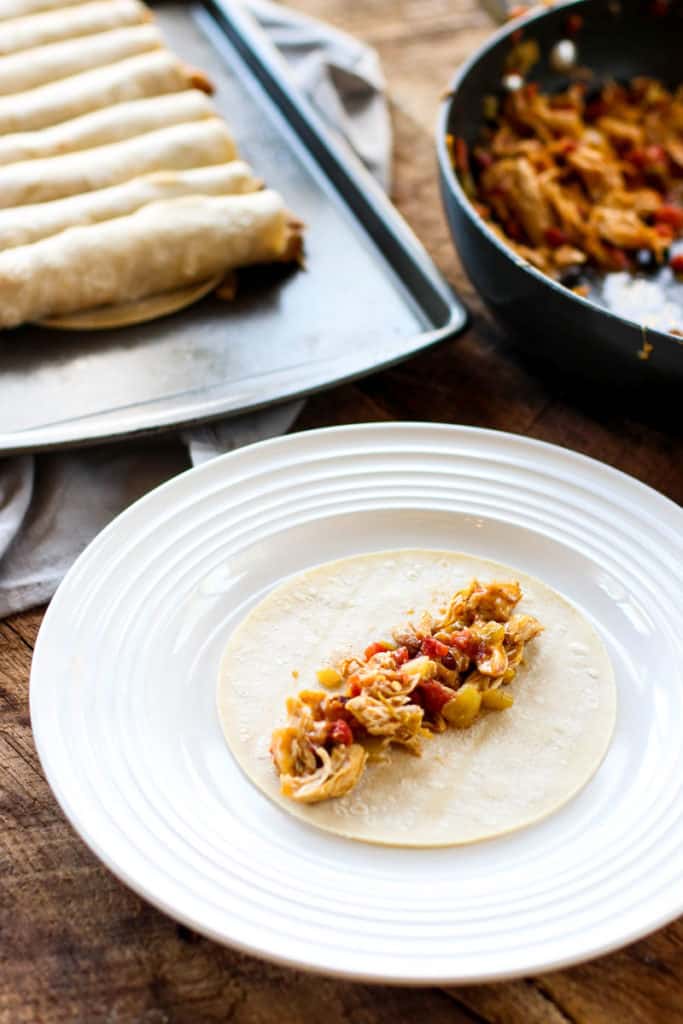 If you decide to use corn tortillas, they're definitely more prone to cracking. I usually put a wet paper towel over a stack of them and microwave them for about 30 seconds to make them a little more pliable.
You can always use flour tortillas if those are more up your alley! I still use the paper towel trick on those too just to make it a little easier.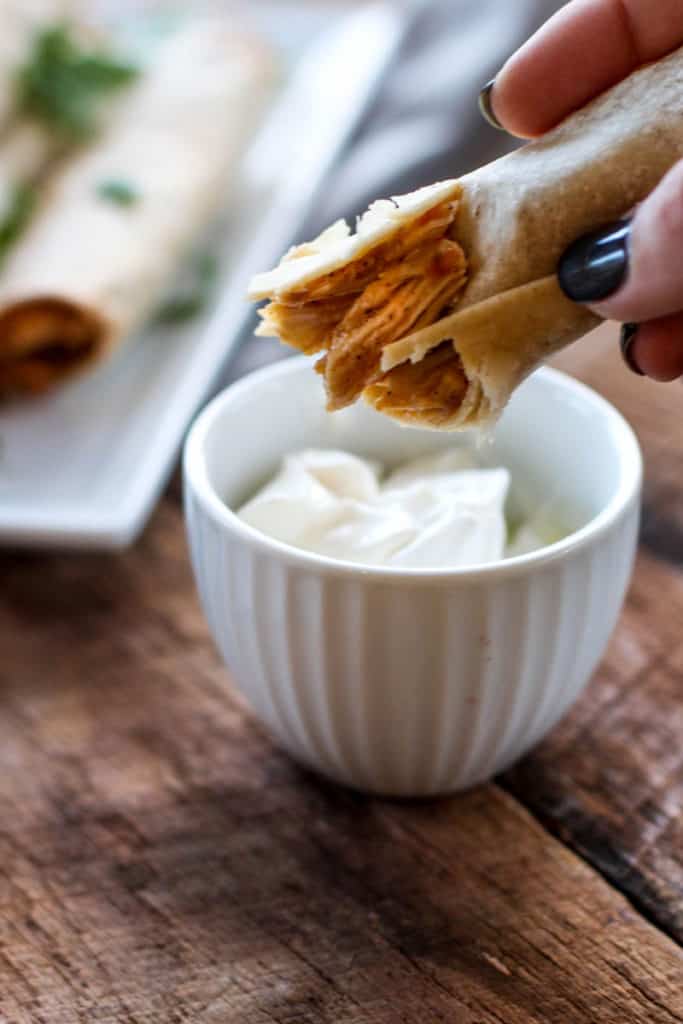 I love that they're also so versatile so you can add a little of whatever you're feeling that day! Try adding a little corn, black beans, and spinach instead of chicken for a meatless option!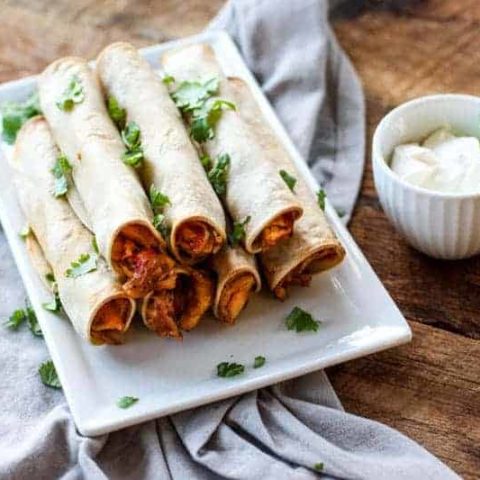 Baked Chicken Taquitos
Yield: 12 taquitos

Prep Time: 15 minutes

Active Time: 20 minutes

Total Time: 35 minutes

These Chicken Taquitos are full of flavor and make for a great snack or appetizer!
Ingredients
1 tbsp olive oil
1 lb chicken breast tenderloin
salt and pepper, to taste
1/2 tsp chili powder
1/4 tsp garlic powder
1/4 tsp onion powder
1/4 tsp oregano
1/4 tsp cumin
1 10 oz can diced tomatoes
1 4 oz can diced green chilis
1 cup mexican blend cheese
16 taco sized corn tortillas
Optional: sour cream, lime juice
Instructions
Preheat oven to 400F.
In a large skillet, heat olive oil. Add chicken breast and season with salt, pepper, chili powder, garlic powder, onion powder, oregano, and cumin. Cook for 8-10 minutes or until no longer pink. Remove from heat and shred.
Add in diced tomatoes, green chilies, and shredded chicken. Warm through. Sprinkle with cheese and mix together.
Set out a cookie sheet and spray with non-stick spray. Take 2-3 tbsp of filling for each taquito and place in the middle of the tortilla. Roll up and place seam down on the cookie sheet and spray with cooking spray.
Bake for 15-18 minutes until golden brown. Serve warm and enjoy!
Optional: Serve with 1/2 cup sour cream and juice of 1 lime mixed together.
Recommended Products
As an Amazon Associate and member of other affiliate programs, I earn from qualifying purchases.
Nutrition Information:
Yield: 6 Serving Size: 2
Amount Per Serving: Calories: 803Total Fat: 38gSaturated Fat: 16gTrans Fat: 1gUnsaturated Fat: 18gCholesterol: 151mgSodium: 1757mgCarbohydrates: 62gFiber: 10gSugar: 7gProtein: 54g