This Tie Dye Pizza only takes a few ingredients and will be your new favorite. If you've ever been to Rubirosa in NYC, you'll know just how special this pizza is.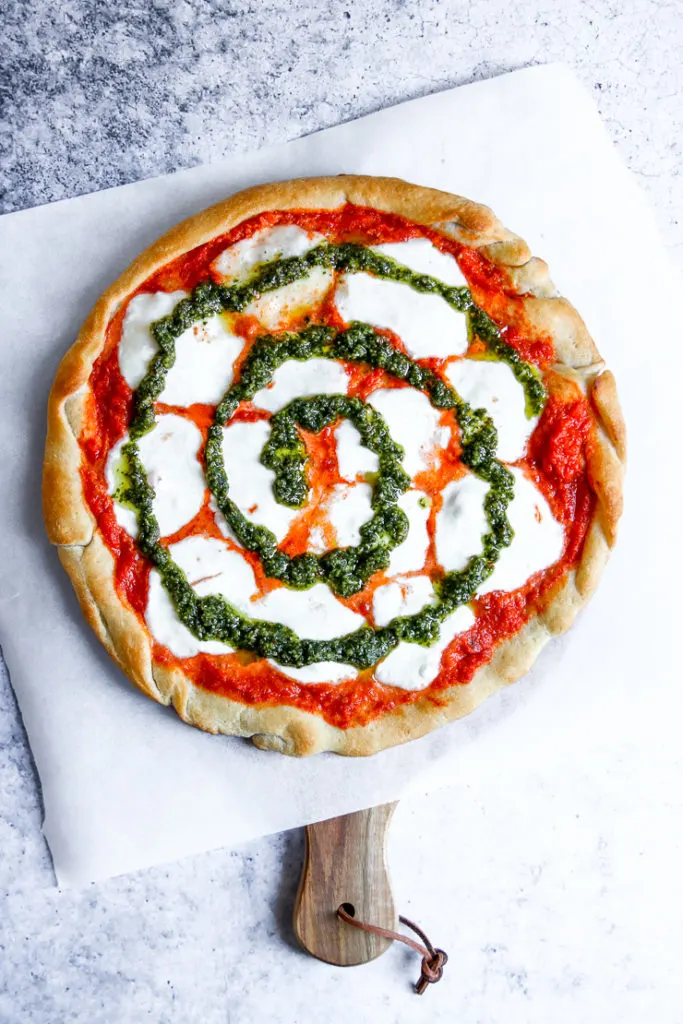 Tie Dye Pizza
Tie Dye Pizza has taken a new place in my heart as one of my favorites that I've ever had. It's got a perfectly thin crust, vodka sauce, melty mozzarella, and a pesto swirl to top it off.
It's full of flavor and will give you the confidence that maybe homemade pizza can be just as good as take out!
The Culinary Compass participates in several different affiliate programs. As an Amazon Associate, we earn from qualifying purchases.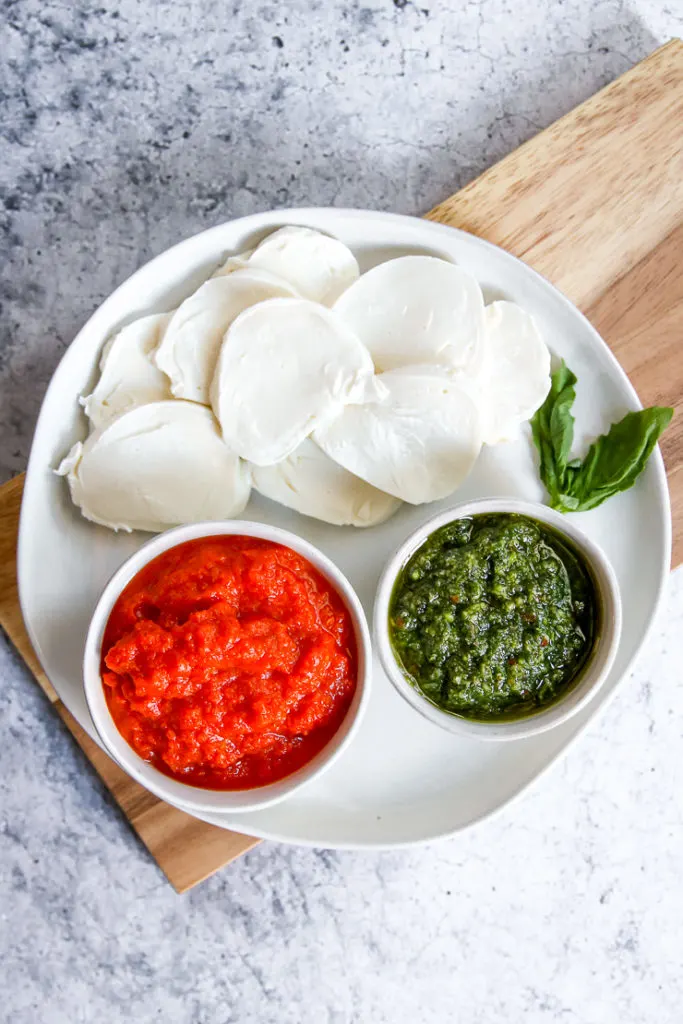 What is Tie Dye Pizza?
Rubirosa's Tie Dye Pizza was the first meal that I had when visiting New York City the last time I was able to go. The combination of a thin crust, vodka sauce, mozzarella cheese, and pesto is what makes it a tie dye pizza.
It is just a few ingredients, but so perfectly balanced that you'll be craving it every week. Nothing can compare to the original, but it is worth trying on your own!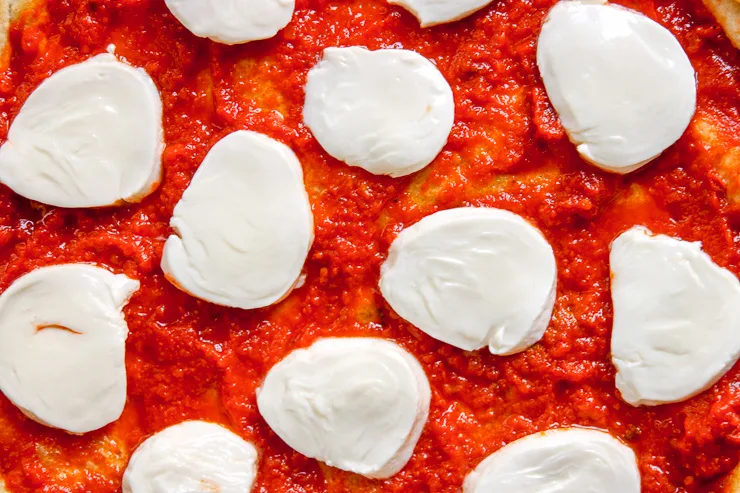 How do you make a Tie Dye Pizza?
To make a tie die pizza, you'll want to either make your own dough or buy a premade dough. Getting it as thin as possible is key because it's New York style meaning you won't want thick crust.
Next, you'll prebake the crust a bit to help start the cooking process and to get the outside a little crispy. This helps to make sure that you don't overcook the toppings and gives the crust a chance to develop a crispy edge to avoid having it get soggy once you top it with the sauce.
Once it's been baked for a few minutes, top it with some vodka sauce to cover the pizza and place the sliced mozzarella on top. You'll finish baking it just enough to melt the cheese and finish off cooking through the dough.
After the pizza is out of the oven, swirl pesto sauce on top! I find that putting the pesto in a piping bag and cutting the end is the easiest way to get an even swirl without making too much of a mess. You could also use a plastic bag and cut the end if you don't have any piping bags.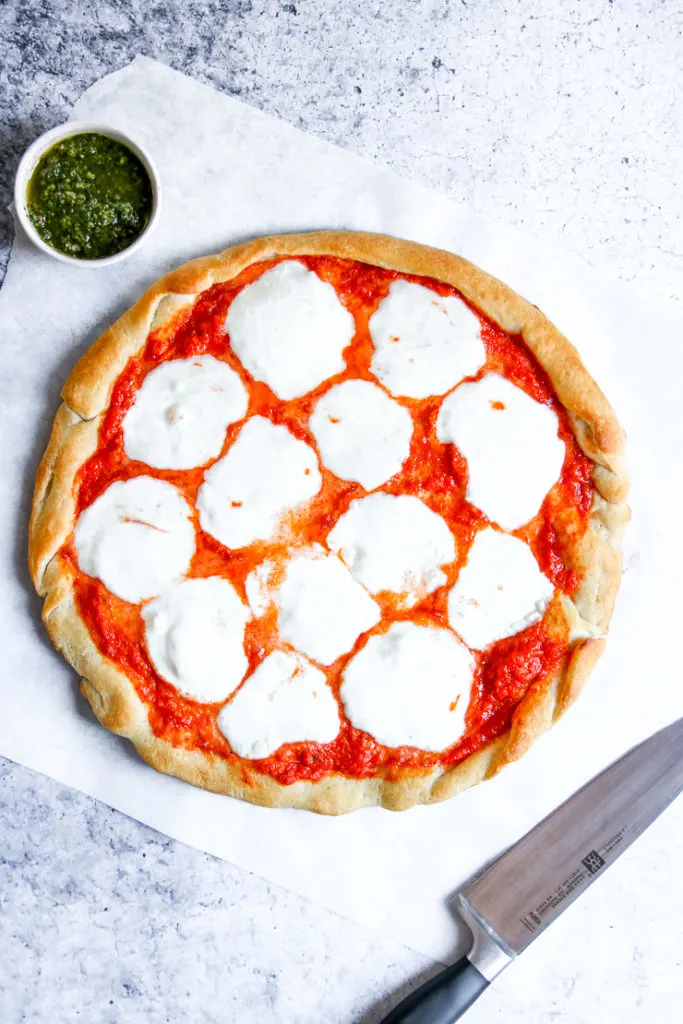 What vodka sauce should I use?
My personal favorite to buy is Rao's Vodka Sauce. It is definitely a bit more expensive than other sauces that you'll find at the store, but I think the flavor that it brings to the pizza is beyond worth it.
I tell myself that getting a pizza delivered would be more expensive than it anyways to make myself feel a little better. You can make your own vodka sauce if you'd rather!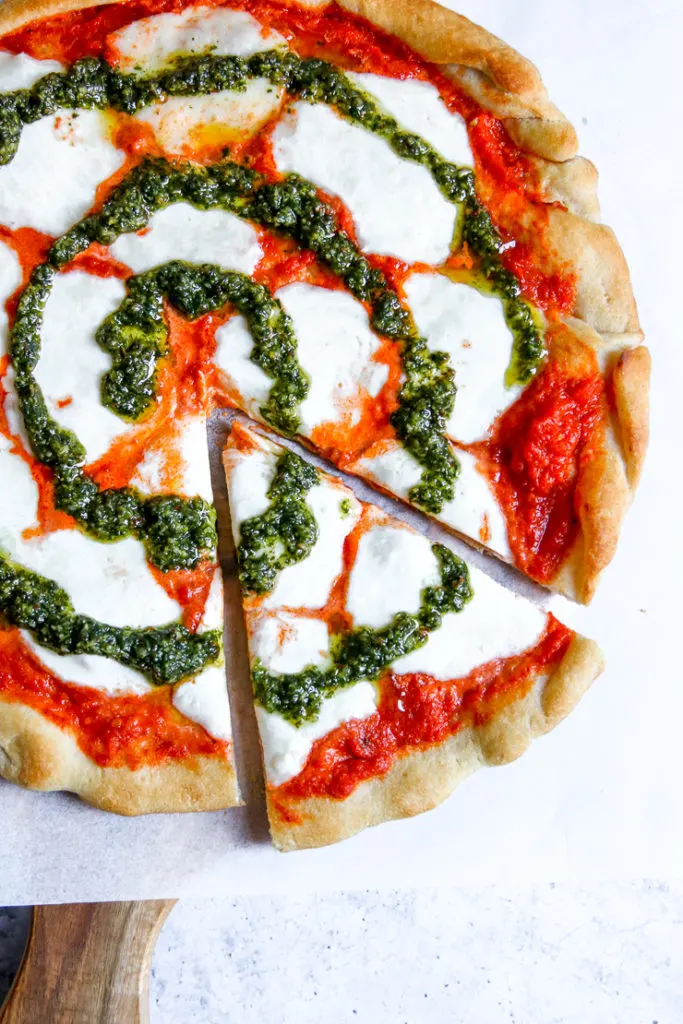 Can I make my own pesto?
Definitely! A good basil pesto is perfect for this recipe since there are so few ingredients. A fresh pesto with basil and garlic to bring the herbaceousness and spice really makes this dish.
I find that this Almond Pesto recipe is perfect for it! The almonds tend to cost a little less than pine nuts, but still bring that nuttiness to the dish that I love.
How should I cook the pizza?
I bake the pizza at 400°F on a pizza pan to help crisp up the crust a bit. If you have a pizza stone, you can definitely use that instead! Grilling pizza is also a way that this would taste great.
Looking for other pizza ideas? Try one of these: