This Hot Honey recipe is something you didn't know you needed! It makes a perfect drizzle for fried chicken, biscuits, or even pizza.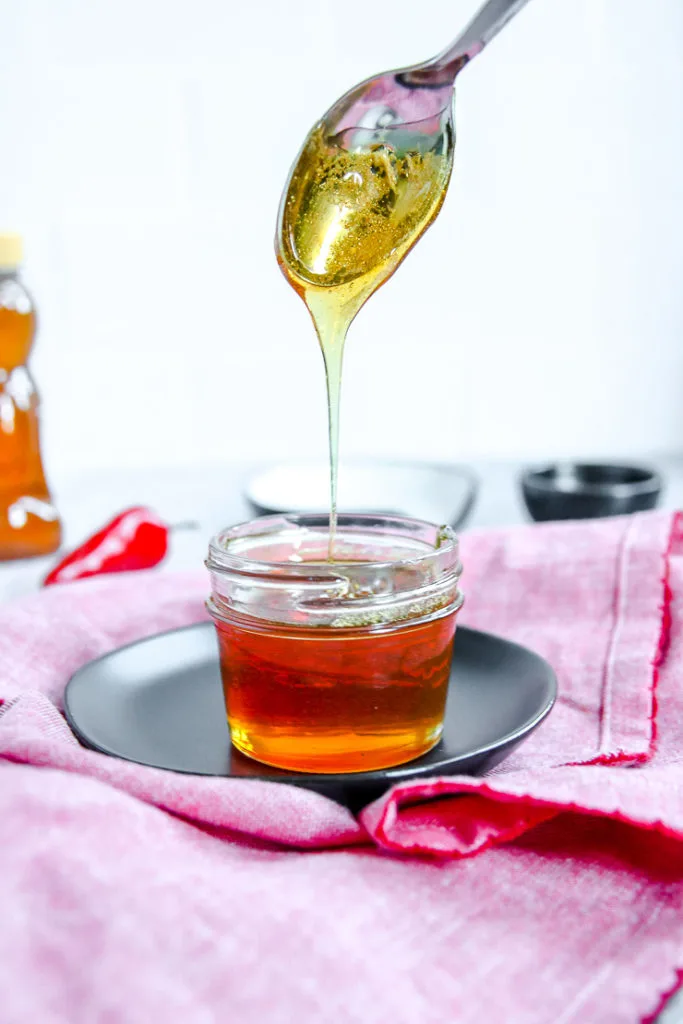 Hot Honey Recipe
If you haven't heard of hot honey, let me introduce you to the condiment you never knew you needed. It's sweet and spicy and perfect for just about any savory dish.
Drizzle it on just about anything to punch up the flavors. Think biscuits, chicken, pizza crusts, savory scones, salad dressing… or anything you want!
The Culinary Compass participates in several different affiliate programs. As an Amazon Associate, we earn from qualifying purchases.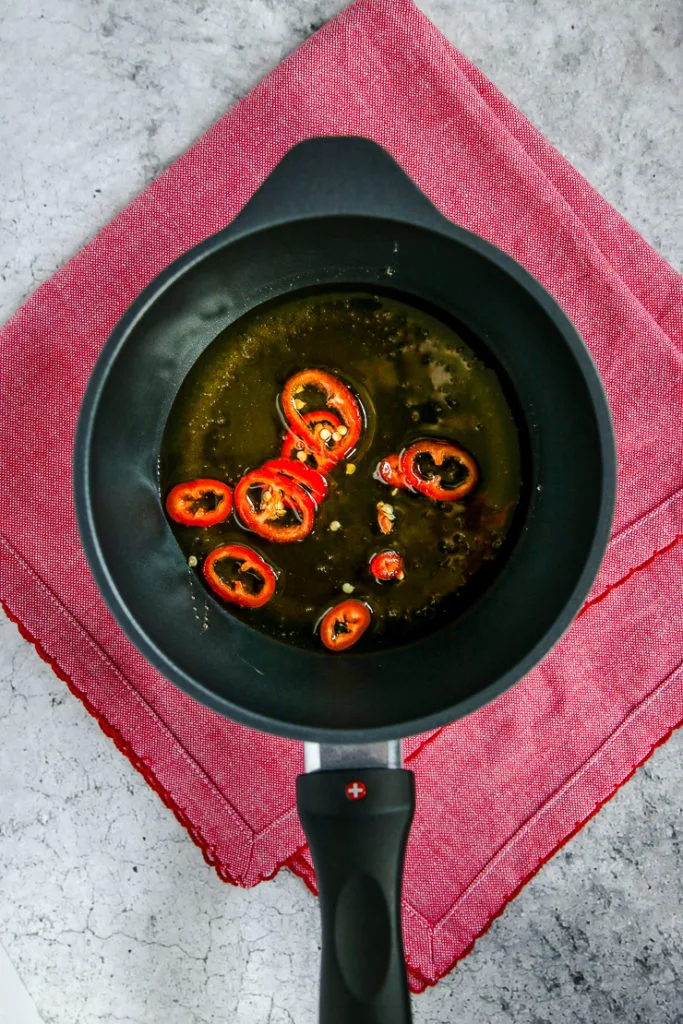 What is hot honey?
Hot honey is just honey infused with peppers or chilies. It's a condiment that you can use on just about anything to add the perfect amount of sweetness and spice.
How do I make homemade hot honey?
Hot honey is super easy to make! All you need to do is slice peppers or chilies into rings and gently simmer them over low to medium heat in honey in a small saucepan for 30 minutes. This will infused the spice into the honey.
Remove from the heat and let cool once the time is up. Be sure to strain out the peppers and seeds from the honey then store the honey in a glass or plastic jar with a lid to increase it's shelf life. You can store at room temperature or in the fridge.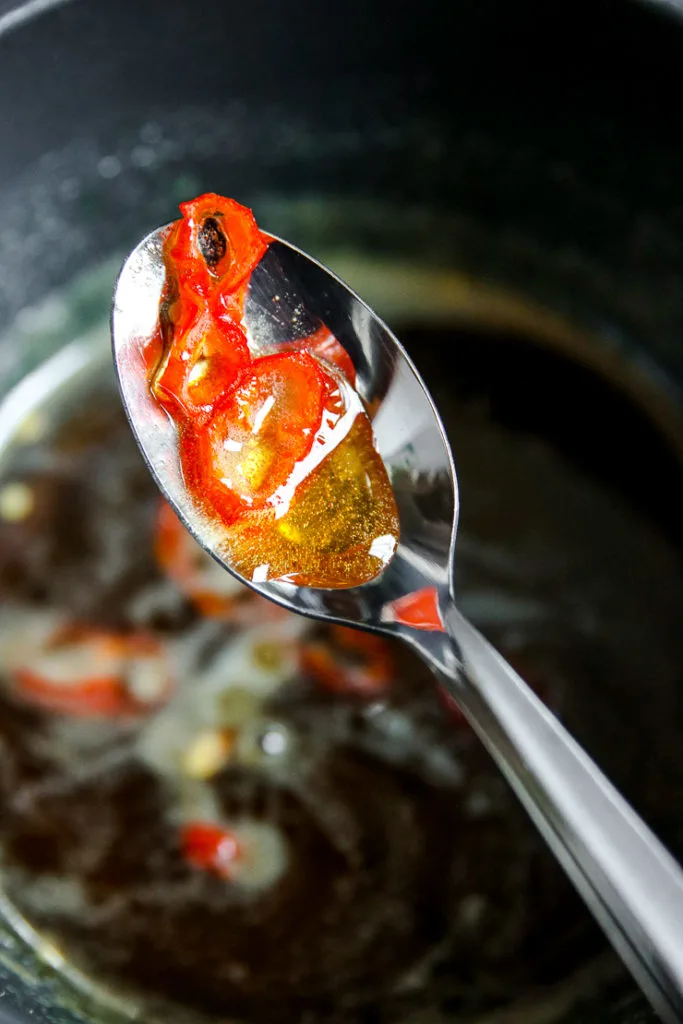 Do I need to use Fresno peppers?
Not necessarily! It really all depends on what kind of spice level you're looking for in the honey. Frenso peppers are around the same Scoville heat level as jalepeños.
If you're looking for a Fresno pepper alternative, a jalepeño would be a perfect fit especially if you can't find them at the grocery store.
How can I make the spice level more mild?
In terms of ranking the pepper to use by spice level, Anaheim peppers are not as spicy as the Fresno or jalepeños if you want a mild spice level.
You can also cut back on the number of chilies you want to use if you want to make it less spicy. Deseeding the chilies are also a good way to make a more mild hot honey.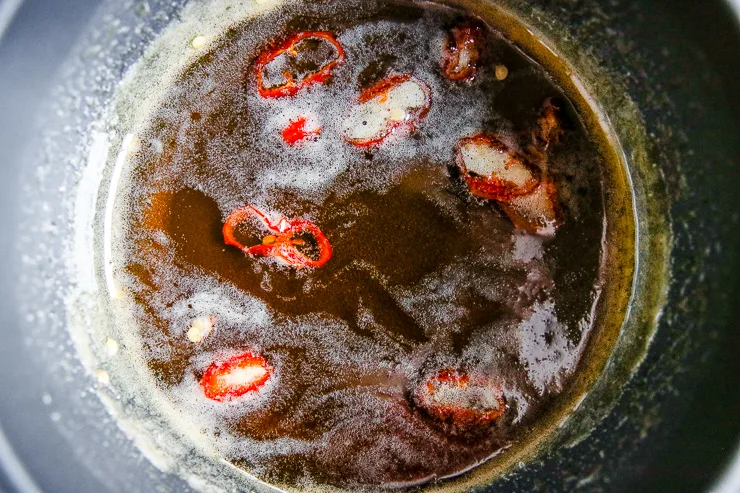 Do I need to use peppers?
Not necessarily! There are several options if you'd rather not use a fresh red pepper or chile. You can use a few dashes of your favorite hot sauce in the honey and let is simmer in the same way.
Another option is simmering red pepper flakes or dried chiles! Either infuses honey in the same way and will be equally delicious.
What kind of honey should I use?
Clover honey is a perfect option to make hot honey because of how wildly available it is and how mild it is in flavor.
Using flavored honeys will alter the flavors, but would be fun to try and alter the overall flavor.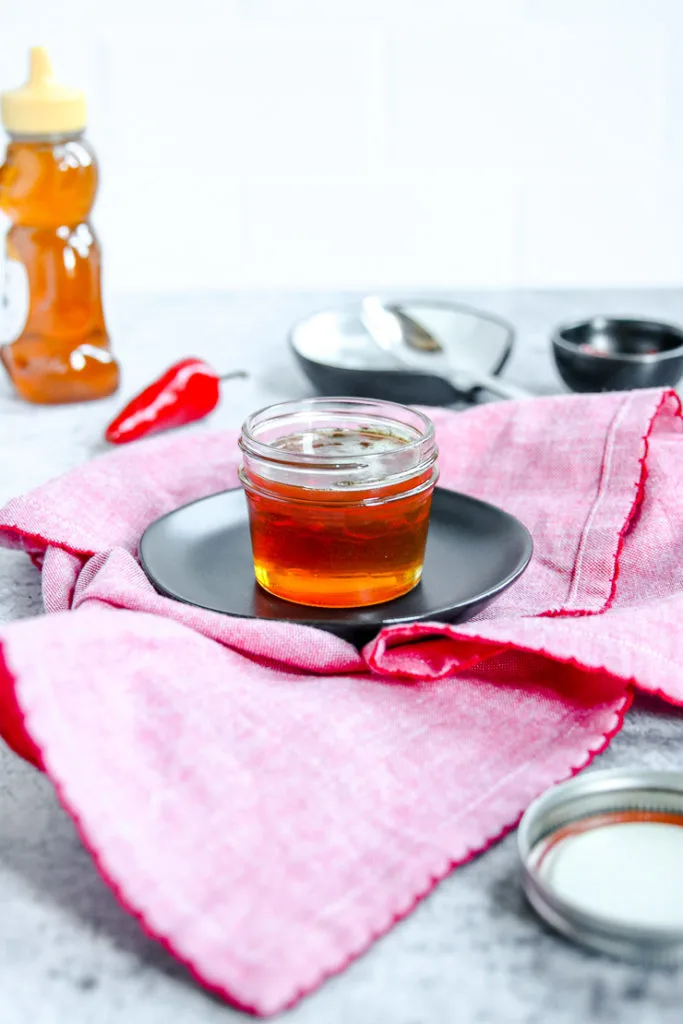 What can I serve this on?
Pizza is one of my favorites to serve this on! Even if you just drizzle a little on the crusts, it's a perfect way to end a meal.
My favorite pizzas are this Tie Dye Pizza, Rustic Pizza with Goat Cheese and Balsamic Reduction, and this Fall Veggie Pizza!