This Whipped Feta Dip recipe will be a new easy appetizer favorite! It's a few ingredients and comes together in under 15 minutes!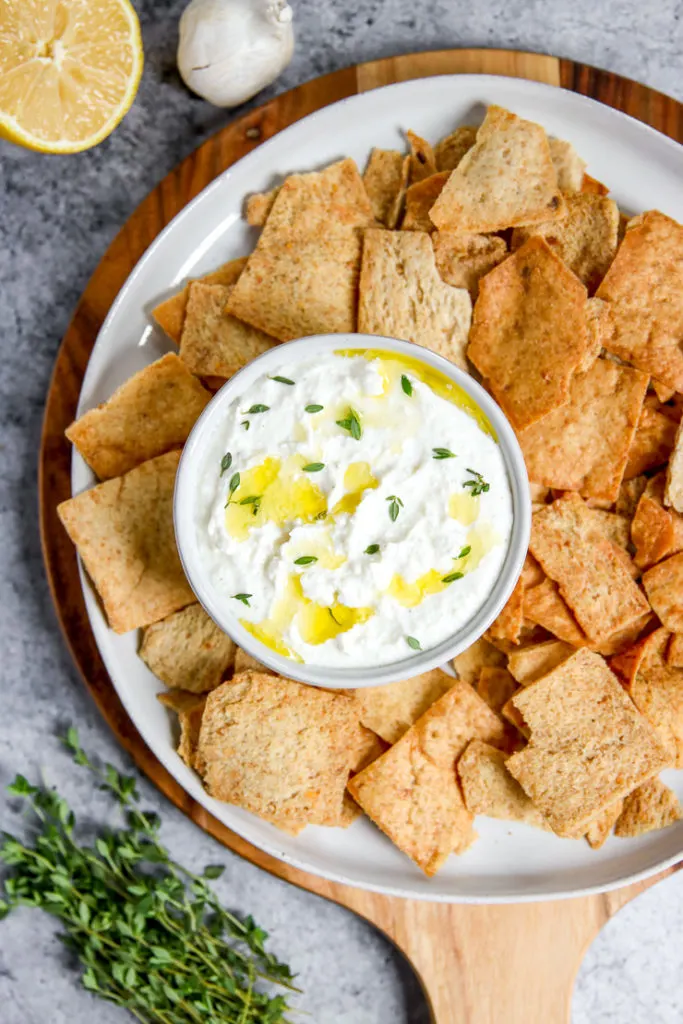 Whipped Feta Dip
This Whipped Feta Dip is one of my families new favorites. With just a few ingredients and one dish to make it, it comes together quickly with limited clean up.
It can be made ahead crossing off one thing on your list for your next event! It's the perfect creamy feta dip for any cheese lover.
The Culinary Compass participates in several different affiliate programs. As an Amazon Associate, we earn from qualifying purchases.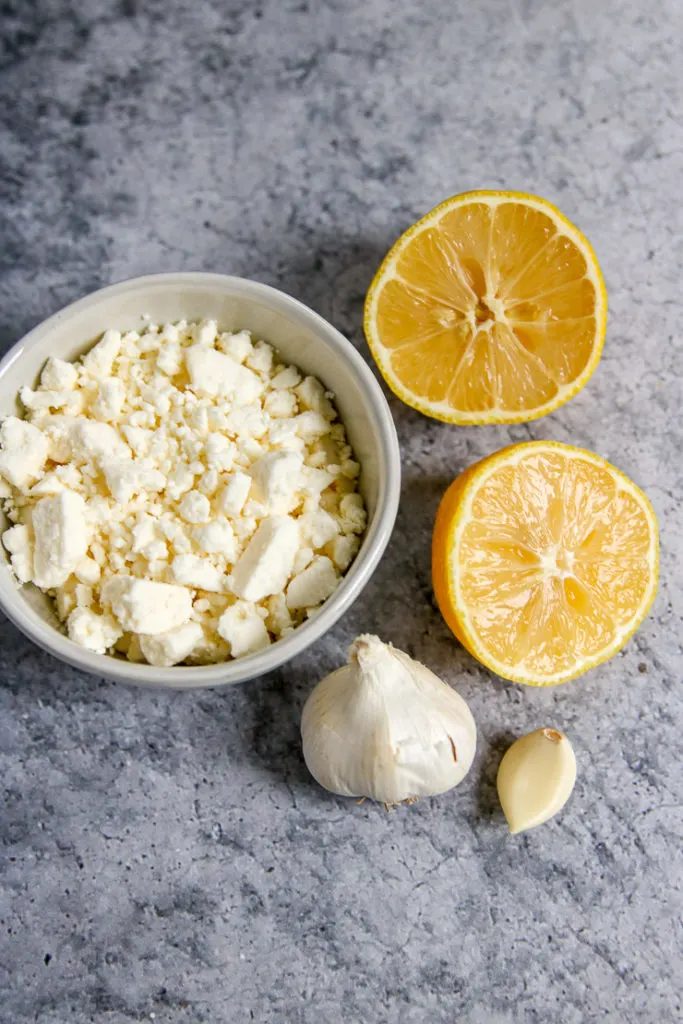 Can I use crumbled feta?
You can! I found that using crumbled feta cheese worked really well since it was going to get blended together anyways.
You'll just want to be sure that you're using the same amount of feta whether in a block or crumbled form. I needed to buy two packages of crumbled feta, so depending on where you get yours, it may be cheaper to buy a block and crumble yourself!
It's also pretty easy to learn how to crumble feta cheese yourself as well!
Can I add more seasonings?
Absolutely! The current recipe doesn't have too much in it, but the lemon, olive oil, and garlic all really shine through.
To help compliment those flavors, using fresh or dried oregano or thyme would add a nice herby flavor to the dip.
If you want to kick up the heat, try adding some red pepper flakes! You could even simmer the olive oil in a small pan with the red pepper flakes to really infuse the flavor. Topping the dip in hot honey could also be a great option!
Do I need to use Greek yogurt?
You don't have to! I find that it helps keep the texture really smooth and creamy, but sour cream and cream cheese are both great options to substitute in for it!
Just be sure that the cream cheese is at room temperature if you choose that.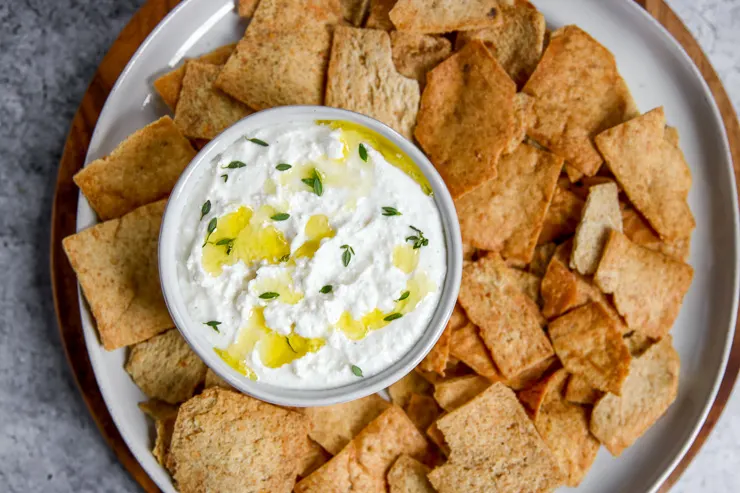 How long does whipped feta dip last in the fridge?
In a tightly sealed container, the whipped feta will last 1-2 weeks in the fridge.
It's a great dish to make ahead of time to save some dishes the day of a gathering. The bonus is that it will build the flavor the more it sits too!
How do you make this whipped feta recipe?
To make whipped feta and lemon dip, you'll want to add the crumbled feta, greek yogurt, garlic clove, lemon juice, olive oil, and pepper to your food processor or blender. You can season with salt and pepper too!
Once it's in your food processor, pulse to blend and let blend together for a few minutes to ensure that it's fully incorporated and processed until smooth. Move to your serving dish then top with some fresh thyme and olive oil and you're all set!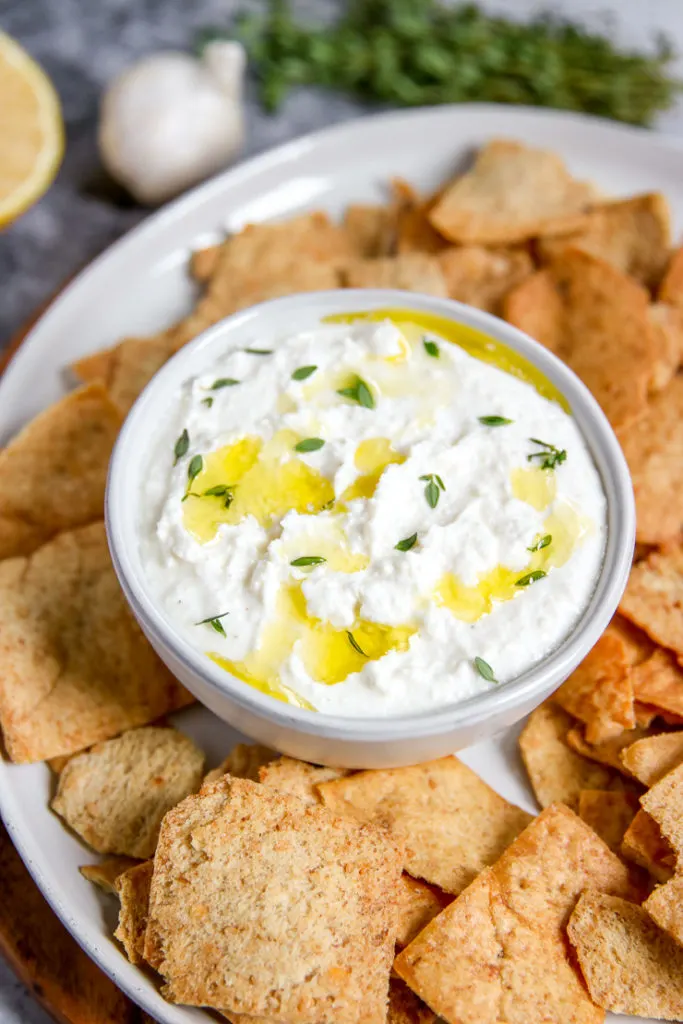 What should I top this with?
You can top this with fresh thyme or oregano to add some color to the top! A little extra squeeze of lemon also brightens up the dish a ton.
It's also really great with a drizzle of either olive oil or honey on top! Whipped feta dip with honey on top makes a perfect combination of sweet and savory.
What can I serve this with?
It's a great dip to eat with crudités like a serving platter of carrot sticks, bell pepper strips, celery, and broccoli!
I'm also a big fan of using it with some Garlic Crostini for an extra garlic punch. Even some pita chips work really well with it too!
Looking for other easy appetizer dips? Try one of these: