Sriracha Aioli is a simple sauce that comes together quickly with just a few ingredients. Its slight spice will make it a favorite recipe for a dip or spread!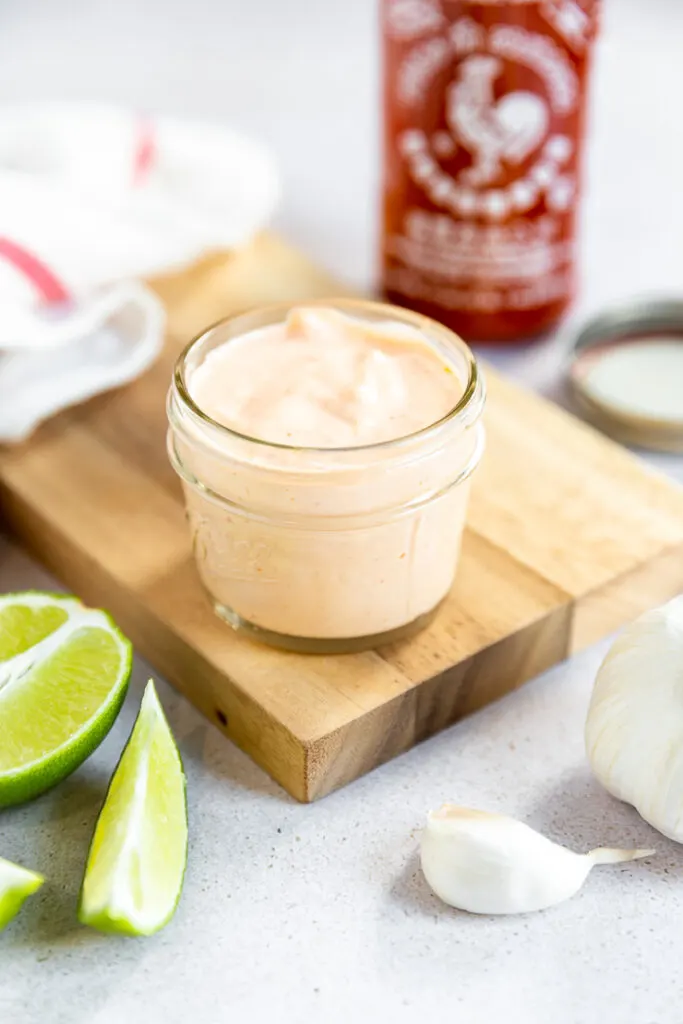 Homemade Sriracha Aioli Sauce
This delicious Sriracha aioli is a versatile sauce that combines the spicy kick of Sriracha with the creamy texture of aioli. This fusion of flavors creates a mouthwatering condiment that can be used in a variety of dishes.
Whether you're looking to add some heat to your sandwich or dip your fries in a zesty sauce, this homemade aioli is the perfect way to kick your meal up a notch. With this quick recipe and delicious taste, it's no wonder sriracha aioli has become a fan favorite around my kitchen!
The Culinary Compass participates in several different affiliate programs. As an Amazon Associate, we earn from qualifying purchases.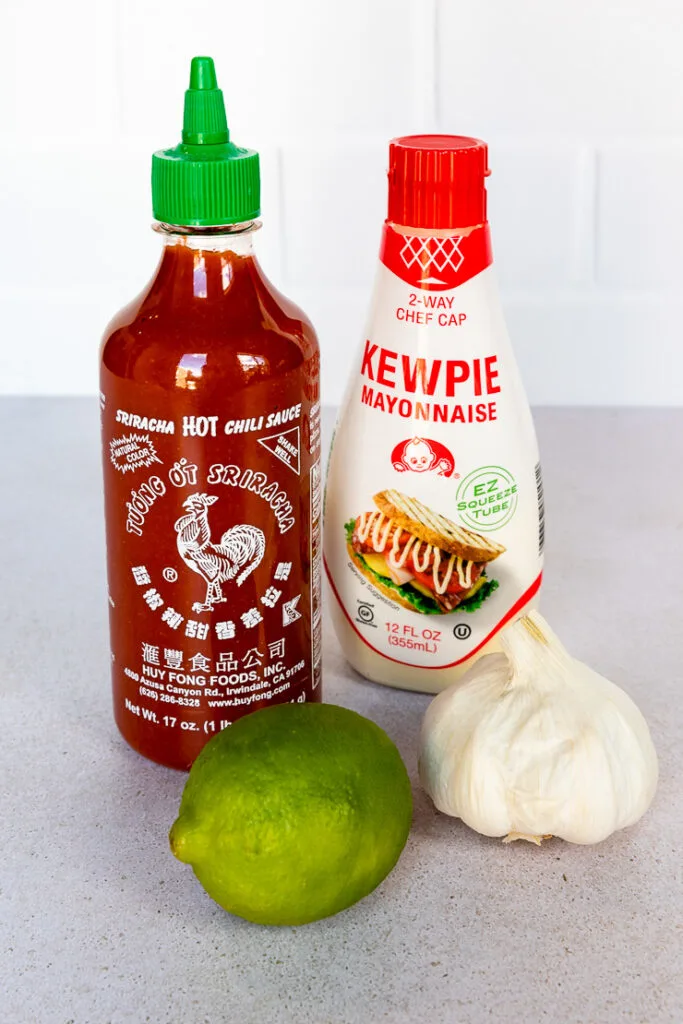 Sriracha Aioli Recipe Ingredients
Mayonnaise is the creamy base of this sauce which gives it a great texture. You can use homemade mayonnaise if you'd like or store-bought mayonnaise to keep it easy.
Sriracha chili sauce is a type of hot sauce made from chili peppers, vinegar, garlic, sugar, and salt. It adds a spicy and tangy flavor to the aioli. Be sure to use less sriracha to make a milder sauce.
Lime juice is added to the aioli to bring a tart aspect to the flavor which complements the spicy flavor of sriracha. Fresh lime juice tastes delicious in this recipe.
Garlic helps enhance the overall flavor. Adding a finely chopped garlic clove to the aioli adds another layer of flavor and depth to the sauce. Use pre-minced garlic, garlic powder, or garlic paste to keep it easy!
Ingredient Substitutions and Variations
Substitute Greek yogurt for the mayonnaise for a healthier, tangier version of the aioli. Lemon juice can be swapped out for lime juice for a different citrus flavor.
Increase the spice level by upping the amount of Sriracha you add! You can even change out Sriracha for different hot sauces like Tabasco or Frank's RedHot to make it your own spicy sauce.
Try adding in some chopped herbs like cilantro to punch up the freshness, or adding in honey for a touch of sweetness to balance out the heat.
Experiment with different combinations of ingredients to find your perfect sriracha aioli recipe. If spice isn't for you, leave out the hot sauce to make a great garlicky sauce!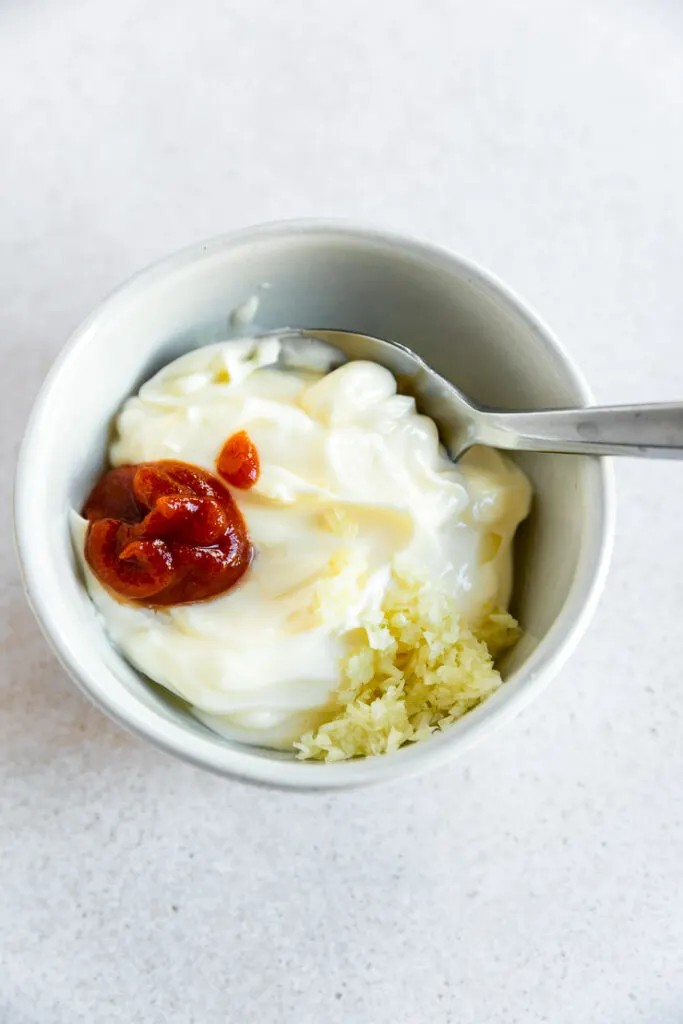 What is an aioli?
Traditional aioli is a great dipping sauce that's made by creating an emulsion of garlic and pure olive oil. Some recipes call for using egg yolks or even whole eggs with extra virgin olive oil and using an immersion blender or food processor to create the creamy sauce.
While using store-bought mayonnaise is a hack to making aioli quicker, you should learn how to make homemade aioli to impress friends!
What dishes can you use sriracha aioli with?
The great part of sriracha aioli is how versatile it is as both a spicy dipping sauce and a spread. Use it as a dip for french fries, some roasted vegetables, or even these Fried Green Tomaotes!
Use it as a spread for burgers, sandwiches, rice bowls, or as a drizzle on some fish tacos, crab cakes, seafood, or even your morning eggs! Using it with these Air Fryer Potato Wedges is one of my favorites!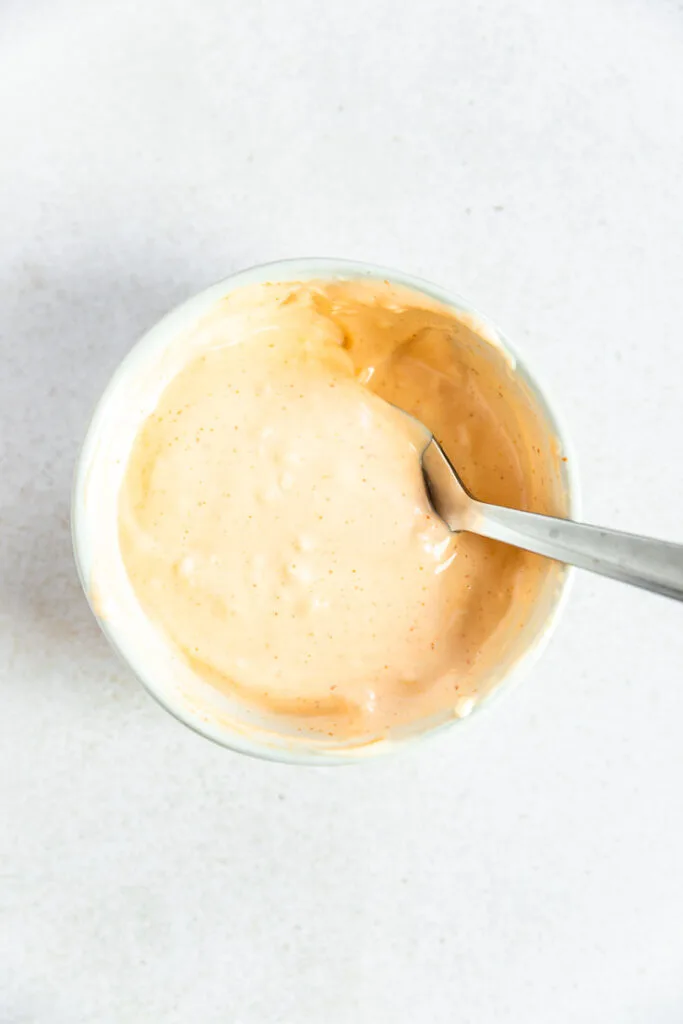 How long does sriracha aioli last in the refrigerator?
The shelf life of sriracha aioli can vary, but typically it can last for about 1-2 weeks in the refrigerator when stored in an airtight container.
To maximize the shelf life, it's important to keep it refrigerated at all times and to avoid leaving it at room temperature for an extended period.
Homemade sauces are some of my favorite to make! Try out this Chipotle Lime Sauce, Cocktail Sauce with Horseradish, or Honey BBQ Sauce.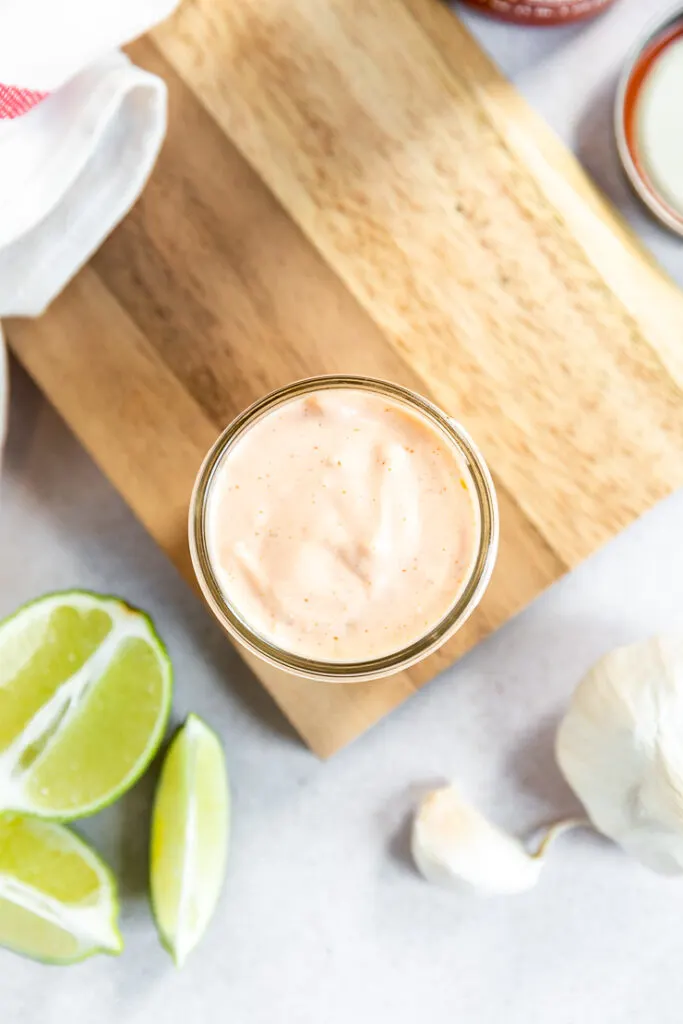 How to make Sriracha Aioli
To make sriracha aioli, combine mayonnaise, sriracha sauce, lime juice, and minced garlic in a small bowl. Whisk until well combined and adjust seasoning to taste.
Refrigerate in an airtight container for at least 30 minutes. Serve as a dipping sauce or topping for burgers, sandwiches, tacos, or any other dish you can think of!