Make these Air Fryer Potato Wedges for a delicious snack or side dish. Cooking potato wedges in an air fryer gives you a crispy outside and fluffy interior!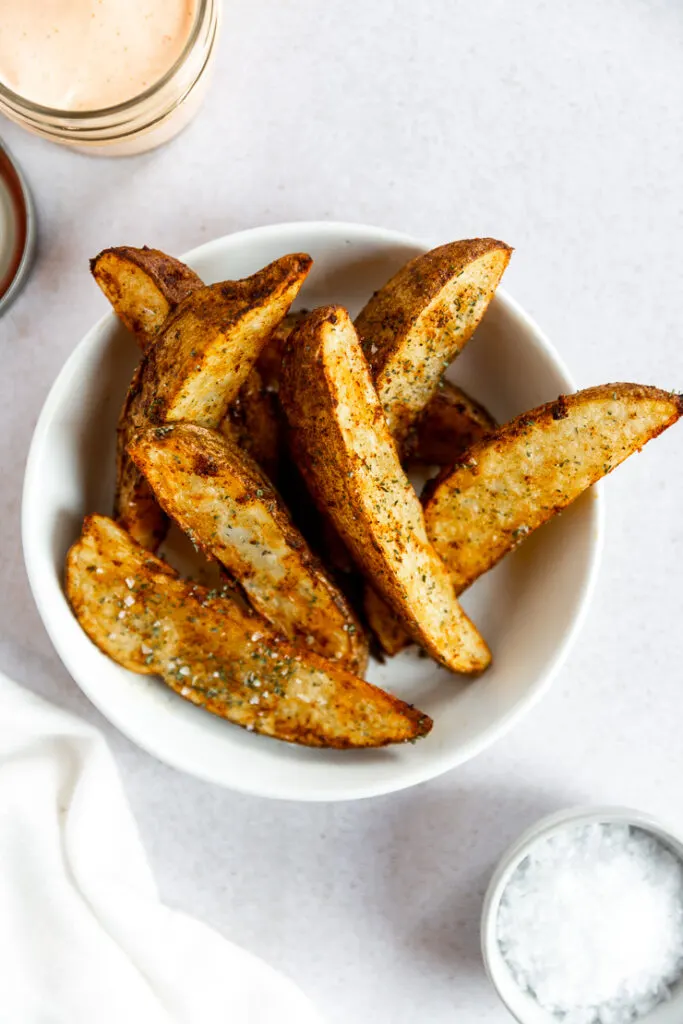 Air Fryer Potato Wedges
Air Fryer Potato Wedges taste exactly like what you'd get at a restaurant without having to leave the house without deep frying them. I'd call that a win-win.
They're perfect to have as a snack, or as a side dish for just about any kind of meal. Homemade potato wedges are perfectly crispy and are topped with a savory blend of spices and herbs that will make it hard to have just one.
In fact, I'd recommend making a few extra because there's no way the entire plate is making it's way to the table. As a huge potato lover, I taste tested a few too many especially when it's paired with a delicious aioli.
The Culinary Compass participates in several different affiliate programs. As an Amazon Associate, we earn from qualifying purchases.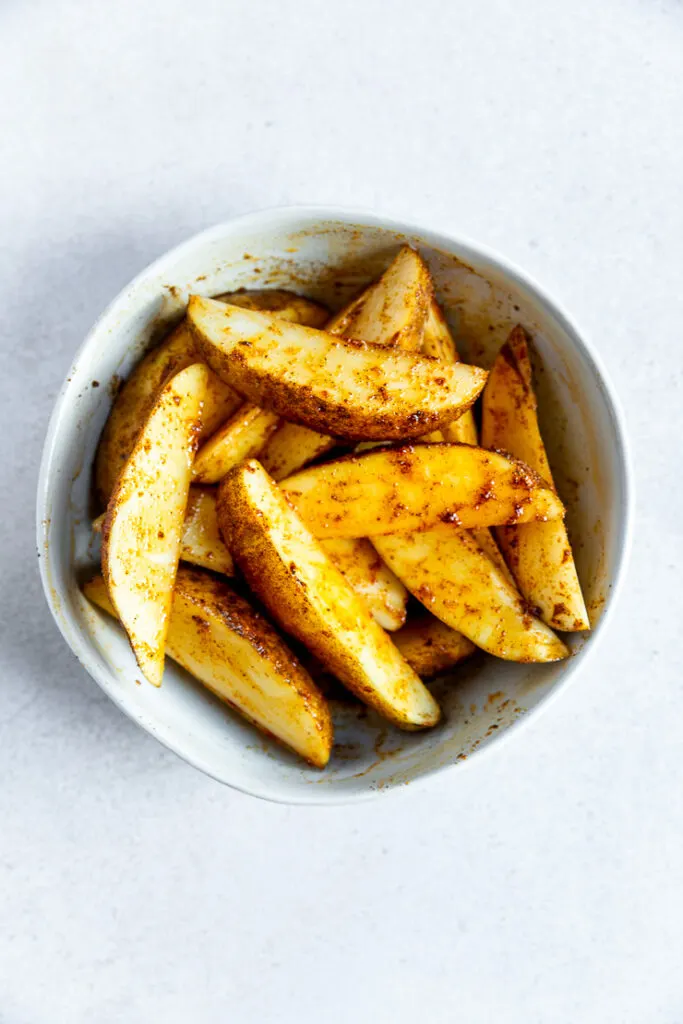 Crispy Air Fryer Potato Wedges Ingredients
You'll only need a few simple ingredients to make air fryer potato wedges:
Russet potatoes
Extra virgin olive oil
Garlic powder
Chili powder
Salt
Smoked paprika
Black pepper
Fresh parsley or dried parsley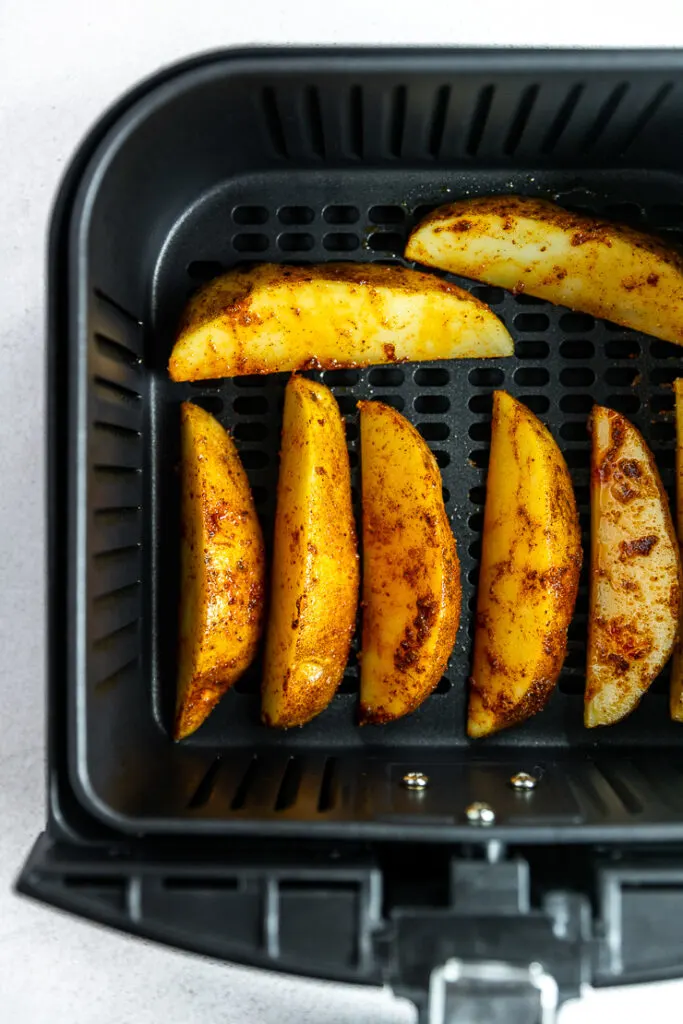 Ingredient Substitutions and Variations
Different types of potatoes: You can use different types of potatoes, such as sweet potatoes, red potatoes, or Yukon Gold potatoes.
Different oils: Instead of olive oil, you can use other oils such as canola oil, vegetable oil, or avocado oil. You could also try using Infused Olive Oils for more flavor!
Spices: You can experiment with different spices to change up the flavor of your potato wedges! For example, try using cumin, onion powder, Italian Seasoning, or Cajun seasoning for different flavor profiles.
Herbs: If you don't have parsley on hand, you can substitute with other herbs such as fresh cilantro or thyme.
Cheese: It's hard to say no to cheesy potatoes so you can sprinkle some grated Parmesan cheese or cheddar cheese over them before serving. Maybe throw them back in the air fryer for a minute or two to help melt it!
Dipping sauces: Serve your potato wedges with your favorite dipping sauces like ketchup, mayonnaise, sour cream, ranch dressing, or a Sriracha aioli.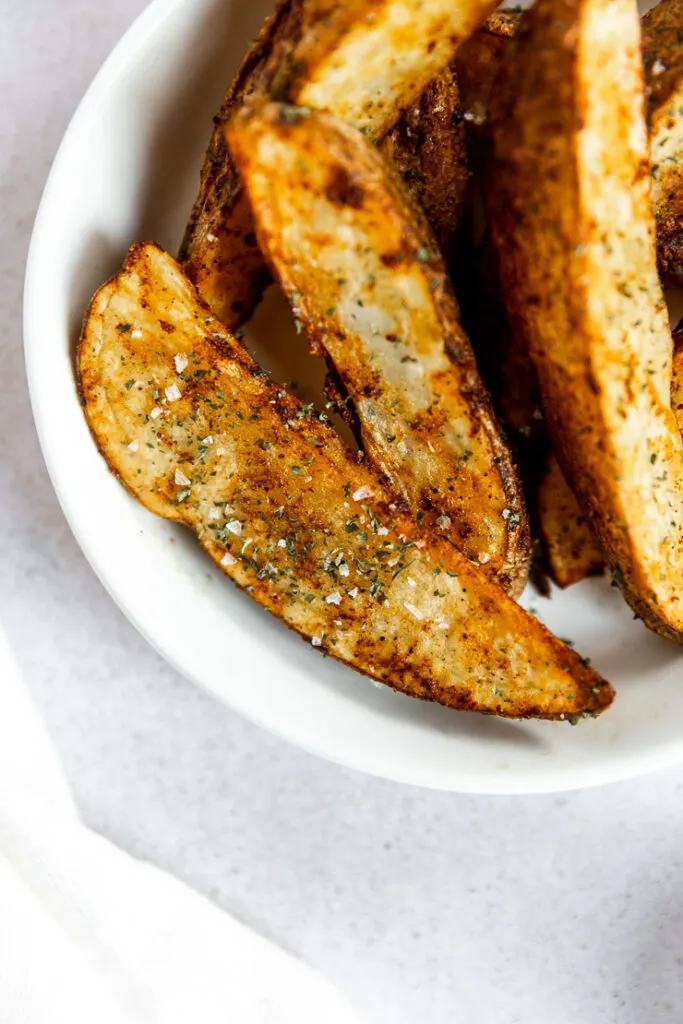 What kind of potatoes should I use for Air Fryer Potato Wedges?
Russet potatoes are starchy and have a fluffy texture when cooked, which makes them ideal for making crispy and fluffy potato wedges in an air fryer.
You can also use other types of potatoes such as Yukon Gold or sweet potatoes for a different flavor. Waxy potatoes may give you a different texture, but could be a good alternative!
What can I serve with Air Fried Potato Wedges?
These potato wedges can be served with just about any meal you can come up with. They are the perfect alternative for french fries for burgers, and pair perfectly with Sous Vide Filet Mignon for a take on steak frites.
It's also hard to beat a Caesar salad and crispy potato combination! Maybe even on the side of the BLT with Cayenne Candied Bacon & Avocado Mayo or some chicken wings.
Whether you're serving them as a perfect side dish or a snack, air fryer potato wedges are sure to be a crowd-pleaser.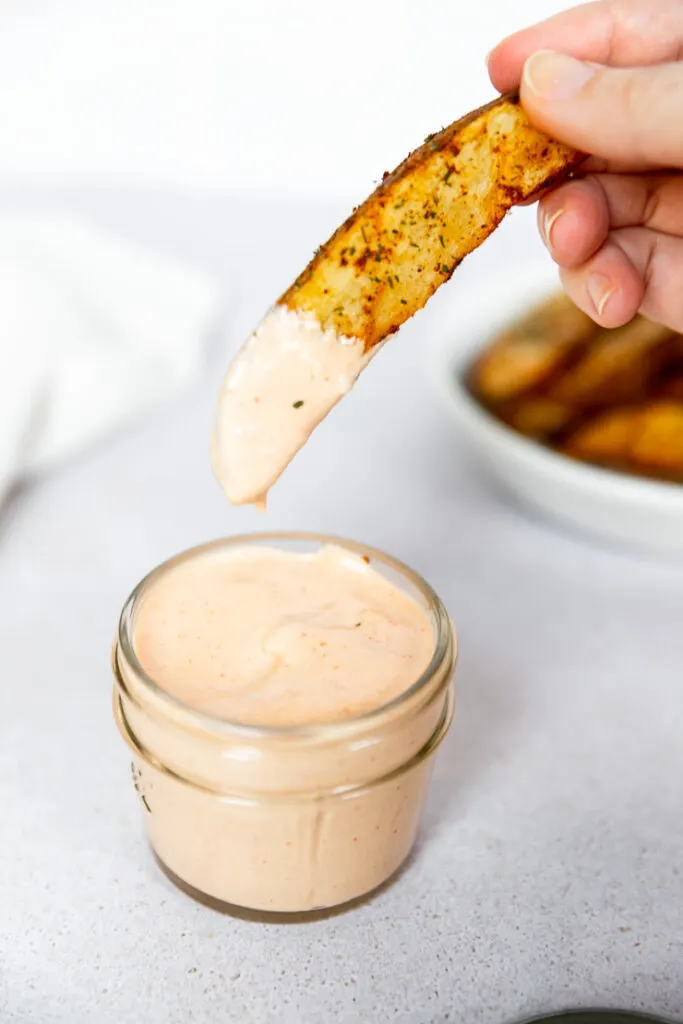 How to make Potato Wedges in Air Fryer
Preheat your air fryer to 400°F. While it's heating up, wash your potatoes in cold water and dry off excess moisture with paper towels. Grab your potatoes and cut them up into 8 thick wedges each.
To get those perfect wedges, cut the potato in half lengthwise, then cut each half into quarters lengthwise, giving you 8 wedges. Use a sharp knife and dry cutting board to make it easy as possible. Put the cut potato cut side down to give yourself a better grip.
In a large mixing bowl, combine some olive oil with your favorite seasonings. Give it a good mix, then toss those potato wedges in there until they're coated in all that delicious mixture.
Working in batches, place your seasoned potato wedges into the air fryer basket in a single layer and cook them up for about 15 minutes, flipping halfway through. Keep on air frying until all the wedges are cooked with a satisfying crispy exterior. Since they are covered in olive oil, you shouldn't need any non-stick cooking spray on the bottom of the air fryer basket.
Once you've got the wedges removed from the air fryer basket, transfer them to a plate and give them a little sprinkle of parsley, flaky salt or sea salt. Enjoy!
If you have any leftover potato wedges, store they in an airtight container in the refrigerator.