Air Fryer Zucchini Fries are the perfect way to use your summer zucchini. Learn how to make zucchini fries in the air fryer in just a few steps!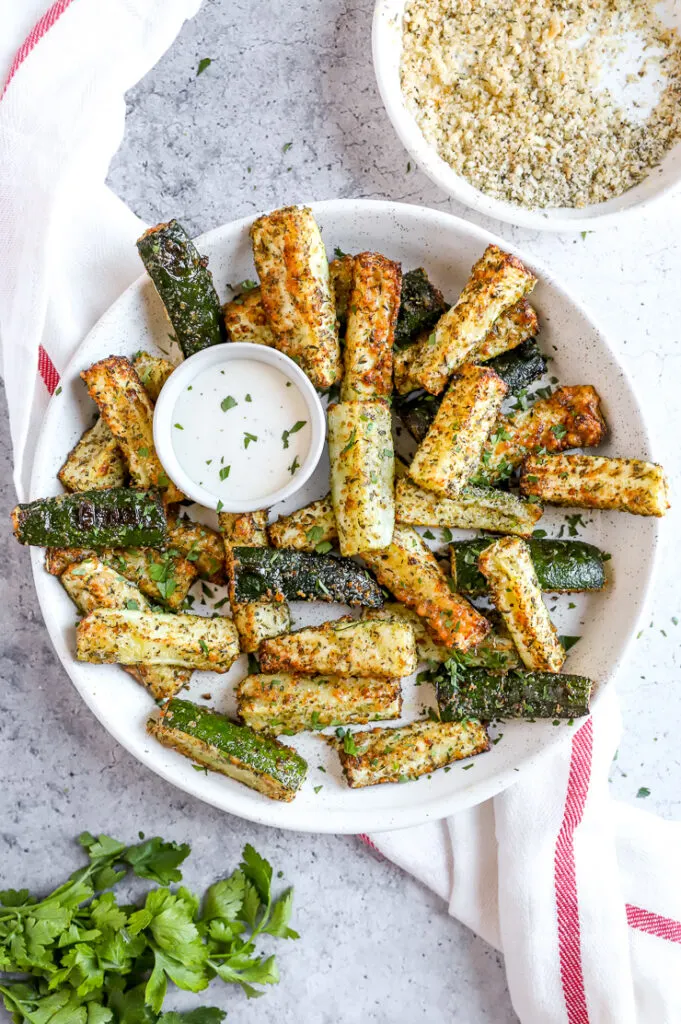 Air Fryer Zucchini Fries
Having planted a successful summer garden all of one time, the one thing I know is how much zucchini you can get out just one plant! Making this Air Fryer Zucchini Fries recipe is one of my favorite ways to prepare zucchini when it's abundant at the farmers market.
It comes together quickly and is super versatile in the flavors that you can add to it. It's a healthy side dish, quick delicious appetizer for dinner, or even just a healthy snack.
The breading is made up of just parmesan cheese and seasonings keeping the whole process quick and easy without panko bread crumbs or an egg wash.
The air fryer makes sure they that aren't soggy like traditionally deep frying zucchini fries. They're perfectly crispy without much effort or preparation.
The Culinary Compass participates in several different affiliate programs. As an Amazon Associate, we earn from qualifying purchases.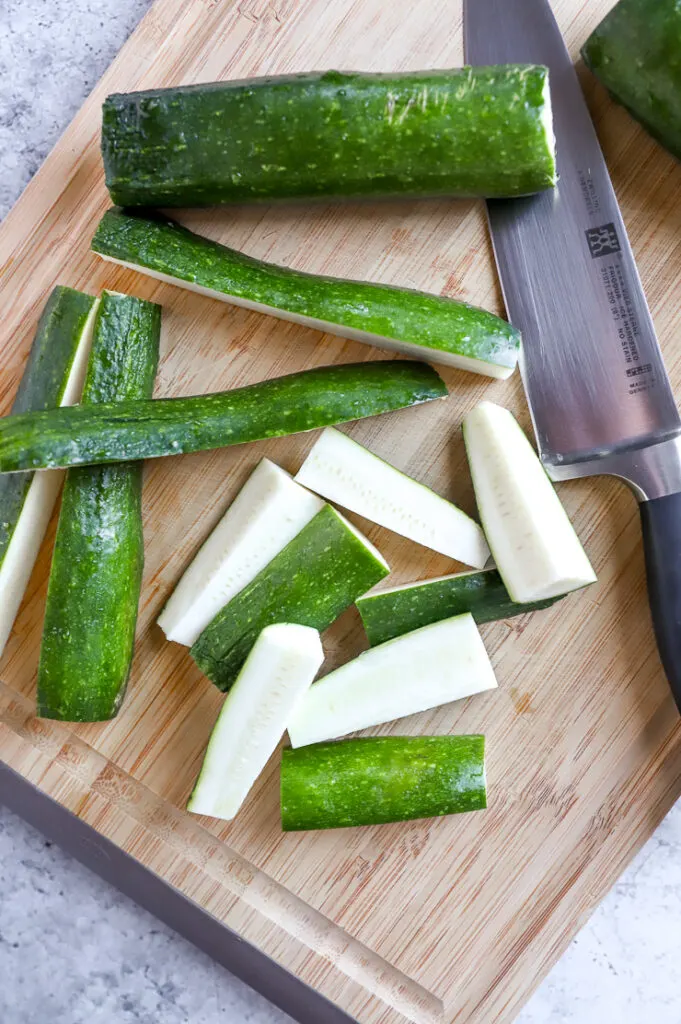 What ingredients do I need to make Air Fryer Zucchini Fries?
You'll just need a few ingredients to make parmesan zucchini fries:
Zucchini
Grated parmesan cheese
Italian seasoning
Garlic powder
Onion powder
Salt
Black pepper
Olive Oil
Canola cooking spray
Ranch dressing for dipping sauce
Ingredient Substitute
While freshly grated parmesan cheese has it's place, I found that using packaged pre-grated parmesan resulted in the super crispy texture that you're looking for in zucchini fries.
If you don't have zucchini, summer squash or yellow squash will work great as well. Panko breadcrumbs are a great alternative for the parmesan cheese to add the crunch to make crispy zucchini fries.
If you've got extra zucchini and parmesan, try out this Zucchini and Parmesan Orzo.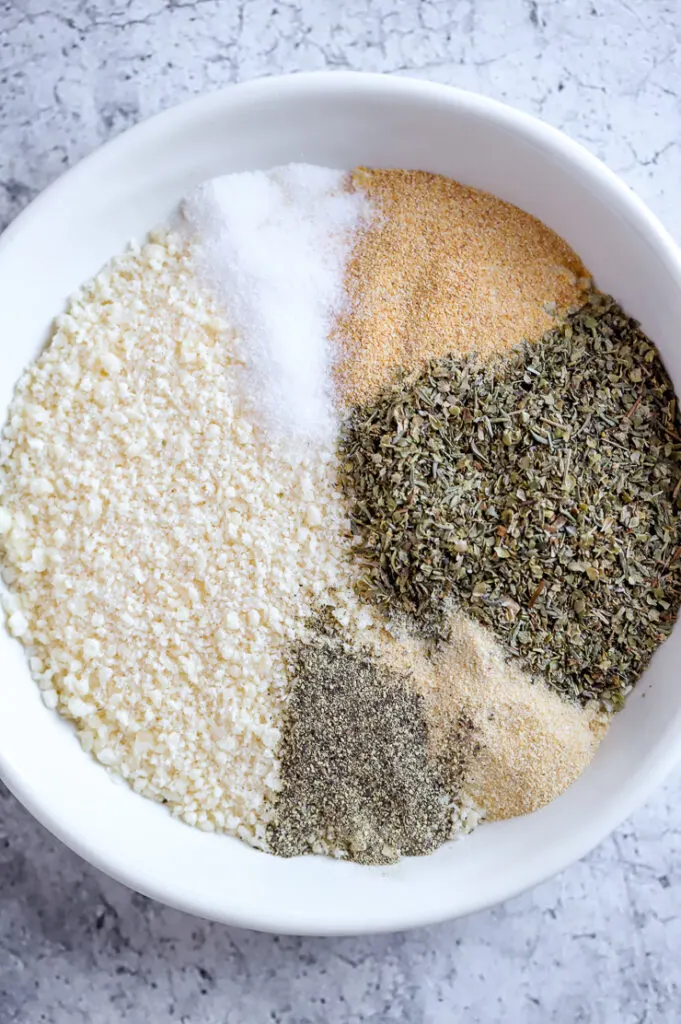 Variations
While this recipe results in an Italian variation, changing out the Italian seasoning for other spices allows this dish to go with all sorts of cuisine.
Try using smoked paprika, ranch seasoning, Cajun seasoning, or even taco seasoning to make a great side dish for just about any meal you can come up with!
These Baked Zucchini Chips are a great option if you're looking for another way to make them! Not into zucchini? Try out these Air Fryer Carrot Fries instead!
Dipping sauce
While these zucchini fries are great on their own, they're even better with a great dipping sauce.
My go-to is ranch dressing, but you can use chipotle ranch, garlic aioli, marinara sauce, or even honey mustard.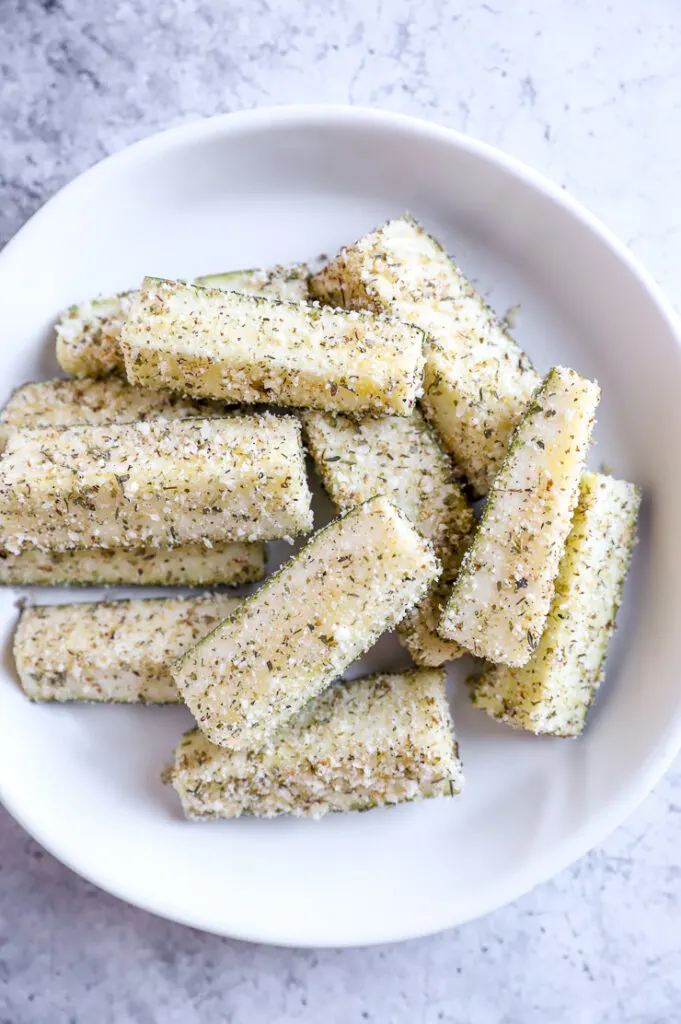 Equipment Needed
Secura Air Fryer 4.2Qt
Small bowls
Chef's knife
Measuring utensils
How do you get the water out of zucchini fries?
If you find that your zucchini fries are soggy after air frying them, try preparing the zucchini first.
The water content of zucchini is pretty high, so you can lay out the zucchini sticks in a single layer on paper towels laid out on a baking sheet. Sprinkle them with a bit of salt then let them sit for 20-30 minutes to pull some of the water out of it.
Pat them down with a paper towel after to remove the excess moisture and salt then prepare them as the recipe states for the air fryer.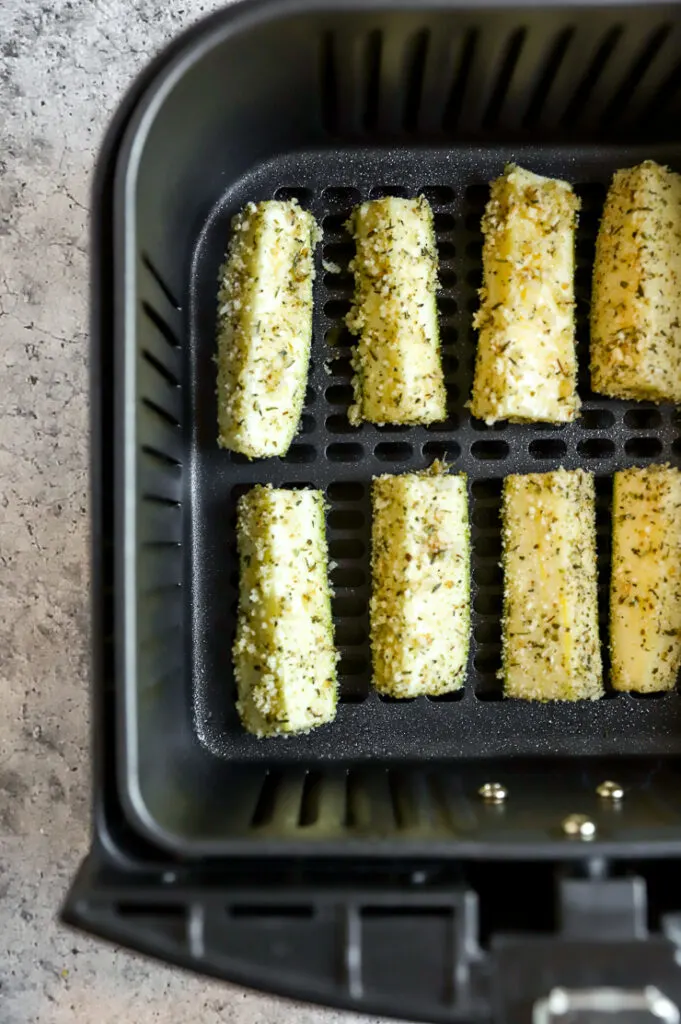 Can I bake Air Fryer Zucchini Fries instead?
You can! If you don't have an air fryer, baked zucchini fries are a great alternative. Baking them might also result in less crispy edges, but it'll still be delicious!
You can follow the recipe for preparing them, but you'll want to bake them at about 425°F for 20 or so minutes, flipping them at least once during the process.
Other Air Fryer Recipes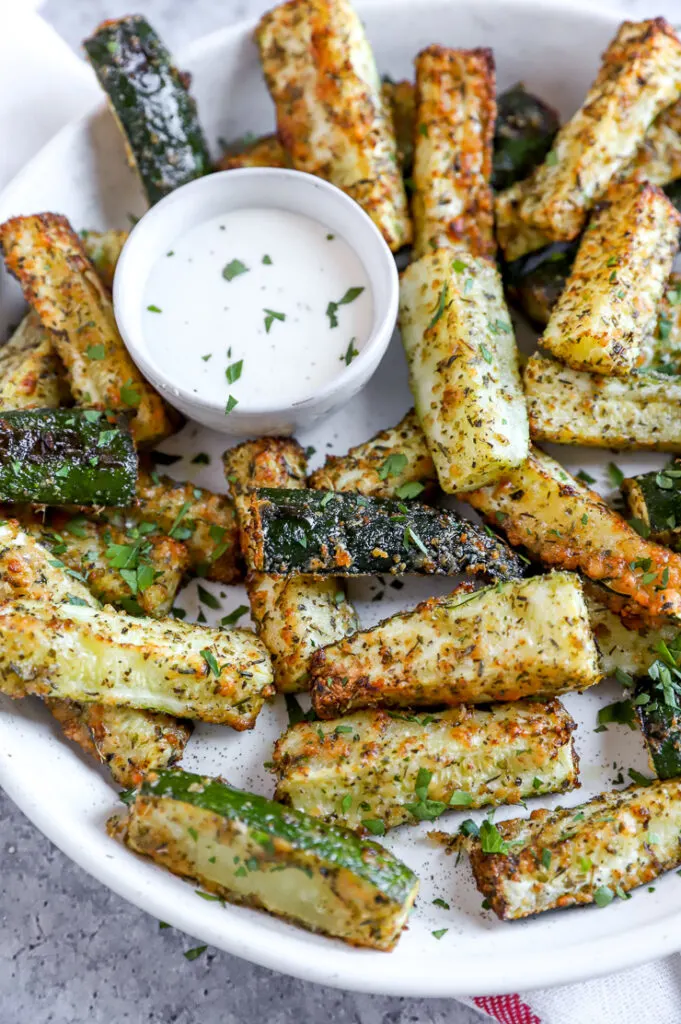 How to make Air Fryer Zucchini Fries
It only takes a few simple steps to make the best zucchini fries.
Prepare your zucchini by cutting them into quarters length-wise. Depending on their size, you may want to cut the zucchini into halves first so they are about 3-4 inches long.
In a shallow dish, mix together the grated parmesan, Italian seasoning, garlic powder, onion powder, salt, and pepper.
Evenly coat the zucchini pieces in the olive oil in a second shallow bowl. One or two at a time, place the zucchini fries into the parmesan mixture and toss to coat them entirely then set them aside. Continue this process for the remaining zucchini.
Use canola spray on the air fryer basket, place a few breaded zucchini fries into the basket in a single layer, and spray the fries with a small amount. Be sure to not overcrowd the basket.
Working in batches, air fry the zucchini fries for 10 minutes at 400°F, or until golden brown. Remove the tender zucchini from the basket and continue the process for the remainder of the fries. Depending on the size of your air fryer, you may need to do several batches.
Sprinkle with some fresh parsley, if desired, and serve with ranch, to dip!
paragraph