This Air Fryer Bacon Wrapped Asparagus is simple side dish for any time! It only takes a few minutes for perfectly crispy and tender bacon and asparagus.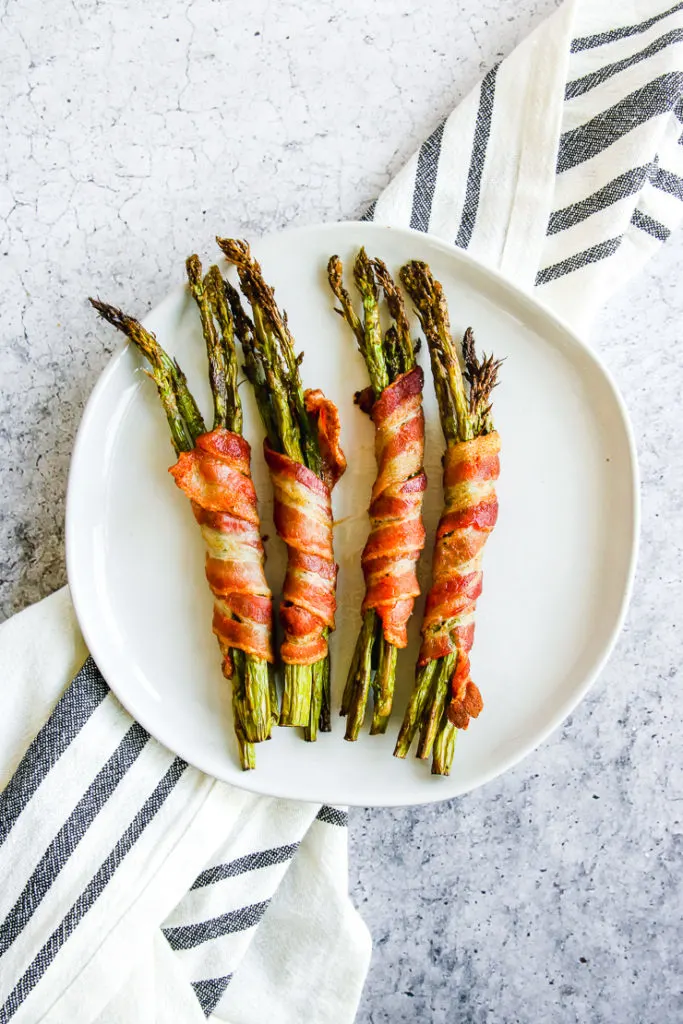 Air Fryer Bacon Wrapped Asparagus
Air Fryer Bacon Wrapped Asparagus is everything you didn't know you needed in a side dish. It's got crunchy and salty bacon. It's got crispy and flavorful asparagus.
It has those two things put together and it all comes together in under 15 minutes.
So I guess it only has 2 things you didn't know you needed, but even so, it's SO good and will be a family favorite the first time you make it.
The Culinary Compass participates in several different affiliate programs. As an Amazon Associate, we earn from qualifying purchases.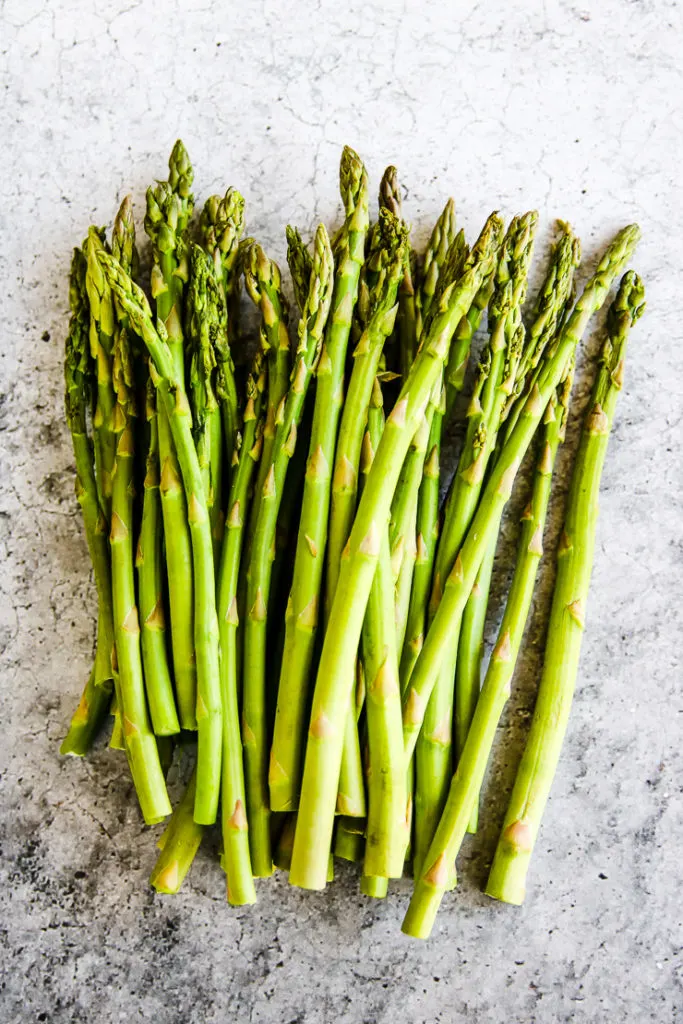 How do you prepare the asparagus?
To prepare the asparagus, you'll want to wash it like you would any other produce and pat it dry.
You can get rid of the ends of the asparagus in one of two ways. The first is to just take a knife and cut them all.
The only issue with this is that you may still have some of the woodier stems left without knowing where to cut.
Because of that, I generally like just taking each stalk and bending them near the lower half and allowing them to snap. What's left is usually all ready to eat!
What temperature do you cook the bacon wrapped asparagus in the air fryer?
You'll want to cook your bacon wrapped asparagus at 390°F-400°F. Depending on your air fryer model, you'll want to preheat your unit before hand.
You'll just need to bring it up to the desired temperature for 3 or so minutes to allow for it to bring it up to temperature.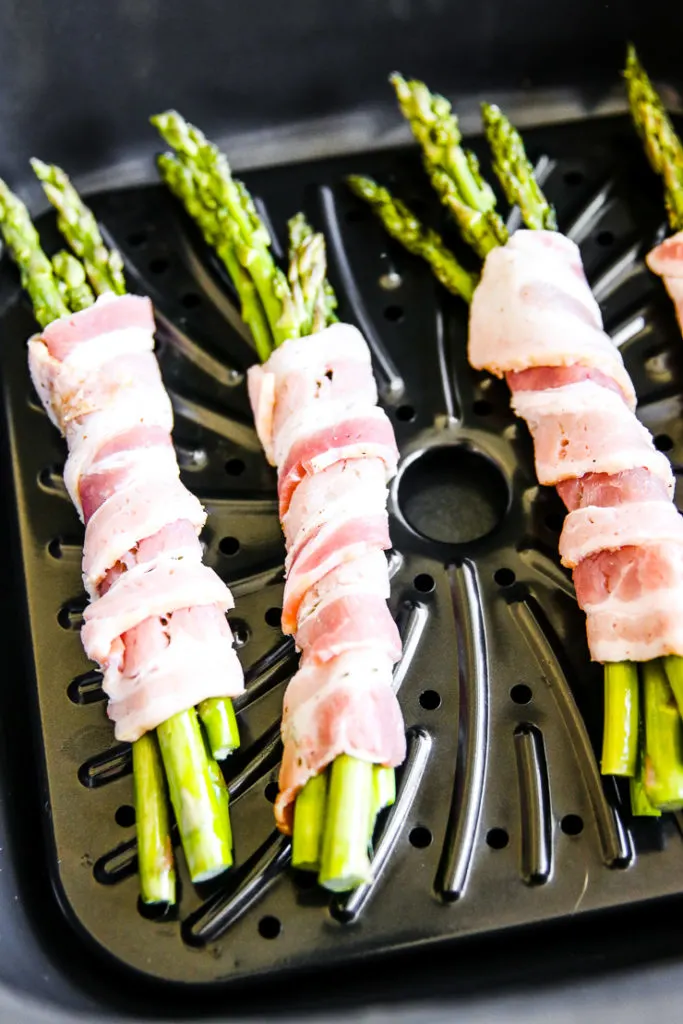 Should I cut the bacon?
It depends! If the slice bacon starts to become stringy when pulled, you may want to cut it in half so it is easier to wrap around the asparagus.
You may also want to cut it in half if you're using thicker bacon so you can wrap it without much overlap. This will just ensure that it cooks through more evenly and results in crispy bacon.
Otherwise, using a full strip of bacon should be okay!
If you've got some extra bacon, try this Air Fryer Bacon method for this perfectly crisp bacon!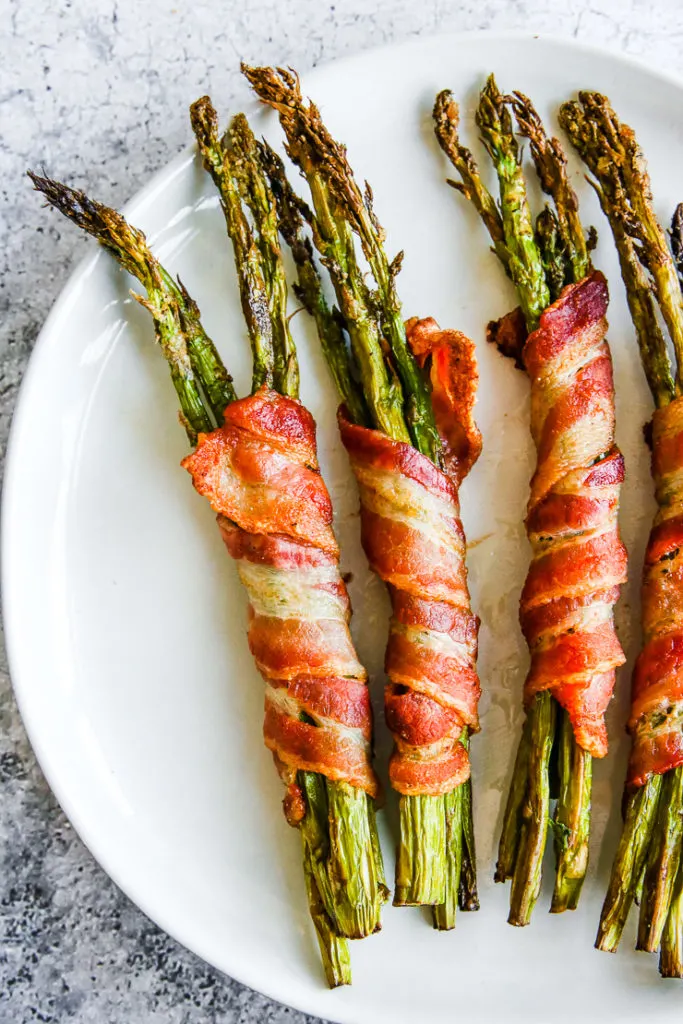 How to Make Bacon Wrapped Asparagus Bundles in the Air Fryer
To make bacon wrapped asparagus in the air fryer, it only takes a few steps!
Prepare you asparagus! Make sure it's washed, the end is removed, and it's patted dry.
Toss the asparagus with the olive oil, salt, and pepper.
Take 2 or 3 asparagus stalks and wrap a piece of bacon around them until it's completely encased. Be sure to wrap all of your asparagus and set it aside.
Place the asparagus in the air fryer basket and cook for 10-12 minutes. Be sure to avoid crowding the basket so that each side can crisp evenly.
Looking for other vegetable sides? Try one of these: