This Chipotle Lime Sauce recipe is zesty and full of herbs – perfect for fish tacos or chicken. It just takes a few steps to learn how to make chipotle lime sauce.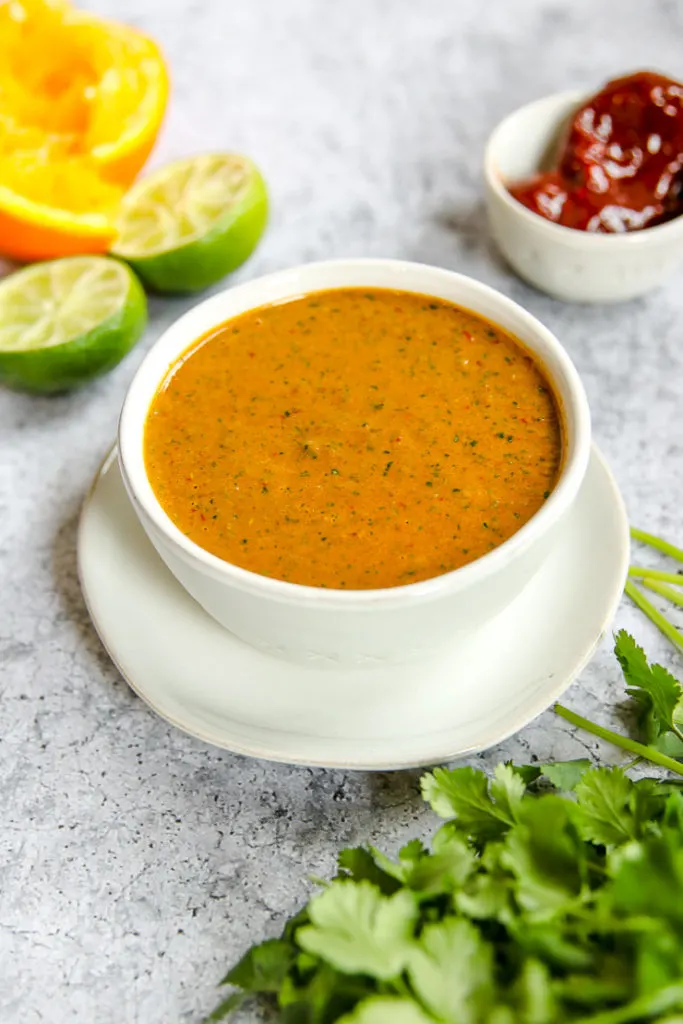 Chipotle Lime Sauce
We're big fans of any kind of sauce in our house, so this Chipotle Lime Sauce was a huge hit! It's full of citrus, herbs, and spice making it a combination you definitely can't get enough of.
We love to add it to our homemade burrito bowls or even just sneak a bite or two with some chips.
The Culinary Compass participates in several different affiliate programs. As an Amazon Associate, we earn from qualifying purchases.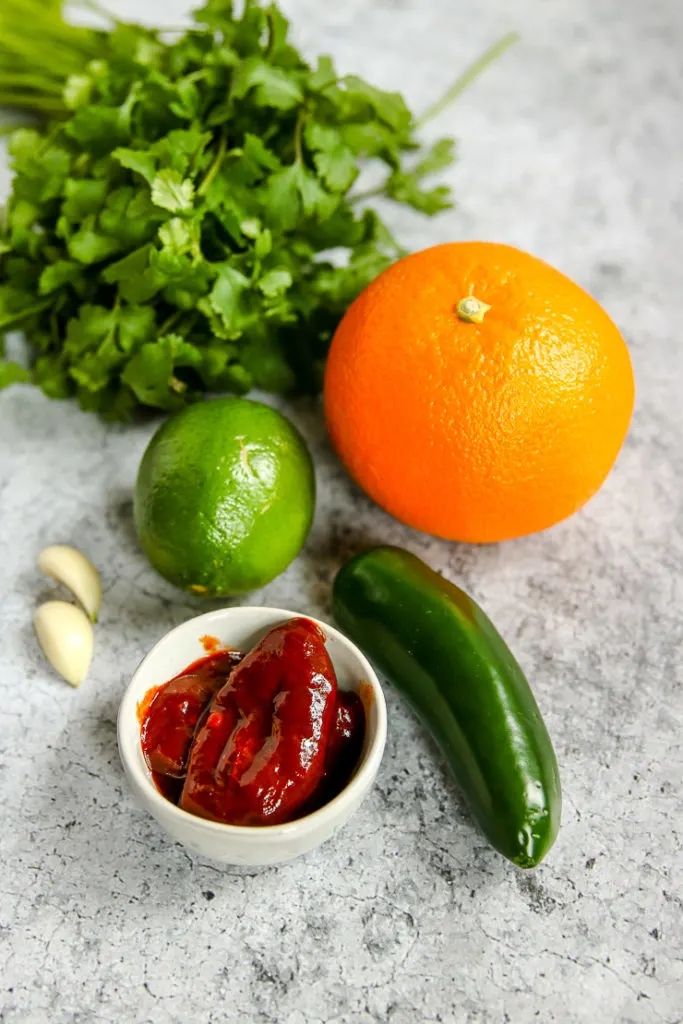 What is chipotle lime sauce made of?
This chipotle lime sauce recipe is full of citrus and herbs that make it zesty and full of flavor! You'll need the following to make it:
Olive oil
Jalepeño
Cilantro
Green onion
Garlic cloves
Chipotles in adobo
Lime juice
Honey
Orange juice
Salt
I like to use fresh lime and orange juice so you could also add the zest if you'd like! Using bottled juice would work as a substitute if that's all you have on hand.
If you're looking to add more spices, try using chipotle powder or chili powder to really add even more depth to the sauce.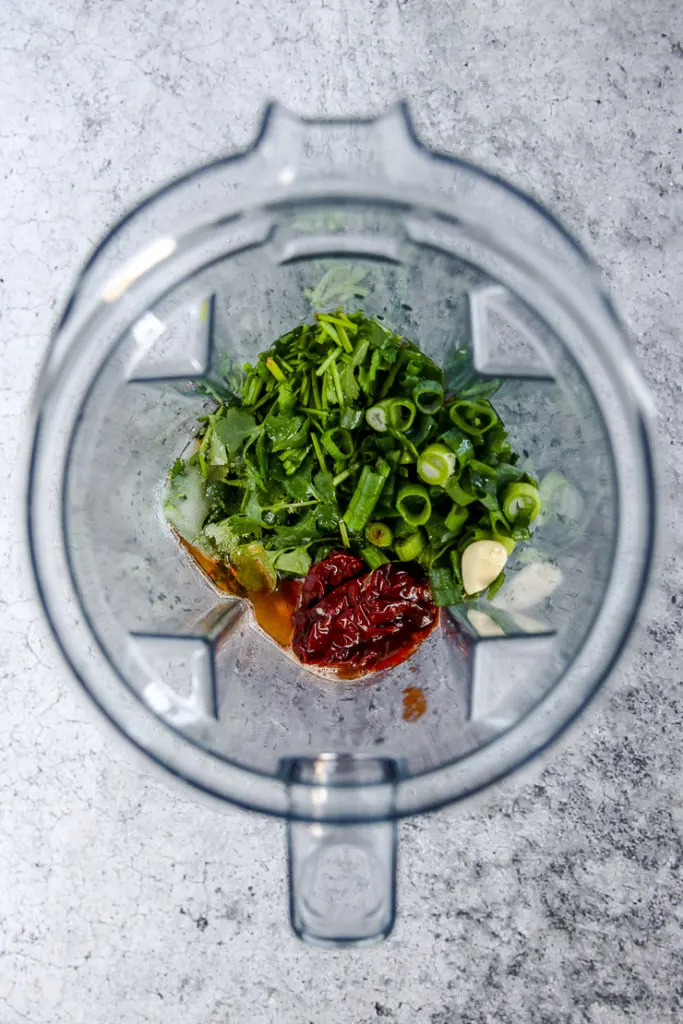 Where can I find chipotle peppers in adobo sauce in the grocery store?
You can usually find canned chipotle peppers in adobo sauce near the Mexican foods in your grocery store. It's usually by the canned goods like green chilies or canned jalapenos.
Is this spicy?
Yes it can be! Chipotles in adobo sauce are around 2,500 to 8,000 Scoville heat units making it about the same spice level of jalapeños.
Cut back on the number of chipotles you want to use if you're looking for a milder spice level, or scrape out any seeds you can from the chipotles.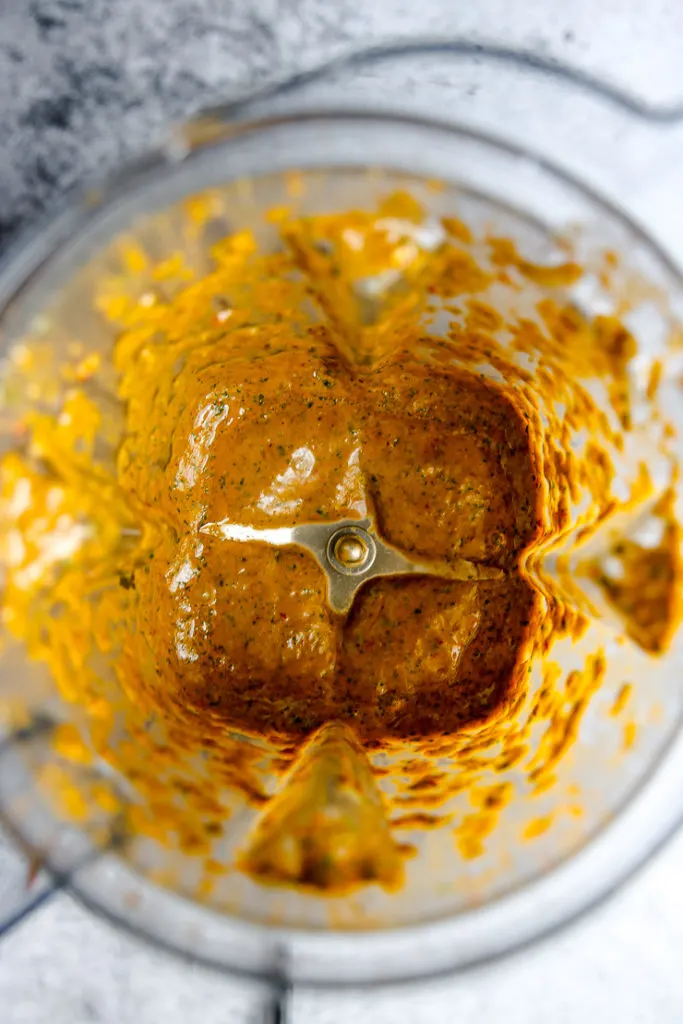 Do I need to use a blender?
You don't necessarily need to use a blender. If you have a food processor, that'd work great as well.
If you don't have either, don't fret! I'd recommend dicing everything as small as you can then combining in a bowl. You may want to whisky quickly to help the olive oil and juices emulsify rather than split.
What can I use chipotle lime sauce on?
This sauce is so versatile! Think of it as a chimichurri inspired sauce, filled with herbs and chipotles to give it a smokey flavor. It would be great to serve with:
It's also great just as a dipping sauce! I've definitely taken my fair share of chips and just dipped them straight into the sauce.
You can also make it a full meal with some Cilantro Lime Cauliflower Rice, Mango Black Bean Salsa, and some Easy Baked Chicken Breast.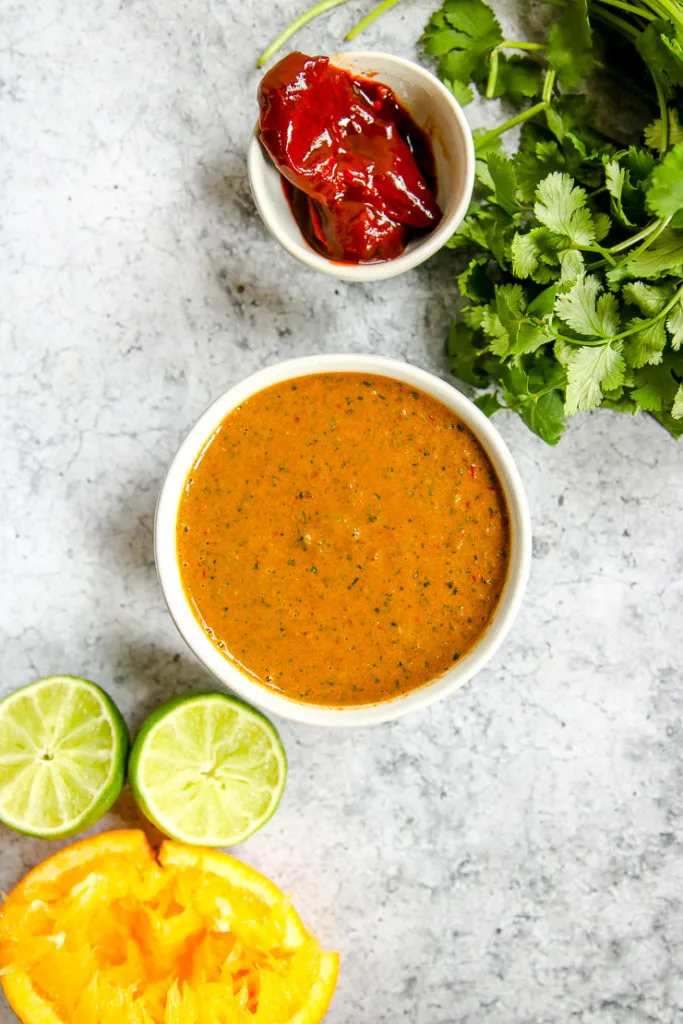 Can I make this sauce creamy?
Definitely! You can mix in some plain greek yogurt or sour cream to make it more like a chipotle lime crema. This will also tone down the heat a bit to make it less spicy.
How do I make chipotle lime sauce from scratch?
Making homemade chipotle lime sauce from scratch is easy! You'll just want to prepare all the ingredients and place them in the blender then blitz them together so it's all combined.
I like to store it in a Mason jar so it has a tight lid, but really any jar with a lid will work.
Have extra chipotle peppers that you're looking to use? Try one of these: