This Roasted Carrot Hummus recipe will be a new family favorite! Use it as an appetizer or side dish to get even more vegetables into your diet.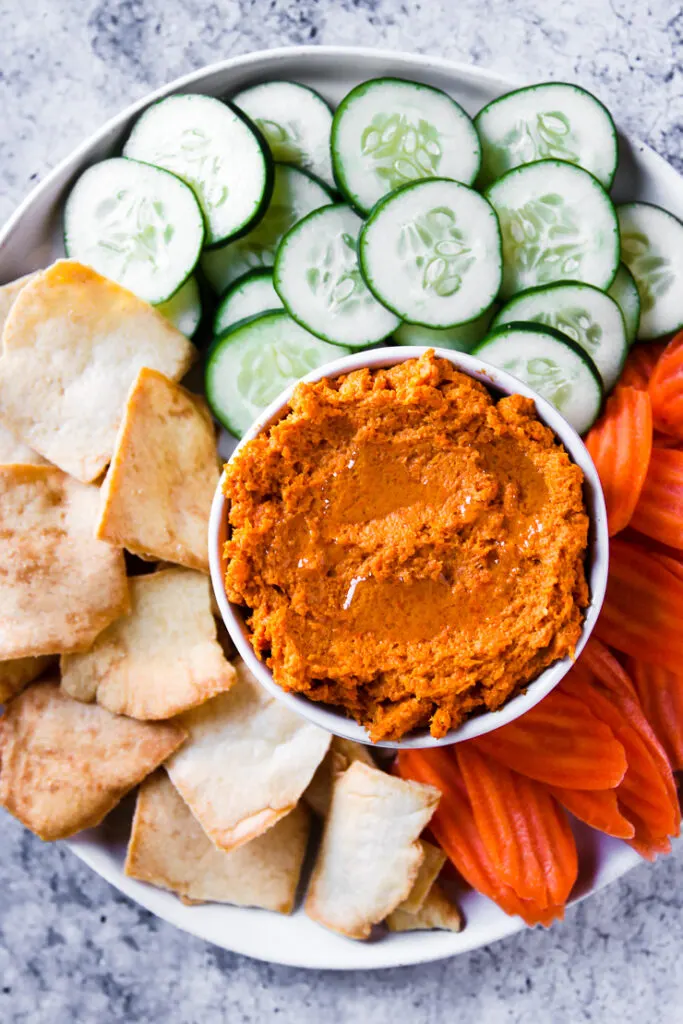 Roasted Carrot Hummus
Dips of all kind go quickly in my household and this Roasted Carrot Hummus was no different. We ended up making it twice in a week because of how much we loved it!
It's got a ton of flavor and we loved that we had extra servings of vegetables with it. The texture may not be as creamy as your traditional hummus, but the flavor won't disappoint.
The Culinary Compass participates in several different affiliate programs. As an Amazon Associate, we earn from qualifying purchases.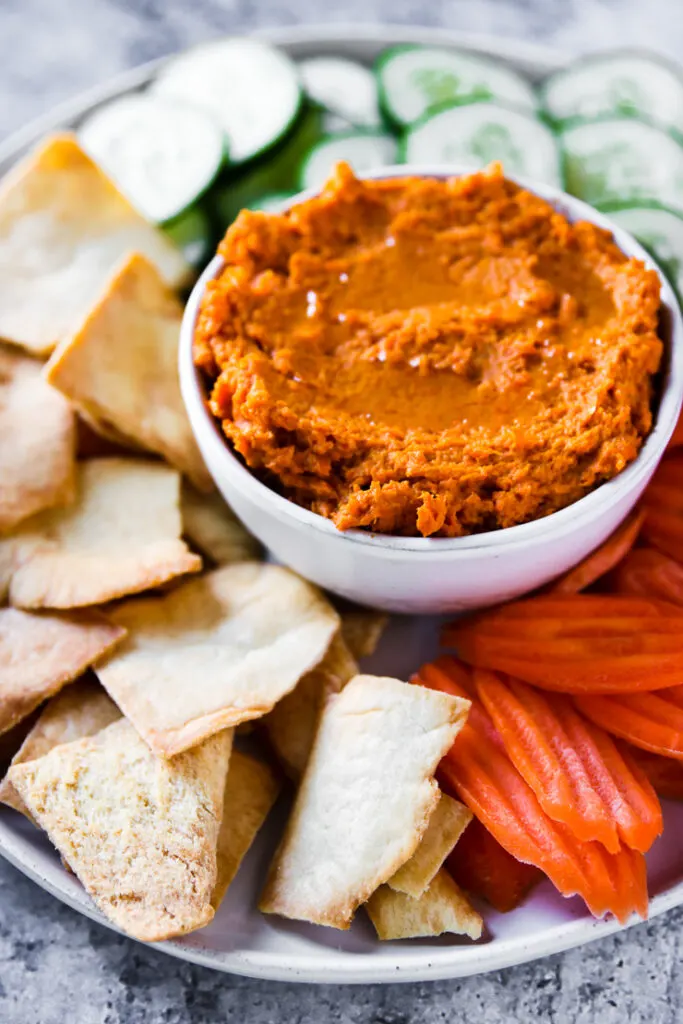 Does this roasted carrot hummus use chickpeas?
It doesn't! Some other recipes call for using chickpeas to help thicken up the hummus and make the texture more creamy, but it can be perfectly creamy and delicious on it's own.
If you want to add some to this recipe to bulk up the amount and add a little extra protein, feel free!
You may need to adjust some of the seasonings to account for the extra ingredients, but it'll definitely be delicious either way.
What ingredients do I need to make carrot hummus?
Here's the list of ingredients you need:
Carrots
Garlic
Olive oil
Tahini
Lemon juice
Cumin
Paprika
Salt and pepper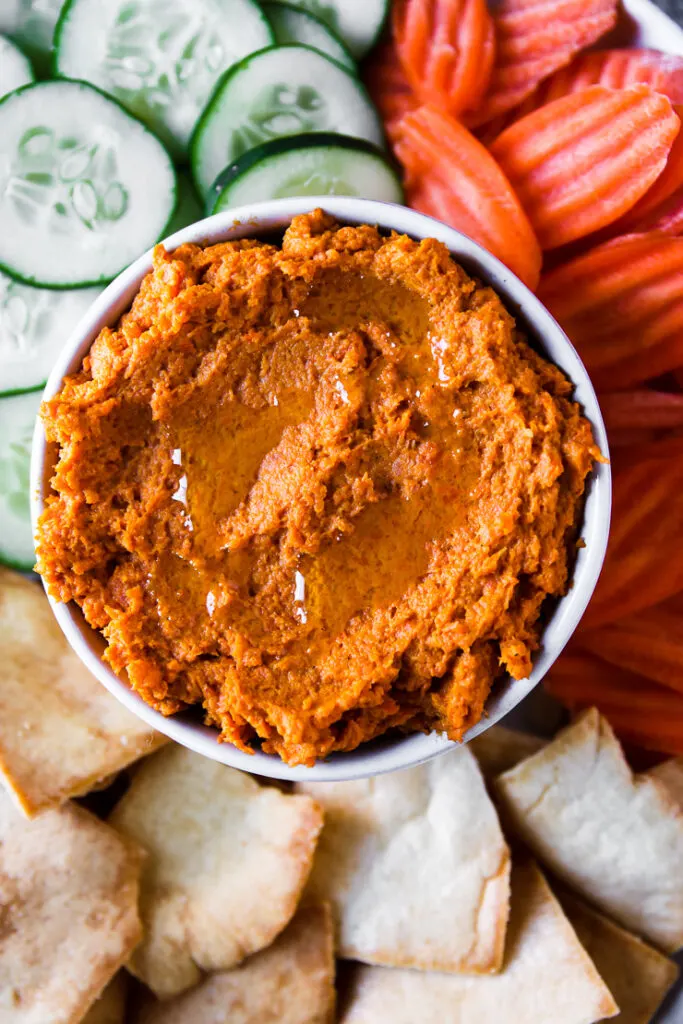 Should I peel the carrots?
Not necessarily, but this one is completely up to you. I lean towards team peeled carrot for this one personally.
Peeled carrots, especially when roasted, tend to have better flavor. They aren't as bitter and overall generally have a better flavor.
Since it is a little extra work, just dicing the carrots and roasting them without peeling them could work as well since it'll cook the peel to be more tender.
Can I use baby carrots?
While you totally could use baby carrots for this hummus, I'd suggest using mature (fully grown? adult? what are carrots called?) carrots for this!
They tend to have a little better flavor which makes the hummus better overall.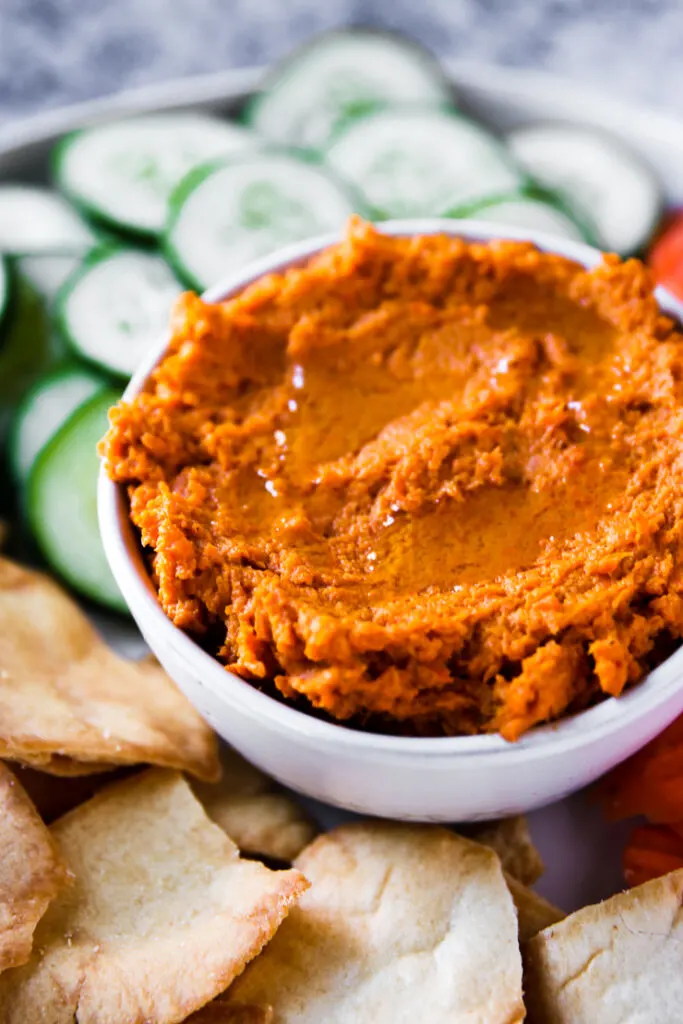 What can I serve this with?
It's just as versatile as regular hummus so I love eating it with veggies or pita chips. It might sound crazy, but eating it with some raw carrot chips was SO good.
You can even use it as a spread on a wrap or sandwich for a little extra flavor.
If you're looking for another unique hummus recipe, try out this Avocado Hummus!
How to Make Roasted Carrot Hummus
It only takes a few steps to make roasted carrot hummus. First thing you'll want to do is to preheat your oven to 400ºF.
Prepare a cookie sheet with aluminum foil for easy clean up. Place your diced carrots and peeled garlic cloves onto the cookie sheet then drizzle olive oil over top of them.
Bake for 30 minutes and flip everything halfway through. Before adding to a food processor or blender, let cool for a few minutes.
Add the cooled carrots and garlic cloves, olive oil, tahini, lemon juice, cumin, paprika, salt, and pepper to your food processor and blend the mixture together.
Be sure to not seal the top all the way if the carrots are still hot to avoid building pressure while it's blending or processing.
If your mixture is still a little thick, try adding in more olive oil or tahini until it reaches your desired texture.
Let cool completely and store in a sealed container in the refrigerator for up to 1 week.
Looking for other dips to enjoy? Try one of these: