This Supremely Spicy Hummus is a delicious copycat recipe of Sabra's. You'll never run out when you can make it yourself!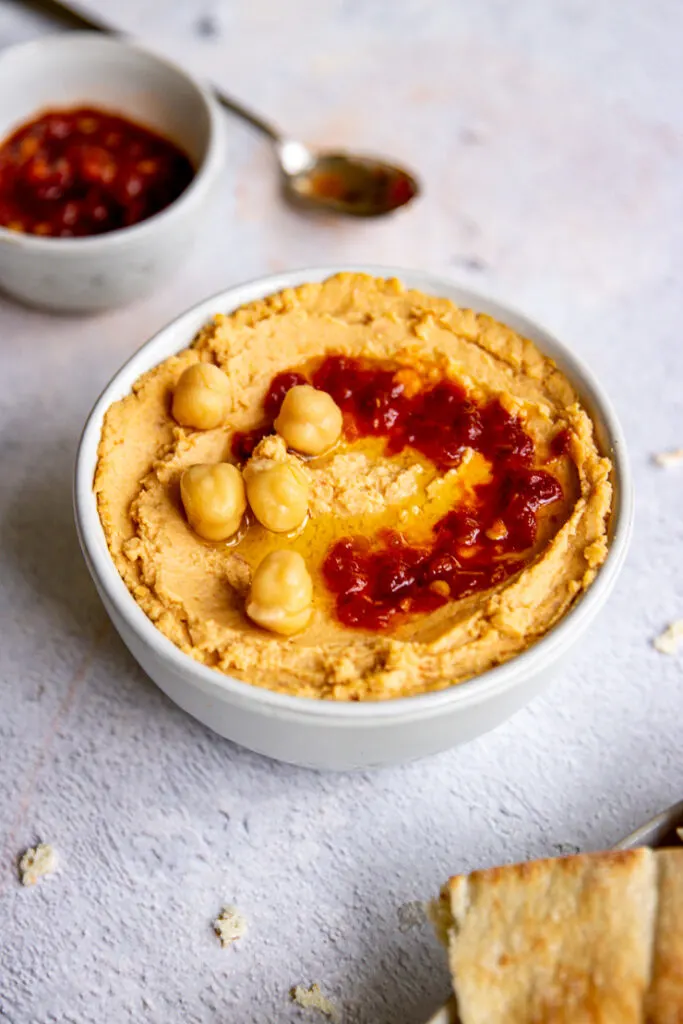 Supremely Spicy Hummus
I am a huge fan of hummus and this homemade Supremely Spicy Hummus is definitely my latest addiction. It's creamy and has heat from the sambal oelek that gives it a great kick. Not spicy enough? Dip from the pool of sambal that you put in the middle to meet your spice needs to test your taste buds.
The blend of peppers, garlic, and spices creates a creamy and spicy snack that you won't get enough of.
If you haven't noticed, I'm on this huge sambal oelek kick right now and I'm just riding this high for now. Please reference these Veggie Spring Rolls with Sweet Chili Sauce, Pork Ramen, or this Snowed In Stir Fry. No shame in my spice game.
If you don't finish the sambal hummus in the first sitting (I have a hard time doing this), the heat builds, making it spicier and spicier each time you go back. I love taking it as a snack for work with some carrots and cut up cucumbers.
My other recent obsession is using it as a spread for a wrap. Sometimes we all need to break from the typical condiments like mayo and mustard. If you love the versions from Sabra, Cava, or even Trader Joe's, you'll love this spicy hummus recipe!
The Culinary Compass participates in several different affiliate programs. As an Amazon Associate, we earn from qualifying purchases.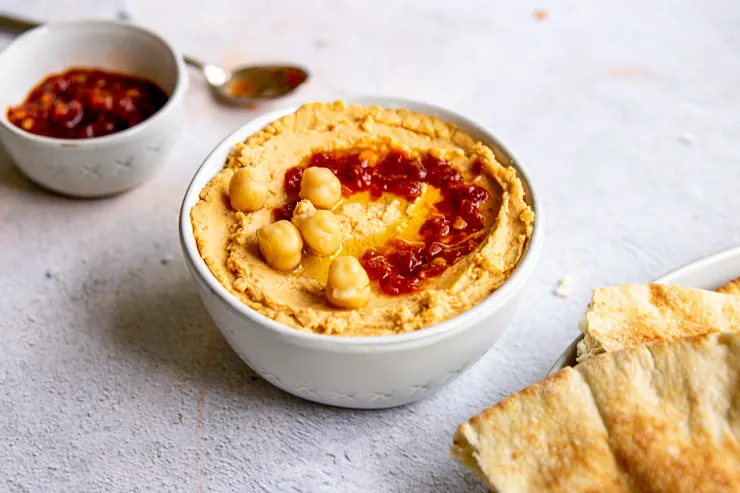 What ingredients do I need for Supremely Spicy Hummus?
Canned chickpeas
Tahini
Lime juice
Garlic
Salt
Sambal oelek
Water
Olive oil
What is sambal oelek?
I definitely recommend that you invest in some sambal if you haven't already. It's different shades red with chili flakes and seeds in it and comes in the small jar with a green top that's usually right next to the Sriracha. I use it on the same things I put Sriracha on… so just about everything.
It's filled with great ingredients like a blend of chili peppers, ginger, rice vinegar, and a blend of spices creating a mouthwatering sauce you won't get enough of. There might be some shrimp paste and fish sauce too, but don't let that scare you! All of the different ingredients give it a few layers of flavor.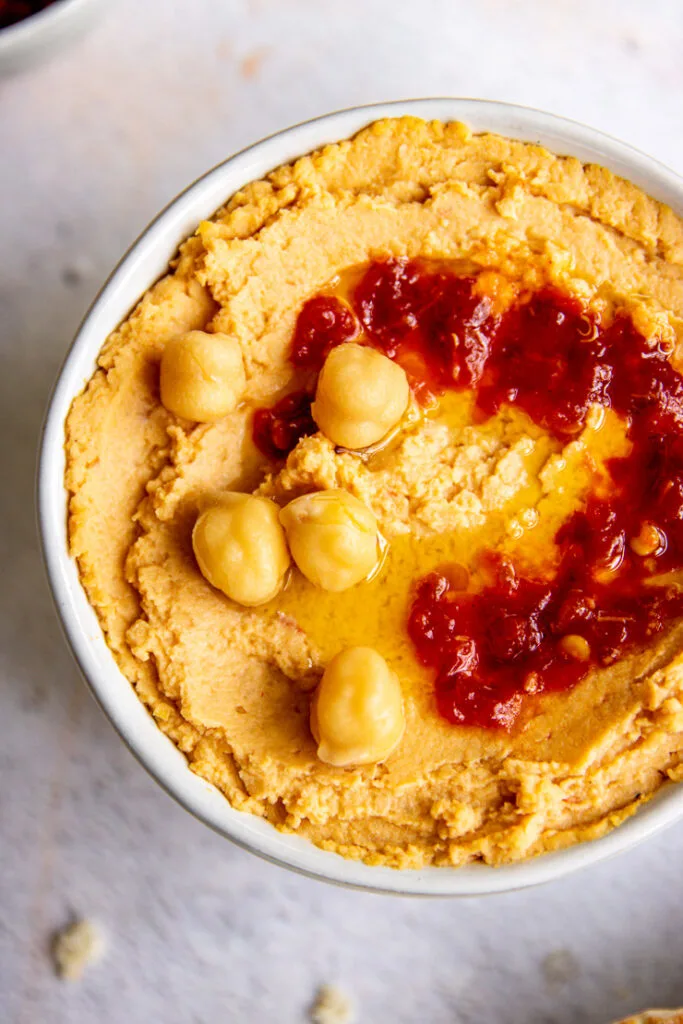 How else can I spice up my hummus?
The amount of sambal in the recipe is enough for heat, not spice. Add more if you want to make the Spice Girls proud and spice up your life! And while I should be embarrassed about a Spice Girl reference… I'm totally not.
If you're looking for other types of heat, try to add a blend of red pepper flakes, cayenne pepper, hot sauce like Cholula or Sriracha, jalapeños or other fresh peppers instead to your classic hummus. Or I guess in addition too if you're into spice!
Do I need to peel the chickpeas?
I know the trend is to shell the chickpeas, but sometimes we don't have time for that. Just throw the can in the food processor with the spices and go to town.
I find that the texture is still nice and creamy as long as you give the food processor enough time, and add olive oil if it's too thick. If you're a big fan of chickpeas and spice, check out these Spicy Garlic Chickpeas.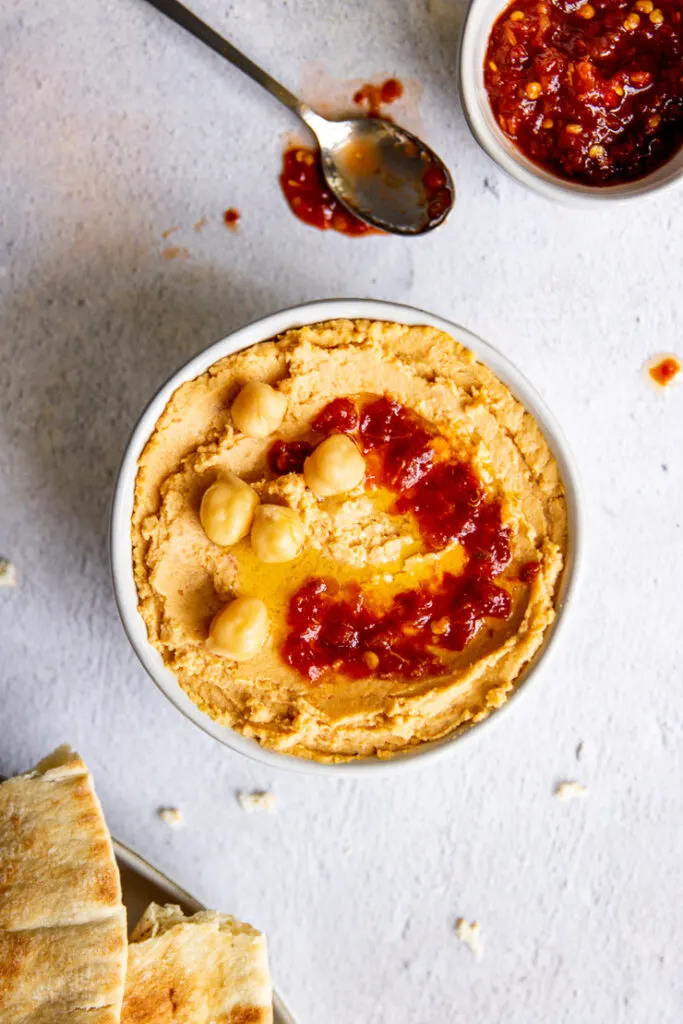 Do I need to use tahini?
Not necessarily, but it gives the hummus a great texture and flavor! If you're not a big fan, or are looking for tahini substitutes, there are actually lots of options.
You'll just want to consider how the taste of the substitute might affect the whole flavor. Using something like a nut butter will definitely add a different flavor, so maybe add a bit more sambal oelek to spice it more. Seed butters would be a great option!
How to make Supremely Spicy Hummus
Combine all of your ingredients into a food processor or high-powered blender until well blended. If the mixture is too thick, slowly pour in more olive oil to help add a more creamy consistency.
Pour into a bowl and top with some extra sambal oelek and olive oil, if you'd like. Serve with some pita chips or cut up vegetables and enjoy!
Check out these original pictures from 2016: