These Veggie Spring Rolls with Sweet Chili Sauce are perfect for the summer! They're light and refreshing with all of the different veggie combinations you could use.
The spring rolls are very easy to adapt to whatever flavors you're feeling. You could even add some cooked shrimp to make it a dinner!
The spring roll wrapper is hard to see, but once you place the veggies in the center of the wrap, it's pretty simple to roll. Just check the gif! Roll up the bottom half of the roll, then pull each side towards the center. Start from the bottom and pull tightly to slow roll up the rest of the roll.
I recommend making sure to pat down any remaining water on the spring roll wraps. They get very sticky, very quickly so working fast is key to making sure the wraps don't tear on whatever surface you're working on.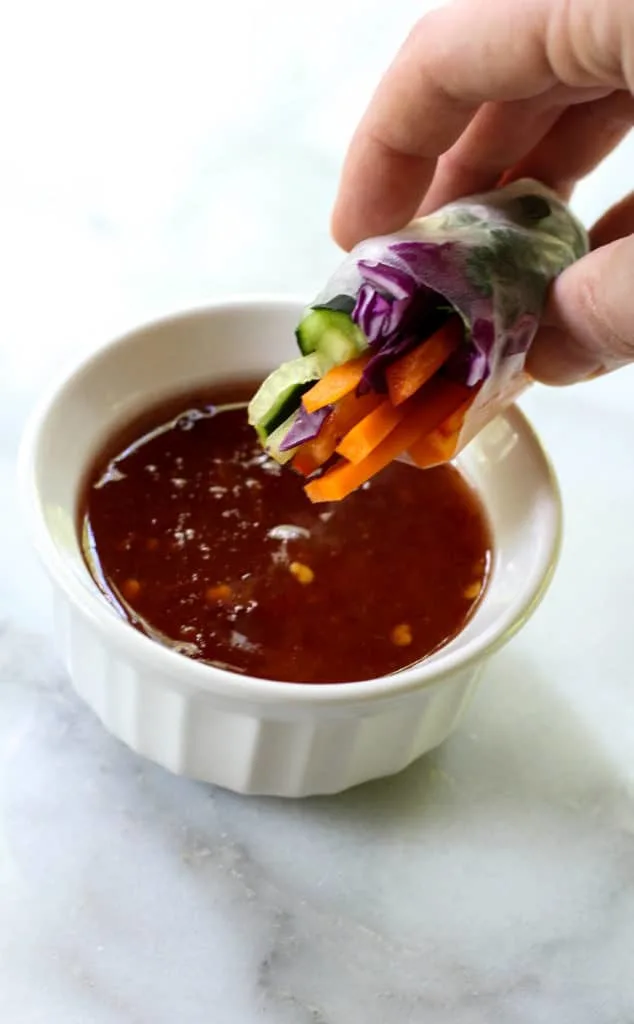 The Sweet Chili Sauce is probably my favorite part of the recipe. I've made it a few times just to use as dipping sauce for other foods! I'll warn you that two tablespoons of sambal oelek makes it pretty spicy so I would cut down to 1 tablespoon to see if that gives you enough heat without being too spicy.
It's a great combination for appetizers or a light lunch. I just cut them in half and serve with the chili sauce for an appetizer. The spring roll wraps are finicky so I would buy an extra pack if it's your first time making them. I also would recommend making them the day of to make sure they don't get to crunchy.