This Roasted Garlic Spread is an easy savory appetizer for any time. You only need a few ingredients to learn how to make roasted garlic spread!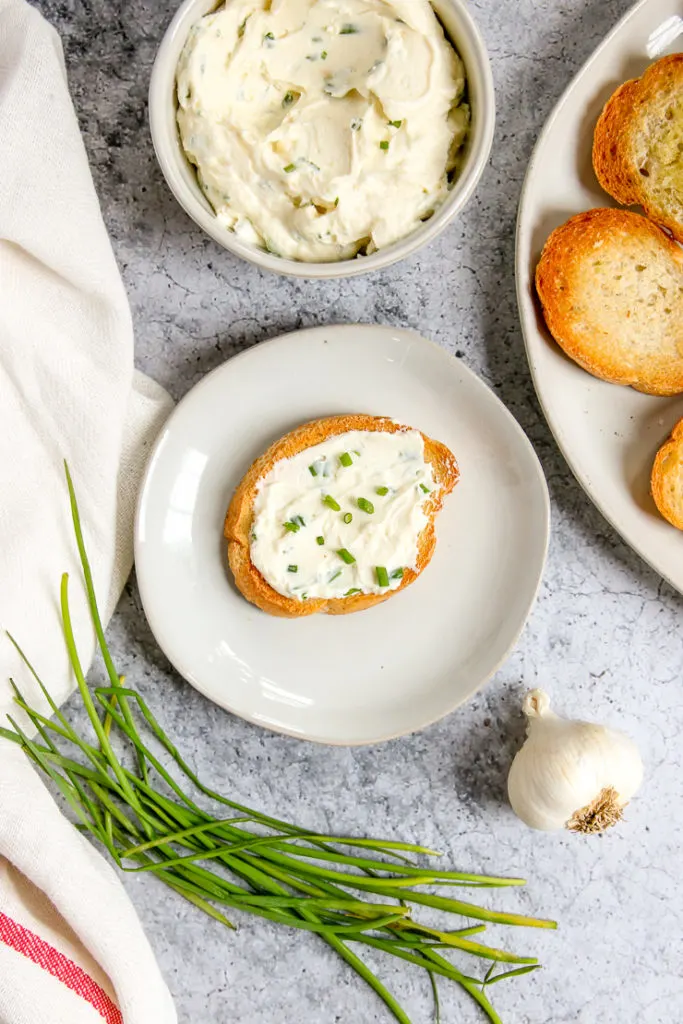 Roasted Garlic Spread
Roasted garlic is such a great flavor that you really can't go wrong with. This spread is full of the roasted garlic flavor and only gets better the next day!
Your friends and family will love when this gets brought out so be sure to save a little extra for yourself.
The Culinary Compass participates in several different affiliate programs. As an Amazon Associate, we earn from qualifying purchases.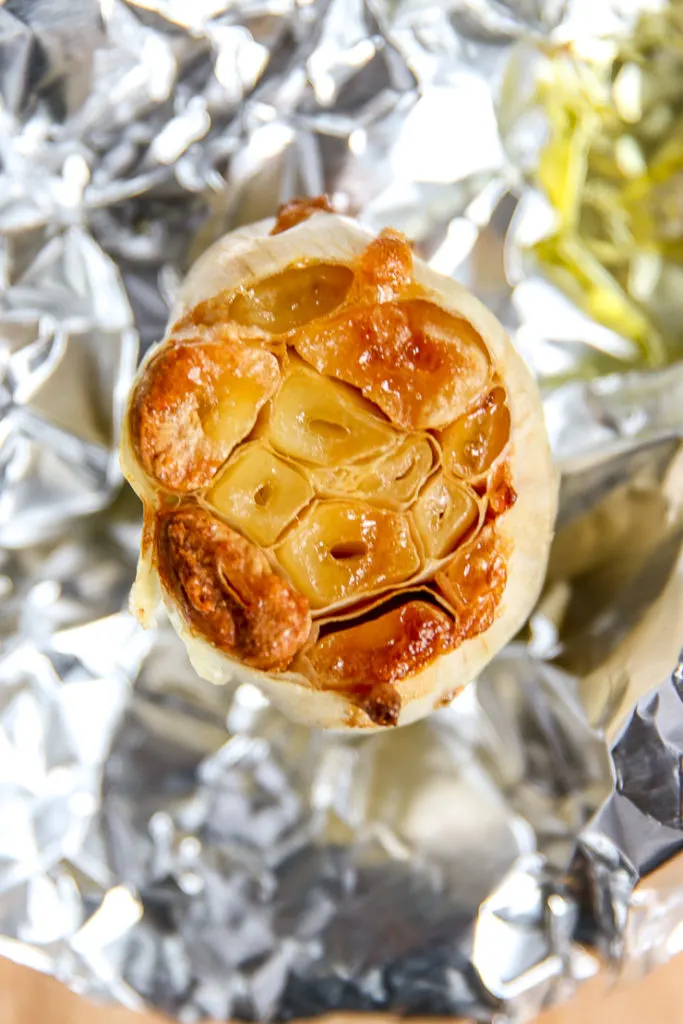 How do you roast garlic?
Roasting garlic is pretty hands off! You mostly just need time once you have it in the oven.
All you'll need to do is cut the very top of the head of garlic so that the edges of each close is exposed. From here, you'll place the head of garlic in the center of a piece of aluminum foil with the root side of the garlic bulbs facing down.
Drizzle a little bit of olive oil over the cut side and wrap up the aluminum foil. Place it in the oven at about 350F and let time do the rest!
After about 45 minutes, you can take it out and check on it. I like to get a little bit of browned bits on top of the garlic cloves so I open the aluminum foil and cook it for just a few more minutes.
The flavors are so worth it!
Is there a way to soften cream cheese or butter quickly?
To soften butter quickly, you can fill a glass measuring cup or bowl like a Pyrex with water and microwave it for a few minutes.
You'll dump out the water and put it upside down on top of the unwrapped and diced butter. It create a gentle heat so it doesn't melt, but softens quickly. Here's a great post on how to soften butter!
To soften cream cheese, there's a few ways to do this, but an easy way is to place the unwrapped cream cheese on a microwaveable plate and microwave for 15-20 seconds and check from there. If it's not quite there, just cook in 10 second increments until it's softened.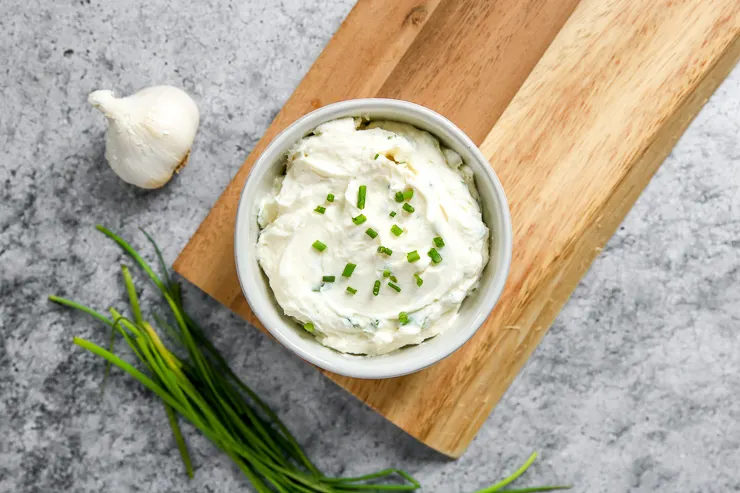 Do I have to use a mixer?
You don't have to use a mixer. You can use a food processor or even a blender.
Just be sure to scrape down the sides of the blender if you use that. It's also more difficult to get from underneath the blades if they aren't removable.
As long as the cream cheese and butter are softened enough you could even beat it by hand.
What can I serve this on?
Garlic Crostini is a perfect option to serve this on! You can prepare slices ahead of time and it'll still hold up it's crunch.
It's also great just to eat with pita chips if you're looking to serve it as a dip.
Either way, if you plan on making it ahead of time, consider letting it come to room temperature before serving since it can thicken up. This will make it easier to dip or spread!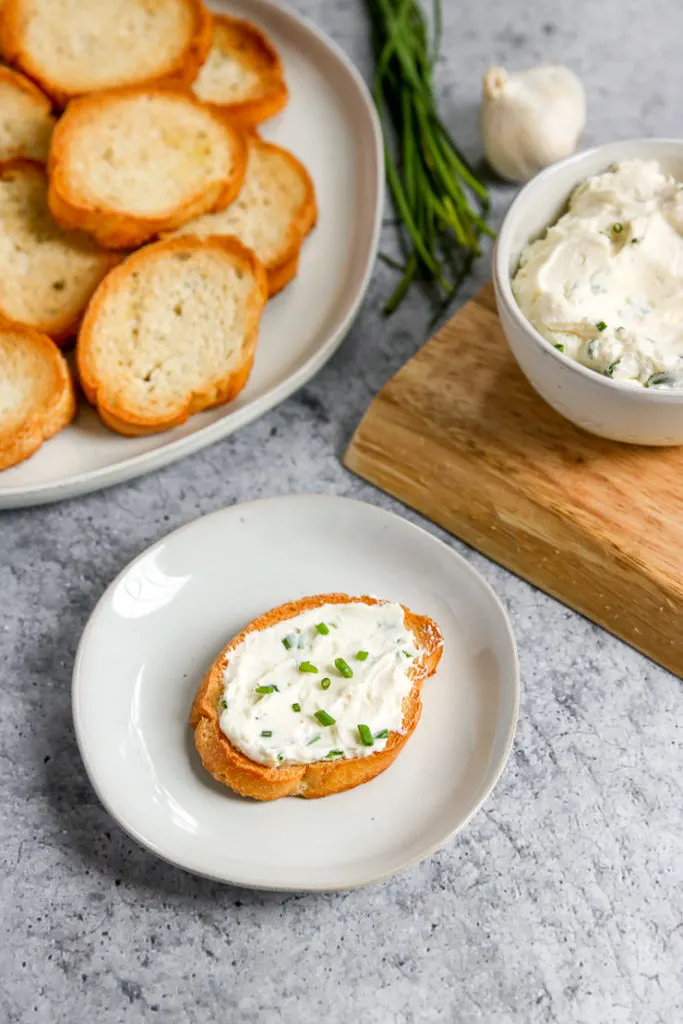 Can I add anything else to the roasted garlic spread?
You can! The spread itself is a great savory base that lends itself well to building on top of or incorporating into.
Adding bacon bits into the dish is a sure fire winner!
Caramelized Onions and Mushrooms or this Bacon Caramelized Onion Crostini would be a great topping too.
Looking for other savory appetizers? Try these: