Caramelized Onions and Mushrooms only take a few ingredients to make, but taste so decadent. They're the perfect topping or even side dish!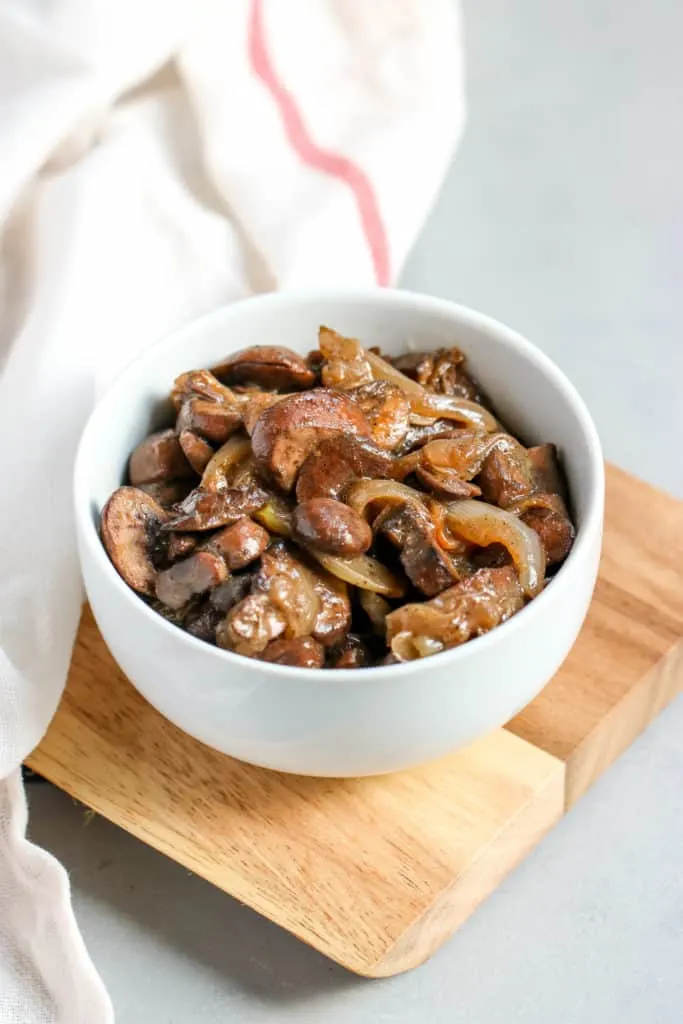 Caramelized Onions and Mushrooms
While these take a little time to cook, it's completely worth it for the earthy flavor that will be added to any dish. It's such a versatile side dish or topping for just about anything.
The combination of butter, onions, and mushrooms will be something you'll want to make weekly! Try adding it to your steak or burger the next time you grill out.
The Culinary Compass participates in several different affiliate programs. As an Amazon Associate, we earn from qualifying purchases.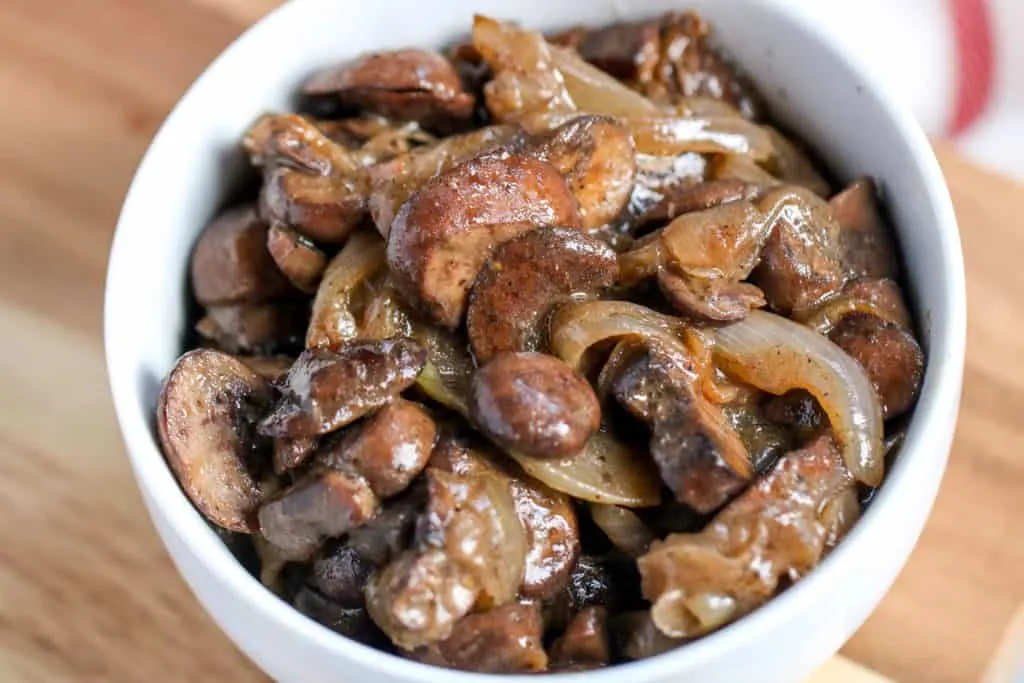 What kind of onions and mushrooms should I use?
Yellow onions are easy to caramelize because of the sugars in it according to The Kitchn. Be sure to not cut them too thin, though, or they may more likely burn. You can also caramelize red onions if you're looking for a different flavor, but those may be to do better on their own.
Baby bella mushrooms are my favorite to use for their deep flavor to start. You can buy them pre sliced, but if you wash them you'll want to make sure they are sufficiently dry before add the mushrooms to the pan.
What kind of pan should I use?
You'll want to use a pan with a large surface area so that it isn't crowded. More space allows for the caramelization process to happen more evenly and for the moisture to escape.
How long does it take to caramelize?
It takes longer than you'd think! I'd allot around 40 – 60 minutes to caramelize the onions and mushrooms. You want to do it over a low heat so that it doesn't burn while also stirring occasionally to ensure that the cooking process is even.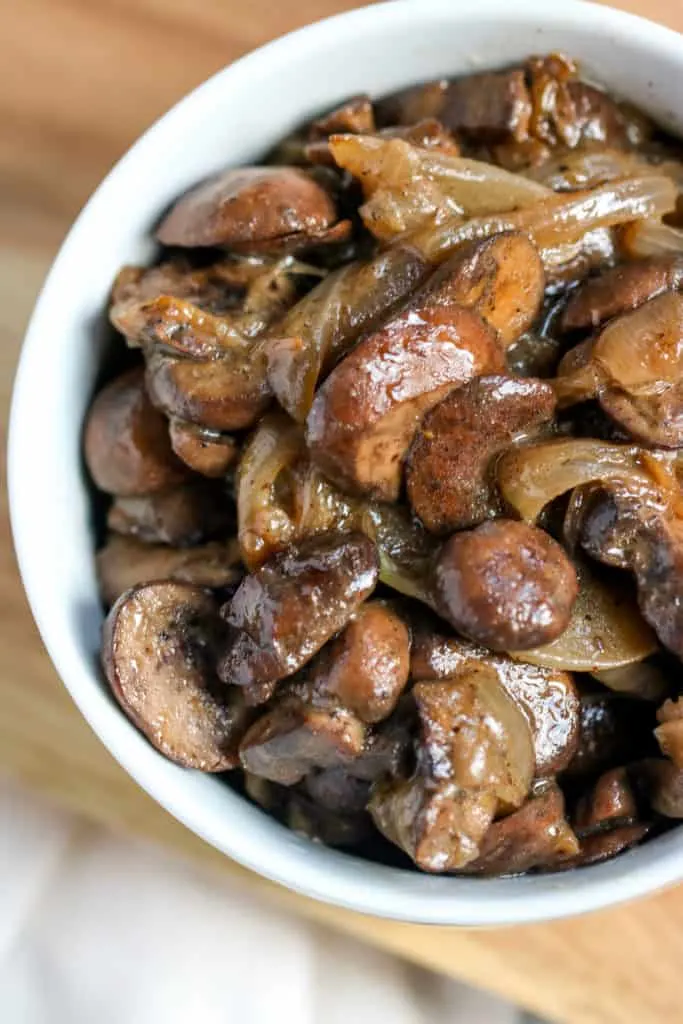 Should I cover the pan?
You don't want to cover the pan while they are caramelizing as it will trap in the liquid that you're looking to cook out of the mushrooms especially. If there is too much liquid, it won't get the browned edges that you're looking for.
Can you refrigerate sautéed onions and mushrooms?
If you put these in a tightly sealed container, they can last 3-5 days in the refrigerator. I usually go through them much more quickly, but it is something you can make ahead of time if you know you need it for a dish later in the week!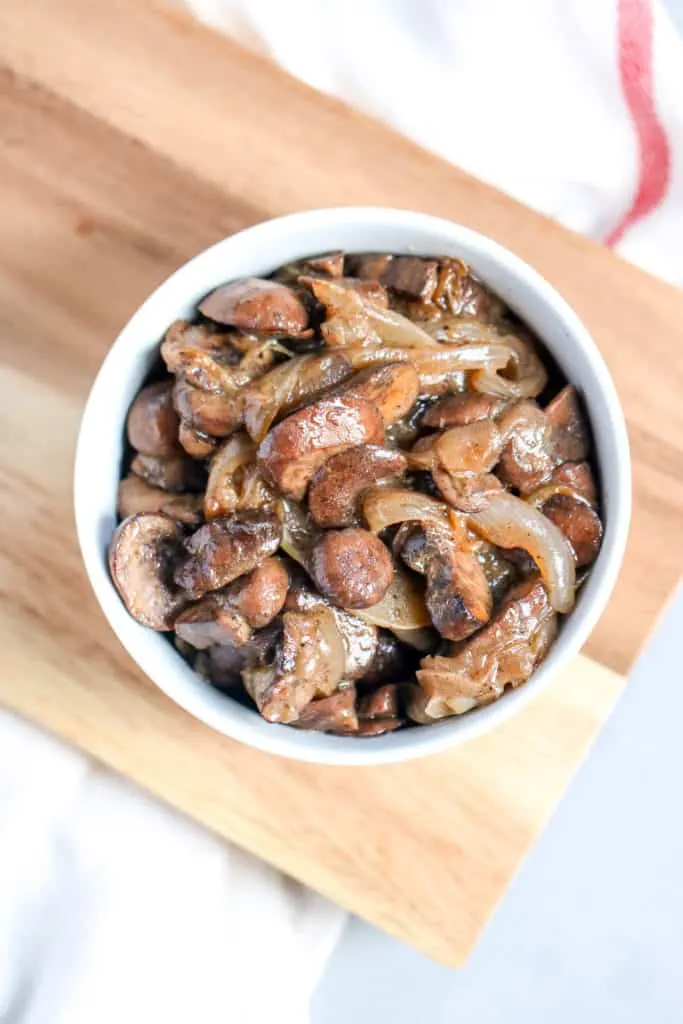 What can I serve these with?
Just about anything you can think of! This caramelized onions and mushrooms recipe is so versatile that it can go with steak, burgers, pizza, chicken, grain bowls, or really any dish you'd love to add a savory pop to.
Here are a few of my favorites that these work great with: