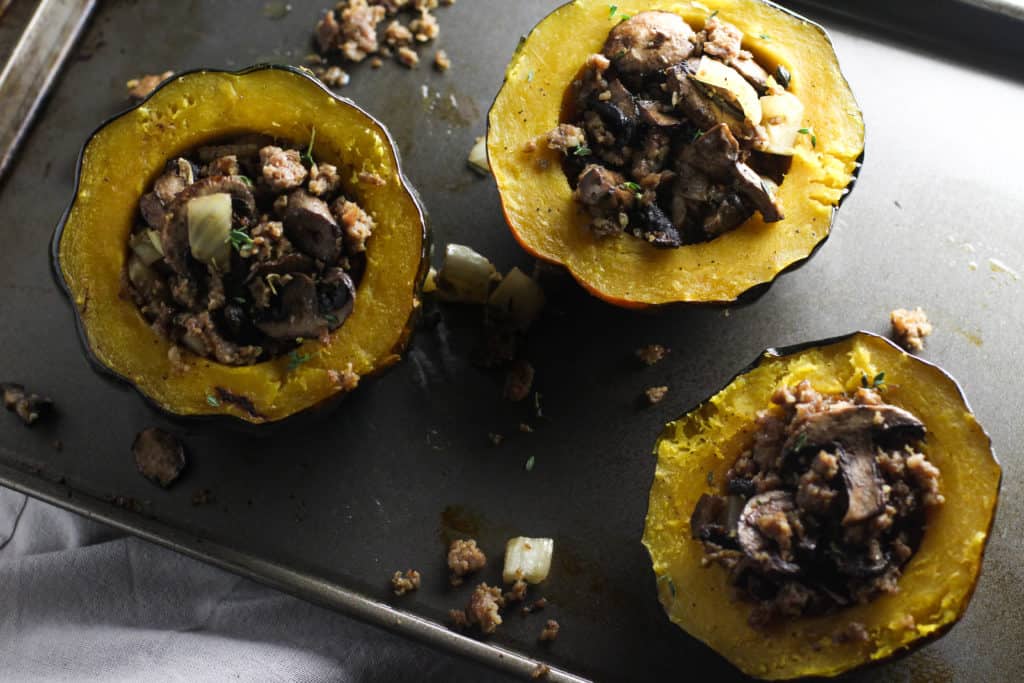 I just need to get something out. I LOVE FALL. Obviously sounds super basic of me, but I'm embracing it with open arms. The minute there was a hint of chill in the air I was alllll about the fall flavors, boots, and pumpkin all the things.
This Roasted Acorn Squash with Sausage, Fennel, and Mushrooms has been on my mind since half way through the summer as I was melting in the heat dreaming of warmer days. Thank goodness I was finally able to make it because it was unreal.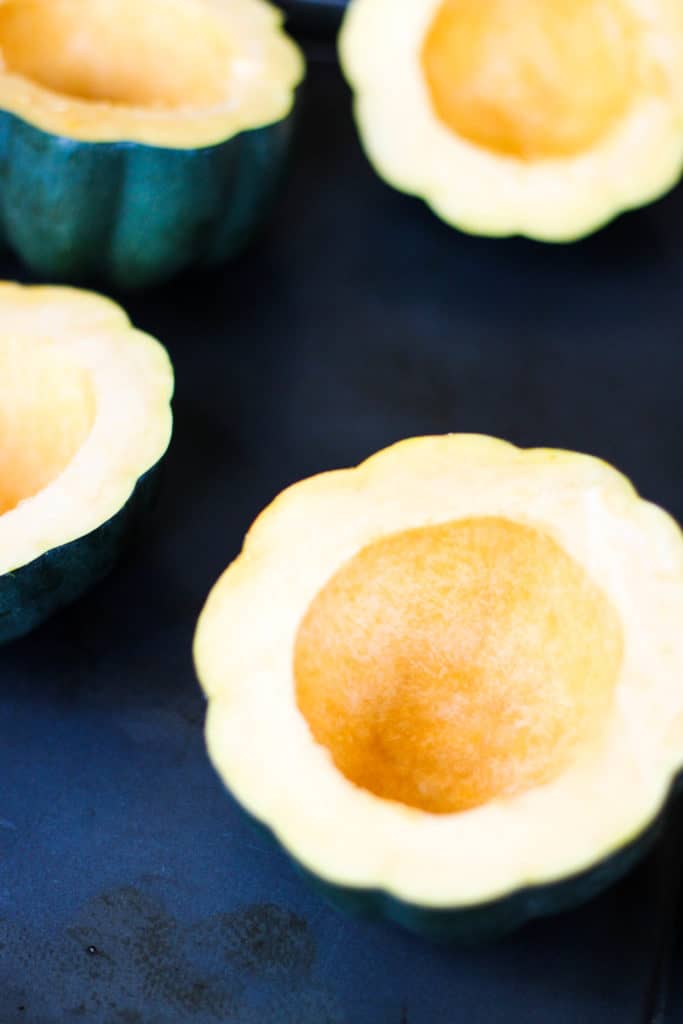 I remember as a kid my mom would roast acorn squash and it was like next on the list next to canned spinach as being one of my least favorite things ever. It just looked scary and kinda smelled funky.
If only future Sam could've told past Sam to get over your fears of acorn squash because it's amazing and get over it. I will say that canned spinach is still pretty gross to me…. Sorry Popeye.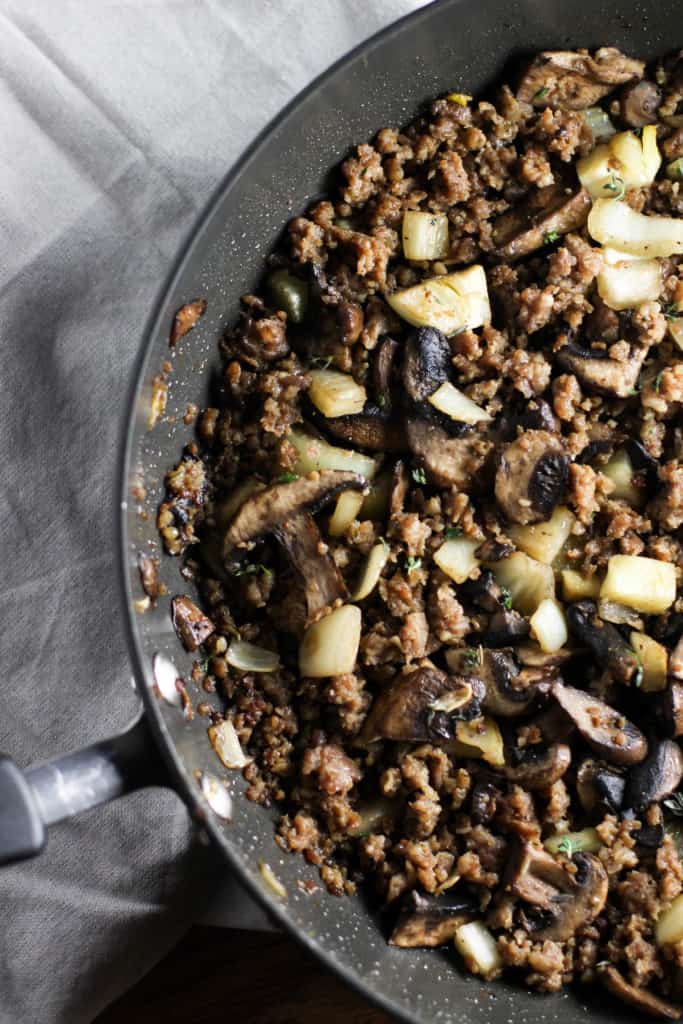 Fennel is recently new-to-me and thank goodness I found it. I think I'm one of the few people who really dig anise flavors so this was right up my alley. Pairing that with the earthy mushrooms and sausage was probably one of my better ideas recently.
I would happily eat this mixture by itself. I added a little thyme just to make it even more Fall-y so feel free to go crazy with some sage or rosemary too! There ends up being a little more than what will fit in the squash halves so I just served an extra spoonful in the bowls. A little bit for every bite makes a difference.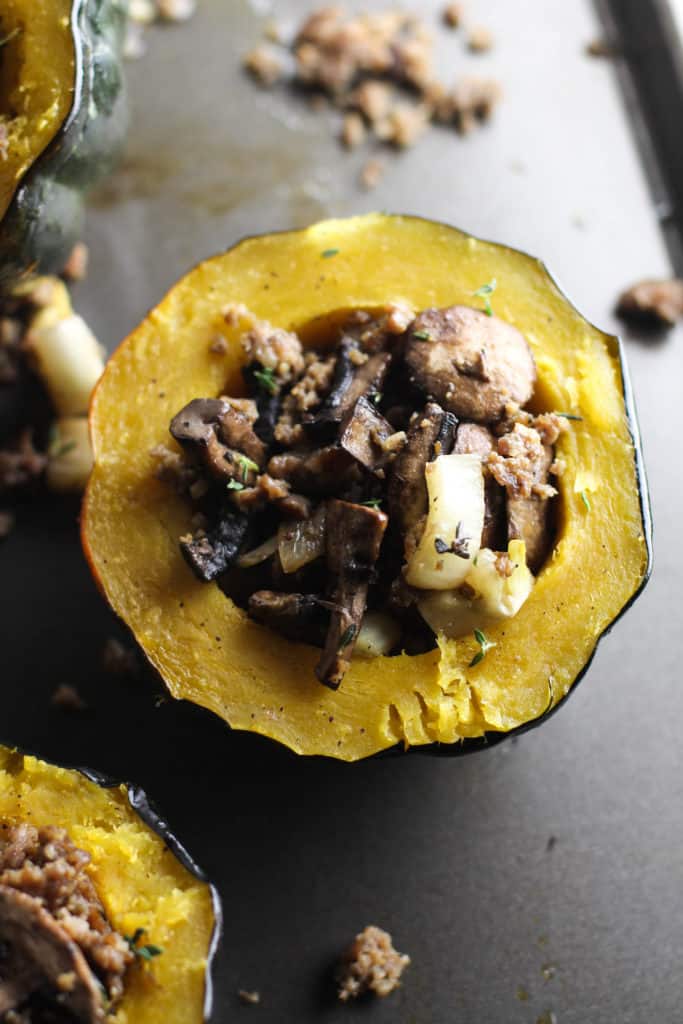 But real talk. Make these the next time you're feeling that you need some fall flavors in your life.
And do yourself a favor and make sure you are patient and cook the squash all the way through. Totally not talking from personal experience.. I was just so excited!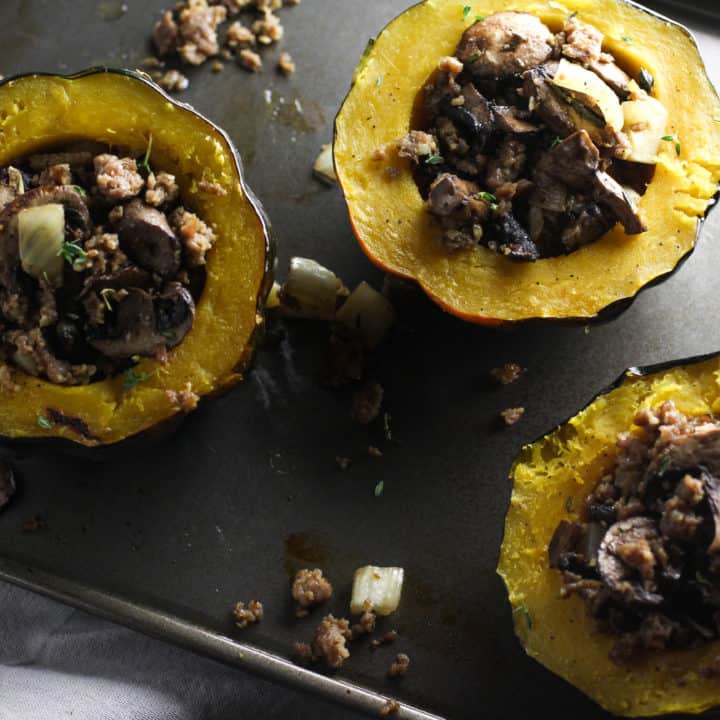 Roasted Acorn Squash with Sausage, Fennel, and Mushrooms
Yield: 4 servings

Prep Time: 10 minutes

Cook Time: 1 hour

Total Time: 1 hour 10 minutes

This Roasted Acorn Squash with Sausage, Fennel, and Mushrooms is an easy dish with warm fall flavors!
Ingredients
2 acorn squash, cut in half with seeds removed
salt, pepper, and olive oil to taste
16 oz sausage
1 tbsp butter
1.5 cups of fennel, roughly chopped (about 1/2 bulb)
8 oz sliced baby bella mushrooms
1 tsp thyme
1/2 tsp salt
1/4 tsp pepper
Instructions
Preheat oven to 375F. Place seeded acorn squash halves on a cookie sheet. Sprinkle with salt, pepper, and olive oil. Rub to make sure all of the flesh is covered. Place flat side down and roast until tender about 45-60 minutes.
While acorn squash is cooking, in a skillet cook sausage until cooked through and no pink is seen. Remove sausage and set aside.
In the same skillet, add butter, fennel, mushrooms, thyme, salt, and pepper. Cook until fennel and mushrooms are fork tender, about 8-10 minutes. Add in sausage and mix together.
Once acorn squash is cooked through, spoon in some of the sausage mixture to each. Spoon some of the extra on the side, serve, and enjoy!