This curried Butternut Squash Soup with Coconut Milk is the perfect cozy fall soup. The spices and hint of coconut flavor bring new life to a classic!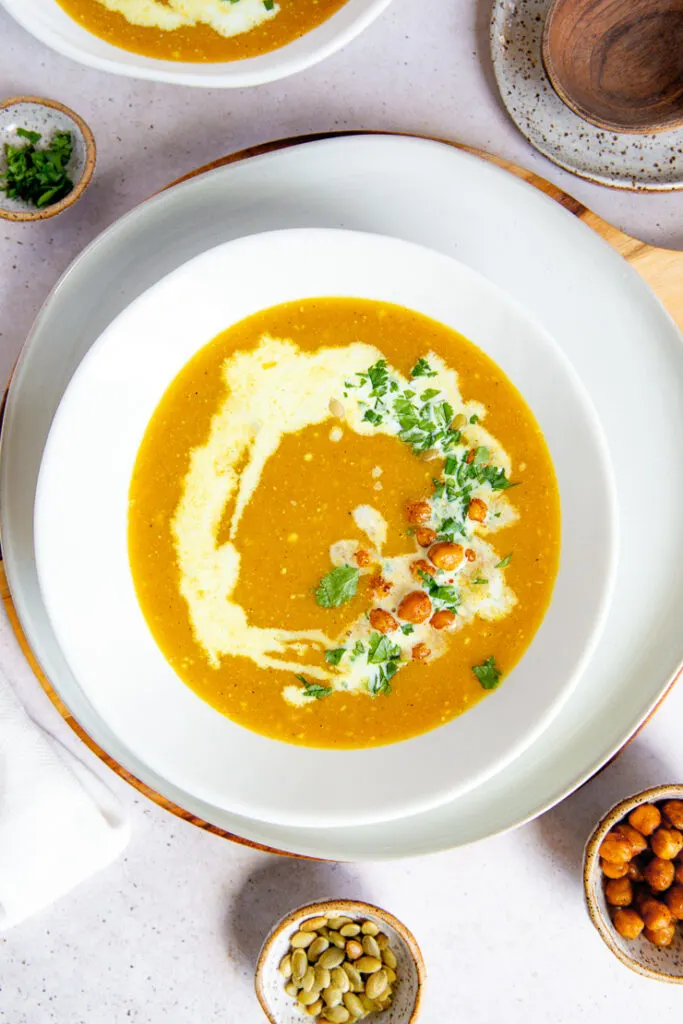 Butternut Squash Soup with Coconut Milk
Fall is upon us which is prime soup season! There isn't much better than some soup when the air is crisp and the leaves turn colors.
Roasted butternut squash soup is one of my favorites and this vegan version might be my new favorite. The addition of coconut milk and warming spices like curry powder, cumin, cinnamon, and cayenne pepper make it even cozier!
Fall squash season is always something to look forward to. Be sure to check out this Roasted Butternut Squash and Kale Salad or this Roasted Acorn Squash with Sausage, Fennel, and Mushrooms.
The Culinary Compass participates in several different affiliate programs. As an Amazon Associate, we earn from qualifying purchases.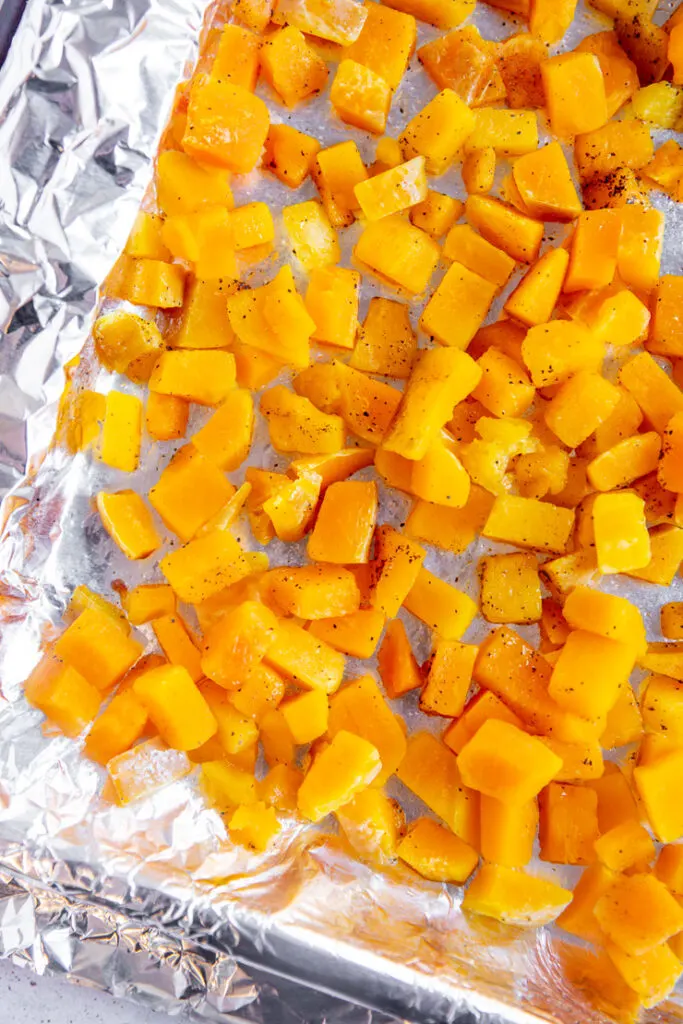 Butternut Squash Soup with Coconut Milk Ingredients
You'll need a few ingredients to make this butternut squash soup:
Butternut squash
Olive oil
Salt and pepper
Yellow onion
Garlic
Curry powder
Cumin
Cinnamon
Cayenne pepper
Vegetable broth
Applesauce
Canned coconut milk
Brown sugar
Ingredient Substitution and Additions
If you don't have vegetable broth, you can use water or even chicken broth if you're not trying to keep it vegan.
If you want to add even more warmth and brightness to the dish to give it a Thai-inspired kick, try adding a bit of lime juice and fresh ginger.
Butternut Squash Soup Toppings
Roasted chickpeas
Cilantro
Pepitas or roasted pumpkin seeds
Coconut milk
Crusty bread or croutons
Chopped pecans or walnuts
Butternut Squash Soup FAQs
Can I use frozen butternut squash to make the soup?

You can! Frozen butternut squash may not make it as thick as fresh squash might, but the flavors will still be great.

You also can save a lot of time without needing to peel and cut the squash yourself. It's also a great option when you might find yourself craving soup with butternut squash is out of season!
Can I make roasted butternut squash soup ahead of time?

Definitely. It's a great option to make ahead of time when you're thinking about your Thanksgiving menu to keep the stove top and oven free for other dishes.

You could reheat it in a pot, in a crockpot to keep warm, or even in the microwave if you're tight on space.

Another option you have is to make just the roasted butternut squash ahead of time to save some oven time. You'll just want to simmer the soup a bit longer when you bring it all together to ensure that it's warm.
Can I freeze the soup?

Absolutely! It's a perfect soup to store for later. You can flatten it out in a gallon bag to save space, or use something like a Pyrex with a snaplid for easy reheating later.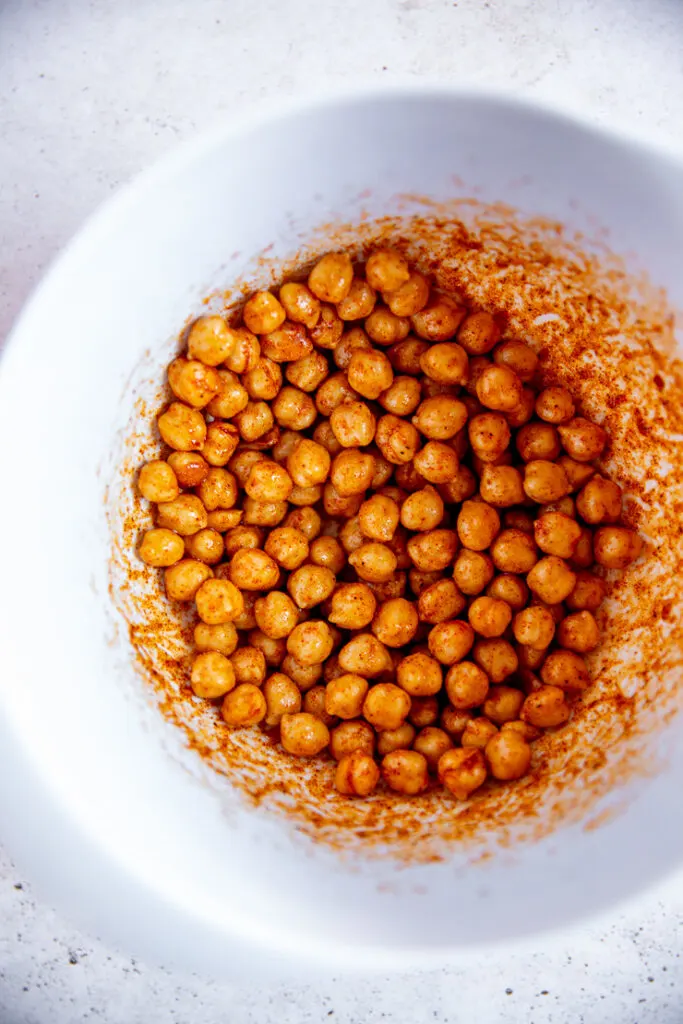 I'm excited to join back up with my friends over at the Freaky Friday blog hop where we get to make recipes from another one of the blogger's site. It's all a surprise until Friday morning where everyone gets to see the fun recipes we've all made.
Michaela from An Affair from the Heart continues to do an amazing job coordinating the whole blog hop and has created such a fun experience for everyone involved. It's definitely one of my favorite blogger events I've gotten to take part in!

This fall event I got Susan from The Wimpy Vegetarian! She's tapped into her culinary school training to develop amazing flavors in her vegetarian dishes. They're enough to convince her husband (and me!) that eating vegetarian can be delicious! I love how she bridges the gap between vegetarian and omnivores.
As someone who has been dipping my toe into eating more plant based meals, I absolutely loved her 10 Beginner's Tips for Going Vegetarian! The roasted chickpeas in this dish are delicious so I can't wait to try her Foolproof Cooked Chickpeas. These Sweet Potato and Chickpea Curry and Stuffed Delicata Squash recipes are printed and ready for fall, too!
See all of our 2022 Freaky Friday Fall Edition Recipes
Hosted by –
An Affair from the Heart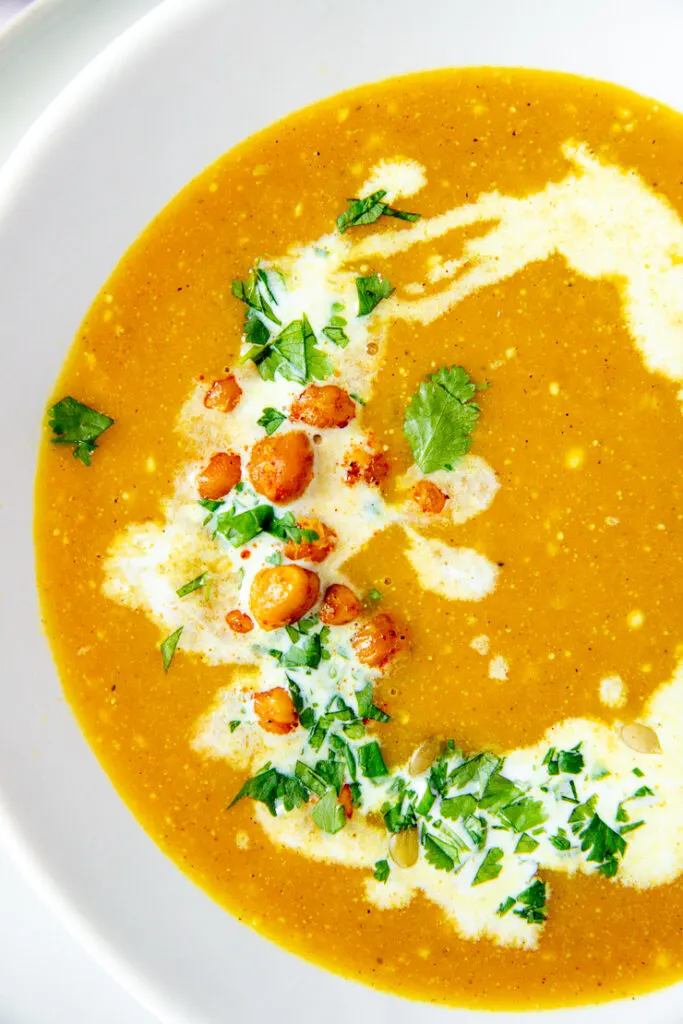 What to Serve with Butternut Squash Soup
Butternut squash soup makes a perfect addition to your Thanksgiving dinner menu so be sure to try pairing it with one or more of the following side dishes.
How to make Butternut Squash Soup with Coconut Milk
Preheat your oven to 425˚F and prepare a cookie or baking sheet with aluminum foil then place cubed butternut squash cubes on it in an even layer.
Drizzle 1 tablespoon of the oil, some of the kosher salt and pepper on top and toss to coat. Roast the squash for 25 minutes, or until tender and slightly caramelized on the edges.
Heat your remaining oil in a large pot over medium heat. Add the onion and sauté for 3-5 minutes until it's fragrant and softened a bit. Add the roughly chopped garlic and cook another 1-2 minutes.
Pour in the spices and remaining salt then stir it all together to ensure everything is combined and let cook for a few more minutes. Carefully dd the roasted squash, vegetable broth, and apple sauce. Bring to a simmer and let simmer for 3-4 minutes.
Using a blender, immersion blender, or food processor, puree the mixture. Depending on the size of your tool, you may need to do it in batches.
Add the pureed soup to the pot then stir in the coconut milk and brown sugar. To serve, add your toppings of choice and enjoy!