These Loaded Scalloped Potatoes are a decadent side dish your family will love. They're fully loaded with extra cheese and bacon so you know it's good.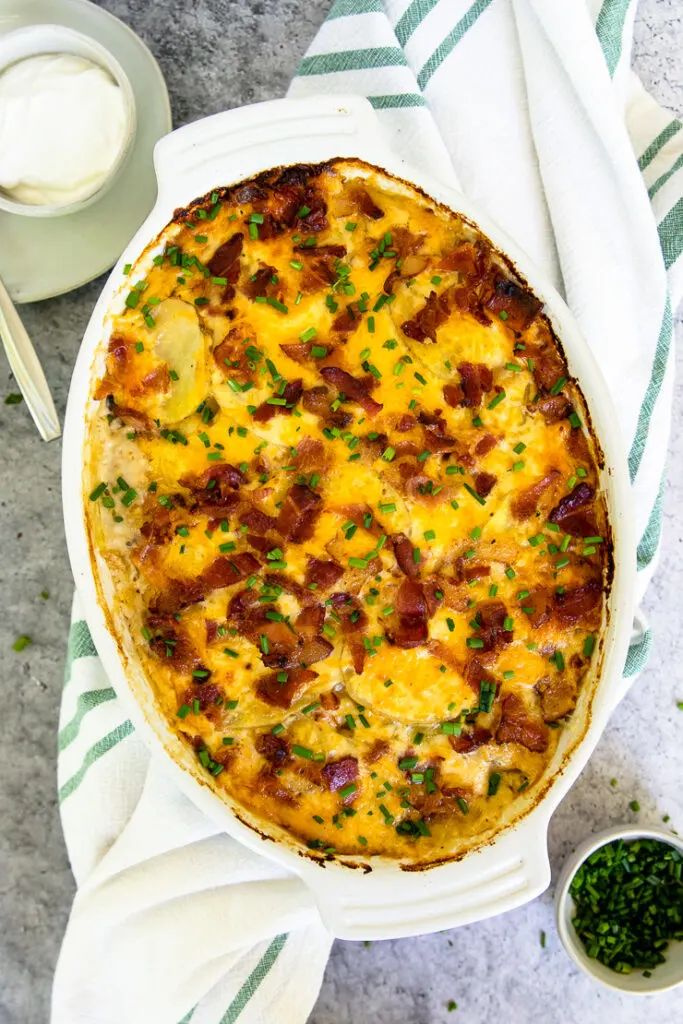 Loaded Scalloped Potatoes
If you're looking for a new family favorite, this Loaded Scalloped Potatoes recipe is one you'll keep around for years! It's got all of the goodness of loaded baked potatoes and the creamy bites of au gratin potatoes.
While it takes a little extra work, the flavors are unmatched and you'll never want to make it from a box again.
The Culinary Compass participates in several different affiliate programs. As an Amazon Associate, we earn from qualifying purchases.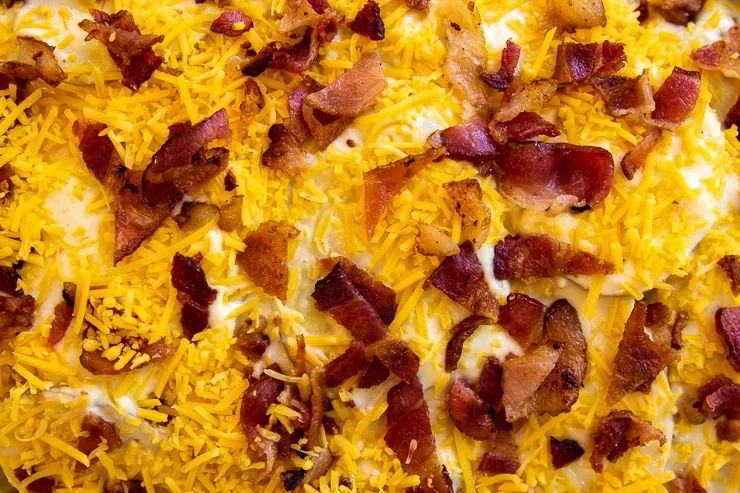 What is the difference between scalloped potatoes and au gratin potatoes?
Scalloped potatoes and au gratin potatoes are both delicious, sliced layered potato side dishes, but there's actually a slight difference in how each are prepared!
Scalloped potatoes are traditionally baked in a cream sauce so the potatoes can soak up all of the delicious flavors while baking. Some recipes don't include cheese, but what loaded potato wouldn't?
Au gratin potatoes usually include cheese and breadcrumbs to top the whole dish. Often, the potato slices are layered with cheese and topped with a cream sauce. It sounds like loaded au gratin potatoes would be delicious!
What ingredients do I need to make Loaded Scalloped Potatoes?
You'll just need a few ingredients:
Bacon
Flour
Milk
Shredded cheddar cheese
Salt and pepper
Yukon Gold potatoes
Sour cream
Diced chives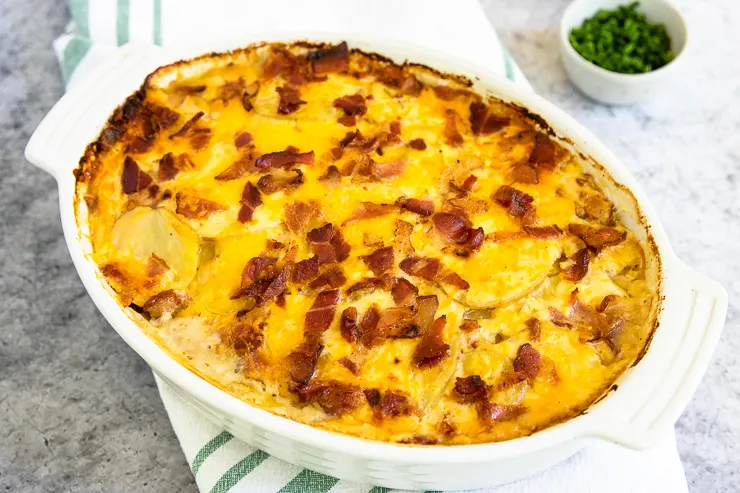 What type of potatoes should I use?
Yukon Gold or Russet potatoes are both great options for scalloped potatoes. Both are hearty enough to hold up against the cream sauce and absorb those flavors. They are both also bake really well so they end up nice and tender.
If you're looking for other great potato side dish options, these Twice Baked Sweet Potatoes, Creamy Garlic Mashed Potatoes, or Red Skin Mashed Potatoes are all great options!
Can I use a box of scalloped potatoes?
Yes and no. Using just the potatoes in this recipe may not work as well since you wouldn't precook them as you would in the box mix.
However, you could follow the boxed scalloped potato recipe as it stands and use the loaded filling to doctor up the mix a little bit more! Adding in some chopped bacon and cheese is always a good idea. Just add some extra sour cream and chives to top it and you've got a quick version ready to go!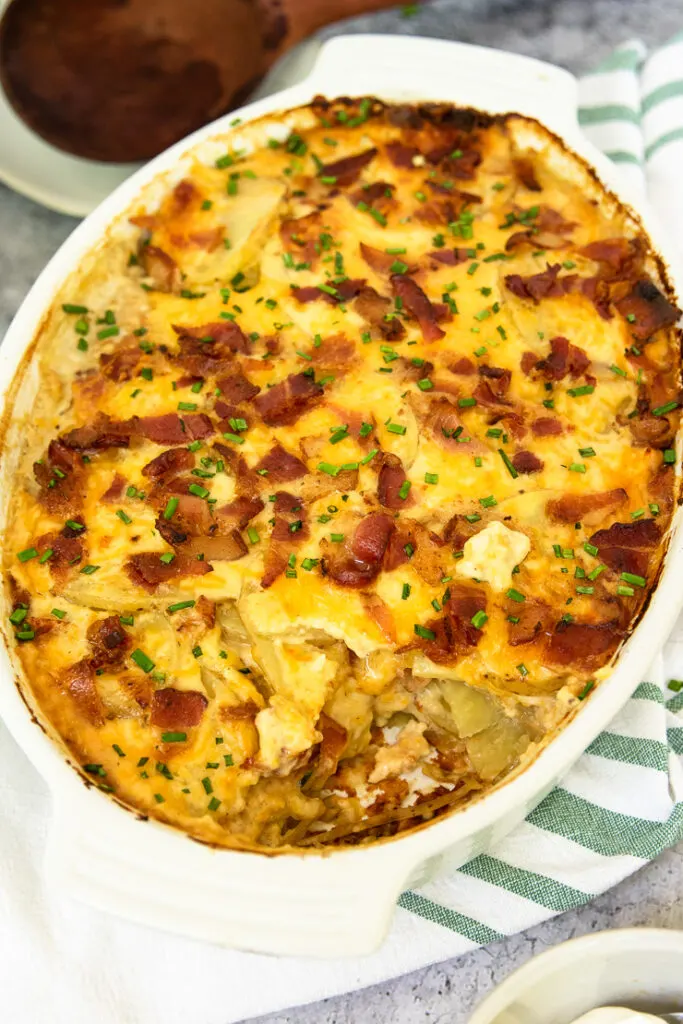 How should I slice the potatoes?
In order to get the potatoes as thin as possible, I like to use a mandoline slicer. They can be super dangerous (speaking from experience) so be careful when using them!
Use the provided guard to help save your knuckles. In terms of thickness, you'll want to aim for around 1/8″ slices. Keeping them as thin as possible will make sure that each piece is cooked through and can absorb more of the flavors around it.
Thicker slices can work as well, but you may need to add on more baking time to make sure they are fork tender. Another option with thicker slices is to boil them in salted water for a few minutes to precook them by parboiling them.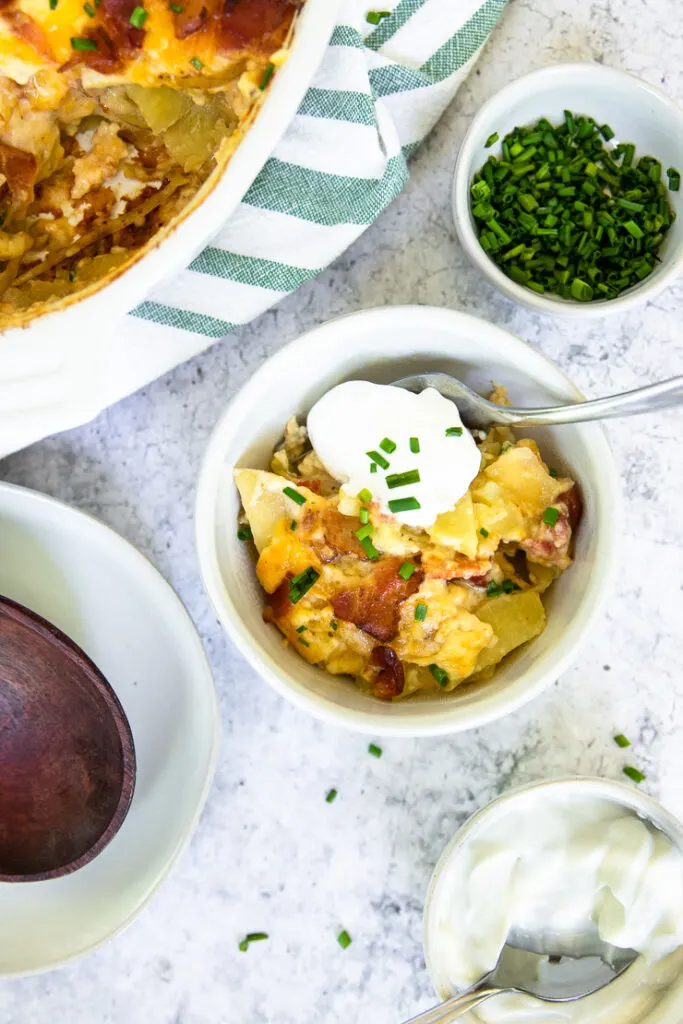 How to Make Loaded Scalloped Potatoes
Preheat the oven to 400°F. Make sure you have your potatoes thinly sliced. You'll want to get a large skillet over a medium heat and cook the bacon until crispy.
That should take about 10 minutes. Remove the bacon from the skillet and place it a plate with paper towels to dab on any excess grease. Once cooled, crumble into pieces. In that same skillet, whisk the flour into the bacon grease until it's browned and all of the flour is combined.
Pour your milk in slowly and whisk until your roux is combined and the mixture thickens. If you don't want to use bacon, you could melt butter instead! Remove from heat when your mixture is thickened then add in 1 cup of the shredded cheddar cheese, salt and pepper.
Whisk it all together until the cheese is melted in. Grab a 2 quart baking dish then layer in some of the sauce onto the bottom of the pan. Next, we're going to layer about 1/3rd each of the potatoes, sauce, bacon, and cheese. Repeat that twice and it's assembled!
Onto baking — cover the dish in aluminum foil and bake for 45 minutes. Take off the foil and bake for another 15 minutes so it gets nice and melty. You might want to let it cool a little, but once you're ready to serve, top it with some diced chives or green onions and a dollop of sour cream!