This Green Bean Casserole with Bacon and Brown Sugar will be a new family favorite! All of the elements of green bean bundles in one dish.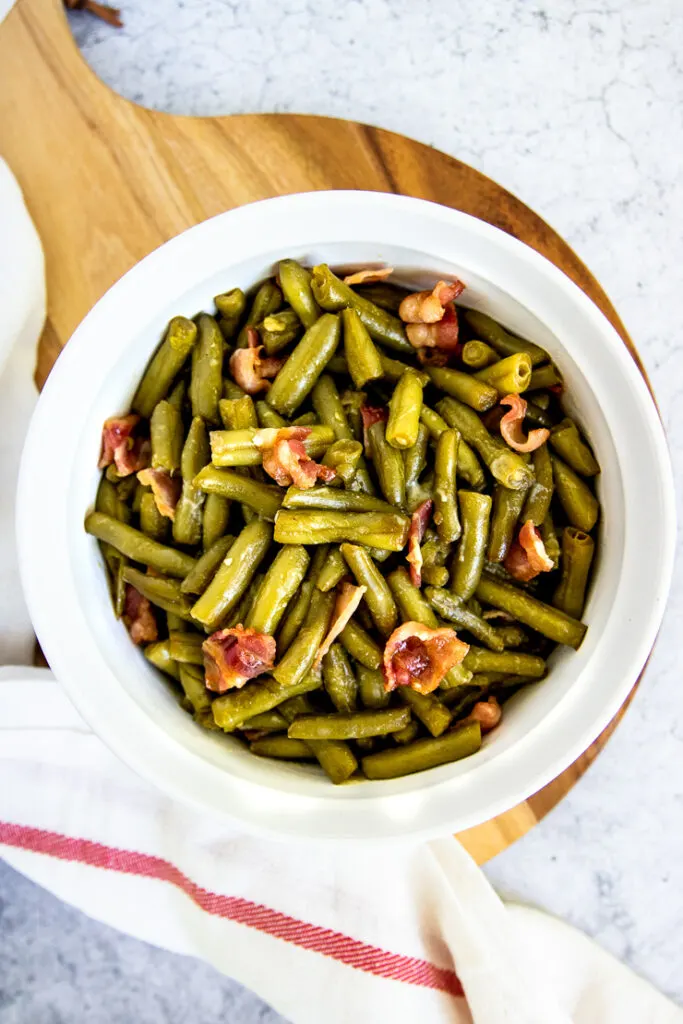 Green Bean Casserole with Bacon and Brown Sugar
I've been making this Green Bean and Bacon Casserole for a few years now and I'm still excited every time I put it in the oven. It makes the whole house smell amazing with the bacon mixing with the brown sugar/soy sauce/garlic sauce.
It's super simple to throw together and is a staple on my Thanksgiving menu. The sweetness goes really well with spicy rubs for meat so consider this the next time you're cooking a spicy dish and are in need of a side.
One of my friend's moms had showed me these awesome green bean and bacon rolls that she makes as appetizers a few years ago. They're SO GOOD. I've made them as appetizers for get togethers and even for tailgates. They never last long no matter the location.
I decided that they were too good to keep as an appetizer and wanted to figure out how to make them for a side dish. She gave me her recipe and I threw it all together in a casserole dish and I've never looked back.
The rolls are perfect for impressing friends with the flavor bomb you present to them and the people that are drinking at tailgates will love you even more.
The casserole is so quick to put together, but has all of the same flavors. And as a big plus.. there's bacon in it and you can't so no to that.
The Culinary Compass participates in several different affiliate programs. As an Amazon Associate, we earn from qualifying purchases.
Are these like green bean and bacon bundles?
Definitely! It takes all of the great flavors you know and love from bundles and both cuts down the work and gives you all of the same flavors. Think of it as a green bean bundles casserole!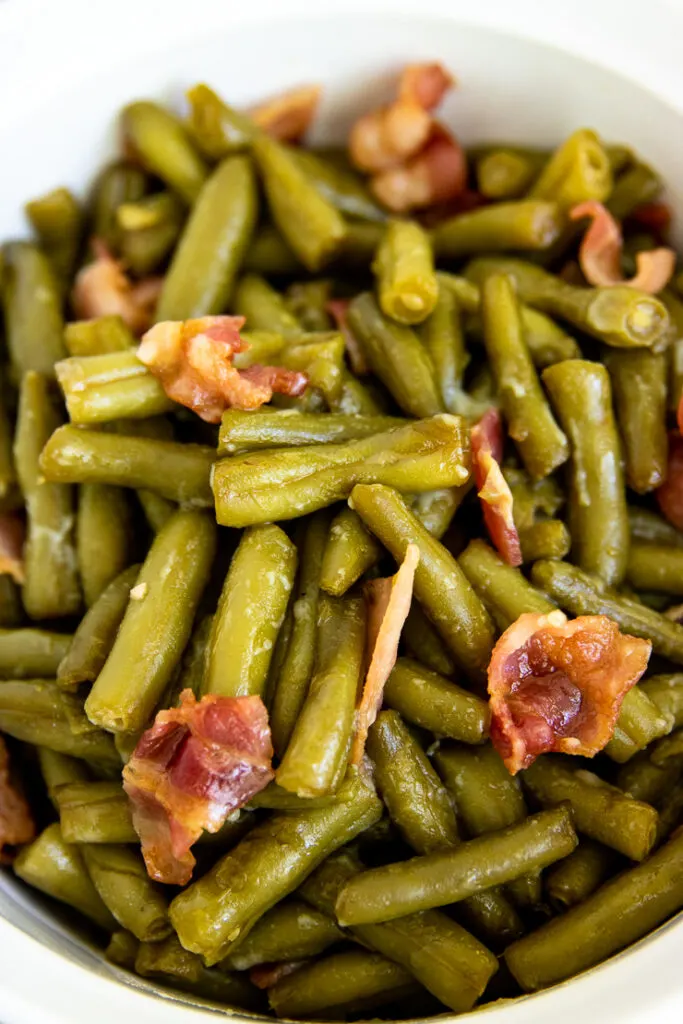 Does this green bean casserole use mushroom soup or french fried onions?
It doesn't! That's the only version of green bean casserole I knew growing up, but this one is sweet and savory without any of the condensed cream of mushroom soup.
I mean who wouldn't want green beans with bacon and brown sugar and soy sauce. Oh my!
If you're into the combination of brown sugar and veggies, try out these Honey Braised Carrots!
What ingredients do I need?
This casserole only needs a few ingredients to throw together!
Green beans
Bacon
Brown sugar
Butter
Soy sauce
Garlic powder
Can I use fresh green beans?
You can, but I won't lie and say I prefer it with canned green beans. That's for a few reasons. The first is that around the holidays I've got so much other cooking to do that dealing with fresh green beans is too much work.
The second reason is that the canned green beans seem to hold onto the flavors really well and it's great without the crunch of fresh green beans.
Here's a great recipe on how to cook fresh green beans if you do want to go that route! Frozen green beans could also work, you'll just want to make sure they're completely thawed.
How should I cook the bacon?
This one is up to you! I like to precook it a bit in the microwave on a plate with paper towels to get it pretty crunchy. Again, I microwave to save a little time and cut down on dishes.
You can always cook it in a skillet and save the grease for another dish you're making though!
If you've got any extra bacon, you should use it to make some Air Fryer Bacon Wrapper Asparagus or Bacon Caramelized Onion Crostini.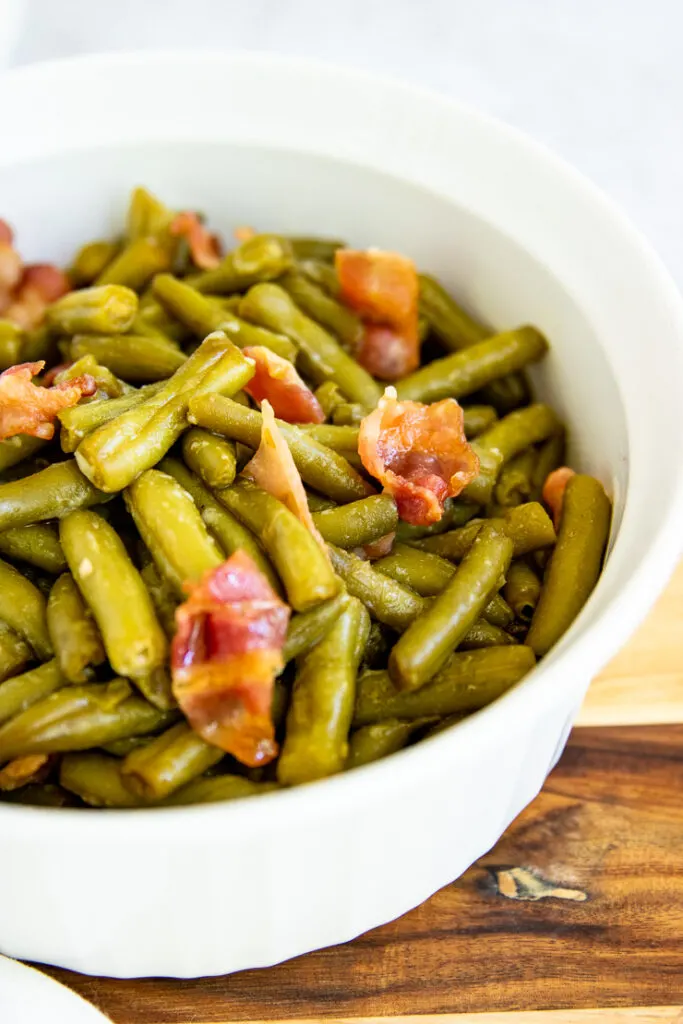 Can I make a Green Bean and Bacon Casserole ahead of time?
Definitely – I do every year! I throw the entire thing together from green beans, bacon, and sauce and mix it all up really well. I just put some cling wrap on top and put it in the refrigerator the day before.
The day of, I take the casserole out of the fridge while the oven is preheating and stir it up then just bake it for 30 minutes, or until the sauce is bubbly.
How to Make Green Bean and Bacon Casserole
Preheat your oven to 350°F.
Drain your green beans. Add the green beans into a small casserole or baking dish.
Cook your bacon until it's slightly crispy using your desired way of cooking! I like to put the bacon on a microwaveable plate on a paper towel and microwave for 3-4 minutes to cook slightly and crisp up.
Once it's cool to the touch, slice into small pieces or crumble using your hands and place on the green beans.
Combine brown sugar, melted butter, soy sauce, and garlic powder in a small bowl. Pour over the green beans and bacon and stir until well combined.
Bake for 30 minutes, or until warmed through.
Enjoy these pictures from 2016!