This Sausage Kale White Bean Soup recipe is hearty and filling – perfect for any cold, winter day! It only takes a few ingredients and one pot to throw together.
Sausage Kale White Bean Soup
Soup season is upon us, friends! Gorgeous gorgeous girls love soup after all, am I right?
There are few things more enjoyable than a good soup (I didn't even mean for that TikTok soup reference – moving on) on a cold day. This Sausage, Kale, and White Bean Soup is as easy as it gets with only a few ingredients.
The best part is that it doesn't weigh you down which is perfect for those WFH lunches. It's both light, but filling. My boyfriend even said it's refreshing which is an interesting description of soup, but honestly, I agree.
The zip of red pepper flakes and freshness from the kale break up the fattiness of the sausage while the beans help with some creaminess. Make it once, and it'll be a new staple in your recipe binder!
The Culinary Compass participates in several different affiliate programs. As an Amazon Associate, we earn from qualifying purchases.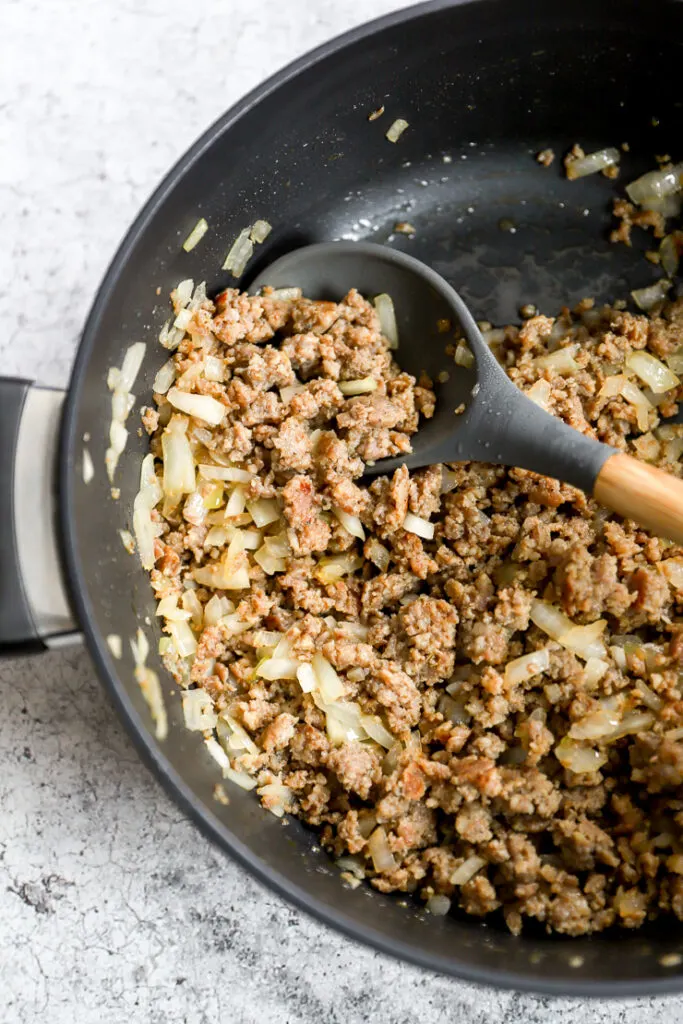 What ingredients do I need for Sausage Kale White Bean Soup?
This dish only requires a few ingredients to make a hearty soup:
Ground sausage
Diced onion
Red pepper flakes – add more to make it even more spicy!
Chicken stock
Kale
Water
Cannellini beans
Shredded parmesan
You can even make this dish with as little as 5 ingredients as I have before! Just use the sausage, chicken stock, kale, water, and cannellini for an even faster weeknight meal. That version also works great for anyone looking to avoid onions or garlic in their diet.
If you ended up with too much kale, try out this Roasted Butternut Squash and Kale Salad or Steamed Kale with the extra!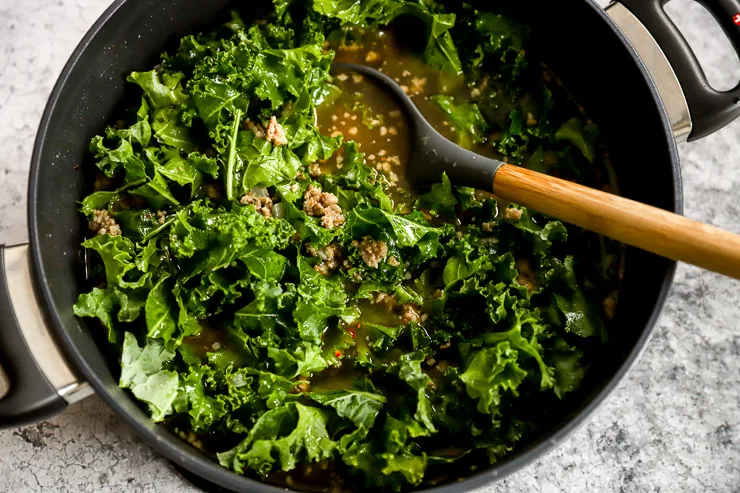 Can I use chicken sausage?
Definitely! If your grocery store has it available, chicken sausage is a great alternative for this dish. It's usually what I grab if they have it in stock!
Turkey sausage could also be a good pick if you see that, too. I love using turkey sausage for some 3 Ingredient Turkey Sausage Gravy.
Really any ground sausage would work. Sausage links are an option, but the overall texture of the soup may be a bit different so keep that in mind.
If you only have access to ground meat, you may want to add a bit more seasoning like salt, pepper, or Italian seasoning that may have been added from the sausage.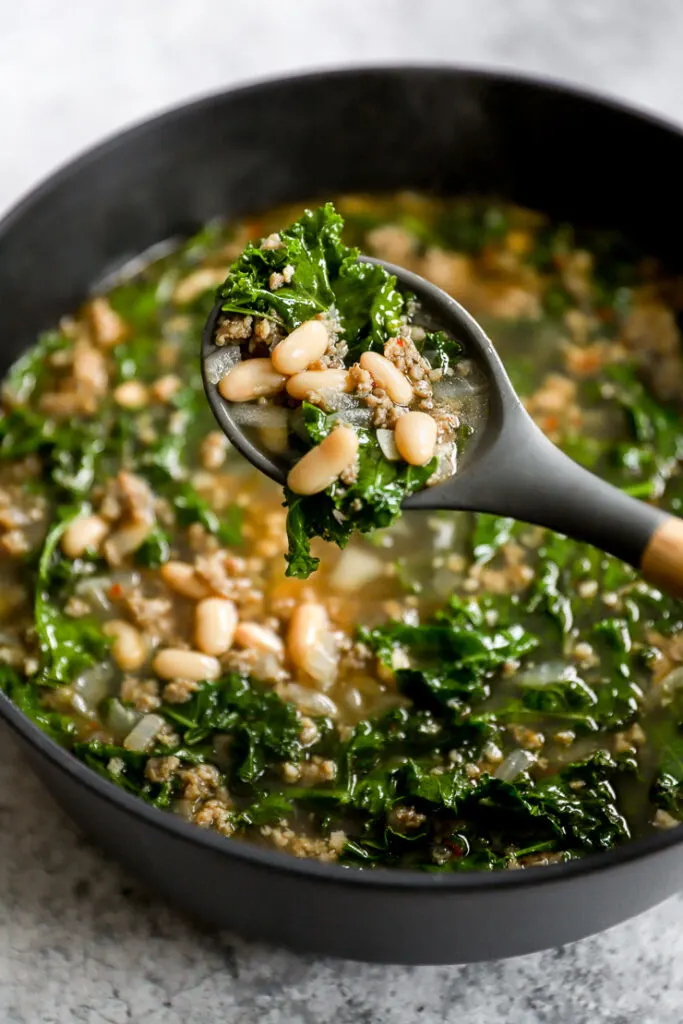 What type of beans should I use?
Canned cannellini beans or white kidney beans will be your best friend for this recipe! They're usually pretty cheap and you can always find them at the grocery store.
All that you'll have to do is drain and rinse and they'll be ready to go. If you're looking for other types of white beans to use, Navy, Great Northern, or even Lima or butterbeans are all good options.
They'll generally have the same type of flavors, but can range in sizes. This recipe also calls for canned beans so if you're looking to use dried beans, you'll want to prepare those ahead of time.
Can I add other ingredients?
This soup recipe is easy to adapt to whatever flavors you're looking for, or whatever produce you might be looking to cook!
Try adding the following to change up the recipe a bit:
Potatoes – To help make this dish even more hearty
Carrots and celery – Add in more vegetables to beef up your mirepoix game will always add in more layered flavors
Garlic – Because of course
Kielbasa – Coins of kielbasa instead of sausage would be a great alternative
Half and half or heavy cream – To make the dish a little more creamy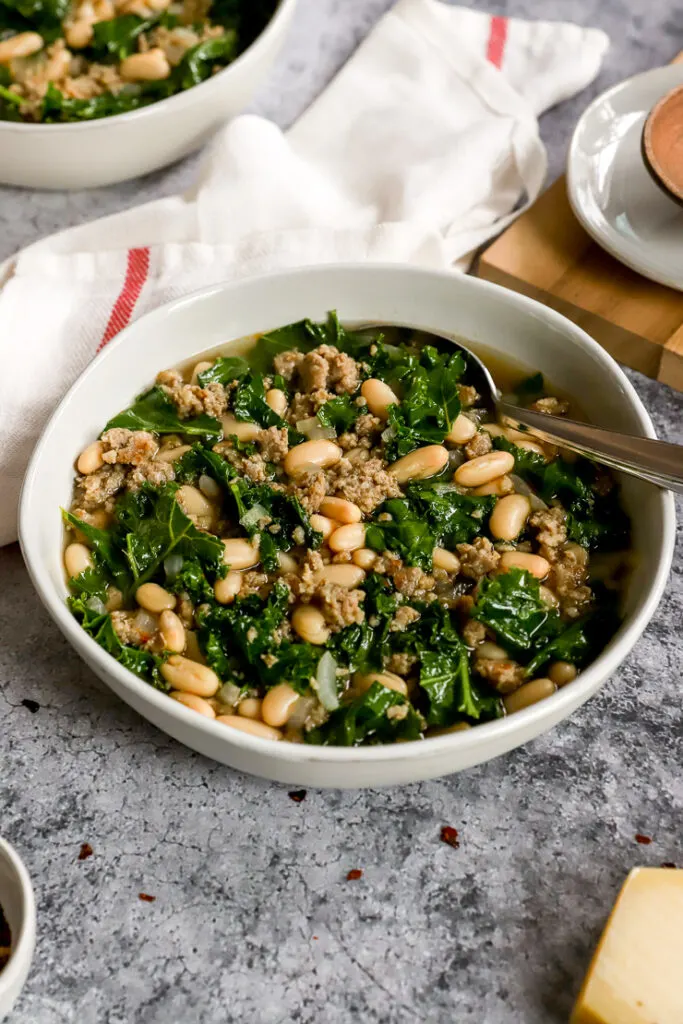 How to make Sausage Kale White Bean Soup
In a large soup pot, bring your heat up to medium and add in your ground sausage. Crumble it until it's in small pieces and cook through until it's not pink.
Add in your diced onion and red pepper flakes and cook until the onions are translucent and fragrant.
Pour in the chicken stock and water then scrape the bottom of the pan to loosen any stuck pieces.
Stir in the chopped kale and bring to a low boil until the kale becomes bright green and tender.
Add in the cannellini beans and cook for a few extra minutes so they warm through.
Serve the soup and top with shredded parmesan then enjoy!