This Pan con Tomate recipe is only 5 ingredients, but it's full of flavor. It comes together in a few minutes and will be a favorite appetizer as soon as you try it!
Pan con Tomate
Pan con tomate or Pa amb tomàquet as it's called in Catalan is a Spanish staple that you'll love!
Tomato bread is often eaten as an appetizer, side dish, or even for breakfast. When I visited Spain, I was able to find it on every menu for every meal of the day which I definitely did not complain about.
I think it was both the first and last meal I had in Barcelona. Add some Iberian ham and *chefs kiss* you're set.
The tapas were really one of my favorite parts of eating in Spain. Getting to try a bunch of different things each meal was right up my alley. I even made these Easy Shishito Peppers after eating my body weight in Padrón peppers.
The Culinary Compass participates in several different affiliate programs. As an Amazon Associate, we earn from qualifying purchases.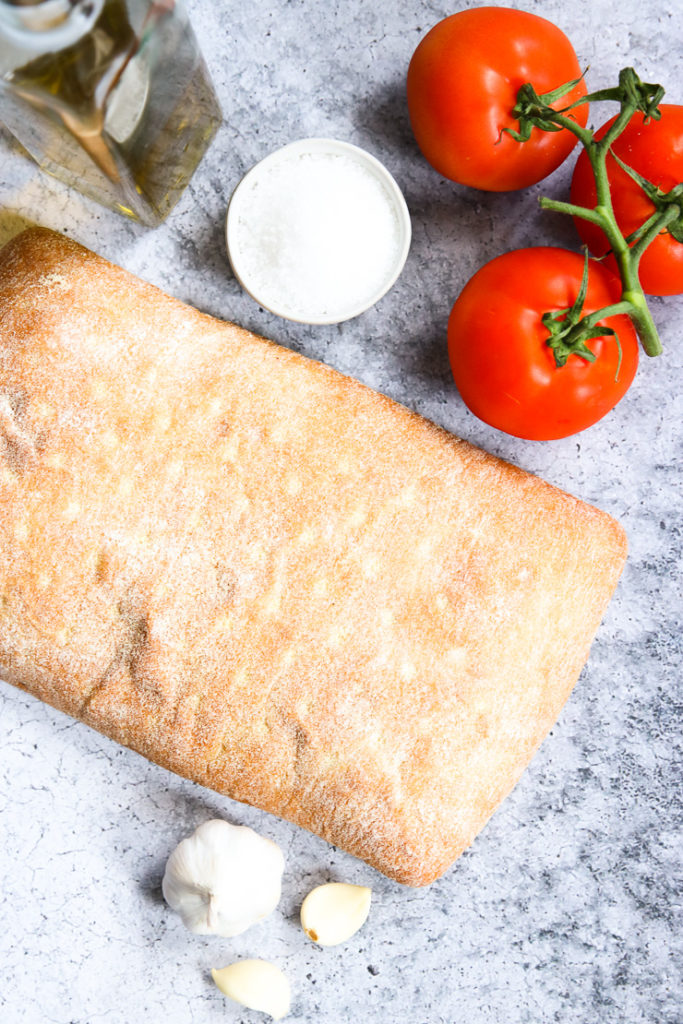 What is pan con tomate?
Let's start with the basics. Essentially it's toasted bread with tomato, but also it's so much more than that. The tomato mixture is usually grated making it into almost a paste that covers the bread. Use ripe tomatoes if you can!
I really like rubbing a raw, peeled garlic clove on the toasted bread to give it some flavor and spice. The tomato mixture sits on top of that with a drizzle of good quality olive oil and some flaky sea salt to finish it off.
It's only 5 ingredients, but it's full of flavor. It's also great for just about any meal or as a substantial snack. I definitely had a half a loaf of bread on a few occasions.
What ingredients do I need?
You only need 5 ingredients! As long as what you have is good quality, that's all you need. You'll want to have the following on hand:
Sliced bread
Extra virgin olive oil
Fresh tomatoes
Garlic cloves
Flaky sea salt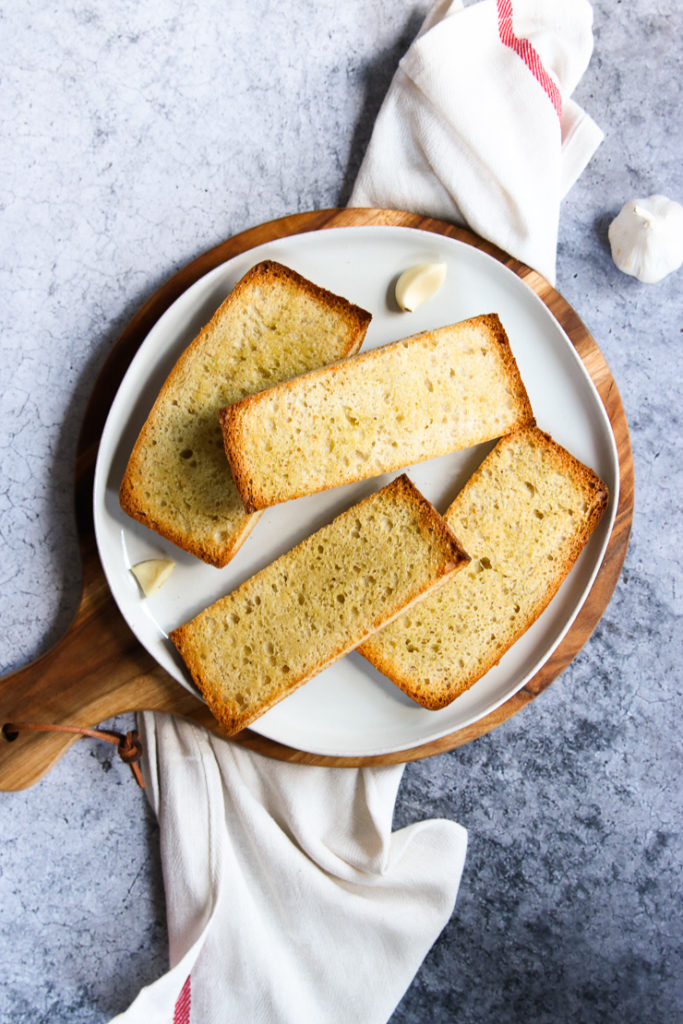 What kind of bread should I use?
Usually, a flat, crusty loaf called coca is used that is sliced and toasted. If you can find a baguette that is a little wider than a traditional French baguette, you'll find that the slices hold up better.
I found that a loaf of ciabatta worked really well when you cut it lengthwise and then in long strips. Cutting it before baking allowed for more toasty edges which give it a really great crunch.
You can use a baking sheet or bake right on the racks of the oven to toast through!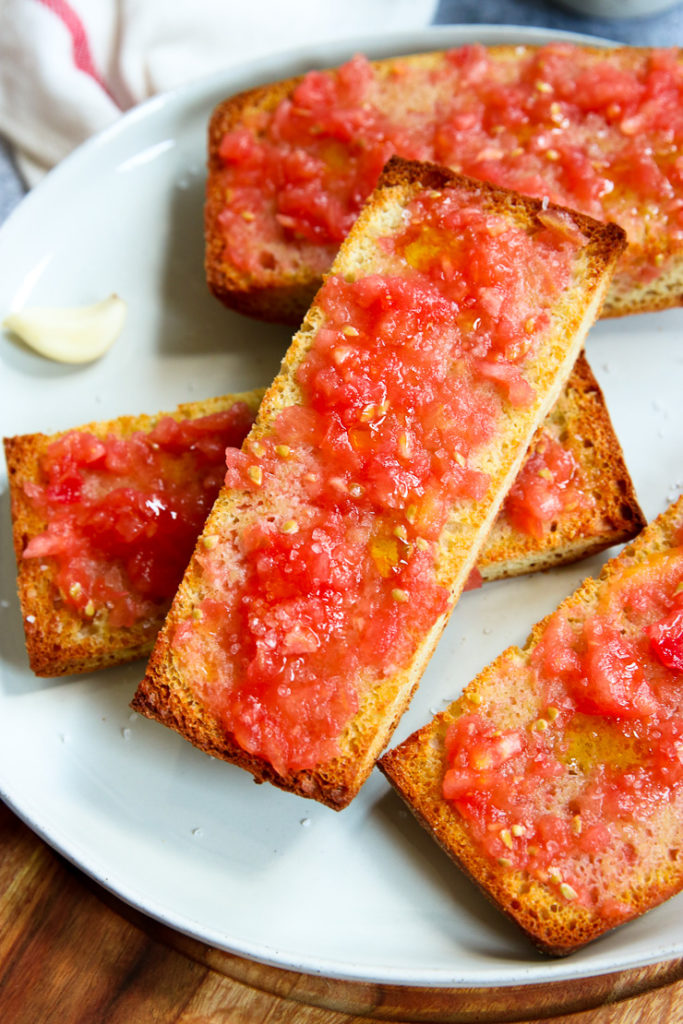 How do I peel the tomatoes?
There are two ways that you can peel the tomatoes for the mixture! The first would be to use a box grater to grate the tomatoes. You'll just cut the bottom off the tomato and grate the tomatoes through the largest hole. This will naturally remove the skin and give you a thicker texture.
You can also just use a blender or food processor to make the mixture after you've peeled the tomatoes! I've done it by boiling the tomatoes – here's a tutorial on how to remove the skin off of tomatoes if you don't have a box grater.
Looking for other appetizers to enjoy? Try one of these: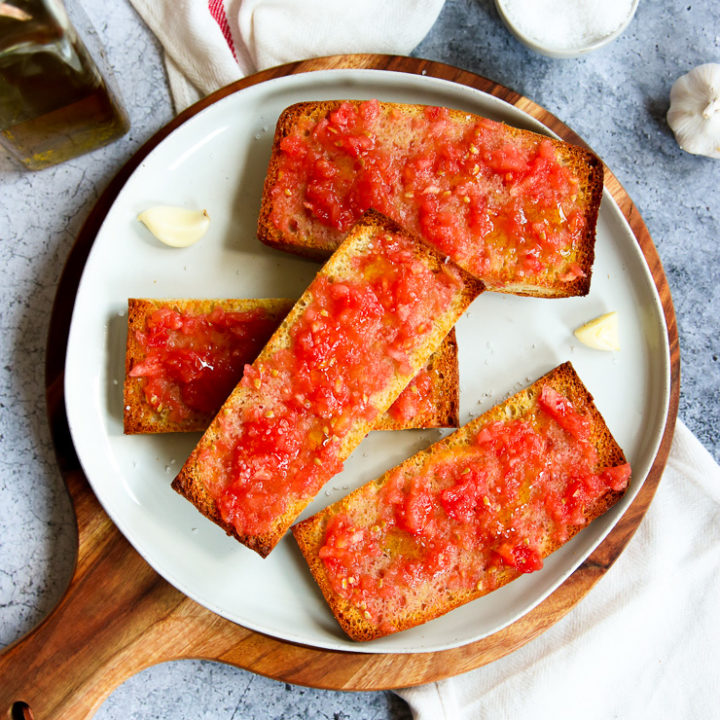 Pan con Tomate
This Pan con Tomate recipe is only 5 ingredients, but it's full of flavor. It comes together in a few minutes and will be a favorite appetizer as soon as you try it!
Ingredients
1 loaf of ciabatta
2 Tbsp. olive oil plus more to top
2 garlic cloves
2 beefsteak tomatoes
Flaky sea salt, to taste
Instructions
Preheat oven to 350°F.
Cut ciabatta loaf in half on the shorter edge so it opens like a book. Cut into slices so each edge gets crispy
Spread olive oil evenly over bread slices. Place directly on the rack in the middle of the oven and bake for 8-10 minutes until crispy and the edges are golden.
While the bread is toasting, cut the bottom off of the tomatoes and grate on a box grater into a bowl to remove the skin. *See note
Remove the bread once toasted and rub peeled garlic cloves on each piece of bread. Spoon tomato mixture over bread. Drizzle more olive oil and sprinkle sea salt over bread. Serve while warm.
Notes
If you don't have a box grater, remove the skin from tomatoes and blend in a food processor or blender. Here's a quick tutorial on how to remove skin from tomatoes.
Recommended Products
As an Amazon Associate and member of other affiliate programs, I earn from qualifying purchases.
Nutrition Information:
Yield:

8
Serving Size:

1 slice
Amount Per Serving:
Calories:

190
Total Fat:

5g
Saturated Fat:

1g
Trans Fat:

0g
Unsaturated Fat:

4g
Cholesterol:

0mg
Sodium:

353mg
Carbohydrates:

30g
Fiber:

2g
Sugar:

4g
Protein:

5g
Nutrition provided is only an estimate.